My Top Three Tips for Aspiring Authors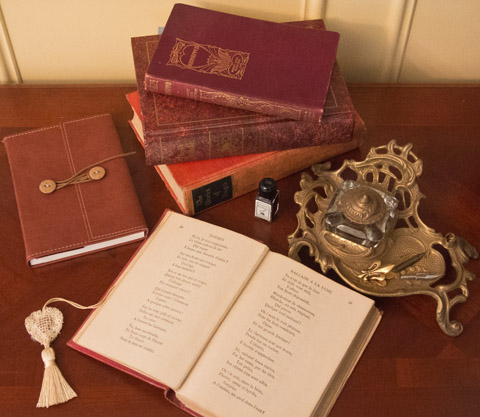 Pic: DOB
Let me preface this article by saying that I'm always reluctant to give advice because every writer has his or her own approach. Nevertheless, here are some general tips to get you started on your writing journey:
1. Write from the heart.
Don't be afraid to work from your emotions – you can always edit later, if necessary. Here's what Wordsworth had to say on the subject:
'Fill your paper with the breathings of your heart.'
2. If you really want to be a writer, don't put it off.
Even though your life might be too busy to contemplate penning a 100,000-word novel, there are other possibilities such as blogs, short stories or even a novella. George Eliot (aka Mary Ann Evans), who was arguably the greatest Victorian novelist, once said:
'It's never too late to be what you might have been.'
And equally, it's never too early to start!
3. Revise, tweak and polish your manuscript until it shines.
You can never do enough revisions. Don't consider sending off a manuscript to an agent or a publisher until you know it's the very best version you can produce. A big mistake that first-timers make is to send their manuscript too early – I know because I did it!
Always ensure the 'infrastructure' is correct – the grammar, syntax and spelling. Proofread the text thoroughly for mistakes (and don't just rely on the Spelling and Grammar Tool on your computer).
Reading the manuscript aloud is always helpful in the checking process, not just for spotting typos, but also for checking the flow of the text and identifying clunky language.
I always read the final proof of every novel aloud – it takes about a day but it's worth the effort because I've found mistakes that all of us, the structural editor, line editor, proof-reader and yours truly, have missed in just silently reading the pages.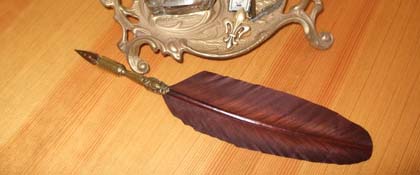 Deborah O'Brien
20 March, 2020
Adapted and expanded from part of an interview I did with the wonderful Jodi Gibson.
READER'S DIGEST Interview with Deborah O'Brien
about MR CHEN'S EMPORIUM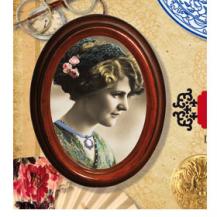 © Reader's Digest (used with permission)
Were there any Reader's Digest books in your family library when you were growing up, and if so, did you enjoy them?
Although we didn't have any Reader's Digest books ourselves, we used to visit friends who did. One day they allowed me to borrow a volume containing Catherine Gaskin's Sara Dane. It became my first 'grown-up' read, and an historical one at that!
Which six must-read books would you suggest to a teenager who is just starting to get interested in fiction?
So hard to choose! I'm a big fan of Jackie French's historical novels such as A Rose for the ANZAC Boys. In terms of the 'classics', I would suggest L.M. Montgomery's Anne books, Louisa May Alcott's Little Women and George Orwell's Animal Farm. For older teens, Harper Lee's To Kill a Mockingbird and Anne Frank's Diary of a Young Girl.
Apart from living in different centuries, your heroines have different impulses: Amy copes with the daily toil by using her imagination; Angie copes with the complications of her life by pondering about the past. Did you find equal enjoyment in writing about both women?
Yes, I would write a chapter in Amy's life and then decide it was time to move on to Angie and see what she was up to. I never became bored because I was constantly moving between their differing perspectives. At the same time, I was aware that they were both facing the universal constants of love and loss which endure, no matter what the era.
Do you think you're more like one than the other?
I share many interests with Angie – art, cooking, reading, gardening and renovating. We're much the same age, and I too have made a tree change, but on a part-time basis.
Do you predict that there will always be an historical element in your novels, or is your second work along quite different lines?
At the moment I'm working on an historical novel set in 1885, but I also have a couple of other projects in progress which are contemporary stories.
Your story suggests that there are fascinating human secrets behind the façades of even the shabbiest-looking town—was there a particular secret that started you thinking about MR CHEN'S EMPORIUM?
There wasn't a specific secret as such. But I have always been intrigued by the tales my grandmother used to tell me about growing up in the country at the start of the twentieth century. They provided the inspiration for Amy's story.
Text © Reader's Digest 2013
Writing and Art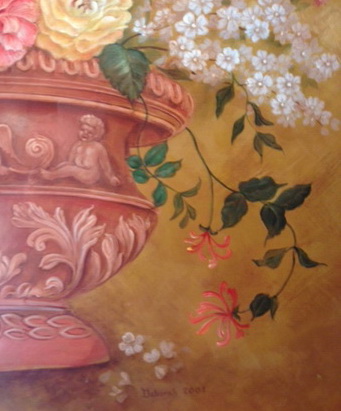 'Florals in Terracotta Urn'. Acrylic gouache and impasto on canvas.
Deborah O'Brien (2001)
I've never been sure whether I'm an artist who happens to write, or a writer who also likes to draw and paint. What I do know is there are certain things that inspire me. First and foremost, I adore old buildings. If you're read any of my books, you'll know that buildings, their construction and renovation, play a big part, both on the cover and in the text itself.
I've written stories and drawn pictures for as long as I can remember, probably from the time I could hold a pencil in my hand. My mother, who was an artist herself, kept all the miniature books I made in primary school and the illustrated magazine I concocted for my dad when he went into hospital for an operation. At school I filled the backs of my exercise books with romantic stories and drawings of the heroines (never the heroes, because I couldn't draw men). And when it came time to hand in my books for marking, I simply ripped out the offending pages.
When I was about ten years old, I sent a short story to the Sun Herald Juniors page, accompanied by an illustration. They published it and posted me a money order for the princely sum of two dollars fifty. After that, I submitted articles and drawings on a regular basis and the money orders kept me supplied with Paddle Pops until I was fifteen and too old to be a junior anymore!
Over the years I've continued to write and draw. Sometimes it was a job; at other times it was strictly for fun. Fast forward to ten years ago when my mum, who was always my greatest supporter, asked me: 'When are you going to get around to writing your novel? I'm not getting any younger, you know.'
By then I had abandoned the idea of fiction as a career. But that very evening, fortified by a glass of wine, I sat down at my laptop and began typing a dual narrative whose premise had been living in my imagination for a long time: two women, one Gold Rush town, then and now. I called my story Mr Chen's Emporium.
When my lovely publisher asked me to do a rough sketch for the cover, I was delighted to be involved, as I was well aware that authors are rarely consulted about cover design, except to approve it. Below is the first rough sketch I produced. When I emailed it to my publisher, she diplomatically suggested that, as the title of the book was Mr Chen's Emporium, the building should really appear on the cover. Hence, the second sketch, which was approved by the powers-that be, and then passed on to the illustrator to finesse.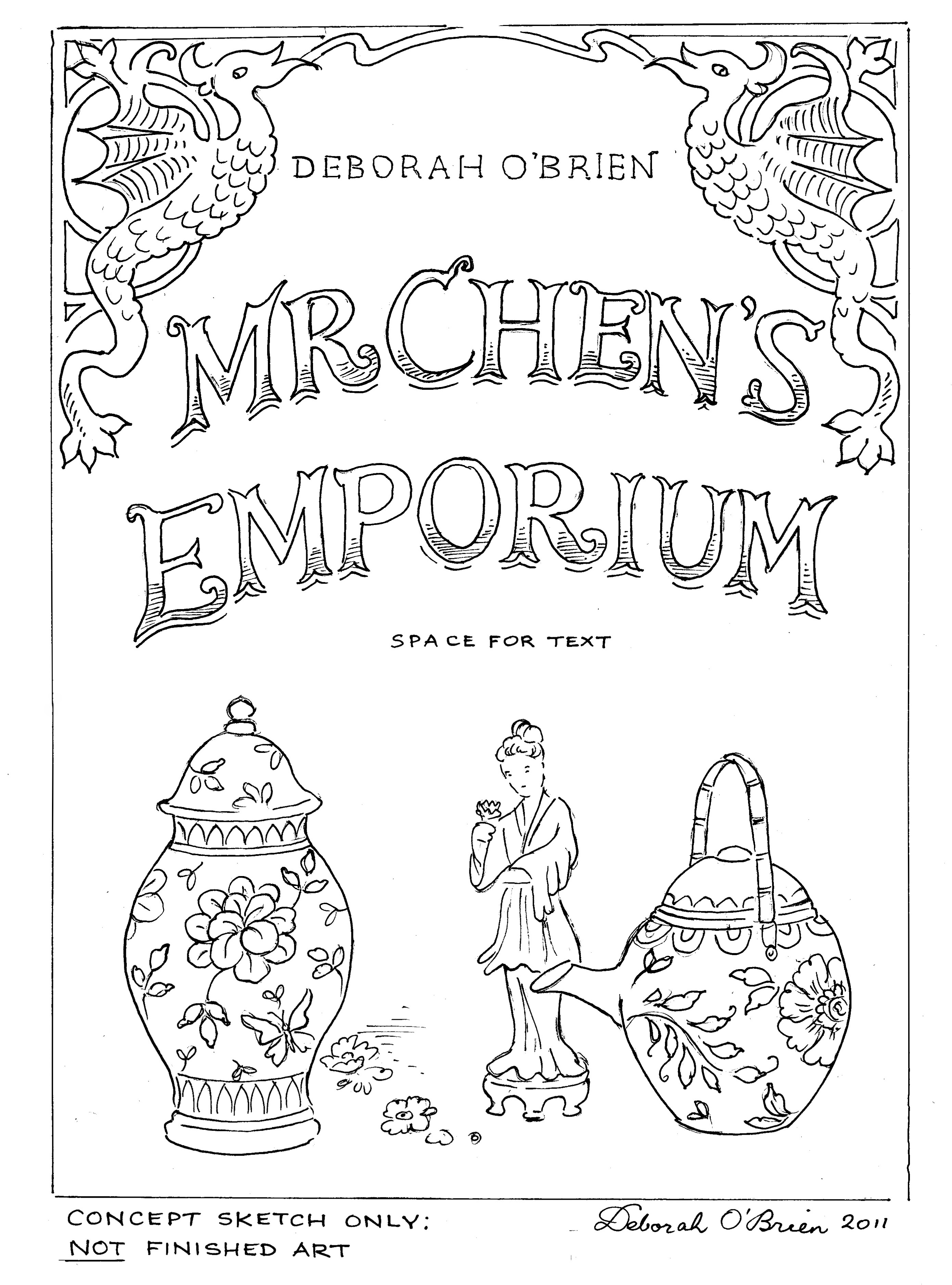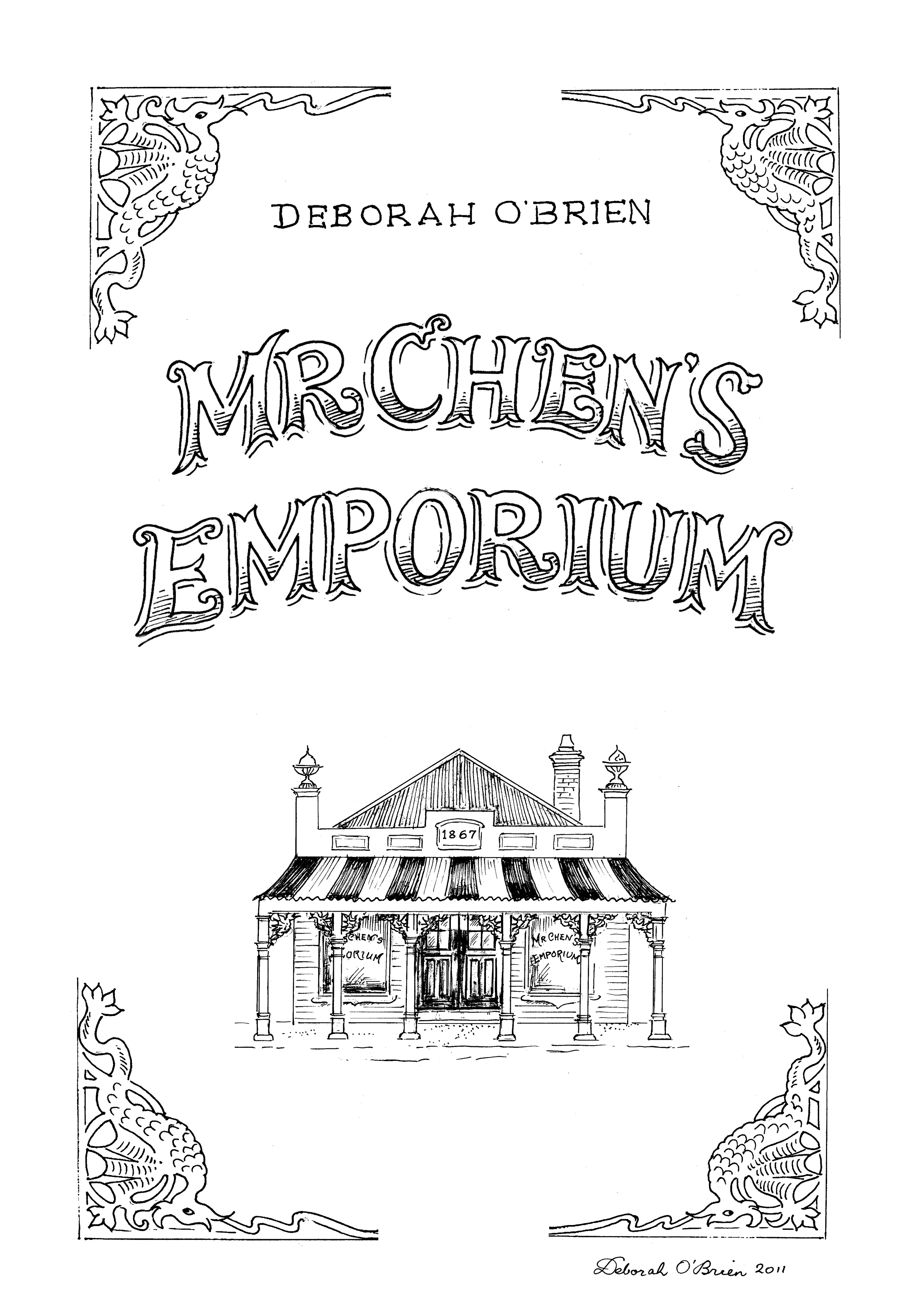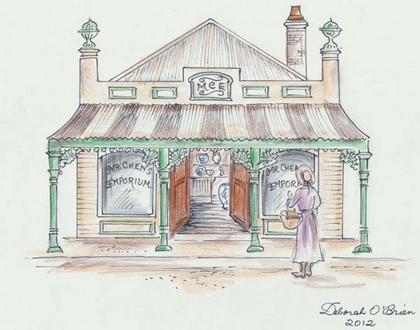 'Mr Chen's Emporium'. Concept sketch – ink and coloured pencils
Deborah O'Brien
Mr Chen's Emporium produced two sequels – an historical novel, The Jade Widow, and a modern-day story, A Place of Her Own, about looking for a safe haven when nothing seems safe anymore. I drew pen and ink illustrations for all three books, but apart from concept sketches and hand-drawn lettering for the titles, I left the final covers to the experts. For some reason, my publisher actually preferred my rather wonky lettering to the computer-generated kind and used it on Mr Chen's Emporium and The Jade Widow.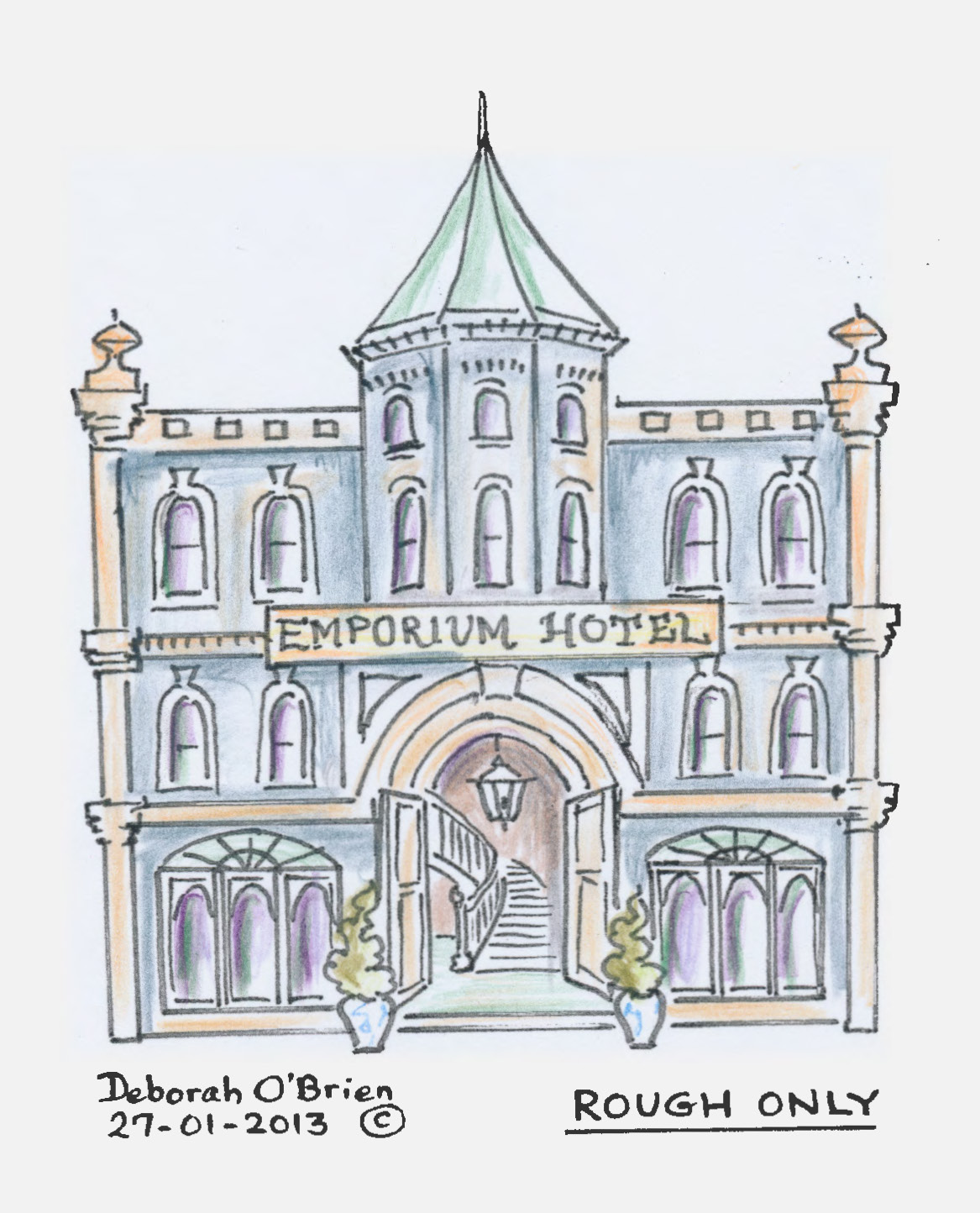 Rough sketch of the Emporium Hotel for 'The Jade Widow'. It was used inside the book.
Deborah O'Brien
An earlier, shorter version of this article appeared on the Australian Rural Romance website 2015
The Five Books
That Have Influenced Me Most
Here are five books that I read before I was twenty but have stayed with me all my life.
ALICE'S ADVENTURES IN WONDERLAND by Lewis Carroll
I've always been fascinated by ALICE IN WONDERLAND, although I do have a confession to make – as a little girl, there were parts of the story which really frightened me, especially the episodes with the Queen and her repeated command to chop off people's heads. It was the randomness of the threatened violence that I found unsettling. Perhaps that's why the storyline and characters have lived in my subconscious ever since.
In recent times I've re-read ALICE and THROUGH THE LOOKING-GLASS and found them to be brimming with subtext about the search for identity and the notion of order versus chaos. Although Lewis Carroll might not have intended it, Alice comes across, to my mind at least, as a nascent suffragette, manoeuvring her way through Wonderland with considerable determination and aplomb, while constantly questioning its rules. Those aspects inspired the premise for THE JADE WIDOW, my novel about women challenging the conventions of Victorian society.
ANIMAL FARM by George Orwell
I discovered ANIMAL FARM in my first year of high school. Back then, I read it as an entertaining tale about farm animals taking over the farm. I didn't know it was a political allegory, and even if someone had told me, I wouldn't have understood what those words meant. As far as I was concerned, it was just a rollicking good story in which animals behaved like humans. As a writer, I've learned an important lesson from this book. No matter how impassioned its message or how clever the satire and symbolism, an allegory has to work first and foremost as a story. And that's certainly the case here.
JANE EYRE by Charlotte Brontë
Long ago, in the process of working through the Victorian novels in the school library, I came across two dark and emotionally charged books that didn't seem to fit the traditional model: WUTHERING HEIGHTS and JANE EYRE. The authors were sisters, who spent their lives in a parsonage in Yorkshire. Together with their siblings, they created their own imaginary worlds. Years later I would make a pilgrimage to Haworth to see where they lived. Although I've always loved both those books, it's JANE EYRE that I've returned to over and over again. Jane is a rather unusual Victorian heroine. Neither simpering nor helpless, she knows her own mind and in her quiet, self-deprecating way, goes after what she wants.
TO KILL A MOCKINGBIRD by Harper Lee
If I had to choose my all-time favourite book, it would be TO KILL A MOCKINGBIRD. Everything about it is perfect – structure, story, setting, characters, themes and language. I like the way the events unfold through the eyes of the narrator, Scout Finch, whom we get to know as a little girl and as an adult reminiscing about her youth. I can almost hear Scout's Southern accent whenever I read the book, but that might be a result of the novel and the film having merged in my brain (which is also why I tend to picture Atticus Finch as Gregory Peck). Among a cast of memorable characters, Atticus is the standout for me, a noble hero and a great father.
LE GRAND MEAULNES by Alain-Fournier
I would never have known about this wonderfully evocative novel, if it hadn't been a set text in my French course at uni. That's usually enough to put you off a book, particularly when there's an essay involved, but I quickly fell in love with Alain-Fournier's dreamlike story about trying to recapture a lost past. In that respect, there are similarities to THE GREAT GATSBY, which just happens to be another of my favourites. However, the two novels differ markedly in mood and tone. Fitzgerald's story, set in the Jazz Age, is often dark and cynical, while LE GRAND MEAULNES reflects the comparatively innocent pre-World War I period in which it was written. For me, there's an added poignancy in that its young author was killed in action on the Western Front not long after the book was published. It was his first and only novel. If he had lived, he might well have been one of the great novelists of the twentieth century.
Deborah O'Brien
13 March 2020
Film Reviews:
My Top Five Films about Politics
Warning: Spoilers, mostly mild ones.
Do you think anyone will ever make a film inspired by Trump's White House or Boris's Number Ten? If I were a screenwriter, I'd be finding plenty of juicy material in the current goings-on. In fact, certain recent events make the Watergate scandal seem somewhat tame.
And speaking of Watergate, here are my top five films with political themes.
1. All the President's Men (1976)
My all-time favourite political film is adapted from the bestselling non-fiction book of the same name by journalists Bob Woodward and Carl Bernstein.
What makes this film so great? Obviously the casting of Robert Redford and Dustin Hoffman as the two journalists, the preppy Woodward and the dishevelled Bernstein. They are the perfect odd couple. Then there's the source material, a story so Machivellian that in our '70s naivety, we couldn't quite believe it was true.
The film begins with a bungled break-in at the offices of the Democratic Party. Soon Woodward and Bernstein discover links to the White House. With the support of Washington Post editor Ben Bradlee (Jason Robards), they persist in their investigation, even in the face of White House attempts to close them down.
At the time, we were shocked and appalled by the Watergate affair and the fact that the President turned out to be a crook. Nowadays, it seems like small play compared to what has been happening under Trump's regime – the Ukrainian quid pro quo scandal being the tip of the fatberg. Nevertheless, All the President's Men still resonates more than forty years after it was made.
In a nutshell . . .
This is one of the best suspense thrillers ever made, and all based on fact.
2. Mr Smith Goes to Washington (1939)
Where there's political power, there will always be corruption. But you only need one honest man to fight for truth and justice. In this case, it's Jefferson Smith (aka James Stewart) who is elected to the US Senate where his personal mission is to fight for 'lost causes – the only causes worth fighting for'. Mr Smith's idealism doesn't sit well with fellow politicians from his home state who try to bring him down by circulating forged documents and fake stories. Sound slightly familiar?
In a nutshell . . .
Capra's film was a ground-breaker in dealing with political corruption and and nepotism in post-Depression America and is just as relevant today. Perhaps more so. The film is a bit creaky and the acting often veers towards histrionics, but if you're a movie buff, it's worth a look.
3. The Ghost Writer (2010)
Unlike All the President's Men, The Ghost Writer is a work of fiction, yet it feels very real. A corrupt former Prime Minister, played with charming malevolence by Pierce Brosnan, is struggling with his memoirs and wants a ghost writer to pen them for him.
Enter Ewan McGregor, who arrives by ferry at the PM's house on a windswept island. If you thought being a politician's ghost writer would be a bland occupation, think again. Referred to only as 'The Ghost', McGregor soon discovers hidden documents that reveal the former PM is hiding some very dangerous political secrets. Is there anyone our Ghost Writer can trust? The PM's wife? The professor? Or perhaps the senior politician who claims he has dirt on the ex PM?
In the best thriller tradition, there is a knock-you-for-six ending that will leave you reeling.
In a nutshell . . .
An intelligent thriller which will draw you into its dark and sinister world.
4. The Ides of March (2011)
Ryan Gosling is a novice campaign director, working for Governor George Clooney, a charming Presidential hopeful competing in the Democratic primaries. In this film, nobody is as they seem and everyone wants to win at all costs, from the campaign managers to the candidates themselves. There's collateral damage along the way but no-one seems to care.
An outstanding cast, including the late Philip Seymour Hoffman as the Governor's chief of staff and the ever-reliable Paul Giametti as the opponent's campaign manager, lifts this film above your run-of-the-mill political thriller.
In a nutshell . . .
A riveting drama about political and personal machinations with plenty of twists.
5. Dave (1993)
Wikipedia
Ostensibly a romantic comedy, there is far more to Dave than that. The titular hero is an ordinary guy who runs an employment agency and has a part-time job impersonating the President. When the real President suffers a stroke, the White House Chief of Staff (a delightfully devious Frank Langella*) recruits Dave to take Potus's place.
The President's wife (Sigourney Weaver), who is estranged from her husband, soon works out there is an imposter in the Oval Office but keeps this to herself as she finds Dave's kindness and honesty rather refreshing. So does the American public who are delighted to see that their President has become a new and better man following his stroke.
*Frank Langella also played a chilling Nixon in Frost Nixon, another excellent political film based on the famous interviews between David Frost and Richard Nixon.
In a nutshell . . .
Can a rom com about politics be deeply insightful? You bet!
Afterword
I couldn't end this article without mentioning some outstanding television series with politics at their heart.
The West Wing (1999-2006)
The first few seasons are a tour de force, featuring quick-fire 'walk and talk' scenes delivered by an impeccable cast. At the heart of the series is President Josiah Bartlet, played by the magnificent Martin Sheen, who had previous experience in the Oval Office as JFK in the 1983 miniseries Kennedy.
For those of us who suffered through the George W. Bush years, The West Wing provided an alternative political world led by an intelligent and capable statesman.
Following the departure of scriptwriter extraordinaire Aaron Sorkin, the series started to flag, but it did give us a Hispanic President (Jimmy Smits) in the final year.
A snippet of trivia –Elisabeth Moss who plays June in The Handmaid's Tale rose to fame as Martin Sheen's daughter Zoey in The West Wing.
House of Cards (1990)
This is the original BBC series, which I found far superior to the more recent American version. The late Ian Richardson plays the nefarious and manipulative Francis Urquhart who plots to become leader of the Conservatives and then PM. The ending is truly shocking.
The Politician's Husband (2012)
Written by the talented Paula Milne, this miniseries stars David Tennant as a leadership aspirant and Emily Watson as his wife, a woman with political ambitions of her own. There is a fine supporting cast including Ed Stoppard and Roger Allam and lots of twists culminating in a pull-the-rug-out-from-under-you ending.
The Thick of It and The Hollowmen
Who says politics can't be humorous? Particularly when the humour is of the satirical kind. The British series features the incomparable Peter Capaldi as spin doctor Malcolm Tucker, a man renowned for spicing his conversations with picturesque profanities. Meanwhile The Hollowmen is a biting Australian satire targeting politicians and bureaucrats alike.
Deborah O'Brien
February 2020