---

The Beatles and Me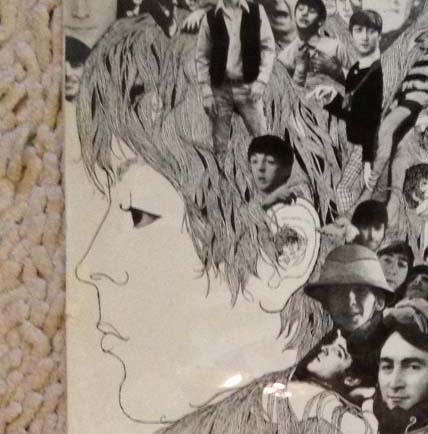 My original 'Revolver' LP
1964 was the year I fell in love for the first time. I was in primary school and the object of my affections was a certain Beatle called Paul McCartney.
As this is the 50th anniversary of the Beatles' tour of Australia, I've been thinking about my relationship with the Beatles, and Paul in particular. It's always been a long-distance affair except for the time in March, 1993 when I sat in the tenth row of Parramatta Stadium during Paul's Sydney concert. I still have the ticket.

But back to 1964. The evening newspaper – I can't remember if it was 'The Mirror' or 'The Sun' – ran a competition to win a place at Paul's twenty-second birthday party. All you had to do was write in fifty words or less why you wanted to attend. I penned multiple drafts in my childish printing, trying to express my feelings for Paul within the word limit. It wasn't easy. Finally I filled in the coupon and gave it to my dad to post. Whether he actually sent it or not is another matter. Probably not - my dad didn't approve of the mop-topped quartet and besides, I was way under the minimum age for the competition.
A week or so later I was devastated when the winners were announced and I wasn't among them. I recall one of the winning entries saying something to the effect of: 'My parents think I have Buckleys of winning this so I'm going to prove them wrong.' What kind of entry was that? I asked myself. And who or what was 'Buckleys'?
A few weeks later, when the Beatles flew out of Sydney, my friends and I - all devoted little Beatles fans - stood in the school playground, waving at a plane that we imagined was theirs. There were tears and hysteria. That afternoon our teacher couldn't manage us at all.
From then on, I started to keep a Beatles scrapbook. If I still had it, that book of memorabilia would be worth a lot of money. A few years later, I came home from school to find my dad burning some rubbish in the incinerator. 'I thought I'd clear out all that junk in the cupboard', he said. The cupboard! That was where I kept my precious scrapbook. I threw open the doors and the shelves were empty. I cried for days. I've never really gotten over losing that scrapbook.
Was it the end of my relationship with the Beatles? Of course not. You never let go of your first love. It stays with you forever.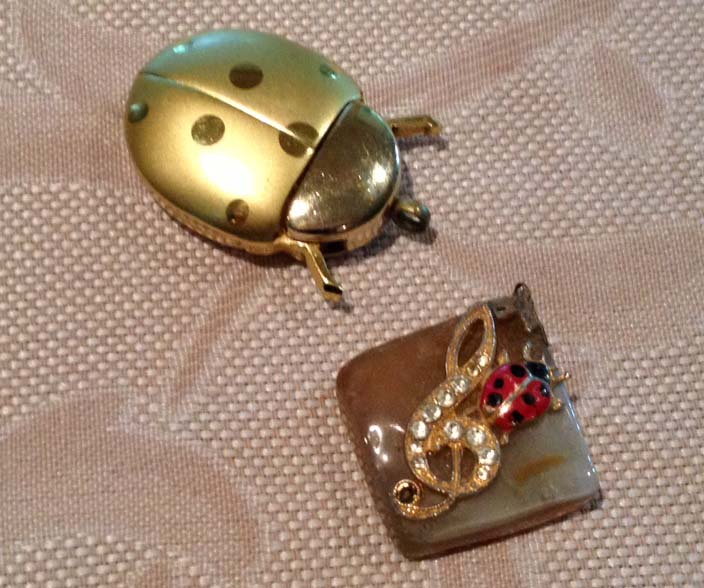 My Beatles jewellery
Deborah O'Brien
June 11, 2014
---
Winners of the May Giveaway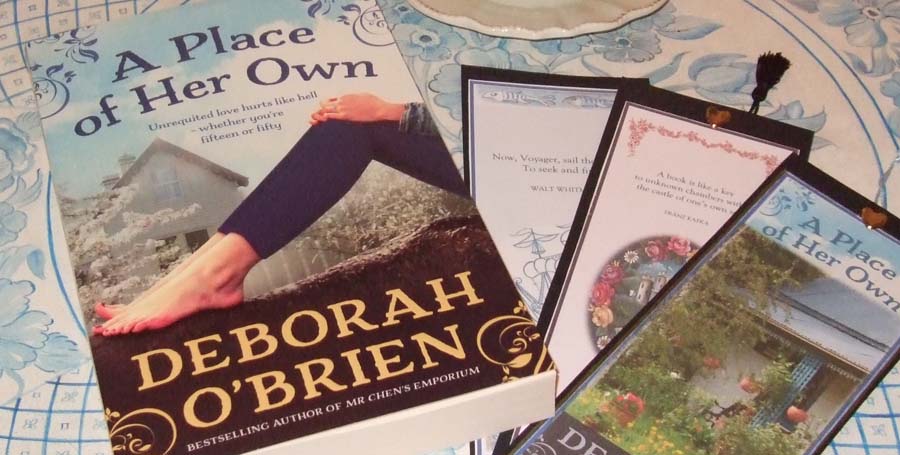 A couple of weeks ago I announced a competition in conjunction with the release of 'A Place of Her Own', asking readers to tell me the Australian woman over 50 whom they most admire. I found myself inundated with wonderful entries, some of them deeply personal and moving. And it was incredibly difficult to choose the prize winners. That's why there are six runners-up!
But before I announce the winners, here's a pic of the woman over fifty I admire most – my lovely mum.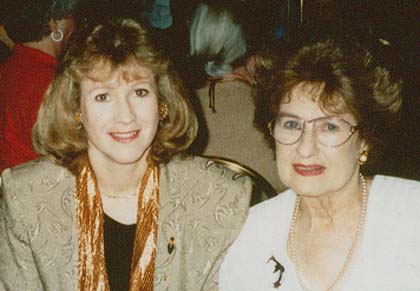 And now, drum roll please . . .
The first prize of a signed copy of 'A Place of Her Own' with a matching handmade bookmark goes to Larry A.
Larry wrote lovingly about his wife Therese, an inspirational woman who is courageously overcoming a massive brain injury.
And here are the six runners-up, all of whom have won a handmade, signed bookmark:
Evelyn S chose Deborra-Lee Furness. (I have to agree here, Evelyn, and not just because we're both called Deb. Like you, I greatly admire her dedicated work in changing Australian adoption laws . . . and her choice in men.)
Marice K who chose her 101-year-young mum-in-law, a positive woman with a fighting spirit.
Christine M nominated her sister-in-law, Celia, who does an amazing job as a teacher of children with hearing and vision impairment.
Amanda B chose Mem Fox, iconic children's author ('Possum Magic') and literacy ambassador.
Sharon M and Maritsa Z both nominated the amazing Ita Buttrose.
Congratulations to the winners and thank you to everyone who entered. Could those winners who didn't provide mailing addresses, please email me via the Contact page with their address and the name they'd like for the signed dedication on the back of their bookmark.
Deborah
May 28, 2014
---

Film Review: 'The Grand Budapest Hotel'
Yes, I know the next Academy Awards are still almost a year away, but I'm making a prediction right now - that Wes Anderson's film will win Best Picture.
In brief, it's the story of a hotel concierge who is accused of murdering an elderly female guest, one of his many paramours. The setting is an alpine region* somewhere to the east of Germany, and most of the action takes place in 1932, although there are segments set in 1968 and 1985 featuring characters from the thirties and serving as 'bookends' to the story.
As a film, 'The Grand Budapest Hotel' is full of contradictions. It's highly stylised and decorative, full of farcical elements, yet there are also serious political undercurrents. It makes gentle fun of cinematic storytelling traditions: the voiceover narration, the story within a story, the chase scene, the prison break, the buddy movie, but it also takes these to new levels. And although there are echoes of 1930s classics such as 'Grand Hotel'** and even the romantic comedies of Ernst Lubitsch***, this film is far more than an homage.
The cast is superb. There are some brief but memorable cameos from Tilda Swinton as Madame D; Adrian Brody as the rapacious son, Dmitri; Willem Dafoe as a suitably creepy villain; Owen Wilson as the delightfully named Monsieur Chuck. But the standout performances come from the two leads: newcomer Tony Revolori as the wide-eyed lobby boy, Zero Mustafa, and Ralph Fiennes as the vain and supremely confident concierge, Monsieur Gustave H. Just when we've decided he's a rather obnoxious character preying on 'women of a certain age', we catch a glimpse of him eating dinner alone in his spartan room, clad only in his underwear. Is he equally as vulnerable as the women he sleeps with? As the story progresses, we begin to see other aspects of Gustave H which make us question our early assumptions about him.
The film is a visual feast. As a Libran, I just can't resist the symmetry of the set-ups. As an artist, I'm drawn to the sumptuous Art Nouveau/Art Dec interiors. Like Luchino Visconti in 'The Damned', Wes Anderson has an impeccable eye for detail. Every set is perfectly decorated, from the painted wall panels to the bric-à-brac. One scene in particular stands out for me – the reading of the will. The ghoulish family has assembled in front of the dour Deputy Kovacs (Jeff Goldblum), executor of the estate. He stands behind a desk trimmed with antler-horn legs. Beside him is a rampant stuffed bear and in the background there's a folk-art style painting of a pig. Everything mirrors the greed of the family.
The voiceover narration is brimming with in-jokes, sub-text and double-entendres. Writers suffer from 'scribe's fever'; the annexation of Zubrowka is compared to an epidemic of 'Prussian grippe'. There is amusing signage everywhere. In fact, during the prison break sequences, the signs literally point the way to freedom. So much is going on visually and verbally that you'd have to see the film many times to take it all in.
But this isn't just a clever and entertaining confection; it's also a sad political allegory about the rise of fascism in 1930s Europe.
If you loved Jean-Pierre Jeunet's 'A Very Long Engagement', I feel confident that you'll enjoy this. Wes Anderson is an American with a European sensibility and a deep appreciation of the traditions of 1930s cinema.
In a nutshell, this a a delightful, quirky and poignant film. I rarely use the term 'masterpiece' but I suspect that 'The Grand Budapest Hotel' will go down in cinematic history as one of the greats.
* Writer/director Anderson is playfully vague about the location – at times the film seems to be set in Sudetenland (the part of Czechoslovakia which was annexed and occupied by the Nazis in 1938). But 'Budapest' would of course place it in Hungary!
** Filmed in 1932, (the year in which Wesley Anderson sets his film) 'Grand Hotel' was based on the 1929 German novel by Vicky Baum, 'Menschen im Hotel' (People in the Hotel).
*** Often set in a mythical olde-worlde Vienna.
Deborah O'Brien
May 20, 2014
---

Launching 'A Place of Her Own'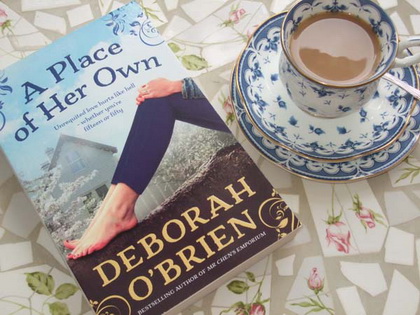 Completing the final draft of a manuscript is only the start of the publication process. It's followed by months of revising, tweaking, polishing, editing and checking. After a final proofing, the book goes off to the printer. A month or two later, there's a courier at the author's front door, delivering a box of advance copies. You tear open the box and smile with pride at the finished book. You run your fingers over the embossed lettering on the cover, only to realise that your name is bigger than the title! And you wonder if it shouldn't be the other way around. With considerable trepidation you begin reading the text. On reaching the end you sigh with relief that you haven't found a typo . . . or shudder at a mistake you missed and pray nobody will notice.
A couple of weeks pass and suddenly it's launch day. You emerge from your writing cave, blinking into the bright sunlight, and head off to meet the people who make books come alive – the readers. Without a reader, a book is just a collection of printed pages bound together inside a cover, or a digital file hovering in cyberspace. It is the reader who brings his or her own experiences and emotional agenda to the author's story and adds dimensions that weren't there in the first place.
Lunchtime, Thursday, May 1 and I'm at Hurstville City Library where I feel honoured that sixty people have gathered to listen to my launch talk.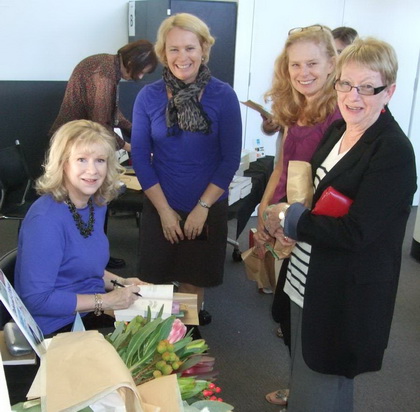 Naturally enough, I speak about 'A Place of Her Own' but I also outline my own journey towards becoming a novelist, with all its twists and turns. Afterwards members of the audience ask insightful questions about the writing process and I have to confess that I'm the kind of wayward author who doesn't plan her work beyond an initial premise and some guideposts.

I also discover that there are several enthusiastic members of the 'Richard Scott fan club' in the audience. Since I've always considered Richard the unlikeliest heart-throb of all time, I'm rather puzzled by this phenomenon.
The lovely library staff, including Sue, the 'Adult Collections' librarian (no, it's not as racy as it sounds – it simply means books for adults as opposed to children) have organised everything meticulously, including a delicious array of nibbles and glasses of champers.
The next day I'm on my way to the country for Saturday's book signing at the delightful Miss Ruby's Bookshop in Braidwood.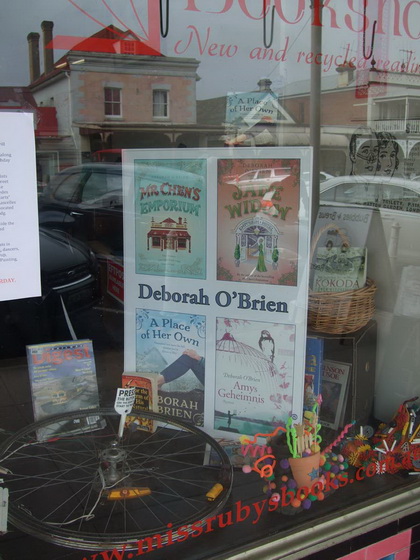 Housed in a row of Victorian-era shops with cast-iron lace verandahs, Miss Ruby's exemplifies everything I love about small local bookshops – a cosy interior with comfortable armchairs, a mix of new and recycled books, and friendly owners who will do their best to track down obscure books for you. To complete the picture, there's a rescue cat called Millie.
Saturday, May 3 also happes to be Braidwood's heritage festival, celebrating 175 years since the town was founded. The Governor herself is in town for the occasion. She seems to be enjoying herself immensely. And no wonder – it's a fabulous day with heaps of things to do – watching the street parade, visiting the Heritage Art Prize exhibition, buying bric-a-brac at the heritage markets, watching maypole dancing in the park and enjoying the random acts of art and music staged along the main street.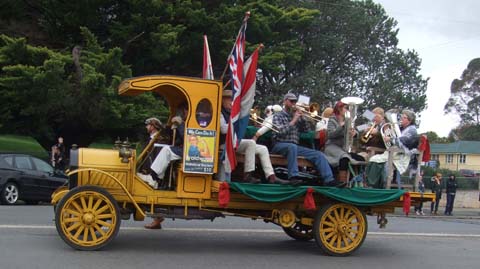 Deborah O'Brien
May 6. 2014
---

Free Bookmarks to Download
Designed by Deborah O'Brien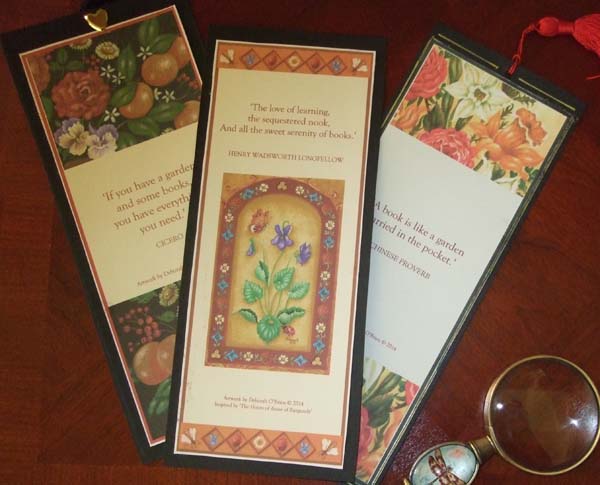 As a reader, you can never ever have enough bookmarks, especially if you're the kind of person who has several books on the go at the one time.
So I've designed a range of bookmarks for you to download and print. Some of them feature my new book, 'A Place of Her Own' (coming May 1), but there are also 'generic' designs with my favourite quotes about books and reading. There's even one for the blokes.
Keep the bookmarks for yourself or feel free to give them to family and friends or share them with your book club. But please note that the designs are not to be sold or used for commercial purposes.
There are three bookmarks on each A4 pdf page.
Just click on the link beneath each set of three.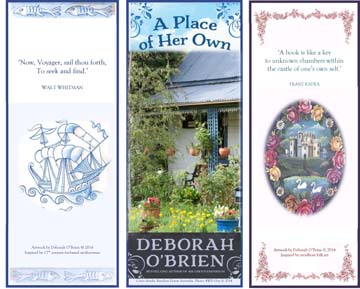 Bookmark set 1 (PDF)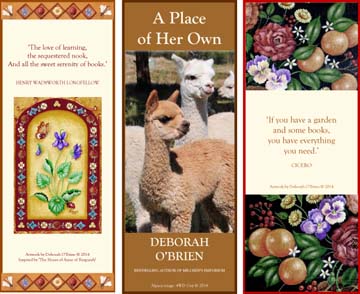 Bookmark set 2 (PDF)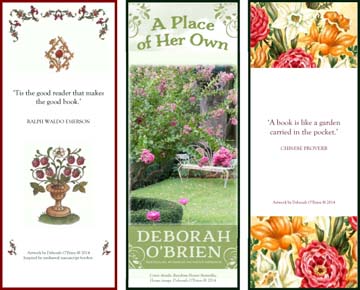 Bookmark set 3 (PDF)
As a former DIY author and teacher, I just can't help myself when it comes to giving make-it tips! So here are a few ideas for making the bookmarks.
THE EASY OPTION
You can print them on ordinary 80 g/m² white photocopy paper and cut them out, but because the paper is relatively lightweight they may tend to curl. Then again. if they get tatty, you can always print some more!
THE STURDIER OPTIONS
1. Use heavier paper. I like HP 200g/m² Colour Laser Paper in white.
Always check that the paper you choose is suitable for your particular printer.
OR:
2. Cut out the bookmark and glue it to cardboard. This is what I did with the examples in the photo.
I used black cardboard and left a cardboard border all the way around. If you want to make the bookmark special, you could rule a line-border with a gold pen.
If there are white edges showing around your bookmark, wait until the glue is thoroughly dry and use a coloured pencil to camouflage them.
This is a project which would be perfect to do with the kids in the school holidays. It's suitable for older children (late primary and high school) and really encourages a love of books. They might even be inspired to design bookmarks of their own!
I do hope you enjoy your bookmarks as much as I enjoyed designing them for you.

If so, please let me know by liking my Facebook page or sending a note via the Contact page of this website.
Deborah
March 25, 2014
---
Subcategories
Home in the Highlands blogs