---

Winners of the Spring Book Giveaway
What is your favourite novel?
Thank you to everyone who entered the Giveaway – I really enjoyed reading through your choices which ranged from 'To Kill A Mockingbird' and 'Cloud Street' to more obscure titles such as 'If on a winter's night a traveller' by Italo Calvino (which I'll be adding to my spring reading list because it sounds so intriguing).
So without further ado, here are the winners:
1st prize (a signed copy of 'Folk Art of France') goes to:
Michelle E

from Victoria who chose Paulo Coelho's superb novel, 'The Alchemist'
Now for the consolation prizes.
A signed handmade bookmark goes to each of the following entrants: Catharine T of N. Qld, Chris M of NSW and Judy M also from NSW.
Congratulations to the Winners!
If you didn't supply your contact address in the entry email, would you kindly drop me a line via the Contact page with your details. Also, please let me know the name you'd like me to include when I sign your prize. Prizes should arrive next week.
Disclaimer: This giveaway was not sponsored, endorsed or administered by Facebook.
Deborah O'Brien
October 7, 2014
---

Film Review:
'Magic in the Moonlight'
If I didn't know who had directed 'Magic in the Moonlight', I would find it difficult to believe it's a Woody Allen film. Apart from the thread about the supernatural versus rationalism which is decidedly Allenesque, this fluffy romantic story about a famous illusionist (Colin Firth) sent to unmask a pretty young clairvoyant, Sophie (Emma Stone) might have been concocted by someone else altogether.
All the same, there is much to like about the film, starting with the setting – the Riviera in 1928, which provides the opportunity to dress the cast in elegant 1920s costumes and place them in stunning locations – from cliff tops overlooking a dazzlingly blue sea to gorgeous villas surrounded by terraced lawns and gardens abloom with irises and hydrangeas. Then there's the delightful soundtrack featuring numbers such as Cole Porter's 'You Do Something to Me' (which also made a brief appearance in 'Midnight in Paris') as well as some stirring classical interludes by Beethoven and Stravinsky.
As usual, Allen has assembled a solid cast, headed by Colin Firth as magician extraordinaire Wei Ling Soo, who's really an Englishman by the name of Stanley, a self-obsessed and supercilious boor. In fact, he could easily be a 1920s version of Jane Austen's Mr Darcy. Just as he did in 'Pride and Prejudice', Firth manages to inject some of his trademark charm into the otherwise arrogant and cynical character. And just an aside – when I saw Firth in the opening scene, made up to look stereotypically Chinese, he reminded me of British actor, Robert Donat in 'Inn of the Sixth Happiness'. I wonder if anyone else has noticed the resemblance.
The film is graced by fine supporting performances: the ever dependable Eileen Atkins as Stanley's aunt, the ubiquitous Simon McBurney as Stanley's school friend and rival magician, and Jackie Weaver as the rich widow with the Bronx accent, longing to make psychic contact with her dead husband. Although the character as written tends to be one-dimensional, Weaver does her best to impart depth to the role and being a very fine actress, she succeeds.
Where the film falters is in the writing. There are scenes between Stanley and Sophie towards the end in which the dialogue is repetitive and self-indulgent. Why didn't someone tell Woody Allen he needed to do some pruning? I guess the answer is obvious – when you're dealing with an auteur of his standing, you'd be apprehensive about offering advice like that. 'Magic in the Moonlight' is 100 minutes in length but seems longer. Having said that, Allen's plot does offer some neat twists and turns, leading to a charming resolution.
In summary, 'Magic in the Moonlight' isn't in the league of 'Annie Hall', 'Radio Days' or 'Midnight in Paris', but it's an enjoyable piece of nostalgic escapism nonetheless.
Deborah O'Brien
September 10, 2014
---

THE CUTTING ROOM FLOOR
Warning: Spoiler alert for those who haven't seen 'The Way We Were'
Do you like to watch the bonus features on a DVD? I know I do, especially the deleted scenes. Sometimes it's obvious why the director decided to cut a particular scene. It might have been repetitive or superfluous, or perhaps it slowed the pace of the film or went off at an odd tangent. Maybe it was just dull or ponderous or self-indulgent.
But there are times when you really wish the deleted scene had remained in place. Case in point – 'The Way We Were'. The decision that Hubbell makes towards the end of the film to leave a pregnant Katy and go back to New York just didn't make sense to me, no matter how many times I watched that film. I used to wonder if I'd missed something. Then I watched the special edition DVD with its collection of deleted scenes and discovered there had indeed been an explanatory scene between Hubbell and Katy but director Sydney Pollack had decided to remove it from the final cut. Without that crucial scene, the resolution is confusing to say the least.
Another example from the bonus features of 'The Way We Were' is a bittersweet moment when Katy returns to college in the 1950s and meets a girl who reminds her of herself back in the '30s. Apparently it was Streisand's favourite scene and I can see why – it's poignant and very well-acted. All the same, it ended up on the cutting room floor. I agree with Pollack on this one – there are plenty of those nostalgic moments in 'The Way We Were'. This scene just didn't add anything to a movie which is on the long side anyway.
So how do things work with books? It's much the same - there will always be cuts, and these will happen at various stages during the evolution of the project. In my case, the major pruning occurs after I've completed the first draft. This is when I put my red editing pen to work, crossing out sentences, paragraphs and even pages. The criteria I apply to the cutting process are much the same as those mentioned above. It can be cathartic, even exhilarating to remove the dead wood. However, when the pruning involves 'killing your darlings', it's quite the opposite. This phrase was coined by the iconic American novelist William Faulkner of 'Sound and Fury' fame (who also coincidentally wrote screenplays for Hollywood). He was referring to deleting your favourite pieces of text – this might involve a paragraph, a scene or even a chapter. In a more literal sense, it could even refer to expunging a favourite character.
Now I'm going to let you into a secret. To lessen the pain, I have a habit of saving the deleted text to a 'Cutting Room Floor' file, which means I don't actually kill my darlings – I just deactivate them. In the back of my mind there's always the comforting thought that I can bring them out of suspended animation, if and when they're needed. But does it ever actually happen? Rarely.
Here's an example of a deleted 'scene' from 'Mr Chen's Emporium'. It wasn't just any scene but the preface to the book, the introduction to my dual narrative. I thought long and hard about cutting it. I like prefaces. I even wrote one for 'The Jade Widow'.
In the example below, the writing is acceptable and the text fits neatly on a single page. There's a weather metaphor which might be a problem (in terms of being simplistic, trite, hackneyed, etc) except that it's deeply personal – both for me and my female protagonists. We all hate the frost.
On the downside, the preface is quite abstract and airy-fairy. We don't learn anything concrete about the story. And if the primary role of a preface is to entice the reader to delve further into the book, does this piece of writing succeed in doing that? In the end I followed the old adage: 'If in doubt, cut it out'. Was I right? What do you think?
PREFACE
Change can creep up on you, silent and invisible, like the first frost of the season. If it's mild, it will sit briefly on your surface and melt away with the morning sun - you may not even notice it at all. When it's moderate, you might wilt for a while and recover later in the day.
A severe frost can burn you around the edges. Sometimes your leaves will turn brown and fall to the ground, leaving you bare and exposed. But sooner or later, new growth will appear, stronger and hardier than before. And in the end you will become acclimatised to the frost, so much so that you can meet it with acceptance rather than fear.
Change can be a gentle unfurling, so subtle you don't see it happening. And it might even bring renewal when you thought there was none.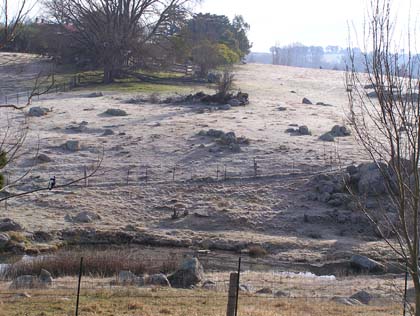 Deborah O'Brien
September 9, 2014
---

Film Review: 'The Hundred-Foot Journey'
Warning: This is a film that will make you hungry!
Last Sunday afternoon, with the rain setting in and a deadline looming, all I wanted to do was escape to the cinema and lose myself in an entertaining movie. And that's what happened with 'The Hundred-Foot Journey'.
For those who like their films dark and serious, this is not the motion picture for you. Essentially it's light, fluffy and, dare I say, predictable. But, strangely enough, it's the film's predictability that makes it comforting, much like a fragrant curry you cook on a cold winter's day, knowing it will warm your tummy and boost your spirits.
'The Hundred-Foot Journey' is the story of the Kadam family, whose restaurant in Mumbai is burnt down in a riot, and who lose their beloved matriarch in the fire. They emigrate to the UK but find the English weather depressing. So they cross to the Continent where they buy an old van and drive south. As luck (or the screenwriter) would have it, the brakes fail on the outskirts of Saint-Antonin-Noble-Val, which just happens to be one of the most beautiful villages in south-western France. Papa, played engagingly by veteran Indian actor, Om Puri, has a little chat with his dead wife and decides to buy a rundown restaurant just outside the village. The only problem is that a hundred feet across the road is a ritzy Michelin-star establishment run by elegant widow, Madame Mallory. You can already see where it's heading, can't you? The perfect movie for baby boomers – in the spirit of 'The Best Exotic Marigold Hotel'. Throw in Papa's good-looking younger son, Hassan Haji, who's a talented but untrained cook, and Marguerite (Montreal-born Charlotte Le Bon), the pretty sous-chef at Mme Mallory's restaurant, and you have something for the Gen Y members of the audience as well – not that there was anyone under fifty in the cinema last Sunday.
Initially, of course, there's a clash of cultures and food styles – Mme Mallory's restrained French elegance versus the Kadams' earthy joie de vivre; the Frenchwoman's classic haute cuisine and tastefully decorated restaurant in contrast to the hearty dishes, loud music and vibrant colour scheme of the Kadams' courtyard eatery.
The antagonistic exchanges between Papa and Mme Mallory which arise from these differences are a delight to watch. At first though, I did wonder why the very English Helen Mirren had been cast in the role of Mme Mallory when there are plenty of famous French or French-Canadian actresses d'un certain âge (the lovely Isabelle Huppert, for example, or Geneviève Bujold) who could have played the part. Yet I concede that Mirren's French is rather good, even to mastering the difficult uvular 'R', and so is her accented English. There were just a few occasions, however, when I was looking at her in profile with her shortish curled hair and suddenly saw the Queen! Fortunately those moments were brief and infrequent.
It's Om Puri's Papa with his velvety voice and gruff charm who holds this film together. I have to confess I'd never heard of him before reading the credits, and I had to Google him to learn about his prestigious career. It turned out I had seen him before, a much younger version of himself in 'The Jewel in the Crown', a miniseries I enjoyed back in the Seventies (with the gorgeous Art Malik).
As a foodie, I loved the food preparation scenes. The timing of the film was perfect for me too, considering I'm in culinary withdrawal following the end of the 'Master Chef' season. Like the popular TV reality show, this film celebrates the psychological aspects of cooking and eating, the fact that certain dishes evoke special memories. As Hassan's mother tells him at the start of the film: 'When you cook, you make ghosts.' Mama doesn't mean scary ghosts, she's talking about pleasant echoes of the past. And it's true, isn't it? A roast leg of lamb with mint sauce can still summon up memories of my grandmother and her perfectly laid dining table. The enticing smell of golden syrup gently heating in a saucepan can take me back to my mum making batches of ANZAC biscuits to put in our school lunches.
Food isn't incidental to this film. It's ever-present and warmly evocative. I swear there were times when I could actually smell the cardamom, coriander and cumin. And I'd never realised that the making of Hollandaise sauce could be so sensuous.
In summary:
Like a fragrant curry, 'The Hundred-Foot Journey' is both comforting and delicious. Recommended for those who like heartwarming, feel-good films.
Deborah O'Brien
August 21, 2014
---

Rose Scott Women Writers' Festival 2014
Rose Scott 1883
Source: Wiki Commons; Photographer, August Ludwig, State Library of NSW
Imagine a writers' festival so friendly and intimate that you could chat with your favourite author over coffee and have a book signed without standing wearily in a long queue. Picture a setting so comfortable and elegant you would instantly feel at home. Imagine a series of lively sessions showcasing novels written by Australian women, encompassing art, mystery and historical fiction set in periods as diverse as medieval times and nineteenth and twentieth century Australia. Plus a warm and enthusiastic audience of book lovers with insightful questions and comments to offer . . . That sums up the second annual Rose Scott Women Writers' Festival, which was held on August 15 and 16 at the Women's Club, overlooking Sydney's leafy Hyde Park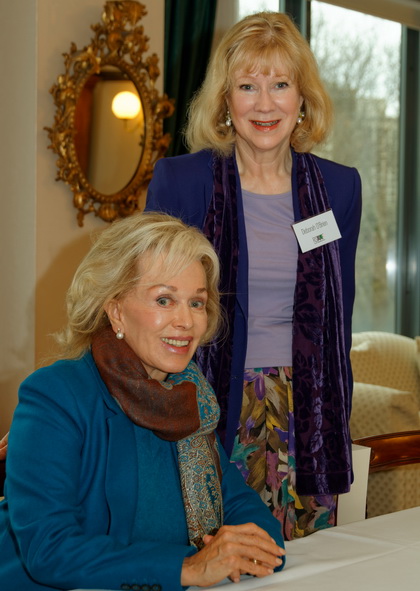 With Blanche d'Alpuget and Festival Producer, Margaret McKay. Pic courtesy of Greg McKay
I was privileged to be part of this year's Festival, named in honour of social reformer and suffragist, Rose Scott, co-founder of the Women's Club and a key figure in the women's suffrage movement. Coincidentally, Rose makes a cameo appearance in my novel, 'The Jade Widow' as a mentor to my aspiring doctor, Eliza Miller.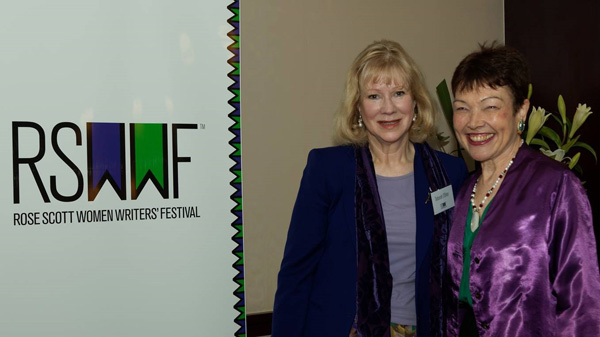 With Jenny Strachan in our suffragette colours. Pic courtesy of Greg McKay
The Festival took place over two days, beginning on Friday with a literary lunch featuring Annabel Morley, daughter of renowned actor and raconteur, Robert Morley, and grand daughter of actress, Dame Gladys Cooper. Annabel is the author of a delightful memoir entitled 'The Icing on the Cake' about growing up in a theatrical family.
Saturday's program commenced with a musical introduction from the talented Lindsay Drummond who composed and sang a moving tribute to Rose Scott. Then it was time for my conversation with author and presenter, Jenny Strachan (both of us wearing suffragette colours of violet, white and green). We discussed the historical figures who appear in 'The Jade Widow': Rose Scott, naturally, plus Dagmar Berne (Australia's first female medical student), Quong Tart (merchant, philanthropist, community leader) and politician, Sir Henry Parkes.
Following a coffee break, Lisa Forrest introduced Blanche d'Alpuget, whose latest book, 'The Young Lion', is the first novel in a series about the House of Plantagenet. I was particularly interested to hear Blanche's approach to researching and writing historical fiction and found myself so excited by what she had to say about her story and its characters (Eleanor of Aquitaine, Geoffrey, Duke of Normandy, and his son, Henry, among others) that I just had to buy her book at the end of the session.
After the lunch break we returned to hear Michaela Bolzan in conversation with one of Australia's most beloved novelists, Judy Nunn, who spoke about creating a sense of place in her novels and also shared some funny and fascinating anecdotes about her writing life. I especially enjoyed her insights into how being an actor enhances her work as a writer.
Last but not least, we heard from art historian and author, Susan Steggall about her art-mystery novel called 'It Happened Tomorrow' which sounds so intriguing that I can't wait to read it. Sue also spoke about her experience of living in France and how this has found its way into her writing.
Huge congratulations to creative director, Michaela Bolzan and producer, Margaret McKay, together with Jennifer Scott, Jenny Strachan and all the team at the Women's Club for organising such a friendly and stimulating event. May there be many more!
Deborah O'Brien
August 17, 2014
---
Subcategories
Home in the Highlands blogs