---

Frosty Tales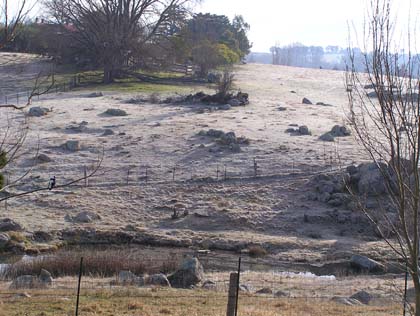 When I began planting my country garden, I had visions of French lavender hedges and geraniums in pots. By the end of summer that dream had become a reality. Then, one autumn morning, I discovered something very strange. Overnight the geraniums had turned brown and the lavender was drooping. Thinking that the plants needed watering, I gave them a generous soaking. For good measure, I trimmed off the worst of the drooping lavender stalks and removed the dead geranium flowers.
The next morning, I checked my garden, expecting a recovery. Instead, the lavender looked worse than ever. The remaining flower heads had begun to wilt, as though they were grieving for their lost companions. And the geraniums were barely recognisable. As I touched the leaves, they turned to dust in my fingers. What had happened, I wondered, to cause such havoc?
You guessed it. The culprit was that stealthy morning visitor – the dreaded frost! As a coastal gardener, I'd never experienced one before. Even now, when I know how destructive they can be, there are winter mornings when I find myself gazing out the living room window and marvelling at the white fields, glistening as if they've been dusted with crystallized sugar. But, believe me, the dark side of frost far outweighs its transitory visual delights.
So, how does a gardener fight back? You can monitor the weather forecasts and cover your plants in the afternoon or evening in anticipation of a frost. You can get up early and try to hose off the icy crystals – that is, if your hose isn't frozen. You can accept the losses and plant suitable things next time. Or you can abandon the idea of a garden altogether and watch luxuriant weeds filling the space. (Wouldn't you know it? Weeds are frost-hardy.)
What did I do? Something I should have done in the first place. I walked around town and checked out what was thriving in other people's gardens. I even pinched some cuttings from a rock-rose in the garden of our old courthouse (ten cuttings; one survived to grow into a lush shrub from which I now plan to take more cuttings).
Then I visited the local nursery and sought expert advice. What I learned was this. Choose the right plants for your climate. Even then, protect them for the first few winters and allow your plants to acclimatise. Don't remove frost-damaged tips until the frost danger has passed for the season – like a scab over a cut, they protect the ends of the stems. And don't expect geraniums to survive the winter. Then again, they might surprise you in the spring with a burst of new growth.
Since then, I've accumulated plants that seem to do well in our harsh climate (hot, dry summers and bitter winters) – rock roses, of course, buddleia (summer lilacs) and real roses. Owing to the low humidity, my country roses don't seem to have the fungal problems which afflict their city cousins.
Writers are fond of using the weather as a metaphor. Sometimes it works brilliantly; at other times it seems like a cheap trick. I have to confess I've incorporated a frost or two into my novel, MR CHEN'S EMPORIUM. Having read this article, you'll know it isn't merely a stylistic device I've thrown into the book to impress the reader. My feelings about the frost are real and visceral. So are those of my female protagonist, Angie Wallace, who hates frosts with a passion, even comparing them to Bram Stoker's Dracula, creeping up to suck the life out of the little plants she holds so dear.
Angie's right. The icy onslaught is likely to cause serious damage, and recovery can be a slow process. It may not happen this season, or even the next. And just when you start to bloom again, there may be setbacks. But slowly you will build frost-hardiness. And one day you may find that you have grown in ways you never imagined possible.
Deborah O'Brien
April, 2012
---
View all the articles by date from the most recent here.
View all the articles by theme here including my film reviews and Home in the Highlands articles.
---
LATEST BLOG ARTICLES
Home in the Highlands: I'm Dreaming of a White Christmas Dec 2021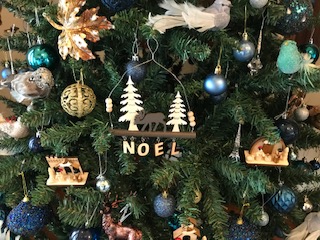 Christmas and Crises
Déja Vu: Lessons from the Spanish Flu Pandemic June 2021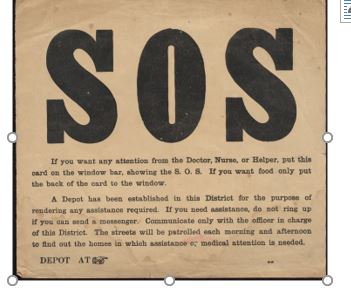 Parallels between the pneumonic fever pandemic of 1919 and Covid-19

BLOG ARTICLES BY DATE
I'm Dreaming of a White Christmas December 2021
Déja Vu: Lessons from the Spanish Flu Pandemic June 2021
The 'Camille Dupré' Songbook May 2020
Researching 'Camille Dupré' May 2020
My Top Three Tips for Aspiring Authors March 2020
Writing and Art March 2020
The Five Books That Have Influenced Me Most March 2020
My Top Five Films about Politics Feb 2020
Film Review: '1917' Jan 2020
Home in the Highlands: Autumn May 2018
Home in the Highlands: The Flying Carpet July 2018
Home in the Highlands: A Tale of Two Chandeliers April 2018
Home in the Highlands: The Secret Garden April 2018
Home in the Highlands: Finding the Dream Home March 2018
Book Review: 'Lake Hill' by Margareta Osborn June 2017
Film Review: 'Their Finest' April 2017
Film Review: 'Alone in Berlin March 2017
My Top Six Tips for Writing Historical Fiction Feb 2017
'The Princess Diarist', Carrie Fisher Dec 2016
'The Rarest Thing' Playlist Nov 2016
Book Review: 'Daintree' by Annie Seaton Nov 2016
Interview with Annie Seaton Nov 2016
Crafting Characters Oct 2016
Welcome to 'The Rarest Thing' Blog Tour Oct 2016
TV Review: Reality Big Guns Aug 2016
Five Things I Love about Writing Fiction Aug 2016
Deborah's Yummy Chocolate Mousse July 2016
A Gallipoli Story: Finding Uncle Arthur April 2016
A World Without Downton: The 'Downton Abbey' Finale April 16
What is 'The Rarest Thing'? April 2016
Film Review: 'Brooklyn' Feb 2016
Molly Grows Up Feb 2016
Film Review: 'The Revenant' Jan 2016
Book Review: 'Kakadu Sunset' by Annie Seaton Jan 16
Q&A with Annie Seaton Jan 2016
2015
Meet Mrs Christmas Dec 2015
Film Review: 'The Dressmaker' Dec 2015
'The Trivia Man' Trivia Quiz Nov 2015
The Nerd as Hero: Reclaiming the Label July 2015
(Guest Blog for Dark Matter Zine at their website)
Another Bookish Trivia Quiz July 2015

A Bookish Trivia Quiz June 2015
The Trivia Man Blog Tour June 2015
Launching 'The Trivia Man' June 2015
A Gallipoli Story: The Lost Shearer April 2015
Meet the Cast of 'The Trivia Man' April 2015
What Makes a Good Tagline? March 2015
Quiz Kid? Feb 2015
Film Review: 'Birdman' Jan 2015
Film Review: 'The Water Diviner' Jan 2015
2014
The Trivia Man Is Coming Dec 2014

My Christmas Dec 2014
Zucchini and Herb Frittata Nov 2014
Trivia Isn't Trivial Nov 2014
Lost and Found Oct 2014
Film Review: 'Magic in the Moonlight' Sept 2014
The Cutting Room Floor Sept 2014
Film Review: 'The 100-Foot Journey' Aug 2014
Rose Scott Women Writers' Festival Aug 2014
Film Review: 'Jersey Boys' July 2014
Emporium Trilogy Quiz (with answers) June 2014
Film Review: 'The Fault in Our Stars' June 2014
An Aspiring Author's Guide to Book Jargon June 2014
The Beatles and Me June 2014
Book Giveaway Winners May 2014
Film Review: 'The Grand Budapest Hotel' May 2014
Launching 'A Place of Her Own' May 2014

Free Bookmarks to Download March 2014

Film Review: 'The Monuments Men' March 2014
Film Review: 'Twelve Years a Slave' Feb 2014
My Top Ten Romantic Comedies Feb 2014
Film Review: 'Saving Mr. Banks' Feb 2014
Four Stories about Platonic Love Feb 2014
Five Books about Unrequited Love Jan 2014
First Impressions Jan 2014
2013
Christmas at My Place Dec 2013

About a Dog November 2013
What's Next? 'A Place of Her Own' Nov 2013
The Amazing Mr Carroll November 2013
Film Review: 'About Time' October 2013
The Jade Widow@Mr Chen's Emporium Oct 2013
Ode to Spring September 2013
When a Platypus's Fancy Turns to Love Sept 2013
How Big Is Your Book? September 2013
Fairytale Turrets and Other Fantasies August 2013
A Winter's Tale August 2013
'He Who Would Valiant Be' August 2013
Country Dog July 2013
Spot the Anachronism! July 2013
Puppy Proof? July 2013
A World Without Books: 'Fahrenheit 451' June 2013
A Bonzer Aussie Dog June 2013
Review: Hope's Road June 2013
Puppy Love May 2013
Attack of the Anachronisms May 2013
When Winter Comes Early May 2013
The Victorian Art of Scrapbooking April 2013
In Search of the Emporium April 2013
Elegant Architecture April 2013
A Country Sunday March 2013
Adverbs and Chocolate Feb 2013
Introducing THE JADE WIDOW Jan 2013
The Colour Lilac Jan 2013
2012
Christmas Dec 2012
Alpacas versus Llamas Dec 2012
The Jade Widow Nov 2012
Angie's Westerns Nov 2012
Recreational Sewing in Cesarine Oct 2012
Inspirations for 'Mr Chen's Emporium' Sept 2012
An Aladdin's Cave Sept 2012
Anatomy of a Gold Rush Town Sept 2012
Amy Duncan and her Books Sept 2012
Old-fashioned Heroes Sept 2012
Happy Endings? Sept 2012
Why Is a Book Like a TARDIS? Sept 2012
An Emporium by Any Other Name Aug 2012
Never Write When You're Hungry July 2012
The Case of the Missing Monotremes June 2012
The World of the Book May, 2012
Frosty Tales April 2012
Tales of the Emporium March 2012
---

Tales of the Emporium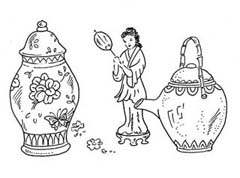 When I was a little girl, suburban shopping malls were a new and rare phenomenon, and the city was still the heart of the retail world. During the school holidays my grandmother used to take me to visit the big department stores like Anthony Hordern's, Mark Foy's, Grace Bros at Broadway, Farmers and David Jones. She was an inveterate shopper. So are my mother and I – it's in the blood.
I must have been about eight when I first heard the word 'emporium'.
'Let's go to the Palace Emporium,' my grandmother announced as we emerged from the dark railway tunnel at Museum into the dappled sunlight of Elizabeth Street. It turned out that the Palace Emporium was the old name for the magnificent six-storeyed Anthony Horderns' building, which occupied much of the block bounded by Pitt, George and Goulburn Streets.
Built in 1905, the Emporium was four years younger than my grandmother, a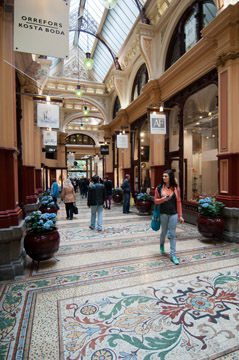 girl born and raised in the Central West of New South Wales. At the age of twenty-one, with her mother dead from the pneumonic flu and her father a distant memory (having deserted his wife and three daughters many years earlier), she took the decision to move to the city. She had left her formal education behind at age thirteen, but made up for it by reading everything she could get her hands on. She was also a talented seamstress, able to put together a stylish outfit in no time.
I can just picture my grandmother in her cloche hat and fox-fur stole, alighting from the train at Central, her suitcase in one hand and Gladstone bag in the other. If she had walked up George Street or even caught a cab, she couldn't have missed the Palace Emporium looming into view on the right. Even a country girl would have recognised the famous building, familiar to everyone from the picture on the cover of the Anthony Horderns' mail-order catalogue.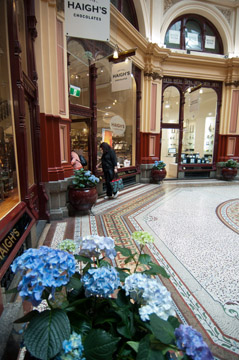 Decades later, I too found myself gazing at the same edifice, a little girl gripping her grandmother's hand. True to its name, the exterior looked like a palace, complete with a castellated tower and parapets topped by a series of Grecian urns, like jewels on a crown. Being a child, I had no idea that the business was in decline, nor that the term 'white elephant' had been used to describe the premises. (And even if I had heard those words, I wouldn't have understood the significance of the metaphor.) All I saw was a fairytale castle. Sadly there would be no happy-ever-after for the Anthony Horderns' building, but nobody knew that then.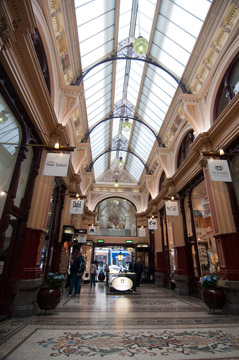 Once inside the store, I discovered embossed metal ceilings, heavy columns, vast spaces and an array of goods meticulously laid out on tables. I might be confusing it with somewhere else, but in my mind's eye I can still see an old-fashioned docketing system using a pulley and wires, which seemed to spirit away the money and promptly deliver a receipt, as if by magic. Back then, department stores had lifts with operators who would recite the names of the goods on every floor. I could have ridden up and down in those lifts for hours, just listening to the fascinating inventory.
Ever since those days, I've loved the word 'emporium', though as a small child, I never imagined I would write a novel with an emporium as its centrepiece … or a novel of any kind, for that matter. My own emporium isn't grand like Anthony Horderns'. It's just a single-storeyed building of modest size on the main street of a fictional country town.
However, inside its blood-red front doors, the heroine Amy Duncan finds a different world, 'a storehouse of possibilities', as she calls it. For someone who loves to shop, it's filled with covetable items – silks, furniture, porcelain and jade. For a young woman intrigued by its owner, there is far more to Mr Chen's Emporium than the merchandise. Above all, it is a place where a love story, prohibited by the prejudices of nineteenth-century society, can blossom unchallenged, until …
Read more about MR CHEN'S EMPORIUM here.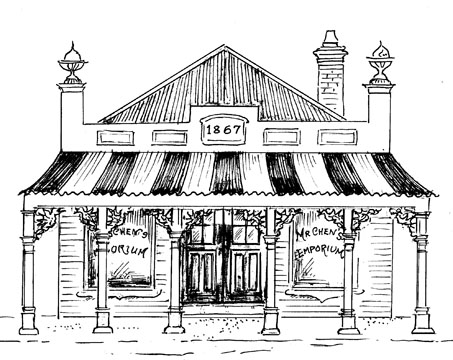 The magnificently restored arcades in the photographs above are in Melbourne, not Sydney. Apart from the wonderful Queen Victoria Building and the Strand Arcade, it is a tragedy that Sydney retains very little of its 19th century shopping history.
Deborah O'Brien
March, 2012
---

Country Ways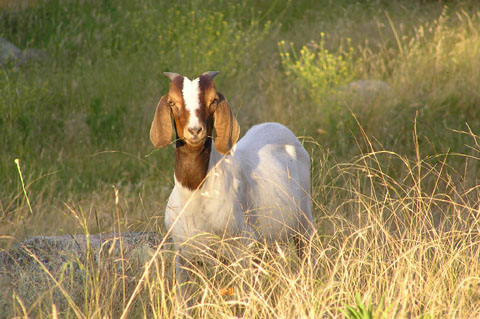 What's so great about living in the country, people ask me? The nineteenth-century poet, William Cowper said it all in his famous line: "God made the country, and man made the town".
Here are some of the things that make country life special for me:
Sheep bleating at night (in the city it's police sirens)

Frogs mumbling to each other in the creek

Flocks of black cockatoos before a rain shower (you can't get angry at them, even when they've littered your lawn with pine-cones and branches)

A lone bustard (Australian stork) patiently watching for prey among the reeds

A wallaby doing an elegant jump over a barbed-wire fence

Newborn lambs and calves at the end of winter

Tiny frogs as small as leaves

A baby wombat on the door step late at night

Church bells on a Sunday morning

A front-page story in the local newspaper about a lost teddy bear, complete with photo.

A mayoral election where the councillors' votes have resulted in a tie, so they draw a name out of a hat

And people who smile and say hello when they pass you in the street, whether they know you or not
Deborah O'Brien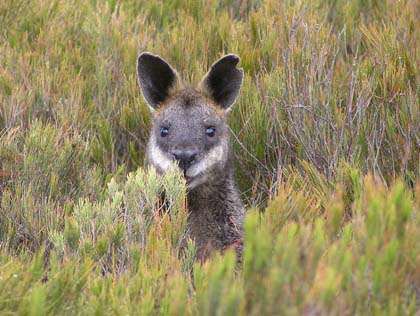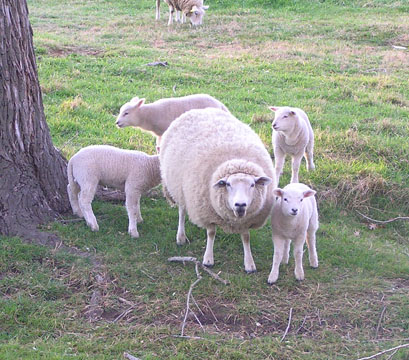 Subcategories
Home in the Highlands blogs