---

The Case of the Missing Monotremes*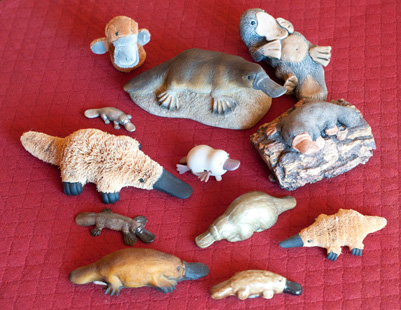 Some years ago, when we bought our little country cottage, we discovered at least two platypuses visiting our stretch of the creek. As a house-warming present, my husband bought me a stone platypus he'd found in the local nursery. In turn, I gave him a duck-billed doorstop. Soon I had acquired a vast collection of platypuses, indoor and out: stuffed toys, glass, silver, pewter, ceramic and china ornaments, a thimble, a bottle stopper, Christmas decorations, fridge magnets, coasters, mugs, plates, prints – you name it, we had it. Some of them were my own purchases; others were gifts from visiting family and friends. A ten-year-old house guest was so fascinated by the collection that she actually counted them and came up with a total of thirty-eight. And that was just inside! Then she gave every single one its own name.
Now let me tell you a story about the platypuses in my garden. One night we arrived late at our cottage after a long drive from the city. As I walked along the path leading to the front door, I had a feeling something was different. My husband shone his torch around, but everything seemed to be okay. It wasn't until the next morning when I was hosing the garden that I noticed the resin platypus which normally resides in the bird bath, was no longer there. Curious. Then I looked for the doorstop platypus. You guessed it. He was gone too. So was a large monotreme made of stone, measuring at least twice the size of the real animal. (I had discovered him at the local markets. He was so heavy I could barely lift him. In the end I had to phone my husband to come and lug him back to the car.) A couple of smaller platypuses had gone missing as well. Then I checked my other garden ornaments – a wooden birdhouse, several birdbaths, a stone wombat, a weather vane, a selection of ceramic pots. Not to mention a French-style metal table and chairs. Everything was in its place, except for the platypuses. Curiouser and curiouser.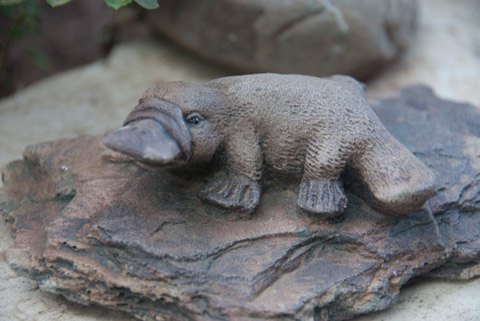 After considering the items which had been taken, and those left behind, together with the fact that the incident had taken place during the school holidays, we came to the conclusion that the culprits were children. But how could a child have carried that big platypus home? It would have taken at least three children to haul him any distance, and surely someone would have seen them doing it.
So where had those platypuses gone? In my imagination I pictured them gracing someone else's garden. And whenever I went for a stroll, I peered over front fences, looking for my animals. Then I realised that no thief in their right mind, even a childish one, would display them openly. And no parent worth his or her salt would fail to ask questions about a collection of stone platypuses that had suddenly appeared in their garden.
It took me a long time to recover from the loss of my monotremes. In fact, I remained outraged for weeks. So much so that I even considered penning a letter to the local newspaper, warning about petty crimes being the predictor of future criminality and advocating zero tolerance in these so-called 'minor' matters. Although I drafted the letter on my laptop, for some reason I never actually sent it.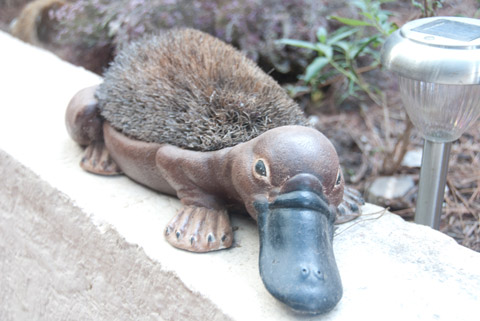 Over the next few months I set about replacing the absent animals. But even when a replacement looked like the original, it lacked the sentimental value. For a long time I felt sad. Not just because my platypuses were gone, but because I was heartsick at the thought of children blithely stealing someone else's property.
When spring arrived, my husband decided to do some tidying in the wild part of the garden where we grow native shrubs – wattles, bottlebrush and banksias, among others.
'I've found your platypuses!' he shouted. 'Come out and have a look.'
As he's a person renowned for kidding others, I thought he was just winding me up and so I ignored him and continued working at my laptop.
'It's true,' he called out. 'They're all here. Under a bush.'
I dragged myself away from the manuscript I was working on, put on my shoes and went outside. There, under a banksia bush and half hidden in a layer of leaf mulch, was a circle of platypuses. They hadn't been stolen after all! They'd been living at 'Platypus Glen' the entire time. Whether children had moved them there, or they had somehow migrated by magic, I didn't know. But whatever had happened, they looked quite content in their hiding place. So content they might have been having a tea party. The big, heavy platypus was there too. Only a few metres from his former home.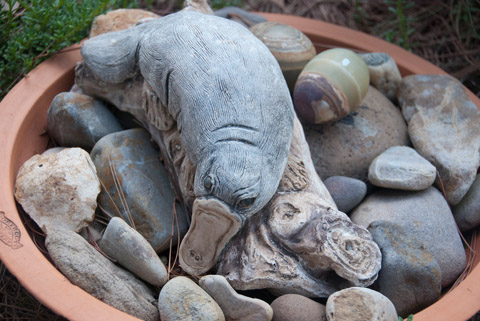 Since I had already replaced each and every one of them with new versions, I decided to leave the 'Originals' where they were, enjoying each other's company in the shade of the banksia. A circle of friends. It's odd really. Because platypuses are known as solitary creatures. But not my monotremes – they like a party!
*Monotremes are egg-laying mammals. There are only two kinds of monotreme in the world – the echidna (spiny anteater) and the platypus, and both are native to Australia. You can see pictures we've taken of these fascinating creatures in the slideshows.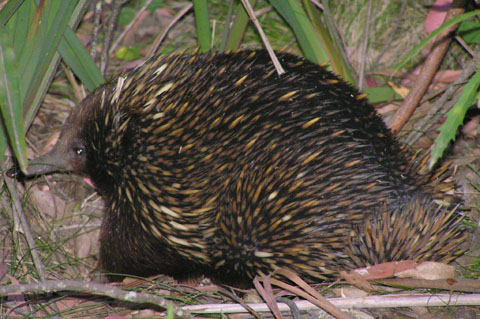 Deborah O'Brien
June 2012
---

The World of the Book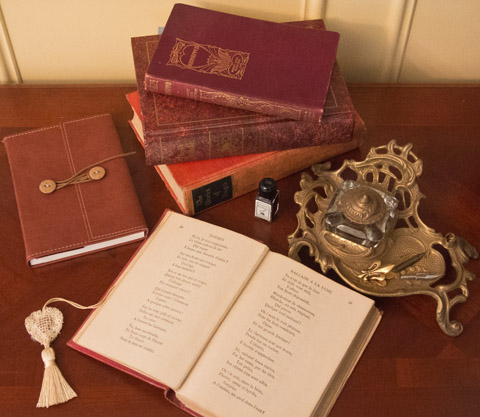 After I gave my mother one of my manuscripts to read, I couldn't wait for her reaction. A few days later she phoned me.
'Did you like it?' I asked anxiously.
'I loved it,' she replied.
What a relief.
Then she added, 'But there's something that's been worrying me about your story.'
Oh dear. Was there a huge plot hole I hadn't spotted? Or had I used too many swear words?
'It's about Amanda,' Mum continued.
Amanda was my female protagonist, the lynchpin of the narrative. If there were problems with her, then it would mean a major rewrite. I started to feel sick.
'It's the shirt that she wears to meet Justin,' said my mum.
I wasn't sure where this was heading. Had I made a continuity blunder by changing the colour of the shirt during the course of the scene? No problem. That was a mistake which could easily be fixed.
'What about the shirt?' I asked.
'Well, she's going to a reunion with a man she hasn't seen in more than thirty years. And it's a long car trip. Won't that linen shirt be badly creased by the time she gets there?'
I started to laugh, though not in a raucous way because I didn't want to offend my mother. Then, as gently as I could, I said, 'Mum, Amanda is a character in a book. She's not real. And neither is the shirt. I made them both up.'
Afterwards, I realised my mother's comment was one of the greatest compliments a writer could ever receive. Mum had entered so completely into the world I'd created that she reacted to Amanda as if she were a real person. And I really shouldn't have laughed because, as a writer, I often become immersed in the story to the extent that it feels more real than my real life.
Have you ever been to a movie and identified so much with a character that when you walked out of the cinema, you felt you actually were the person from the film – just for a few moments? When I'm writing a character, he or she can linger in my pysche after the laptop has been shut down for the day. Sometimes characters will keep me awake at night as they jostle for attention inside my head. And occasionally they will insinuate themselves into my dreams, having found an unlocked door into my subconscious. But don't worry. On a rational level, I do know my characters are inventions. After all, I told my mother that very thing.
Yet, in the right side of my brain, the place where creative ideas originate and grow, it's a different story altogether!
Deborah O'Brien
May 2012
---

Frosty Tales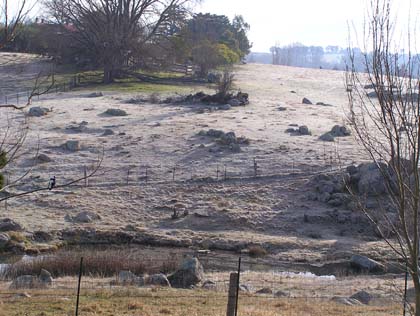 When I began planting my country garden, I had visions of French lavender hedges and geraniums in pots. By the end of summer that dream had become a reality. Then, one autumn morning, I discovered something very strange. Overnight the geraniums had turned brown and the lavender was drooping. Thinking that the plants needed watering, I gave them a generous soaking. For good measure, I trimmed off the worst of the drooping lavender stalks and removed the dead geranium flowers.
The next morning, I checked my garden, expecting a recovery. Instead, the lavender looked worse than ever. The remaining flower heads had begun to wilt, as though they were grieving for their lost companions. And the geraniums were barely recognisable. As I touched the leaves, they turned to dust in my fingers. What had happened, I wondered, to cause such havoc?
You guessed it. The culprit was that stealthy morning visitor – the dreaded frost! As a coastal gardener, I'd never experienced one before. Even now, when I know how destructive they can be, there are winter mornings when I find myself gazing out the living room window and marvelling at the white fields, glistening as if they've been dusted with crystallized sugar. But, believe me, the dark side of frost far outweighs its transitory visual delights.
So, how does a gardener fight back? You can monitor the weather forecasts and cover your plants in the afternoon or evening in anticipation of a frost. You can get up early and try to hose off the icy crystals – that is, if your hose isn't frozen. You can accept the losses and plant suitable things next time. Or you can abandon the idea of a garden altogether and watch luxuriant weeds filling the space. (Wouldn't you know it? Weeds are frost-hardy.)
What did I do? Something I should have done in the first place. I walked around town and checked out what was thriving in other people's gardens. I even pinched some cuttings from a rock-rose in the garden of our old courthouse (ten cuttings; one survived to grow into a lush shrub from which I now plan to take more cuttings).
Then I visited the local nursery and sought expert advice. What I learned was this. Choose the right plants for your climate. Even then, protect them for the first few winters and allow your plants to acclimatise. Don't remove frost-damaged tips until the frost danger has passed for the season – like a scab over a cut, they protect the ends of the stems. And don't expect geraniums to survive the winter. Then again, they might surprise you in the spring with a burst of new growth.
Since then, I've accumulated plants that seem to do well in our harsh climate (hot, dry summers and bitter winters) – rock roses, of course, buddleia (summer lilacs) and real roses. Owing to the low humidity, my country roses don't seem to have the fungal problems which afflict their city cousins.
Writers are fond of using the weather as a metaphor. Sometimes it works brilliantly; at other times it seems like a cheap trick. I have to confess I've incorporated a frost or two into my novel, MR CHEN'S EMPORIUM. Having read this article, you'll know it isn't merely a stylistic device I've thrown into the book to impress the reader. My feelings about the frost are real and visceral. So are those of my female protagonist, Angie Wallace, who hates frosts with a passion, even comparing them to Bram Stoker's Dracula, creeping up to suck the life out of the little plants she holds so dear.
Angie's right. The icy onslaught is likely to cause serious damage, and recovery can be a slow process. It may not happen this season, or even the next. And just when you start to bloom again, there may be setbacks. But slowly you will build frost-hardiness. And one day you may find that you have grown in ways you never imagined possible.
Deborah O'Brien
April, 2012
---
View all the articles by date from the most recent here.
View all the articles by theme here including my film reviews and Home in the Highlands articles.
---
LATEST BLOG ARTICLES
Home in the Highlands: I'm Dreaming of a White Christmas Dec 2021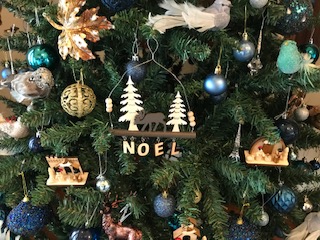 Christmas and Crises
Déja Vu: Lessons from the Spanish Flu Pandemic June 2021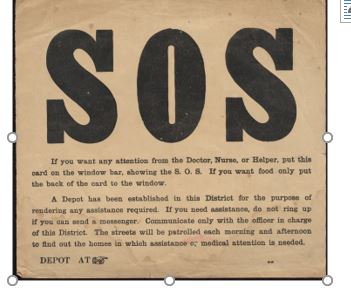 Parallels between the pneumonic fever pandemic of 1919 and Covid-19

BLOG ARTICLES BY DATE
I'm Dreaming of a White Christmas December 2021
Déja Vu: Lessons from the Spanish Flu Pandemic June 2021
The 'Camille Dupré' Songbook May 2020
Researching 'Camille Dupré' May 2020
My Top Three Tips for Aspiring Authors March 2020
Writing and Art March 2020
The Five Books That Have Influenced Me Most March 2020
My Top Five Films about Politics Feb 2020
Film Review: '1917' Jan 2020
Home in the Highlands: Autumn May 2018
Home in the Highlands: The Flying Carpet July 2018
Home in the Highlands: A Tale of Two Chandeliers April 2018
Home in the Highlands: The Secret Garden April 2018
Home in the Highlands: Finding the Dream Home March 2018
Book Review: 'Lake Hill' by Margareta Osborn June 2017
Film Review: 'Their Finest' April 2017
Film Review: 'Alone in Berlin March 2017
My Top Six Tips for Writing Historical Fiction Feb 2017
'The Princess Diarist', Carrie Fisher Dec 2016
'The Rarest Thing' Playlist Nov 2016
Book Review: 'Daintree' by Annie Seaton Nov 2016
Interview with Annie Seaton Nov 2016
Crafting Characters Oct 2016
Welcome to 'The Rarest Thing' Blog Tour Oct 2016
TV Review: Reality Big Guns Aug 2016
Five Things I Love about Writing Fiction Aug 2016
Deborah's Yummy Chocolate Mousse July 2016
A Gallipoli Story: Finding Uncle Arthur April 2016
A World Without Downton: The 'Downton Abbey' Finale April 16
What is 'The Rarest Thing'? April 2016
Film Review: 'Brooklyn' Feb 2016
Molly Grows Up Feb 2016
Film Review: 'The Revenant' Jan 2016
Book Review: 'Kakadu Sunset' by Annie Seaton Jan 16
Q&A with Annie Seaton Jan 2016
2015
Meet Mrs Christmas Dec 2015
Film Review: 'The Dressmaker' Dec 2015
'The Trivia Man' Trivia Quiz Nov 2015
The Nerd as Hero: Reclaiming the Label July 2015
(Guest Blog for Dark Matter Zine at their website)
Another Bookish Trivia Quiz July 2015

A Bookish Trivia Quiz June 2015
The Trivia Man Blog Tour June 2015
Launching 'The Trivia Man' June 2015
A Gallipoli Story: The Lost Shearer April 2015
Meet the Cast of 'The Trivia Man' April 2015
What Makes a Good Tagline? March 2015
Quiz Kid? Feb 2015
Film Review: 'Birdman' Jan 2015
Film Review: 'The Water Diviner' Jan 2015
2014
The Trivia Man Is Coming Dec 2014

My Christmas Dec 2014
Zucchini and Herb Frittata Nov 2014
Trivia Isn't Trivial Nov 2014
Lost and Found Oct 2014
Film Review: 'Magic in the Moonlight' Sept 2014
The Cutting Room Floor Sept 2014
Film Review: 'The 100-Foot Journey' Aug 2014
Rose Scott Women Writers' Festival Aug 2014
Film Review: 'Jersey Boys' July 2014
Emporium Trilogy Quiz (with answers) June 2014
Film Review: 'The Fault in Our Stars' June 2014
An Aspiring Author's Guide to Book Jargon June 2014
The Beatles and Me June 2014
Book Giveaway Winners May 2014
Film Review: 'The Grand Budapest Hotel' May 2014
Launching 'A Place of Her Own' May 2014

Free Bookmarks to Download March 2014

Film Review: 'The Monuments Men' March 2014
Film Review: 'Twelve Years a Slave' Feb 2014
My Top Ten Romantic Comedies Feb 2014
Film Review: 'Saving Mr. Banks' Feb 2014
Four Stories about Platonic Love Feb 2014
Five Books about Unrequited Love Jan 2014
First Impressions Jan 2014
2013
Christmas at My Place Dec 2013

About a Dog November 2013
What's Next? 'A Place of Her Own' Nov 2013
The Amazing Mr Carroll November 2013
Film Review: 'About Time' October 2013
The Jade Widow@Mr Chen's Emporium Oct 2013
Ode to Spring September 2013
When a Platypus's Fancy Turns to Love Sept 2013
How Big Is Your Book? September 2013
Fairytale Turrets and Other Fantasies August 2013
A Winter's Tale August 2013
'He Who Would Valiant Be' August 2013
Country Dog July 2013
Spot the Anachronism! July 2013
Puppy Proof? July 2013
A World Without Books: 'Fahrenheit 451' June 2013
A Bonzer Aussie Dog June 2013
Review: Hope's Road June 2013
Puppy Love May 2013
Attack of the Anachronisms May 2013
When Winter Comes Early May 2013
The Victorian Art of Scrapbooking April 2013
In Search of the Emporium April 2013
Elegant Architecture April 2013
A Country Sunday March 2013
Adverbs and Chocolate Feb 2013
Introducing THE JADE WIDOW Jan 2013
The Colour Lilac Jan 2013
2012
Christmas Dec 2012
Alpacas versus Llamas Dec 2012
The Jade Widow Nov 2012
Angie's Westerns Nov 2012
Recreational Sewing in Cesarine Oct 2012
Inspirations for 'Mr Chen's Emporium' Sept 2012
An Aladdin's Cave Sept 2012
Anatomy of a Gold Rush Town Sept 2012
Amy Duncan and her Books Sept 2012
Old-fashioned Heroes Sept 2012
Happy Endings? Sept 2012
Why Is a Book Like a TARDIS? Sept 2012
An Emporium by Any Other Name Aug 2012
Never Write When You're Hungry July 2012
The Case of the Missing Monotremes June 2012
The World of the Book May, 2012
Frosty Tales April 2012
Tales of the Emporium March 2012
Subcategories
Home in the Highlands blogs