---
Why Is a Book Like a TARDIS?
'Why is a book like a TARDIS?' my husband asked me one day as we sat in our local café, drinking coffee. From a man who's never been a 'Doctor Who' fan, it was a very odd question.
At first I thought it must have been a riddle he'd heard somewhere. While I was pondering the source of the question, he proceeded to answer it for me:
'Because it's bigger on the inside than the outside.'
Being both a writer and a 'Doctor Who' aficionado, I was delighted with the aptness of the metaphor. Just like the Doctor's blue police box, a small paperback book can offer huge possibilities. It's only a matter of stepping inside. But what I like best about the TARDIS imagery is the concept of the Author as Time Lord, possessing the power to transport his or her 'companions' to strange and exotic worlds. Not only that, the Time Lord … sorry, Author can shift the reader back and forth between time periods with a blank line, a little icon, a change of font or the words 'now' or 'then'. I do it all the time!
And speaking of 'Doctor Who', do you have a favourite Doctor? Mine is Tom Baker. I also like the current incarnation, Matt Smith, for his youthful exuberance and quirky charm. Let's hope he has a long incumbency, but when his time is up, who do you think would make a good successor? I've always fancied Alan Rickman. His golden syrup voice would be perfect. Any other suitable candidates?
Deborah O'Brien
September, 2012
---

An Emporium by Any Other Name …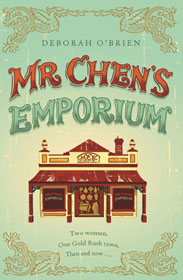 Some years ago, when I began writing MR CHEN'S EMPORIUM, which is partly set in the Gold-Rush era and partly in the present day, I considered calling it Days of Gold, a phrase from the classic Henry Lawson poem, 'The Roaring Days'. I've always loved literary references in titles. I think it's because they impart a certain gravitas, not to mention a dash of magic. There are endless examples, of course, but among the best are Proust's Remembrance of Times Past, an allusion to Shakespeare's 'Sonnet 30', Hardy's Far from the Madding Crowd (quoting Gray) and the recent Her Fearful Symmetry (Audrey Niffenegger referencing Blake).
Even now, whenever I start up my laptop, I can't help smiling at the file named 'Days of Gold.doc', which I've never bothered to delete. For a few weeks it served as the working title of my novel, until a quick search of the net revealed a couple of existing books with the same name. Damn! I really wanted something unique. Then it struck me that the centrepiece of my story wasn't the Gold Rush at all. The real star was Charles Chen's emporium, an Aladdin's cave of treasures, whose presence would run right through the narrative as a potent force in the lives of the two female protagonists.
Much later, when I happened to mention the early title to my agent, she said that although it was worthy enough, it wouldn't have grabbed her attention. And, of course, she was right. If my book had remained as 'Days of Gold', I might still be looking for an agent, not to mention a publisher!
Speaking of titles, here are a few of my favourites, in no particular order. By the way, not only are the titles wonderful, so are the books themselves. You'll notice there are two from Mr Dickens, that doyen of memorable titles.
War and Peace
Atonement
Where the Wild Things Are
The Slap
Sons and Lovers
The Book Thief
The Very Hungry Caterpillar
A Tale of Two Cities
Gossip from the Forest
Wuthering Heights
Great Expectations
To Kill a Mockingbird
Do you have your own favourites? Let us know.
Deborah O'Brien
August, 2012
---

Never Write When You're Hungry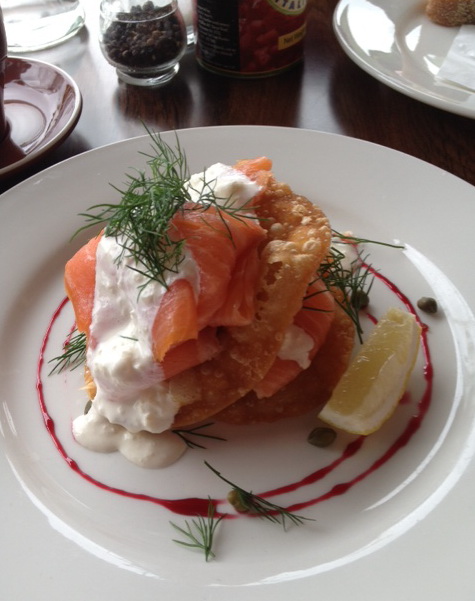 Image: DOB
After a dear friend of mine, who also happens to be a writer, finished reading my latest manuscript, she said, 'There's a lot of food in your books, isn't there?' It's not surprising, considering that food is one of my obsessions – eating it, cooking it, poring over cookbooks, planning dinner parties, even dreaming about meals. So I suppose it's natural that delicious food should feature abundantly in my manuscripts.
Part of the problem is that I tend to write when I'm hungry – or more exactly, I become so engrossed in the writing process that I forget to eat. (Yes, I do know it's not good for my health.) Most mornings I wake up, go straight to the laptop and write for a couple of hours, oblivious to the gurgling of a reproachful stomach. The missed breakfasts manifest themselves in my writing.
You can see the results in MR CHEN'S EMPORIUM and A PLACE OF HER OWN. Every morning my female protagonist, Angie Wallace, goes to the local café, and not just for a piece of raisin toast or a healthy bowl of muesli. Mostly she consumes big, hearty meals, incorporating all my favourites elements – sourdough toast, savoury muffins, corn fritters, crispy bacon, perfectly poached eggs and the sauce to beat all sauces – hollandaise. That sauce even permeates its way into a conversation between Angie and her rather prosaic landlord about the colour that she intends to paint the walls of the Old Manse. Naples yellow hue, she tells him, an artist's colour (after all, she is an artist) and then she adds by way of explanation: '…the colour of hollandaise sauce'. 'You mean the stuff they put on my eggs Benedict,' he replies, 'that wouldn't be so bad.'
'Never shop for groceries when you're hungry', the diet experts warn us. 'You'll end up buying chocolate bars and potato crisps'. It's true, isn't it? When your stomach's full, you can summon up the willpower to proceed through the confectionery aisle with nary a sideways glance. But just watch how the snack food piles up in your trolley when you're hungry. It's the same with writing. Sometimes, I notice that a sentence I've just written contains a whole list of food items, almost as though I'm composing a menu, and then I know it's time to stop and have something to eat. When I return to the laptop, I set about abridging that list. If I'm fully sated, I might even delete it altogether.
And what of the reader? Can reading about food make you hungry? Of course, it can. And not just reading cookbooks either. I recall my childhood encounters with Enid Blyton's 'Famous Five'. Although the food in those books could never be described as 'gourmet', it certainly hit the spot with a hungry eight-year-old. Invariably, after reading a description of a mouth-watering picnic, I would head straight for the kitchen to raid my mother's biscuit tin, filled as it always was with home-made melting moments, or date and walnut slice, or jam kisses, or peanut cookies, or ANZAC biscuits, fragrant with golden syrup, or …
Actually, excuse me for a moment, while I just disappear into the kitchen …
Deborah O'Brien
July, 2012
---

The Case of the Missing Monotremes*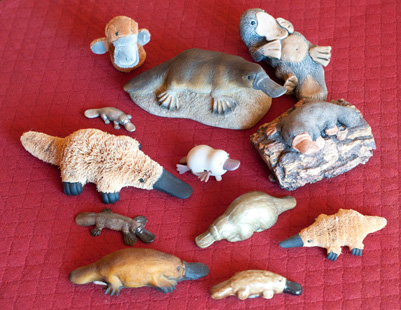 Some years ago, when we bought our little country cottage, we discovered at least two platypuses visiting our stretch of the creek. As a house-warming present, my husband bought me a stone platypus he'd found in the local nursery. In turn, I gave him a duck-billed doorstop. Soon I had acquired a vast collection of platypuses, indoor and out: stuffed toys, glass, silver, pewter, ceramic and china ornaments, a thimble, a bottle stopper, Christmas decorations, fridge magnets, coasters, mugs, plates, prints – you name it, we had it. Some of them were my own purchases; others were gifts from visiting family and friends. A ten-year-old house guest was so fascinated by the collection that she actually counted them and came up with a total of thirty-eight. And that was just inside! Then she gave every single one its own name.
Now let me tell you a story about the platypuses in my garden. One night we arrived late at our cottage after a long drive from the city. As I walked along the path leading to the front door, I had a feeling something was different. My husband shone his torch around, but everything seemed to be okay. It wasn't until the next morning when I was hosing the garden that I noticed the resin platypus which normally resides in the bird bath, was no longer there. Curious. Then I looked for the doorstop platypus. You guessed it. He was gone too. So was a large monotreme made of stone, measuring at least twice the size of the real animal. (I had discovered him at the local markets. He was so heavy I could barely lift him. In the end I had to phone my husband to come and lug him back to the car.) A couple of smaller platypuses had gone missing as well. Then I checked my other garden ornaments – a wooden birdhouse, several birdbaths, a stone wombat, a weather vane, a selection of ceramic pots. Not to mention a French-style metal table and chairs. Everything was in its place, except for the platypuses. Curiouser and curiouser.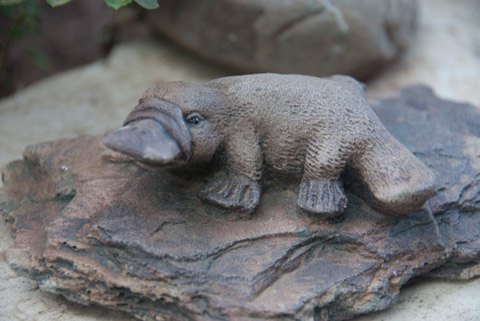 After considering the items which had been taken, and those left behind, together with the fact that the incident had taken place during the school holidays, we came to the conclusion that the culprits were children. But how could a child have carried that big platypus home? It would have taken at least three children to haul him any distance, and surely someone would have seen them doing it.
So where had those platypuses gone? In my imagination I pictured them gracing someone else's garden. And whenever I went for a stroll, I peered over front fences, looking for my animals. Then I realised that no thief in their right mind, even a childish one, would display them openly. And no parent worth his or her salt would fail to ask questions about a collection of stone platypuses that had suddenly appeared in their garden.
It took me a long time to recover from the loss of my monotremes. In fact, I remained outraged for weeks. So much so that I even considered penning a letter to the local newspaper, warning about petty crimes being the predictor of future criminality and advocating zero tolerance in these so-called 'minor' matters. Although I drafted the letter on my laptop, for some reason I never actually sent it.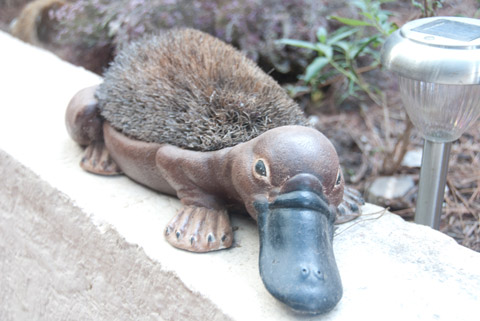 Over the next few months I set about replacing the absent animals. But even when a replacement looked like the original, it lacked the sentimental value. For a long time I felt sad. Not just because my platypuses were gone, but because I was heartsick at the thought of children blithely stealing someone else's property.
When spring arrived, my husband decided to do some tidying in the wild part of the garden where we grow native shrubs – wattles, bottlebrush and banksias, among others.
'I've found your platypuses!' he shouted. 'Come out and have a look.'
As he's a person renowned for kidding others, I thought he was just winding me up and so I ignored him and continued working at my laptop.
'It's true,' he called out. 'They're all here. Under a bush.'
I dragged myself away from the manuscript I was working on, put on my shoes and went outside. There, under a banksia bush and half hidden in a layer of leaf mulch, was a circle of platypuses. They hadn't been stolen after all! They'd been living at 'Platypus Glen' the entire time. Whether children had moved them there, or they had somehow migrated by magic, I didn't know. But whatever had happened, they looked quite content in their hiding place. So content they might have been having a tea party. The big, heavy platypus was there too. Only a few metres from his former home.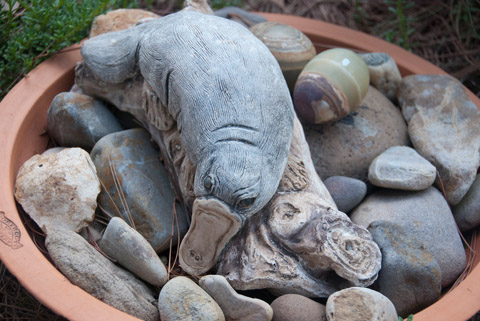 Since I had already replaced each and every one of them with new versions, I decided to leave the 'Originals' where they were, enjoying each other's company in the shade of the banksia. A circle of friends. It's odd really. Because platypuses are known as solitary creatures. But not my monotremes – they like a party!
*Monotremes are egg-laying mammals. There are only two kinds of monotreme in the world – the echidna (spiny anteater) and the platypus, and both are native to Australia. You can see pictures we've taken of these fascinating creatures in the slideshows.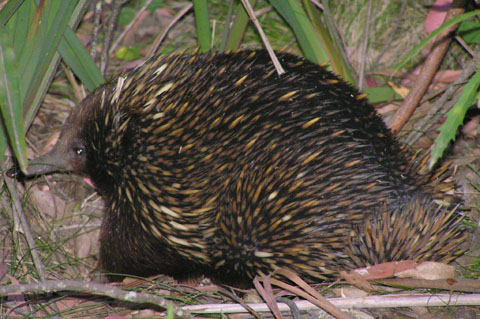 Deborah O'Brien
June 2012
---

The World of the Book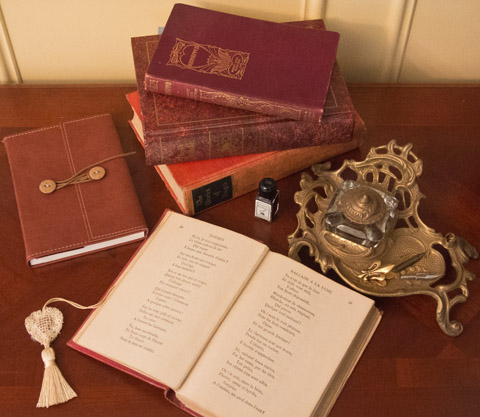 After I gave my mother one of my manuscripts to read, I couldn't wait for her reaction. A few days later she phoned me.
'Did you like it?' I asked anxiously.
'I loved it,' she replied.
What a relief.
Then she added, 'But there's something that's been worrying me about your story.'
Oh dear. Was there a huge plot hole I hadn't spotted? Or had I used too many swear words?
'It's about Amanda,' Mum continued.
Amanda was my female protagonist, the lynchpin of the narrative. If there were problems with her, then it would mean a major rewrite. I started to feel sick.
'It's the shirt that she wears to meet Justin,' said my mum.
I wasn't sure where this was heading. Had I made a continuity blunder by changing the colour of the shirt during the course of the scene? No problem. That was a mistake which could easily be fixed.
'What about the shirt?' I asked.
'Well, she's going to a reunion with a man she hasn't seen in more than thirty years. And it's a long car trip. Won't that linen shirt be badly creased by the time she gets there?'
I started to laugh, though not in a raucous way because I didn't want to offend my mother. Then, as gently as I could, I said, 'Mum, Amanda is a character in a book. She's not real. And neither is the shirt. I made them both up.'
Afterwards, I realised my mother's comment was one of the greatest compliments a writer could ever receive. Mum had entered so completely into the world I'd created that she reacted to Amanda as if she were a real person. And I really shouldn't have laughed because, as a writer, I often become immersed in the story to the extent that it feels more real than my real life.
Have you ever been to a movie and identified so much with a character that when you walked out of the cinema, you felt you actually were the person from the film – just for a few moments? When I'm writing a character, he or she can linger in my pysche after the laptop has been shut down for the day. Sometimes characters will keep me awake at night as they jostle for attention inside my head. And occasionally they will insinuate themselves into my dreams, having found an unlocked door into my subconscious. But don't worry. On a rational level, I do know my characters are inventions. After all, I told my mother that very thing.
Yet, in the right side of my brain, the place where creative ideas originate and grow, it's a different story altogether!
Deborah O'Brien
May 2012
Subcategories
Home in the Highlands blogs