Country Dog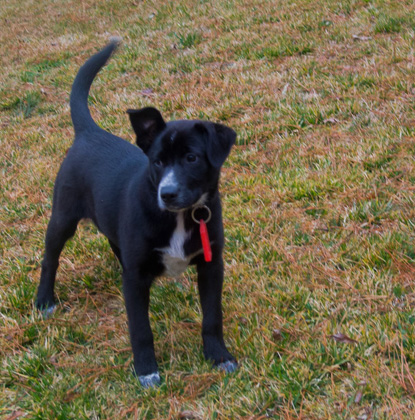 Last weekend we took Angel to our cottage in the country. She rolled around in the fallen leaves and dug holes in the lawn. She even had her first encounter with a bull. Fortunately there was a fence between them. When the bull tired of Angel's barking, he charged at her and she ran away and hid in the shed.
Note the ears - she takes after her mum, Halo. The single upright ear gives her a constantly quizzical look.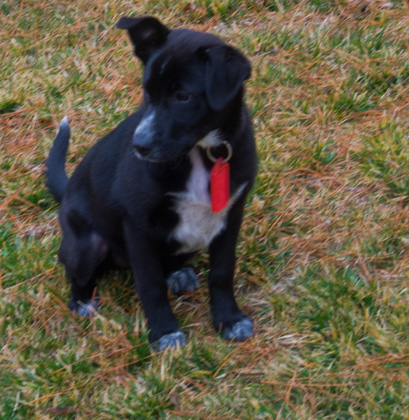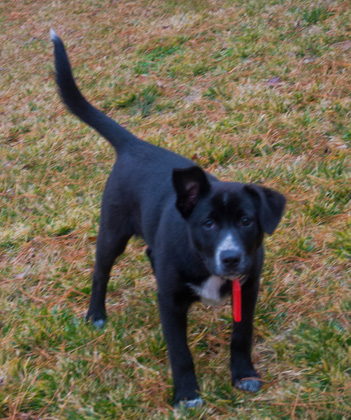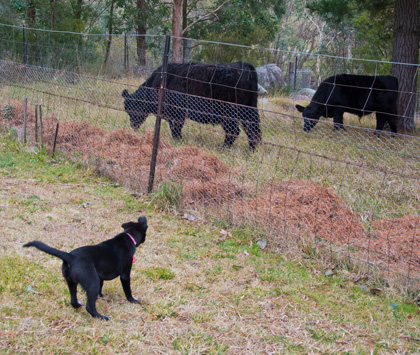 Deborah O'Brien
July, 2013
---

Spot the Anachronism
Recently, while I was doing a clean-up, I found this little drawing among my primary school exercise books. It was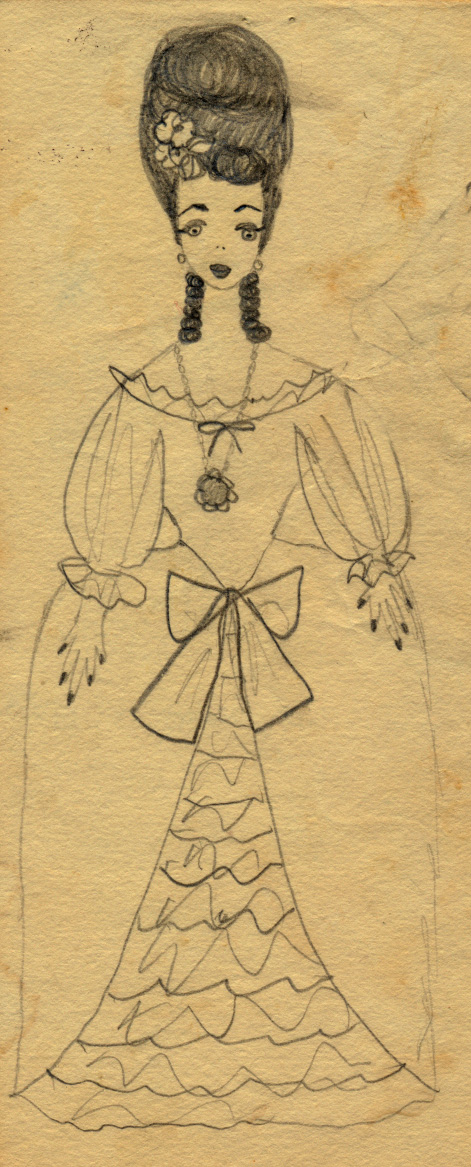 probably an illustration I'd done to accompany one of my 'historical' stories. No trace of the actual tale remains.
Looking at the costume, I suspect the story was set in the Wild West. As a little girl, I used to fantasise about being Miss Kitty from 'Gunsmoke'. I thought she was the most beautiful woman on television and the fact that she ran a saloon didn't bother me at all. I had no idea that a saloon would usually incorporate a brothel. And even if I had, I wouldn't have known what a brothel was! Then again, Miss Kitty always seemed rather prim and proper - more like a schoolmarm than a saloon keeper.
American Western shows seemed to monopolise Australian TV screens back then - 'Rawhide', 'Daniel Boone', 'Gunsmoke', 'Wagon Train', 'Bonanza', 'Cheyenne', 'Sugarfoot', 'Lawman', 'Rin Tin Tin', 'The Rifleman', 'Wyatt Earp' and 'Maverick'. (By the way, you won't find a more gorgeous Western hero than James Garner's Bret Maverick.)
Knowing very little about history - except that it happened in the past -I was under the impression that cowboys coexisted with Vikings (who had come to my attention thanks to a movie with Kirk Douglas and Tony Curtis!) I also assumed that cowboys were contemporaneous with knights, fair damsels and the Age of Chivalry. I had no idea about timelines or chronology. In my ignorance, I filled my stories with a cast of characters from different centuries and disparate continents. No wonder my parents used to stifle a laugh whenever I would read my latest effort out loud.
What I find particularly funny about this childhood drawing is the unintentional anachronism. Can you spot it?
Yes, my nineteenth-century lady is wearing nail polish!
And I have a confession to make - even now I can't draw hands!
The other thing that makes me smile is the cameo pendant my lady is wearing – an exact copy of the one which belonged to my grandmother, May O'Brien.
I used to beg my poor grandmother to lend me that cameo. Eventually May gave in, letting me wear it for special occasions, though I always had to return it afterwards.
'Please let me keep it,' I used to whinge.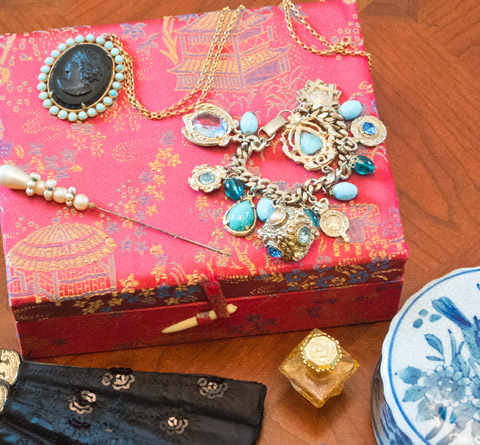 'When you're fifteen,' she replied.
To a nine-year-old, that seemed like a lifetime.
My relentless entreaties must have worn her down because she gave me the pendant for my thirteenth birthday, and I've treasured it ever since.
In fact, a version of the cameo appears in MR CHEN'S EMPORIUM among Amy's keepsakes. Here's a picture of the real thing. The stunning bracelet was my grandmother's too. She was a very stylish lady.

Deborah O'Brien
July 2013
---

Puppy-proof?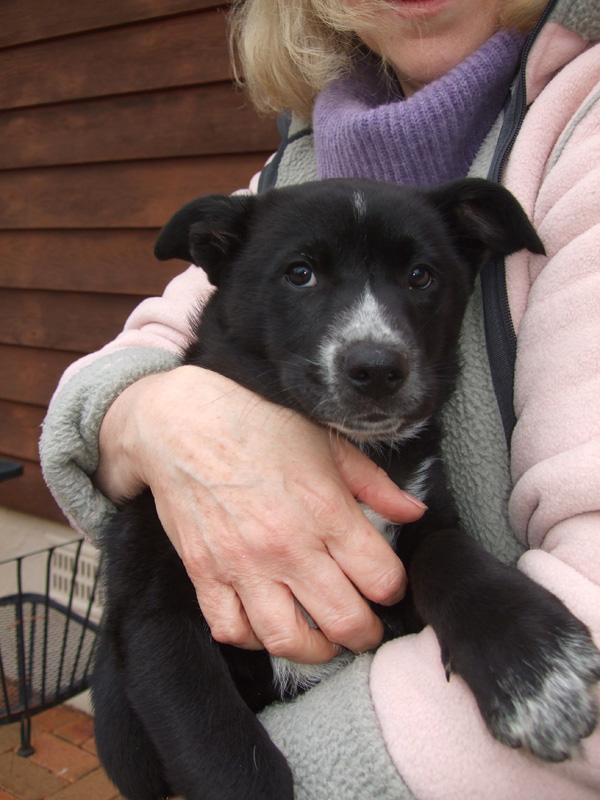 Everyone knows about the importance of making a house and garden puppy-proof, but has anyone ever mentioned the owner? Based on recent personal experience, here are seven suggestions for making yourself puppy-proof.
1. Don't wear dangling ear-rings or long necklaces in the presence of a puppy – they're an invitation to demonstrate her high-jumping skills and to make off with a shiny trinket to add to her collection of sticks, feathers, rocks, leaves and other collectables.
2. Scarves are also a no-no, unless you want them shredded.
3. Don't wear fluffy slippers or shoes with bows, laces, trims or tassels. Far too tempting.
4. Speaking of tassels, avoid them altogether. Tassels and fringes hold a mysterious fascination for puppies.
5. Tie your hair in a ponytail; otherwise when you bend over to pat your pooch, she may leap up and take a nip at the dangling strands and you will find yourself screaming in pain and gazing sadly at a bunch of your own hair sticking out of a puppy's mouth. (I'm not kidding!)
6. Don't wear your expensive new woollen jumper unless you are happy for puppy claws to create holes and pulled threads. Likewise for new tights and pantyhose.
7. I've mentioned dressing gowns before, but this bears repeating. Those ties are irresistible to a curious canine who lives to chew.
And finally, keep in mind that there is no malicious intent behind your puppy's errant behaviour. Just a little too much enthusiasm, combined with the misapprehension that you are wearing these things purely for her entertainment.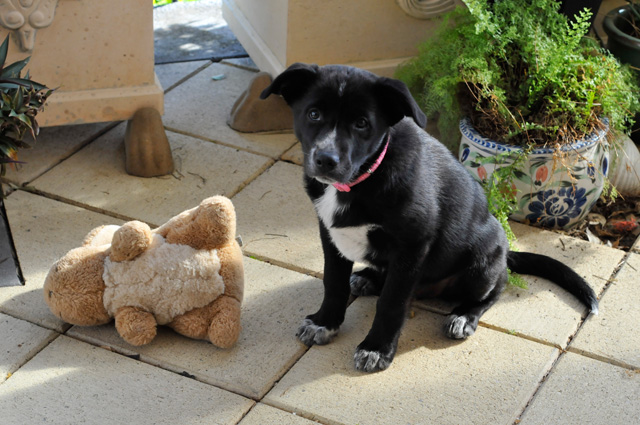 Deborah O'Brien
July, 2013
---

A World Without Books: 'Fahrenheit 451'
I'm an inveterate movie buff. Whenever I pass Sanity or JB Hi-Fi and spot a sign saying '3 for $20', I can't resist riffling through the rows of DVD cases in the hope of finding a treasure. Last Friday I came across a gem – François Truffaut's film of Ray Bradbury's 'Fahrenheit 451', wedged between a rather mundane rom-com and a very average thriller.
I was so shocked to find the classic film that I immediately clutched it to my heart, afraid some passerby might try to wrest it from me, like those rabid shoppers fighting over shoes at the Boxing Day sales. But nobody showed the slightest interest in my discovery. So I quickly chose another two, rushed up to the shop assistant and handed over twenty dollars.
I must have been fifteen or sixteen when I first read 'Fahrenheit 451' and I recall being mesmerised by the surreal world it posited, a place where books are illegal; where neighbours and work colleagues inform on those still harbouring the forbidden volumes; and teams of firemen are despatched to burn them.
It's been my experience that the film of a book is rarely as good as the book itself, but this one is an exception. In the sure hands of director Truffaut the story transfers brilliantly from page to screen. For me, the most spine-chilling scenes feature the red fire truck with its crew in their black uniforms racing along the road to the accompaniment of a Hitchcockian musical soundtrack. Those images become an ominous refrain running through the film.
There are fine performances from quintessential Sixties actress, Julie Christie and wonderful Austrian actor, Oskar Werner, who made his name in Truffaut's iconic 'Jules et Jim' a few years earlier. He plays fireman, Montag, while Christie has dual roles: as Montag's Stepfordesque wife, Linda, whose happiness is predicated on tranquilisers and watching large screen TV; and as a young woman called Clarisse, who secretly reads books and encourages Montag to question the system.
Although the film was made in 1966, it hasn't really dated. The locations are perfect – the firehouse is a monumental grey building that could have been designed by Albert Speer and there's a Space Age suspended monorail speeding across a rural landscape. According to the Bonus Features the monorail scenes were filmed in France where a prototype had been built in 1959 and ran along a short track.
For those who aren't familiar with Bradbury's novel, the title refers to the temperature at which paper starts to burn. Why burn books? Because they introduce readers to fictional worlds and alternative ideas that can inspire them to question the lives they lead and the values of the society they live in. In a repressive society, that can only lead to dissent. And a totalitarian regime doesn't tolerate dissent. Which is why the Nazis burned books in 1930s' Germany.
If all this sounds rather bleak, let me assure you that Bradbury's story isn't without hope. There are those who flee the repression and establish a new society where books are both the focus and the raison d'être. I won't spoil it for you by revealing exactly how this happens. But it's something which will resonate with 21st century readers, who are witnessing the most dramatic changes in the production of books since Gutenberg invented the printing press.
We've all heard the doomsayers predicting the demise of the book. And although the days of print books may well be numbered, it doesn't mean books as such are endangered. 'Fahrenheit 451' shows us that a book can take many forms, and ultimately it is the words and ideas that count, not the format in which they are presented.
Deborah O'Brien
June, 2013
---

A Bonzer*Aussie Dog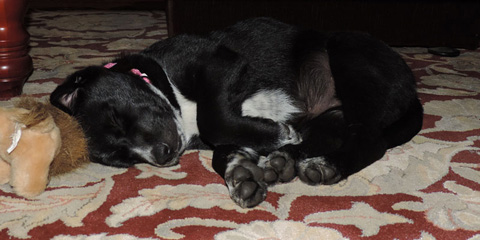 Those of you who've read my story, 'Puppy Love', will know that we've been looking for a new dog for quite some time now. Recently we heard about a litter of kelpie puppies. The 'boys' were already spoken for, but not the little girl. Last week her wonderful owner presented her to us. We called the puppy Angel in honour of her beautiful mum, Halo. And in the hope that the name will become a self-fulfilling prophecy.
It's been eleven and a half years since I've had a puppy. Plenty of time in which to forget about the sharp little teeth and boundless energy.
Here are some other things I should have remembered:
Don't wear a long dressing gown when greeting your puppy in the morning, or she'll jump for the ties and hang off the hem.
Empty your water feature before you bring your puppy home or she'll think it's her own personal paddle pool.
Put the garden brooms away. Otherwise she'll remove the brush end and make it her favourite toy.
And don't expect your seventeen-year-old tabby cat to fall in love with the puppy just because you have!
More pics soon.
*For non-Australian visitors to this website, 'bonzer' is an old-fashioned Aussie adjective meaning great or fantastic.
Kelpies are Australian working dogs, much loved for their sturdiness, energy and intelligence.
Deborah O'Brien
June, 2013
---
Subcategories
Home in the Highlands blogs