Q&A with Annie Seaton
Author of 'Kakadu Sunset'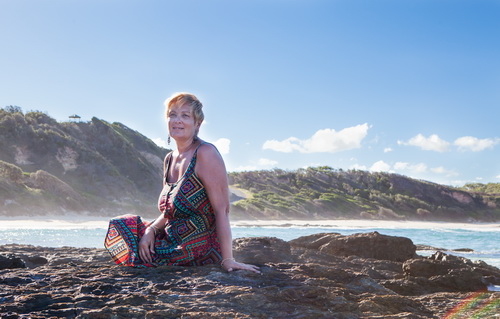 Annie Seaton is the author of 'Kakadu Sunset', a captivating new novel from Pan Macmillan Australia. She is also an award-winning e-book author. I'm delighted to have the chance to chat with Annie about her writing career.
Annie, you've had a varied and respected career as an educator. What inspired you to begin writing fiction?
Deborah, the desire to write has always been a part of me. I remember walking into a public library in Brisbane with my mother when I was four years old and my love affair with the written word began. Reading became my favourite activity from that day on but although my initial career was in librarianship, the desire to write was always there, however the opportunity to write was delayed by study, career, marriage and family.
Kakadu National Park is more than a mere backdrop for your first full-length novel – it's almost a character in its own right. Would you agree?
Absolutely! Kakadu is not just a geographical location. Although the physical landscape of the park is majestic, much of its beauty comes from the spiritual sense that surrounds you as you walk through the park. The silence is amazing. Aboriginal people have occupied the Kakadu area continuously for at least 40,000 years and the park is renowned for the richness of its Aboriginal cultural sites. Walking through those sacred places had a profound effect on me. Ubirr Rock and Jim Jim Falls are unforgettable.
Ellie Porter, your female protagonist, is an intrepid helicopter pilot. The scenes in the helicopter (which would have been a nightmare for me to write as I'm mechanically challenged) are so deftly written that I'd think the author was a pilot herself! How did you go about researching Ellie's job?
That's a great question. Ellie's profession just happened; it wasn't even something I had consciously planned. I had never been in a helicopter because I don't like heights or small planes, let alone helicopters! So as all good researchers do, I went hands on researching and took a helicopter training flight. It was absolutely awesome and I was much better placed to convey the sense of piloting a 'bird' because I had done it.
Kakadu Sunset is the first book in the Porter Sisters Series? Can you tell us a little bit about this trilogy? And will the next two novels weave together romantic and suspense elements in the same way as this one?
Book Two, 'Daintree Sunrise' is complete and with my editor now. I won't give away any clues, but again, it weaves together suspense and romance, and some eco-environment issues. I am currently researching and writing Book Three, 'Kimberley Moonlight' and loving it. It is shaping up to be my favourite as this one has a real combination of environment, cultural issues, suspense and a foray overseas as well as being set in the East Kimberley. I love writing strong female leads, and Drusilla in Book Three is a very strong and feisty character.
Your travels provide inspiration for your stories. Do you write while you're on the road, or do you wait until you're back home behind your desk?
The story simmers away in my mind as we travel, and I jot down ideas. It takes a few weeks for the threads to join together in my head and then I sit down and write very quickly when it has all come together and I am back at my desk.
Which writers have most influenced your own writing?
I have very eclectic taste in my choice of reading, so I had to think about this answer. Strangely enough, it is historical writers such as Sharon Penman, Diana Gabaldon and Anya Seton who shaped my writing. The ability to let the reader feel with a character is not genre specific, and I always wanted to be able to make a reader become emotionally entangled with the characters as I reading those particular authors.
And finally, what are your top three tips for aspiring novelists?
Persevere. Have determination, and keep the faith in yourself. Develop your own voice, follow your heart and stay with what you believe.
Thanks for having me visit, Deborah.
It's been a pleasure, Annie.
You can read my review of 'Kakadu Sunset' here.
And visit Annie's website here.
---
Book Review: Kakadu Sunset
by Annie Seaton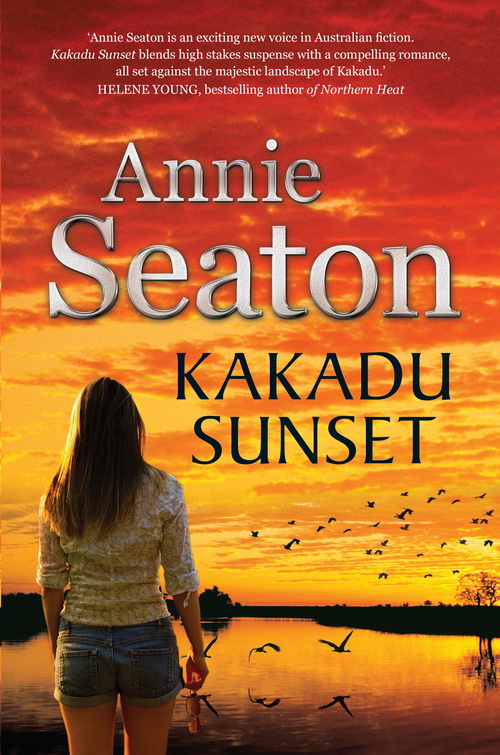 If you were to make a judgment about this novel based on a glance at the young woman on the cover, dressed in skimpy shorts and standing beside a lagoon, glowing orange in the dying light, you might assume Annie Seaton's 'Kakadu Sunset' is a typical romance novel. But you'd be wrong. There's far more to this book than meets the eye. As well as its strong romantic elements, it also happens to be a riveting enviro-thriller with some very serious issues simmering under the surface.
Ellie Porter is an intrepid helicopter pilot, who takes tourists on scenic flights over Kakadu National Park. Having grown up on a mango farm adjoining the Park, Ellie is passionate about the area and its preservation. One day, when she is flying over the old property, she notices extensive man-made scars in the earth and resolves to discover exactly what is going on.
Meanwhile, Ellie finds herself with an attractive new colleague by the name of Kane McLaren, who happens to be the stepson of the current owner of her family home. Can he be trusted to help in her search for the truth, or is he in cahoots with those who are defacing the landscape?
The main characters are well drawn. Ellie is a smart, feisty, capable woman in a job that is traditionally male. Kane is also interesting, as much for his 'muscled arms and tight abs', as for the secrets lurking in his recent past.
This book is a real page-turner, and I love the way the author has made the crocodile a leitmotif, weaving its way through the story in both a physical and a metaphorical sense. Annie Seaton's prose is lucid and polished, and her descriptions of the Kakadu landscape vivid and lyrical.
I look forward to the other books in her planned trilogy. Read more in my interview with Annie Seaton.
And by the way, all you film producers out there, here's a great commercial screenplay in the making.
IN A NUTSHELL:
With its strong characters, evocative prose and mix of romance and suspense, Annie Seaton's 'Kakadu Sunset' will not only transport you to one of the most magnificent landscapes on earth but also keep you on the edge of your seat until the very end.
'Kakadu Sunset' is published by Macmillan Australia and is now available at all good bookshops and online.
Deborah O'Brien
18 January 2016
---

Meet Mrs Christmas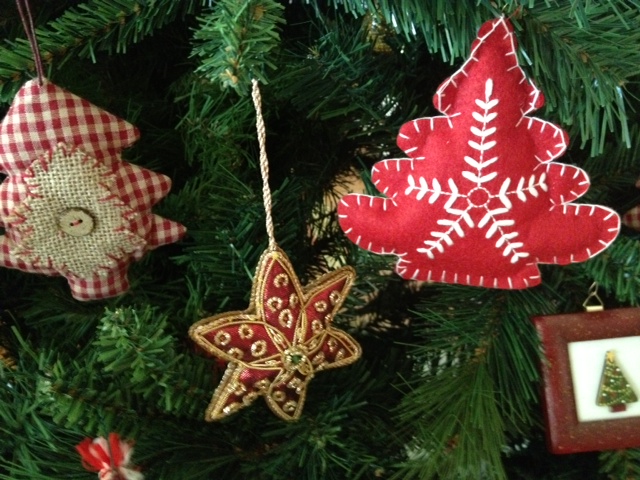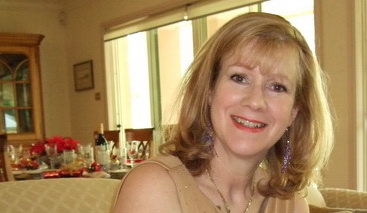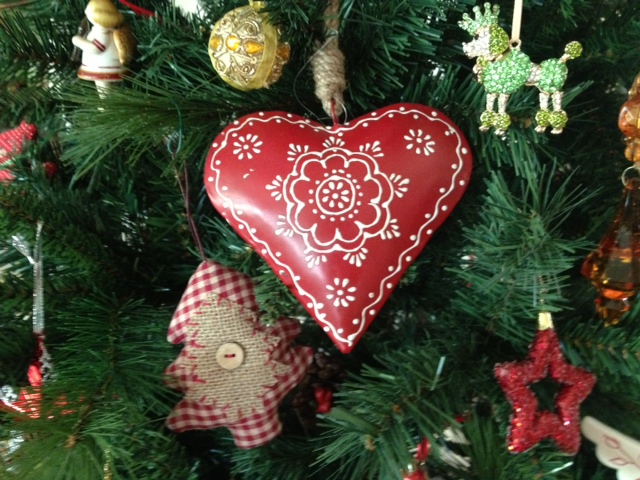 When I was a child the year dragged by so slowly it seemed that Christmas would never come. Now it seems to come all too regularly!
But I'm not complaining – I love this time of the year! My family likes to call me 'Mrs Christmas'. That's because, when we designed our house by the river back in 2001, I included a huge Christmas cupboard to store my collection of decorations and festive napery, as well as the presents-to-be that I begin to accumulate at each Boxing Day sale and build on during the year.
My favourite activity in the lead-up to Christmas is decorating the tree, a full-day event that takes place on November 30 in time for the first day of Advent.
Last Christmas my lovely friend Jan N gave me an ornament organiser from Aldi which transformed my tree-decorating. Now, instead of using multiple boxes and random carry bags, I can fit almost everything into the organiser. And as you can see from the pic below, it looks very smart indeed. What's more, it takes up far less space in the Christmas cupboard, allowing me to collect or create even more Christmas decorations!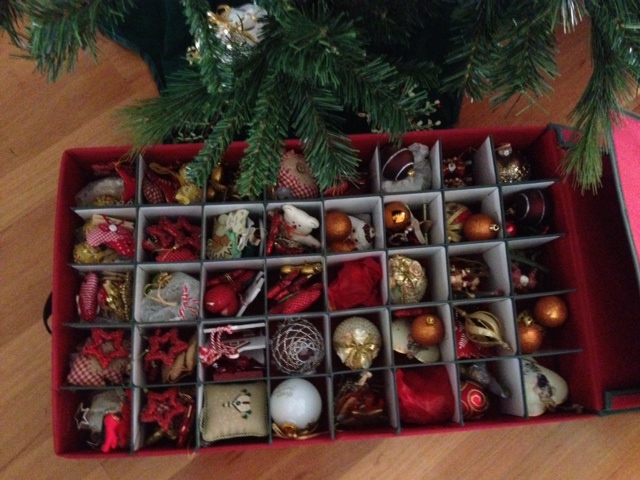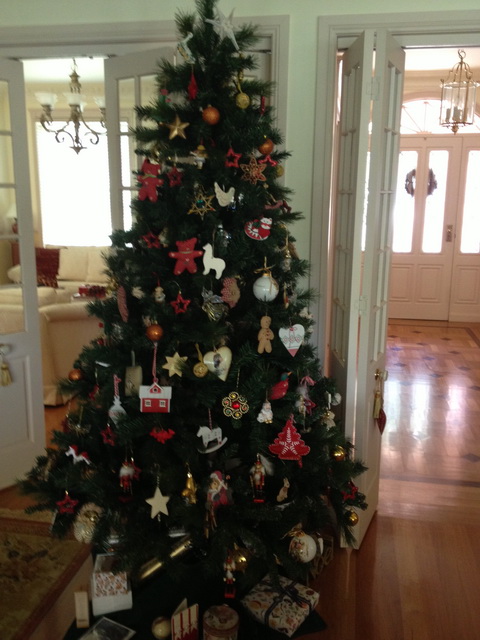 This year's tree.
Every ornament in my collection has a history. Some have been brought back by friends from their travels to exotic locations, others are hand-made (many crafted by my beautiful mum) - painted, embroidered, sculpted, beaded, quilted - you name it! Each one is very special, as are the people who made and gave them. And one day I intend to document the story of each exquisite ornament, following the fine example of writer, Jennie Jones, who has photographed and recorded her family heirlooms and curios.

Hand-sewn decorations from my friend Gabi in Germany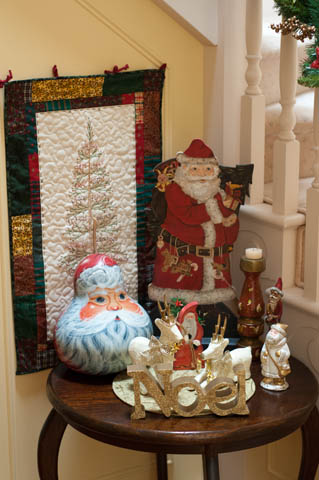 Christmas Santas - the painted gourd (yes, gourd!) and the stunning quilt are the work of my dear friend, Marilyn McCann. I painted the standing Santa in a workshop with American painter, Delane Lange. My mum did one too.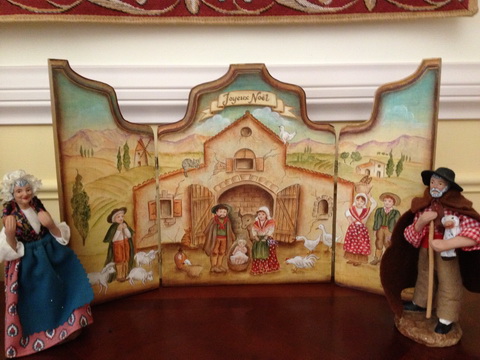 Provencal-style Nativity triptych painted by me for my book, 'Folk Art of France' and inspired by a 19th century Nativity scene in the folk museum in Aix-en-Provence. The terracotta santons or 'little saints' (made by a santonnier in Provence) are dressed in traditional costumes.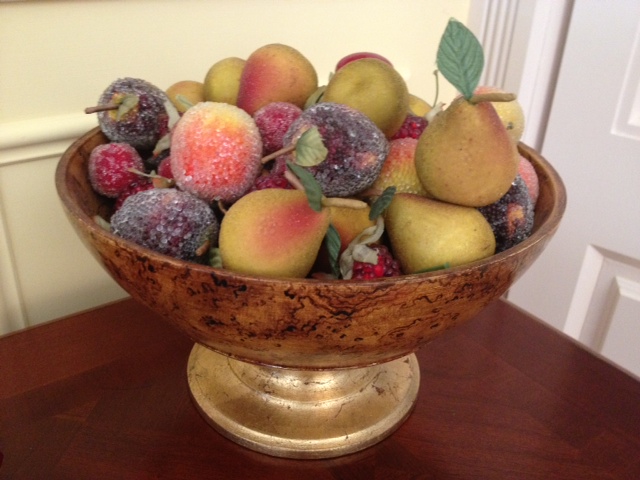 Magnificent faux tortoiseshell and gold leaf bowl by my dear friend Chrissie W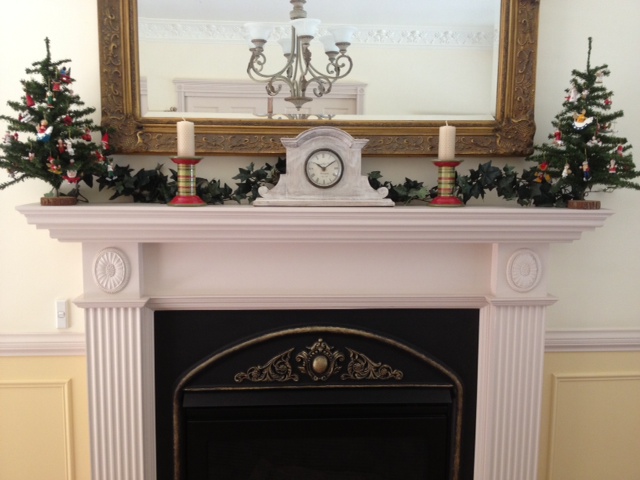 Fireplace almost ready for Santa's arrival - stockings to come.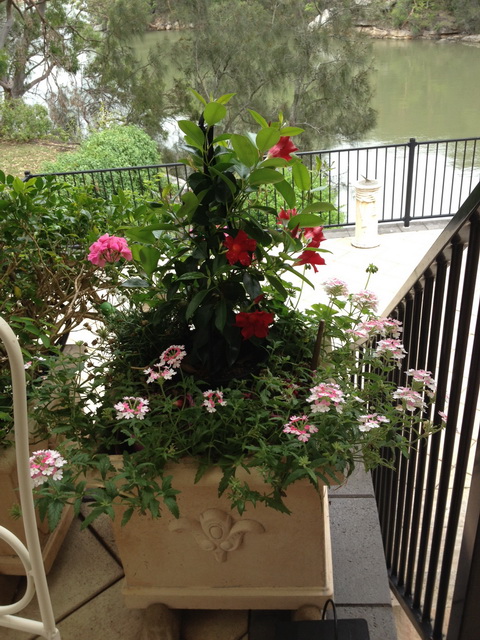 Verbena and bower vine - both flowering for Christmas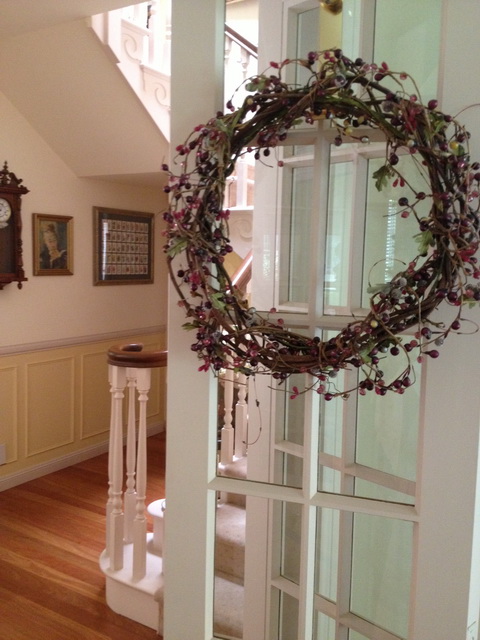 I've always loved twig wreaths - any excuse to hang one on a door!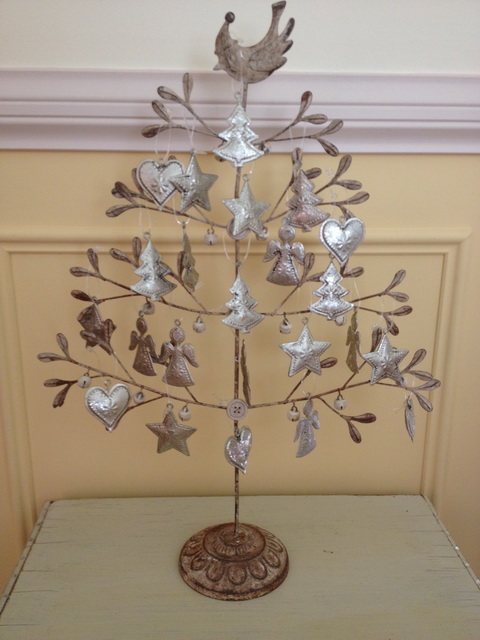 Gorgeous metal tree and decorations - a gift from my lovely friend, Judy A.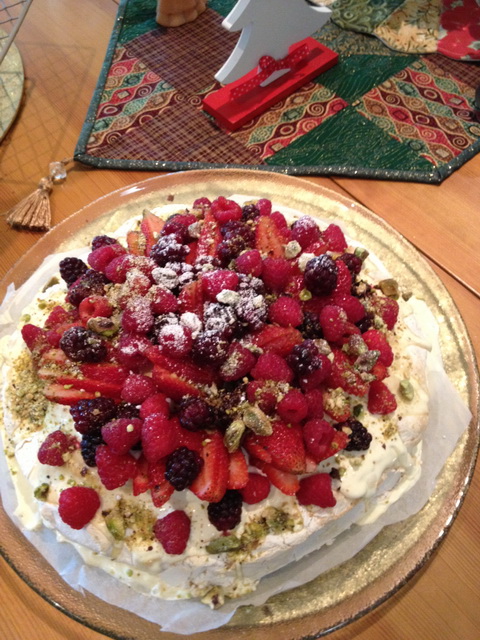 The easiest Christmas dessert ever - buy a good quality pavlova base, smear generously with freshly whipped cream, add masses of berries (fresh, of course) and a dusting of ground pistachios and icing sugar (add the icing sugar just before serving or it will dissolve). We had this for Christmas Eve supper last year and everyone loved it.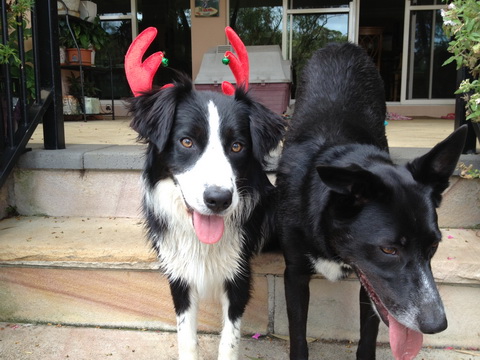 Christmas reindogs: Molly and Angel. (Angel refused to wear her antlers.)
And if you're looking for a Christmas gift for someone who has everything, what about a copy of 'The Trivia Man'? It's available as a print book or an e-book from the following online booksellers, or at good bookstores.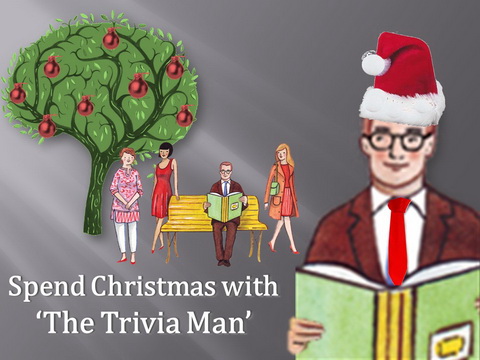 Wishing you a joyful Christmas and a happy, healthy and fulfilling 2016.
Deborah
17 December 2015
Film Review:
'The Dressmaker'
After a number of glowing recommendations from friends, I finally went to see 'The Dressmaker'. They were right. This is a wonderful film – funny, sad, quirky, engaging and beautiful to look at. It deservedly won People's Choice Award for Favourite Australian Film at the recent AACTA Awards.
The opening credits are filmed from above, showing a grid of dusty wheat fields divided by a highway. It's night-time and a lone Pioneer bus is heading towards its destination. Along the way it stops at a one-horse town somewhere in rural Australia, where an elegant and mysterious passenger, wearing a 'New Look' outfit, alights from the bus and deposits a wooden Singer sewing machine case on the ground. It's the Dressmaker herself, Tilly Dunnage, returning to her hometown of Dungatar to care for her mother who is ill and apparently suffering from dementia.
Set in 1951, 'The Dressmaker' is a tale of vengeance and redemption, a variation on the parable of the Prodigal Son, except that this is about a daughter, and she is not welcomed with open arms – quite the opposite. The story will resonate with anyone who was once bullied in the schoolyard and has always dreamt of returning to their hometown, glamorous and successful, to confront their persecutors. There's also the added element of seeking out the truth about a long-ago death which has tainted many lives.
Veteran cinematographer Don McAlpine ('Breaker Morant' and 'My Brilliant Career') bring us dusty, sepia landscapes studded with dead gum trees, granite outcrops and squeaking windmills. The little town of Dungatar has one short street lined with archetypal wooden buildings. On a hill within putting distance of the town are the local tip and the rundown house belonging to Tilly's mother, played with the perfect mix of histrionics and poignancy by Judy Davis, who won an AACTA as Best Supporting Actress.
The cast of 'The Dressmaker' is faultless. As Tilly, Kate Winslet gives one of the finest performances of a brilliant career, delivered in the best Australian accent I've heard from a non-Australian actor – in fact, it's so good you don't even notice it! In the supporting cast we encounter old hands such as Barry Otto, Terry Norris and Julia Blake, and a new generation of stars including the intriguing Sarah Snook ('The Beautiful Lie' and 'The Secret River') and the azure-eyed hunk Liam Hemsworth (this bloke is so gorgeous he doesn't need to act).
Hugo Weaving is charming as a cross-dressing policeman, while Rebecca Gibney and Shane Jacobson are suitably jovial and harried as the proprietors of the general store with its iconic Golden Fleece signpost featuring the yellow ram. I loved Kerry Fox as the spiteful schoolteacher, Gyton Grantley as Hemsworth's 'slow' brother, and Shane Bourne as the villain (well, one of the villains).
And finally there would be no film without the fabulous frocks, designed by Marion Boyce and Margot Wilson, which transform the ladies of the town from frumps to pinup girls. Sarah Snook's makeover, in particular, is a delight.
'The Dressmaker' is directed by Jocelyn Moorhouse and produced by Sue Maslin from the novel of the same name by Rosalie Ham (which I'll definitely be putting on my Christmas list). The screenplay was written by Jocelyn Moorhouse and her husband, P.J. Hogan.
In short, 'The Dressmaker' is a beautifully crafted film which swings between comedy and pathos and never fails to enchant.
TRIVIA: Sue Maslin and Rosalie Ham went to high school together.
Deborah O'Brien
13 December 2015

'The Trivia Man'
Trivia Quiz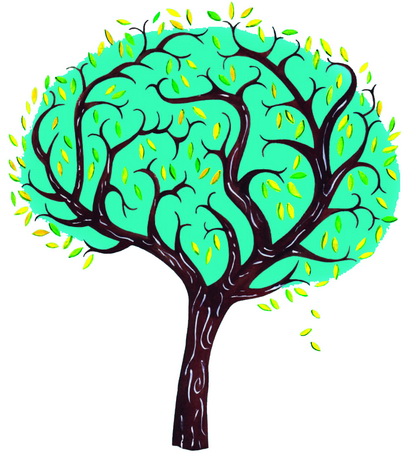 Answers at the bottom of the page.
1. What is Kevin Dwyer's original team name?
2. Maggie Taylor teaches:
A. French and German B. Music C. French and Latin D. P.E.
3. Which character in the book says, 'Everyone has their quirks'?
A. Peter the psychologist B. Stephen, Patrick's father C. Kevin Dwyer
D. Maggie Taylor
4. The Usual Suspects win the fancy dress prize on the literary-themed night.
Which classic children's book by Maurice Sendak provided the inspiration
for their costumes?
5. What answer did Kevin suggest for the following question:
What do the following actors have in common?
Sean Connery, John Wayne, Frank Sinatra, Charlton Heston
6. What is the name of the Professor's wife?
7. How old is Kevin?
A. 28 B. 38 C. 48 D. 58
8. Which character comes to the movie night dressed as Ginger Rogers?
A. Maggie B. Mei Zhen C. Ash D. Carole
9. For her entire adult life Maggie has been besotted with one man. Who is he?
10. Which team came third in the trivia competition?
A. The Amazons B. Teddy and the Dreamers C. The Usual Suspects
ANSWERS:
1. One Man Band 2. C. French and Latin 3. B. Stephen 4. 'Where the Wild Things Are' 5. They all wore toupees. 6. Miss Kitty 7. C. 48 8. B. Mei Zhen 9. Josh/Dr Josh/Joshua Houghton 10. A, Amazons
November 17, 2015
---
Subcategories
Home in the Highlands blogs