READER'S DIGEST Interview with Deborah O'Brien
about MR CHEN'S EMPORIUM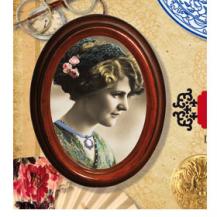 © Reader's Digest (used with permission)
Were there any Reader's Digest books in your family library when you were growing up, and if so, did you enjoy them?
Although we didn't have any Reader's Digest books ourselves, we used to visit friends who did. One day they allowed me to borrow a volume containing Catherine Gaskin's Sara Dane. It became my first 'grown-up' read, and an historical one at that!
Which six must-read books would you suggest to a teenager who is just starting to get interested in fiction?
So hard to choose! I'm a big fan of Jackie French's historical novels such as A Rose for the ANZAC Boys. In terms of the 'classics', I would suggest L.M. Montgomery's Anne books, Louisa May Alcott's Little Women and George Orwell's Animal Farm. For older teens, Harper Lee's To Kill a Mockingbird and Anne Frank's Diary of a Young Girl.
Apart from living in different centuries, your heroines have different impulses: Amy copes with the daily toil by using her imagination; Angie copes with the complications of her life by pondering about the past. Did you find equal enjoyment in writing about both women?
Yes, I would write a chapter in Amy's life and then decide it was time to move on to Angie and see what she was up to. I never became bored because I was constantly moving between their differing perspectives. At the same time, I was aware that they were both facing the universal constants of love and loss which endure, no matter what the era.
Do you think you're more like one than the other?
I share many interests with Angie – art, cooking, reading, gardening and renovating. We're much the same age, and I too have made a tree change, but on a part-time basis.
Do you predict that there will always be an historical element in your novels, or is your second work along quite different lines?
At the moment I'm working on an historical novel set in 1885, but I also have a couple of other projects in progress which are contemporary stories.
Your story suggests that there are fascinating human secrets behind the façades of even the shabbiest-looking town—was there a particular secret that started you thinking about MR CHEN'S EMPORIUM?
There wasn't a specific secret as such. But I have always been intrigued by the tales my grandmother used to tell me about growing up in the country at the start of the twentieth century. They provided the inspiration for Amy's story.
Text © Reader's Digest 2013