---

The Jade Widow @ Mr Chen's Emporium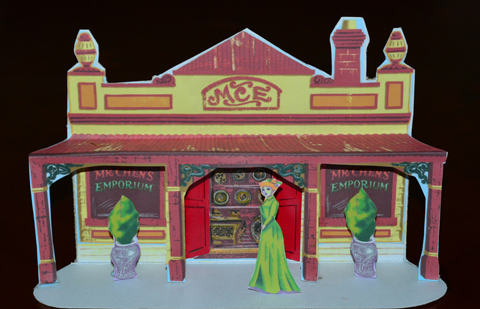 How did I spend my weekend? Was I madly writing my next novel, or pulling out weeds in the garden, or even working through the embarrassingly high pile of ironing in the laundry basket? No, I have a confession to make - I was building a model. You can see the result in the picture above, based on Chris Nielsen's enchanting illustrations for the covers of MR CHEN'S EMPORIUM and THE JADE WIDOW.
When I was a child, I could spend hours making houses out of Lego. The size was limited only by the number of blocks in our Lego box. I loved drawing house plans too. I yearned to design buildings. But it was not to be. Just as I couldn't become a fashion designer (because I couldn't sew), I couldn't be an architect either. Why? Because I was (and remain) hopeless at maths. Can you imagine the kind of houses I would have designed? They might have looked gorgeous in the drawings, but the walls would have been wonky, the ceilings irregular and the windows ill-fitting.
So I've sublimated the unfulfilled architectural ambitions into my writing and the result is a collection of buildings playing a starring role in my novels, including the Emporium, the Old Manse, the Emporium Hotel and Millerbrooke House.
I'm never happier than when I'm making a 3D model of a building. I suppose it takes me back to the Lego days. This past weekend I sat down with cardboard, scissors and glue and merrily put the emporium together. I didn't have a plan, I just let things unfold (pardon the pun). At the last moment I decided to add the Jade Widow and the porcelain urns.
My next project (which might have to wait until I've emptied the ironing basket) will be Amy's Emporium Hotel. I'm looking forward to making that fairytale turret a reality!
P.S. You can read about my sewing disasters here.
Deborah O'Brien
October 14, 2013
---

Ode to Spring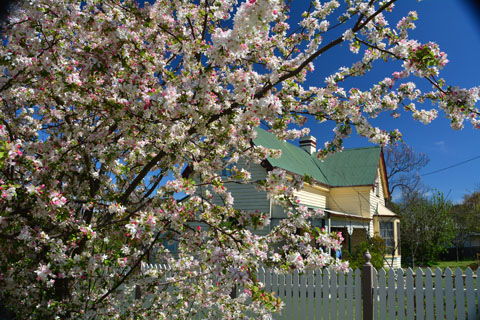 I've sometimes wondered why Keats wrote an ode to autumn and nothing about spring. After all, it's a season to delight the senses with its blossoms and newly minted leaves. But perhaps that was the problem. Maybe he preferred the mellowness of autumn to the brashness of spring.
For those who live in a temperate, coastal city such as Sydney, one season tends to merge into the next with very little fanfare. However, here in the tablelands, we're blessed with four distinct seasons. Admittedly, there's a long, cold winter, but it's inevitably followed by a glorious spring. Here's my own ode to spring - in pictures.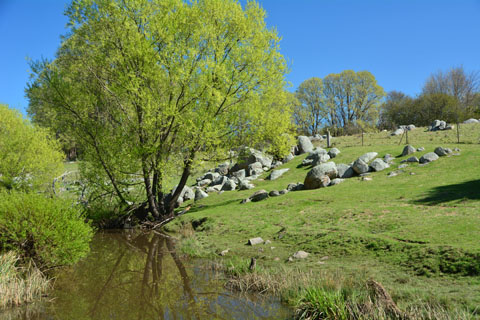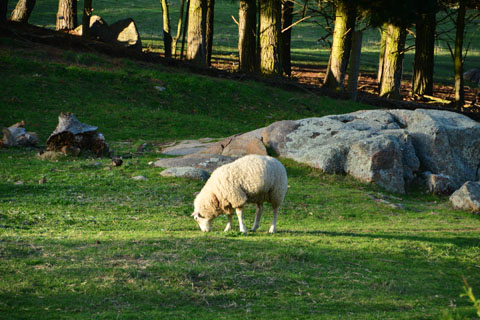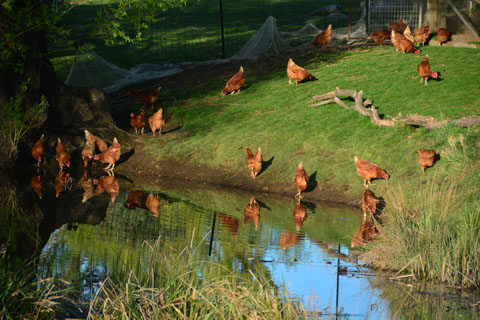 The gorgeous garden below belongs to Janice and Tom, who live not far from us. It's just brimming with old-fashioned flowers and fragrant shrubs.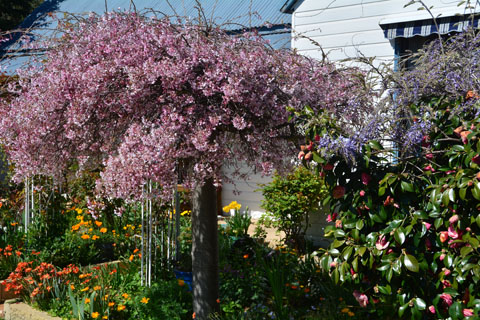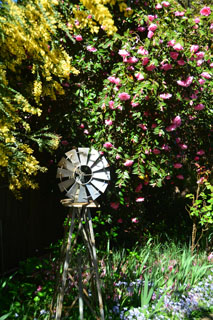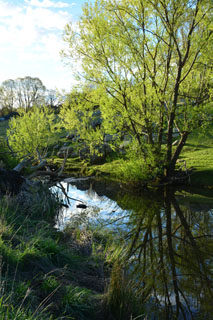 And here's our view to the west on a spring afternoon.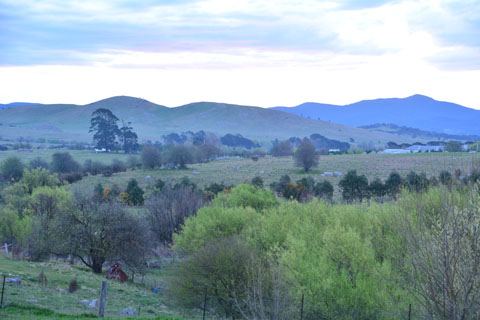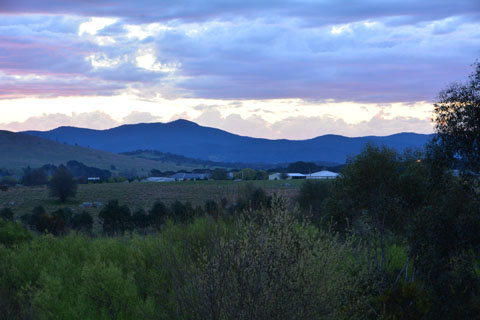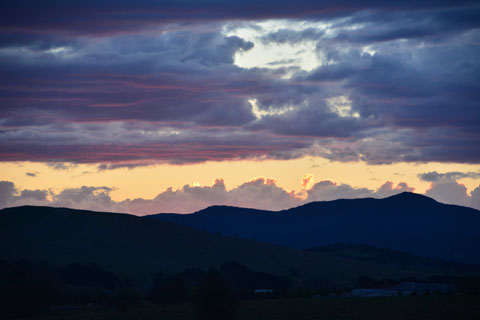 Deborah O'Brien
September 2013
---
When a Platypus's Fancy Turns to Love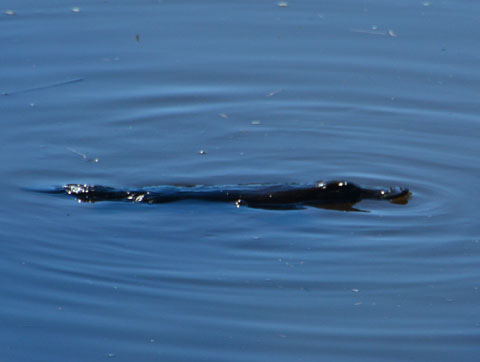 For the past few days we've been watching something very special - two platypuses swimming in the same area of our creek. We first spotted them from the living room window on Friday. Straight away we grabbed our cameras and raced down to the creek. And there they were, swimming and duck-diving in the midday sun. So much for the scientists who maintain they're only active at dawn and dusk. Living with them on a day-to-day basis, we know differently.
If you've read MR CHEN'S EMPORIUM or THE JADE WIDOW, you'll know that the platypus is essentially a solitary and independent creature, who spends most of the year on his or her own. It's only in late winter and spring that we ever see two of them in close proximity. Why? Because it's mating time. Afterwards they'll go their separate ways.
The platypus is an amazing animal with a bill and webbed feet like a duck, tiny eyes like a mole, fur like an otter and venom like a snake (in the male's hind spur). In MR CHEN'S EMPORIUM Amy Duncan's little brother has a nasty encounter with a male platypus after trying to dislodge it from its burrow. Serves him right, as far as I'm concerned. I've actually seen two teenage boys beating the banks of the creek with sticks in an attempt to upset the platypus. As they were on the other side of the creek, all I could do was yell at them. I must have given them a fright because they ran away and we haven't seen them since.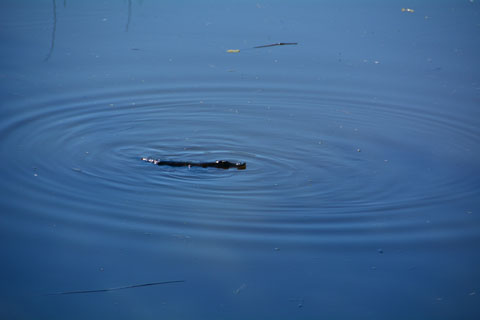 As you can see from the picture taken this morning, a platypus will float low in the water and that makes it very difficult to photograph. Unfortunately we didn't manage to get both platypuses in the same shot. You can clearly see the concentric circles of ripples that are often the first sign a platypus is present.
A floating platypus actually looks like a little crocodile, which I suppose reflects its primeval reptilian origins. Egg-laying mammals or 'monotremes', as the scientists call them, are, in fact, the oldest form of mammal. There are only two such species in existence and both live in Australia - the other is the echidna, also known as the spiny anteater.
A platypus can reach quite a speed when it's swimming along the surface - we estimate it can go at about 8 to 10 kilometres an hour, but I just read a reference book which said they can reach speeds of up to 35km an hour! I imagine that would be over a very short distance.
Here is a part of our creek where we often see platypuses. They like to forage among the fallen willow branches.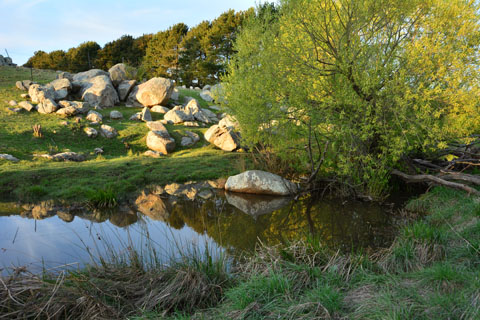 N.B. There is some debate about the plural of the word 'platypus'. Scientists tend to use the same word for singular and plural - one platypus, two platypus . . . In my books I've used the plural form 'platypuses' because it avoids confusion. I've heard people say 'platypi', but I suspect it's a misguided attempt at a Latin plural. To tell you the truth, it makes me shudder.
Deborah O'Brien
September 23, 2013
---

How Big Is Your Book?
OR
You Can't Judge a Book by its Word Count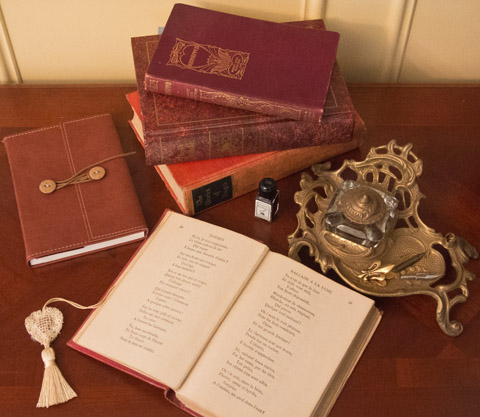 When a friend's little boy found out I was a writer, the first thing he asked me was: 'How big is your book?' Nobody had ever posed that question before and I was quite taken aback. What exactly did he mean? Did he want to know the dimensions, or was he referring to the number of pages?
Impatient with my hesitation, the little boy persisted, 'How thick is it?'
So I indicated the width of the spine with my fingers. (MR CHEN'S EMPORIUM and THE JADE WIDOW are the same length - about 350 pages. I'm not sure how it happened; it certainly wasn't planned.)
'Wow!' the boy replied.
No doubt that seemed like a very big book to a seven-year-old, but in point of fact, both novels are around the average length for adult commercial fiction. Nevertheless, the boy's reaction reminded me that a weighty tome possesses a certain gravitas, whether it deserves it or not.
Publishers tend to have a preferred word count for novels. It's a range rather than a specific number and it will differ from publisher to publisher and according to genre. The minimum length might be around 70,000 words, and it could range up to 200,000 and possibly more. Look at WAR AND PEACE - if I recall correctly, it's over half a million words! Tolstoy aside, a novel can, of course, be too long. I won't mention any specific examples, but I'm sure you've encountered a few that could have done with a heavy pruning.
As a reader, it's been my experience that some of the finest novels are contained within the slimmest of volumes. George Orwell's ANIMAL FARM, for instance, is only 41,100 words (wiki.answers). My well-thumbed copy of THE GREAT GATSBY – with Robert Redford and Mia Farrow on the cover – is 188 pages. Ian McEwan's beautifully crafted novel, ON CHESIL BEACH is 166 pages (2008 Vintage edition) with generous spacing between the lines. I suspect it's about 45,000 words. Likewise, Ray Bradbury's ground-breaking FAHRENHEIT 451 (discussed elsewhere on this site).
There can be something intrinsically elegant – not to mention covetable – about a slim volume. Take Alan Bennett's charmingly seditious novella, THE UNCOMMON READER. The publishers have played up its brevity by producing a small hardcover book (a mere 18 x 13 x 1.25cm – yes, I measured it!) with an embossed dust jacket and patterned endpapers. When I saw it in the bookshop, I just had to have it!
Recently I've written a manuscript, which is not quite 50,000 words in length. The story revolves around a quirky cast of characters, brought together by a common interest. So far, only my family and a few trusted friends have seen it. I really like this book, but the problem is that it's just too short. Could I pad it out with additional subplots or incorporate extra scenes? I don't think so. I've said what I have to say, and to my mind, it's finished. So where do I go from here? Well, I'll probably put it in the bottom drawer for a while. I hear novellas are coming back into fashion, so you never know . . .
Do you have any 'thin' novels that you really love? Please let me know.
Deborah O'Brien
September 2013
---

Fairytale Turrets and Other Fantasies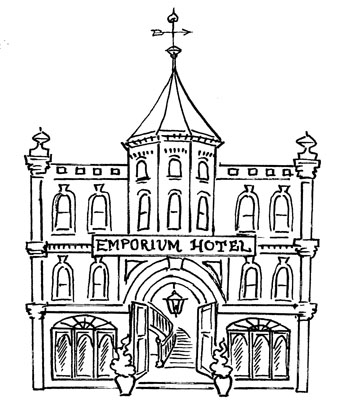 Ever since I was a small child, I've dreamed of living in a fairytale castle, complete with turrets. I blame it on Walt Disney's 'Sleeping Beauty. I adored that film – the music, the princess and especially the magical castle with its soaring towers, castellated parapets and sweeping staircases.
'When I grow up,' I told my mother, 'I want a house just like that.'
Did I get my fairytale castle? Of course not. Instead, I made it my mission to visit as many castles as I could. My personal favourites are:
King Ludwig's Neuschwanstein near Füssen in Bavaria. An exercise in wish-fulfillment and fantasy in the most breathtaking location
the elegant Château de Chenonceau, spanning the River Cher and celebrating its 500th birthday this year

Bodiam Castle

in East Sussex, a 14th century medieval fortress with its own moat. And Sissinghurst in nearby Kent for its Elizabethan tower and gorgeous gardens.
As a novelist, I've managed to incorporate some of my unfulfilled architectural dreams into my stories. In MR CHEN'S EMPORIUM, it's the Old Manse, a Victorian gingerbread house with fancy bargeboards and arched attic windows.
In my new book, THE JADE WIDOW, which is set during the mid-1880s in the fictional Australian town of Millbrooke, the centrepiece is an establishment called the Emporium Hotel with its own two-storey turret, housing the luxurious Oriental Suite.
You can see the entrance on the cover of the book – an arched portico guarded by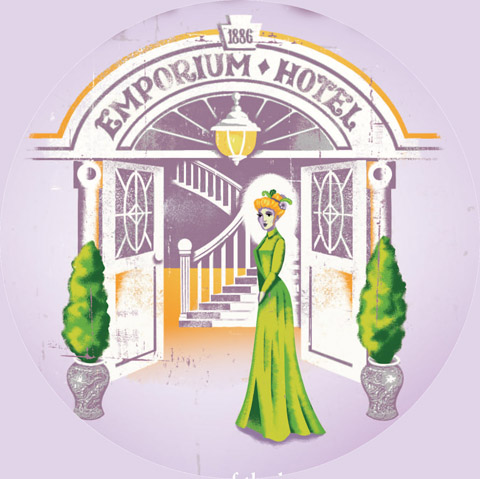 a pair of Chinese urns containing jade plants, or money trees, as they're often called. Inside the foyer we catch a glimpse of the Jade Widow herself, the hotel's proprietor. She looks a little aloof. Perhaps the world has made her so.
The Emporium Hotel boasts all the latest innovations of the era: internal bathrooms, a domed leadlight ceiling in the conservatory, and one of Australia's first 'ascending cabinets'. The only limitation on its design is the historical context. It would be anachronistic, for example, to have electric lighting or an electric lift.
It's the kind of place where you would expect dreams to come true. A little corner of happy-ever-after land. But real life isn't a fairytale, and happy endings aren't easy to come by – whether you live in a turreted castle or the most humble little cottage.
Deborah O'Brien
August 2013
---
Subcategories
Home in the Highlands blogs