---

Zucchini and Herb Frittata
with Eggs from Robyn's Happy Chooks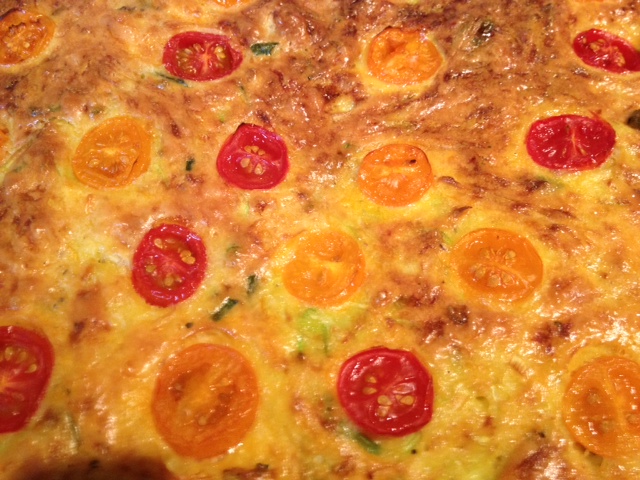 Whenever my lovely country friend and neighbour, Robyn Goodwin (author/illustrator of the 'Backyard Tales' series of children's books) gives me a carton of eggs she's collected from her happy, free-ranging chooks, I start planning special things to make with them.
This time I decided on a Devon honey cake and a zucchini frittata and had enough eggs left over for WGH* to make one of his yummy omelettes. He's incredibly secretive about the method and won't let me watch him cooking them so I have no idea what he does, but I have to tell you they're the best omelettes I've ever tasted.
Since I can't share the details of WGH's omelette with you, here's my frittata recipe instead – if you can call it a recipe – I tend to cook by taste, smell, texture and appearance, which means the quantities are rather inexact and the instructions a tad vague. So treat this as a guide and vary it to suit yourself.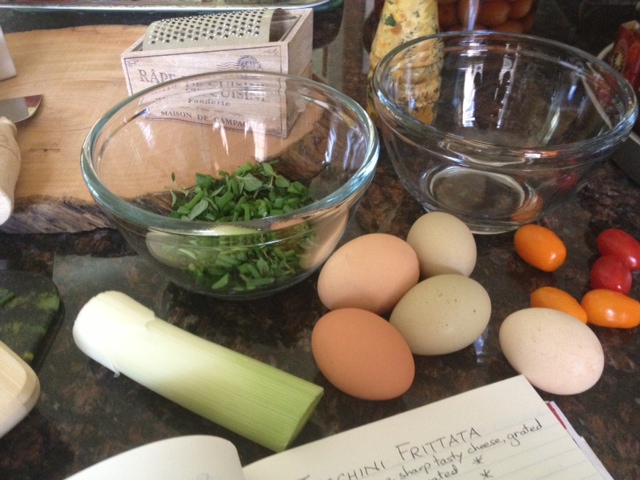 You'll need:
About half a block of your favourite vintage Cheddar cheese, grated – I use Mersey Valley from Tassie. Use more if you love cheese and don't have a cholesterol problem!

2 zucchini, peeled and grated

1 carrot, peeled and grated

The white section of a leek, very finely chopped

Chives, oregano leaves, thyme leaves, parsley – whatever you have in your herb garden – chopped

1 ½ cups self-raising flour, sifted

½ cup rice bran oil/grape seed oil. You could use olive oil but it has a stronger taste.

5 free range and/or organic eggs, beaten lightly with a fork. Sometimes I add an extra egg just for good luck.

Salt and pepper
Line a lamington tin with baking paper cut larger than the size of the tin if its sides were flattened out. I always make diagonal cuts at the corners to help the paper sit neatly in the tin.
Gently mix the self-raising flour, eggs and oil in a bowl.
Carefully fold in the carrots, zucchini, leeks, herbs and cheese. Add salt and pepper to taste. Don't overmix or you'll make it tough.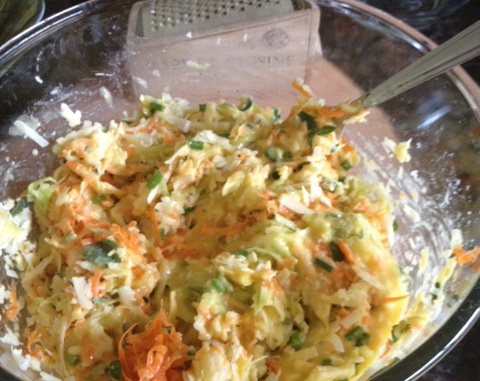 Pour the mix into the tin and spread out neatly.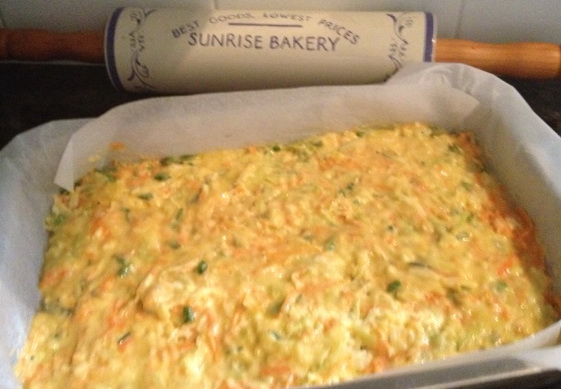 Now for the fun part. Push halved heritage tomatoes into the top in a geometric pattern.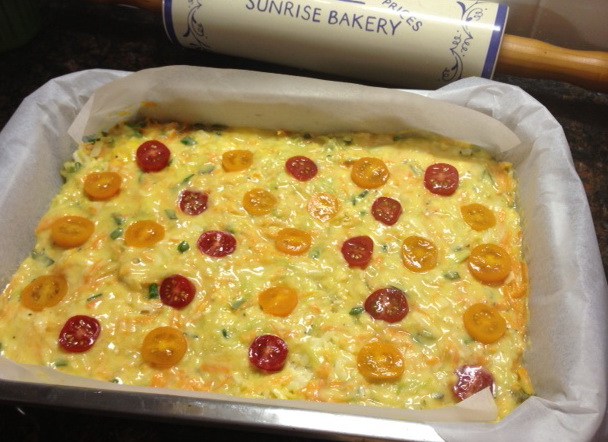 Bake at 190° C (fan-forced 175 ° C) at least 30 minutes and check to make sure the top isn't burning. My oven tends to cook things more on one side so I just turn the tin around at the halfway mark.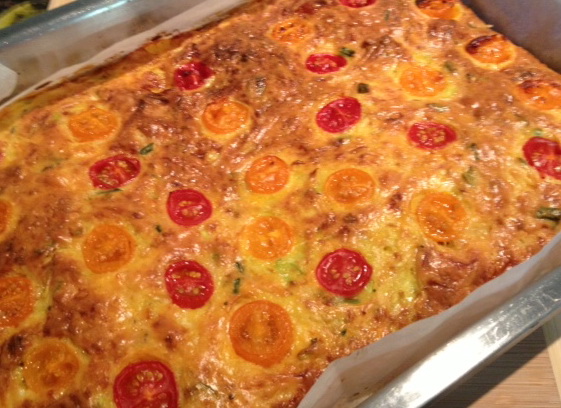 Once your frittata is set and browned, remove from the oven and serve with a delicious salad. Mine consists of mixed leaves from my organic garden with avocado and pine nuts.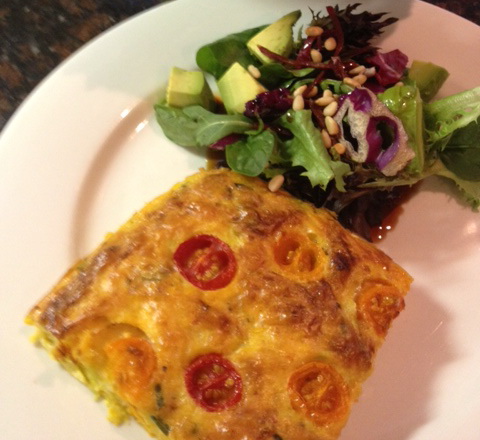 *WGH = World's Greatest Husband - it says so on his coffee mug!
Deborah O'Brien
November 17, 2014
---

Trivia Isn't Trivial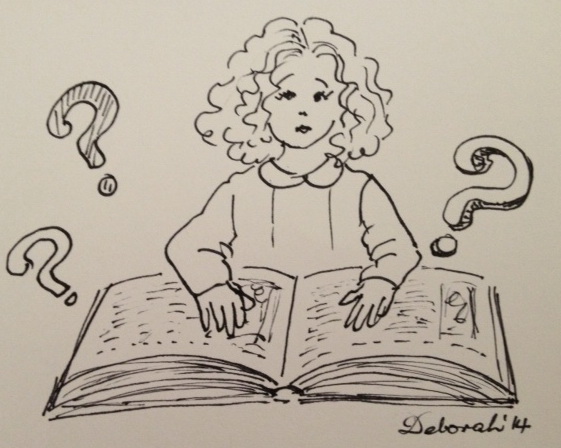 'Trivia is a serious business, not a social occasion.'
Kevin Dwyer, the Trivia Man
For almost four years I've been working on a manuscript called 'The Trivia Man'. Because there were other novels to write, I couldn't devote myself to the project full-time. Instead, it became a dalliance taking place whenever I found myself between books. An on-again, off-again relationship that I thought I could control, until it got out of hand and I didn't want to write anything else!
So, who is this fictional guy monopolising my time? Well, he's a middle-aged forensic accountant by the name of Kevin Dwyer whose life revolves around his weekly trivia night. And why did I choose trivia as his obsession rather than golf or ballroom dancing or even poker? The answer is personal. You see, I was a trivia buff, long before there were trivia contests, pub quizzes or a board game called 'Trivial Pursuit' – in fact, long before people ever used the term 'trivia' to refer to knowledge both general and esoteric.
Like my protagonist in the novel, I was a child who just loved accumulating facts. But in a pre-internet world, facts weren't as easy to come by as they are now. There was no Google to do the searching for you. Instead, you had to go to the local library and leaf through weighty reference tomes such as the 'Encyclopaedia Britannica'. And although those revered volumes contained a lot of information, it was mostly of the serious, mainstream variety – geographical facts, scientific phenomena, famous people, historical events and so on.
But where could you find those idiosyncratic tidbits you desperately needed to know: the lyrics to a half-remembered song, or the name of Superman's mother* or Hopalong Cassidy's horse**? If, like me, you were also a movie buff (yes, we're talking about a very nerdy child here), and you were trying to recall the title of a particular film or the name of a character or a member of the cast, there was no Internet Movie Database (imdb) to assist you. You had to go to the library shelf numbered 791.43 and browse the movie books.
Back in those days, my head was always full of unanswered questions such as:
What do the letters L.M. stand for in the name of the author of 'Anne of Green Gables'?

(For years I thought its author was a man. How sexist is that?)

What are the names of the original Mouseketeers?

How many cities/towns in the world are called Sydney and where are they?
I could go on indefinitely but you get the drift. Nowadays you can find the answers in a matter of minutes, thanks to Wikipedia. In the past it involved patient and painstaking investigation skills. And even then, you might not succeed in your quest.
Those of us intrigued by informational minutiae never think of it as being trivial. Quite the contrary. We believe those little pieces of data constitute the essence rather than the periphery. After all, the devil is in the detail.
Who coined that phrase, anyway? I'll just go and Google it…
By the way, my next novel, 'The Trivia Man' will be released on 1 June 2015. Read more here.
* Superman's mother: birth mother - Lara; adoptive mother - Martha Kent
** Hopalong Cassidy's horse: Topper
1. Lucy Maud Montgomery
2. Original Mouseketeers – too many to list but here are a few - in no particular order except how they emerged from my memory: Annette, Darlene, Doreen, Lonnie, Karen, Cubby
3. Sydney, NSW; Sydney, Nova Scotia
Deborah O'Brien
8 November, 2014
---

Lost and Found:
The Mystery of Angel's Double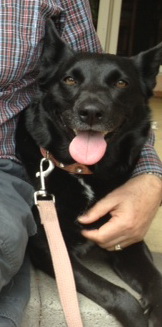 One afternoon last week I was pulling into my drive when I spotted a dog exactly resembling mine, even to the pink jewelled collar, trotting down the road behind a man carrying a tablet device. My first thought was that my kelpie, Angel, had finally managed to chew through the wire which covers the bottom of our gate and escaped into the street. But when I hopped out of the car and approached the dog, I noticed she was almost a Doppelgänger for Angel, though not quite. Angel has a small white triangular patch on her nose, this dog's face was entirely black.
'Is she your dog?' I asked the man with the iPad as he stopped to examine my water meter.
'No, it followed me from River Drive. I'm just the meter reader.'
Then he continued briskly on his way with the pooch close behind him.
If this dog lives in River Drive, I thought to myself, she's heading further and further from home.
'Little puppy,' I called to her, 'come here!'
Instantly she obeyed. I checked her fancy pink collar for an ID tag. Nothing. I patted her soft, glossy coat. She leant against my leg and gazed up at me with the most gorgeous hazel eyes. Dear Reader, I was smitten.
It was a hot day, so I took her into my backyard for a bowl of water. Angel, who had been snoozing in her kennel, popped her head out and thought she was dreaming. Soon the two of them were playing as if they had always been buddies. So much for all those warnings about two female dogs not getting on.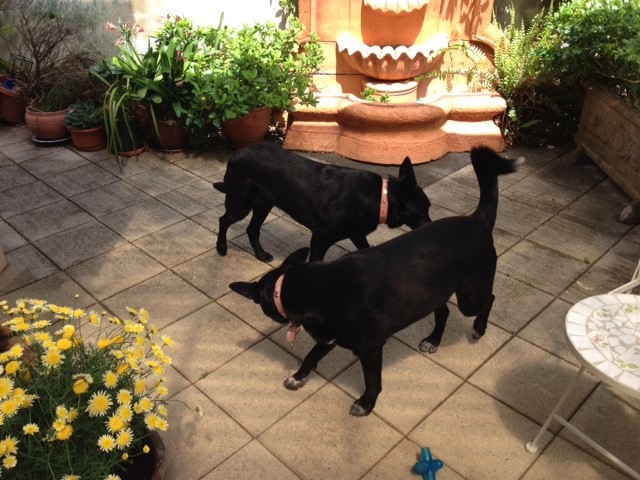 'We have a visitor,' I called out to WGH* who was at home working in his study.
At first he wondered if he was seeing double. We decided to put the mystery dog on a lead and walk the length of River Drive. Maybe we could find her owner, or at least someone who recognised her. Perhaps she might even recognise her own house and start barking. Unlike our own dog who pulls so hard on the lead that I've developed gorilla arms, this little dog behaved perfectly, walking at an even pace and never straining. As we passed people in their gardens, we asked if they knew her. The answer was invariably 'no'. I looked at my watch - 5.30pm - too late to call the vet about a microchip. So we returned home, no closer to solving the mystery of Angel's Double.
Soon it was dinnertime. Angel gobbled hers down; the new dog ate slowly and politely. Then they chased each other round the yard for an hour or two and slept soundly through the night. Not even the howling of a libidinous possum could wake them.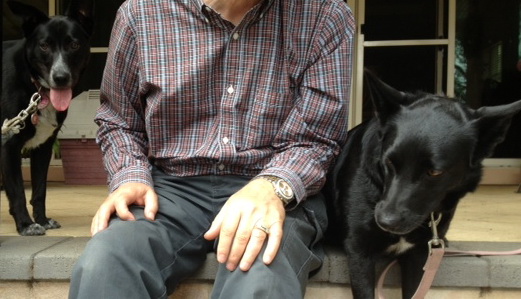 Meanwhile I was busy at my laptop, posting pics of the mystery pooch on Facebook and asking locals to share them, which they kindly did, but without success. Almost 800 people saw the post that evening but nobody recognised the dog. Curious. So I stayed up till midnight, designing posters to distribute around the neighbourhood. But I have a confession to make - in my heart I was hoping that nobody would claim the mystery kelpie - even though common sense told me that a well-groomed, well-trained dog must have a loving owner.
In the morning the new dog seemed unsettled.
'She's pining for her family,' WGH said.
'I know,' I replied, picturing little children crying for their lost dog.
At eight-thirty sharp, I phoned our vet and asked if they could check whether the dog was micro-chipped.
'Bring her straight up,' they said.
She hopped into the back of my car as if she'd done it a million times before and I secured her in place. She lay down without being told to.
We were hardly in the door of the vet's surgery when the receptionist said, 'We've just this minute had a call from the owner. They arrived from Queensland yesterday. Apparently the dog got loose and was trying to head home.'
I thought about the direction in which she'd been heading. Yes, it was due north.
'So I guess we've got to hand her over,' I whispered to WGH. He'd fallen in love with her too.
'Guess so,' he replied with a catch in his voice.
Suddenly I remembered that I'd brought a poster with me to leave with the vet. 'You might as well give this to the owner,' I said. 'There's a nice picture of their dog on it. What's her name, by the way?'
'Coogee.'
'Coogee?' I called to her. She turned in anticipation.
'You can leave her with us,' the receptionist said. 'I'll phone the owners and let them know.'
We looked into the brown eyes, gave her one last pat and headed out the door. At home Angel was waiting. She'd already forgotten about her Doppelgänger and was back in 'only child' mode.
Later that day I received a phone call from the owner, thanking me for keeping her dog safe. She sounded like a nice person and I could tell by the tremor in her voice that she loved the dog. 'Such a great outcome,' a dear friend wrote on Facebook, and of course she's right. But I still miss Angel's Double, and so does WGH.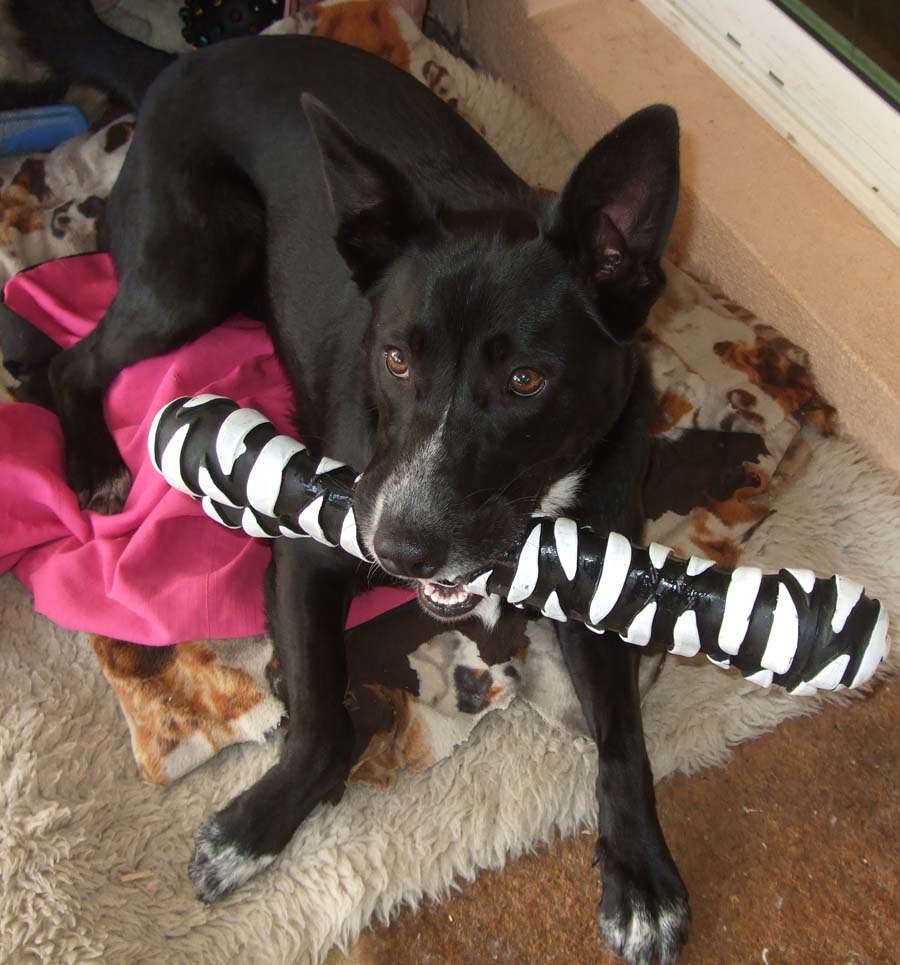 * WGH = World's Greatest Husband (it says so on his coffee mug)
Deborah O'Brien
October 13, 2014
---

Winners of the Spring Book Giveaway
What is your favourite novel?
Thank you to everyone who entered the Giveaway – I really enjoyed reading through your choices which ranged from 'To Kill A Mockingbird' and 'Cloud Street' to more obscure titles such as 'If on a winter's night a traveller' by Italo Calvino (which I'll be adding to my spring reading list because it sounds so intriguing).
So without further ado, here are the winners:
1st prize (a signed copy of 'Folk Art of France') goes to:
Michelle E

from Victoria who chose Paulo Coelho's superb novel, 'The Alchemist'
Now for the consolation prizes.
A signed handmade bookmark goes to each of the following entrants: Catharine T of N. Qld, Chris M of NSW and Judy M also from NSW.
Congratulations to the Winners!
If you didn't supply your contact address in the entry email, would you kindly drop me a line via the Contact page with your details. Also, please let me know the name you'd like me to include when I sign your prize. Prizes should arrive next week.
Disclaimer: This giveaway was not sponsored, endorsed or administered by Facebook.
Deborah O'Brien
October 7, 2014
---

Film Review:
'Magic in the Moonlight'
If I didn't know who had directed 'Magic in the Moonlight', I would find it difficult to believe it's a Woody Allen film. Apart from the thread about the supernatural versus rationalism which is decidedly Allenesque, this fluffy romantic story about a famous illusionist (Colin Firth) sent to unmask a pretty young clairvoyant, Sophie (Emma Stone) might have been concocted by someone else altogether.
All the same, there is much to like about the film, starting with the setting – the Riviera in 1928, which provides the opportunity to dress the cast in elegant 1920s costumes and place them in stunning locations – from cliff tops overlooking a dazzlingly blue sea to gorgeous villas surrounded by terraced lawns and gardens abloom with irises and hydrangeas. Then there's the delightful soundtrack featuring numbers such as Cole Porter's 'You Do Something to Me' (which also made a brief appearance in 'Midnight in Paris') as well as some stirring classical interludes by Beethoven and Stravinsky.
As usual, Allen has assembled a solid cast, headed by Colin Firth as magician extraordinaire Wei Ling Soo, who's really an Englishman by the name of Stanley, a self-obsessed and supercilious boor. In fact, he could easily be a 1920s version of Jane Austen's Mr Darcy. Just as he did in 'Pride and Prejudice', Firth manages to inject some of his trademark charm into the otherwise arrogant and cynical character. And just an aside – when I saw Firth in the opening scene, made up to look stereotypically Chinese, he reminded me of British actor, Robert Donat in 'Inn of the Sixth Happiness'. I wonder if anyone else has noticed the resemblance.
The film is graced by fine supporting performances: the ever dependable Eileen Atkins as Stanley's aunt, the ubiquitous Simon McBurney as Stanley's school friend and rival magician, and Jackie Weaver as the rich widow with the Bronx accent, longing to make psychic contact with her dead husband. Although the character as written tends to be one-dimensional, Weaver does her best to impart depth to the role and being a very fine actress, she succeeds.
Where the film falters is in the writing. There are scenes between Stanley and Sophie towards the end in which the dialogue is repetitive and self-indulgent. Why didn't someone tell Woody Allen he needed to do some pruning? I guess the answer is obvious – when you're dealing with an auteur of his standing, you'd be apprehensive about offering advice like that. 'Magic in the Moonlight' is 100 minutes in length but seems longer. Having said that, Allen's plot does offer some neat twists and turns, leading to a charming resolution.
In summary, 'Magic in the Moonlight' isn't in the league of 'Annie Hall', 'Radio Days' or 'Midnight in Paris', but it's an enjoyable piece of nostalgic escapism nonetheless.
Deborah O'Brien
September 10, 2014
---
Subcategories
Home in the Highlands blogs