---
View all the articles by date from the most recent here.
View all the articles by theme here including my film reviews and Home in the Highlands articles.
---
LATEST BLOG ARTICLES
Home in the Highlands: I'm Dreaming of a White Christmas Dec 2021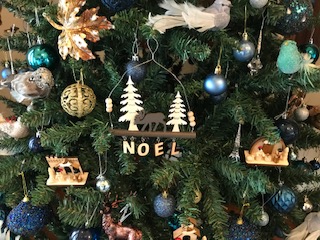 Christmas and Crises
Déja Vu: Lessons from the Spanish Flu Pandemic June 2021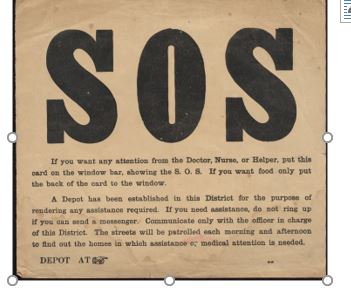 Parallels between the pneumonic fever pandemic of 1919 and Covid-19

A Gallipoli Story: The Lost Shearer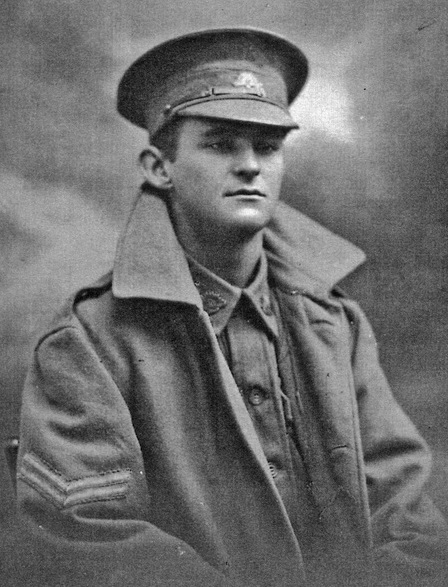 In early 1915, a 22-year-old shearer from Parkes NSW by the name of Arthur Hill was one of thousands of valiant young men caught up in the fervour to enlist in a war raging on the other side of the world between Britain and Germany and their respective allies. It was a time when Britain was seen as the Mother Country, Australia as one of His Majesty's dominions, and what better cause could there be than to serve Empire, King and Country?
On 30 January Arthur joined the 2nd Battalion of the newly formed AIF and began his training at Liverpool Barracks on the outskirts of Sydney. For a country boy, it must have been quite an experience – away from home for the first time and raring to embark on a 'great adventure'. Three weeks later he overstayed his leave by twelve hours and was fined five shillings. His commanding officer noted that his general character was good. By April Fools Day his skylarking had escalated. This time he was found guilty of riotous behavior, obscene language, breaking camp and using a forged pass. Major Baxter fined him forty shillings (a huge sum in those days) but deemed his general character to be 'fair'.
On 10 April Arthur embarked on the HMAT 'Argyllshire' for the Dardanelles. On 7 June he was killed in action. He had just turned twenty-three. His military records give no indication of what happened in the eight weeks between leaving port in Sydney and his death at Gallipoli. He was buried at Brown's Dip (also known as Victoria Gully) just behind Lone Pine. In 1923 all 149 Australian soldiers buried at Brown's Dip were disinterred in the presence of chaplains, and moved to the Lone Pine Cemetery, owing to the instability of the Brown's Dip site. There is no epitaph on Arthur's gravestone.
Arthur Hill was my great uncle. Not a single picture of him survives, so I have included one of my grandfather, Arthur's younger brother, instead (see above). Grandad joined up in 1916 and was gassed at Messines on the Western Front but survived the war. He had a collection of WWI photos including some of Arthur, but they were stolen from his garage back in the 1970s, together with the medals awarded to him and his dead brother. Among them was the ANZAC commemorative medallion issued in 1967. I do, however, recall seeing the pictures when I was a child. My teacher had asked us to compile a family tree. I happened to mention the project to my grandmother, who produced a box of precious sepia photographs for me to look at. The image I can still remember after all these years was a portrait of my grandfather in his uniform, standing beside a Zulu warrior, obviously taken in or near Capetown en route to Britain. As for Uncle Arthur, I must have seen pictures of him, but to my great regret, I didn't pay much attention.
A hundred years after his death, there is little tangible evidence of Uncle Arthur's life. He was single, just starting his life. No wife, no children, therefore no direct descendants. After his death, the army sent his father two brown paper parcels containing a disc, a purse and a personal letter. Later there was a photograph of the grave.
In this digital age, Uncle Arthur's service records are accessible online via the scanned documents in the National Archives. That means I can actually see his handwriting on the attestation papers. I can picture him from the description recorded by the enlistment officer: tall (6 feet ¼ inch), dark complexion, dark brown hair, a scar on the right forearm. And, of course, I can glean that he was a real larrikin with a healthy disregard for authority. I'm not sure what his niece, Elizabeth, now in her eighties, would make of Arthur's misdemeanours. Rest assured I have no intention of telling her, for fear it might tarnish the idealised image she has of her uncle. For my part, Uncle Arthur will always be a hero.
Just this week I've discovered a wonderful resource called the First AIF Database, part of the First AIF Project (www.aif.adfa.edu.au), where there's an entire page devoted to Arthur John Hill. He has a place of his own at last. Just in time for the hundredth anniversary of the Gallipoli campaign.
Deborah O'Brien
23 April 2015
---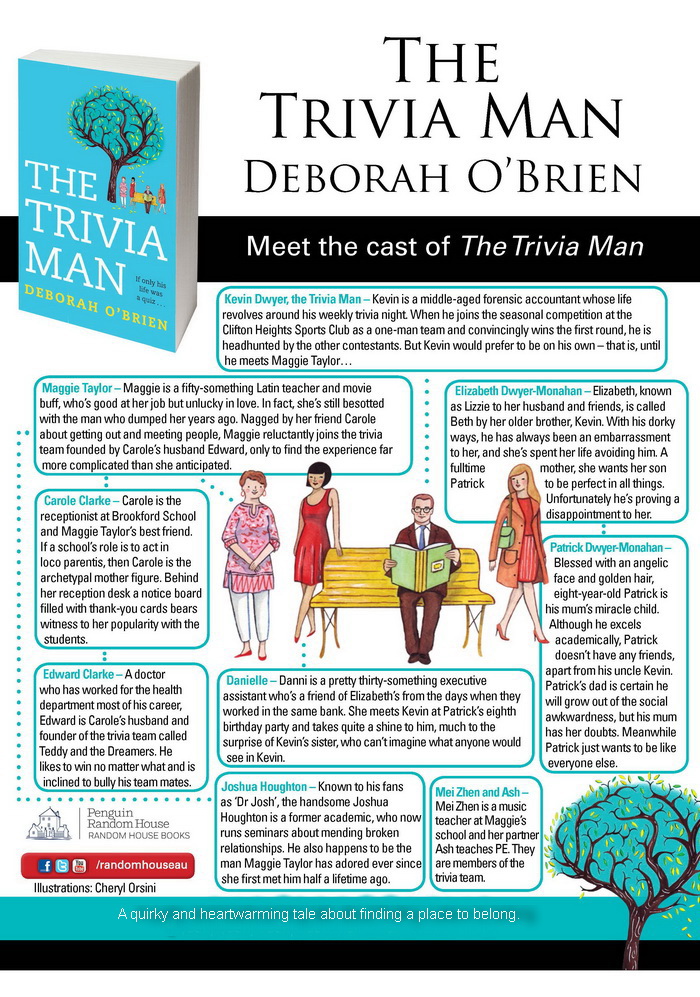 What Makes a Good Tagline?
As a movie buff, I've always been fascinated by taglines (aka 'straplines', 'shoutlines', 'teasers'). Whenever I arrive early for a film, I buy a ticket and a choc-top and wander around the foyer, eating my ice-cream and looking at the various posters for current and forthcoming releases. Invariably I linger over the tagline on each of the posters as though it's a puzzle waiting to be solved.
My all-time favourite movie teaser would have to be for the 'Jaws' sequel:
Just when you thought it was safe to go back in the water . . .
It's a great line, isn't it? Even though we know we're going to be scared out of our wits, we just can't wait! And then there's this one for 'The First Wives' Club'
Don't get mad. Get everything.
No need for an explanation – those two short sentences say it all.
Not so long ago I went to see the film version of 'Gone Girl':
You don't know what you've got 'til it's …
The creator of this teaser (and I wonder if it was the author/screenwriter, Gillian Flynn) has taken the old cliché and replaced the key word 'gone' with an ellipsis. Suddenly the age-old catchphrase becomes fraught with mystery and suspense – just like the film itself.
If you start to examine taglines, whether they're for books or films, you'll discover the best ones are conceptual rather than specific. By that I mean they're not a mini-summary of the plot, but a comment on the over-arching premise, theme or idea. A good tagline will be short, pithy and memorable. If it contains several levels of meaning or some clever word play, all the better. But its main purpose is to tantalise. That's why taglines usually end with that most tantalising of punctuation marks - the ellipsis.
Now, taking an example from closer to home, here's the very clever tagline for Margareta Osborn's novel, 'Mountain Ash':
In matters of the heart, she's playing with fire …
I won't spoil it for you by supplying an explanation. You'll appreciate how clever this really is when you read the book.
As for myself, I can't settle into a manuscript until I have two things in place – a good title and a strong tagline. In the case of 'Mr Chen's Emporium', my initial premise became the book's tagline:
Two women, one Gold Rush town, then and now…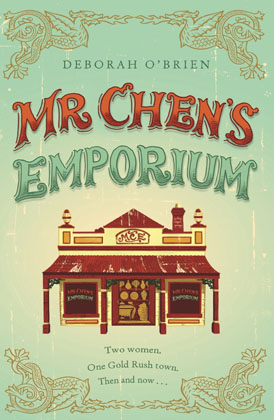 Admittedly the phrase tends to be more concrete than abstract, but it does tell you everything you need to know: the protagonists are females from different eras, there's a country setting and the story will encompass time shifts.
In its German incarnation, 'Mr Chen's Emporium' gained a new identity altogether - a title change to 'Amys Geheimnis' (or 'Amy's Secret'), a completely different cover and a new tagline, albeit with echoes of my original wording:
Two women, a long forgotten story and the insatiable longing for happiness. . .
Perhaps more of a mini-synopsis than a tagline.
For 'A Place of Her Own' my publisher chose a quote from the text itself:
Unrequited love hurts like hell – whether you're fifteen or fifty.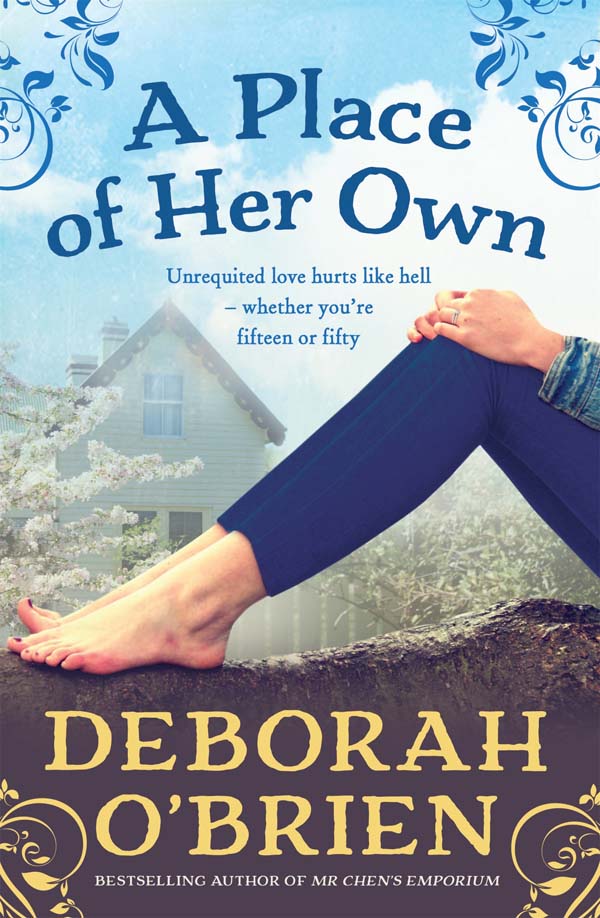 That sentence tells a prospective reader two important things – 1) the protagonist is an older woman and 2) there's going to be a whole lot of heartbreak.
The tagline for my next novel, 'The Trivia Man' is a metaphor of wishful thinking:
If only his life was a quiz . . .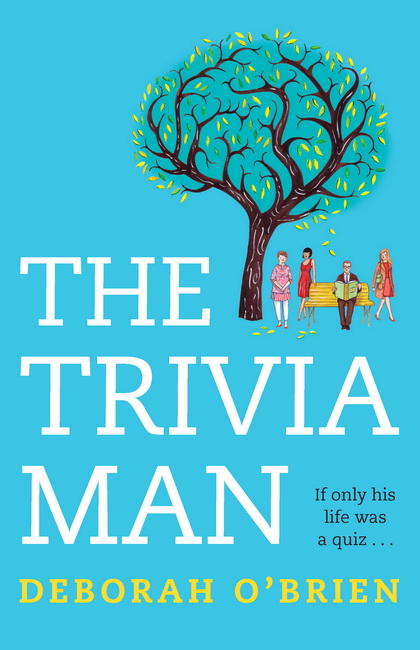 That phrase conveys a longing for certainty, while hinting at an inability to cope with the open-ended nature of life and all its ambiguities. I hope it whets your appetite for reading the book. After all, that's the role of a good tagline!
'The Trivia Man' will be released 1 June 2015.
Deborah O'Brien
23 March 2015

Quiz Kid?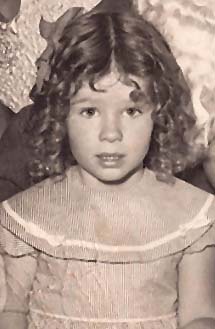 I was a nerdy kid who loved accumulating facts. My Year 5 teacher, Mr Graham, a quiz champion on 'Pick A Box', was my idol. He knew everything about everything and I wanted to be just like him.
When I was ten or eleven, I persuaded my mother to take me to an audition for the 'Quiz Kids', a weekly TV show on the ABC, hosted by John Dease. It was school holidays and I recall going to a hall in Newtown, receiving a name tag and being directed to a seat in a row towards the back, while my mum joined the other parents on benches at the side of the room. Then Mr Dease appeared, a kindly and affable quizmaster with an upper-class English accent. He explained that he would ask each of us a different question in seating order and repeat the procedure over the course of several rounds. Forty bright-eyed children hung on his every word.
Like almost everyone else, I was able to give a correct answer in the first round. But the questions proved to be more difficult second time around, and all too quickly it was my turn again. In his mellifluous voice, Mr Dease asked me:
What is the origin of the word 'nickname'?
I had absolutely no idea. While I racked my brain, the quizmaster smiled encouragingly. All at once, the answer struck me like a proverbial lightning bolt. With supreme confidence I responded:
'A nickname is the name that replaces your real name when someone nicks it.'
There were giggles from the other children. Soon it had grown into waves of laughter. Even the parents were chuckling.
Mr Dease responded gently, 'What an amusing answer, Deborah. We need children with a sense of humour.'
But it wasn't meant to be funny, I thought to myself, aware that a hot blush was staining my face a bright shade of pink.
Mr Dease must have noticed my discomfort because he added, 'That was a good attempt.' Then he proceeded to give the correct answer - a nickname is an additional name and comes from the Old English word 'eke', meaning 'addition', which was subsequently mispronounced as 'neke'. Hence 'nekename'.
The quizmaster's kindness couldn't soothe my embarrassment. I sank down in the chair and when my turn came to answer again, my mind went blank. It was an easy enough question: 'What is a depot?' (Mr Dease pronounced it 'deeep-oh') but I couldn't think straight, and that was the pattern for the rest of the audition. At the end of the afternoon, a select group of students was chosen to join the team. Naturally, I wasn't among them.
And so my career as a TV 'Quiz Kid' was over before it began. Actually, it was much like what happens to my fictional accountant Kevin Dwyer in 'The Trivia Man'* when he auditions for an '80s program called 'The World's Biggest Quiz'. Except that Kevin is asked to name the oldest form of mammal and he gives the correct answer. But a very stern quizmaster called Frank Fortune, who has a completely different answer on his card, tells Kevin he's wrong.
That day I went home and sought out the 'Concise Oxford Dictionary' – yes, the one I'd purchased by saving several months' worth of pocket money. My trusty dictionary confirmed everything that Mr Dease had said. I leafed to the back where there were blank pages for notes. Taking a pencil I wrote the origin of the word 'nickname' in my neatest writing. The annotation remains there to this day.
I've never told anyone this story before, not even my closest friends.
Over the years they've suggested I audition for various TV quiz shows, but I've always demurred. Now they know why!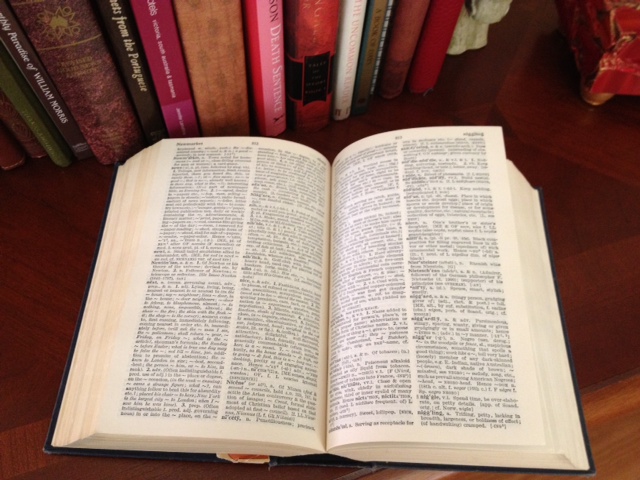 * 'The Trivia Man' will be released 1 June 2015.
If you enjoyed this article, you might also like Trivia Isn't Trivial and The Trivia Man Is Coming.
Deborah O'Brien
1 February, 2015
---
Subcategories
Home in the Highlands blogs