Winners of 'The Rarest Thing' Giveaway
1 October 2016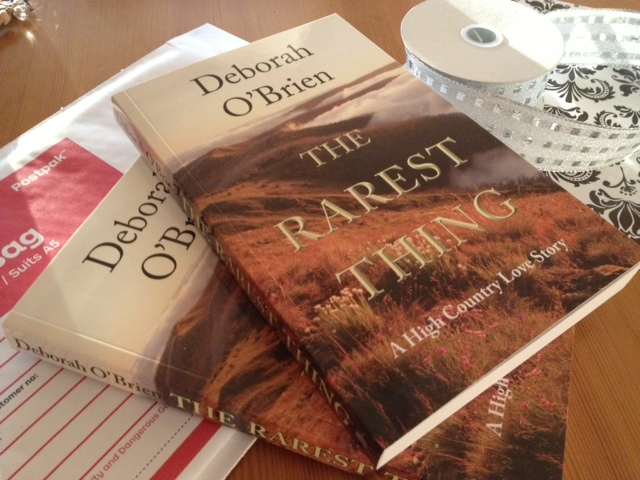 Release date: 1 November 2016
Many thanks to everyone who entered the giveaway to win one of two advance copies of 'The Rarest Thing'.
The winners are:
Delores B
Gayle H
Could you both kindly get in contact with me by email at:
This email address is being protected from spambots. You need JavaScript enabled to view it.
to let me know your mailing address and the name you'd like for the signed dedication on your book. Then I'll gift-wrap it and pop it in the post to you.
Please bear in mind that Monday is a public holiday in NSW so I won't be able to send your book until after that.
If you missed out on winning an advance copy, please note that you'll be able to buy the special gift edition of 'The Rarest Thing' and the ebook direct from the Lomandra Press website on 1 November 2016.
---

Review: Reality Big Guns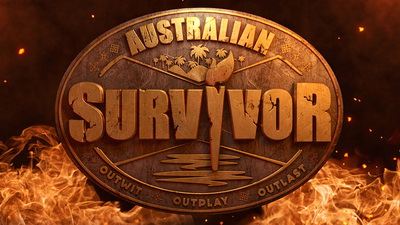 Source (WP:NFCC#4), Fair use, https://en.wikipedia.org/w/index.php?curid=48599159
As the TV calendar approaches the pointy end of the year, it's do or die for the free-to-air networks. So they've brought out the reality big guns, the shows involving real people thrown into unreal situations. These programs can rate through the roof - literally, in the case of The Block where roofs and ceilings come off at the drop of a hard-hat.
Whenever I watch The Block, I'm reminded that the interiors of my own house are sooo last decade. As someone who's been an owner-builder on two projects – one a major reno, the other a new build, I know how stressful and exhausting the whole process can be. That's why I like to do my renovating vicariously these days, reclining on the sofa with a glass of wine and watching other people do all the work. I've even been known to yell at the screen, reminding the contestants to wear their dust masks or measure twice and cut once. (This is akin to my tendency to shout 'Call for back-up!' during police dramas but that's a story for another day.)
Reality TV comes in many forms and there's something strangely compelling about matchmaking shows. So let's start with Married at First Sight, a program that turns the traditional romance trope upside down. The first episode features the weddings of five couples who have never met but have been matched 'scientifically' by a trio of psychologists. Subsequent episodes follow the newly minted relationships as they flourish, fizzle or implode. Against my better judgment, I've become hooked on this show. Watching the hapless couples, meeting at the altar, dressed in their wedding finery, makes for nail-biting suspense. Will it be attraction or rejection? One contestant said she would know either way in the first 90 seconds. Wow!
Unlike Married at First Sight, The Bachelor doesn't purport to be a 'social experiment'. And strictly speaking, it isn't reality TV either. More like the epitome of unreality, a bizarre fairytale where the handsome prince chooses his princess from among the two dozen glamorous candidates vying for his attention. The setting is a modern-day version of a fairytale castle (or, at least, the producers' vision thereof), complete with silk wisteria hanging from arbours, and a myriad of candles covering almost every available surface. Who lights them all and snuffs them out afterwards? I must check the credits to see if they employ a candle wrangler. (Stop Press: I just read that the show has a fire warden to deal with the candle situation. Thank goodness for that.)
Although the premise underlying The Bachelor is rather worrying, I have to confess I find it eminently watchable. Richie Strahan, last year's second runner-up for Sam Frost's heart, has been promoted to the starring role in this year's show. Richie seems to be a really nice guy - which is why I feel sorry for him as he squirms through the relentless rose ceremonies.
And now to the ultimate reality show, Survivor Australia. The contestants begin their 55 days on a tropical island with no shelter, no fire, no food and no creature comforts. That's harsh reality for you. Jonathan LaPaglia is a fine host who interrogates team members at tribal council with surgical precision. Maybe that's because he used to be a doctor before he became an actor.
I've left the cooking shows till last. The best ones, MasterChef and My Kitchen Rules, are in hiatus, and we're left with Zumbo's Just Desserts. Great title, tedious show, even with the delightful Rachel Khoo as co-host. The affable Adriano Zumbo might be the master of the macaron and the creator of the world's highest croquembouche, but he doesn't have a strong enough personality to carry a TV show. Zumbo's Just Desserts only serves to remind me of how much I miss Gary, Matt and George and their witty badinage.
Deborah O'Brien
August 2016
---

A Bookish Trivia Quiz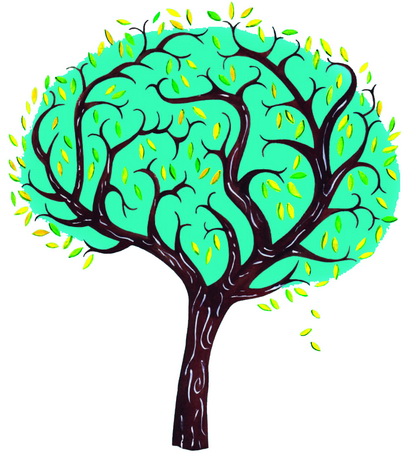 'The Trivia Man' (Penguin Random House) is the story of a quirky group of people who come together every Tuesday night for a trivia competition. Each week there's a different theme – sport, music, films . . . Tonight it's literature. See how you go on this quick quiz about books and authors. Answers at the end.
1. Which famous American writer, born in 1835, said, 'Books are for people who wish they were somewhere else'?
2. Which of the following novels was not written by Charles Dickens?
A. Bleak House
B. Little Dorrit
C. Vanity Fair
D. Hard Times
3. Who is the author of the award-winning Australian novel The Secret River?
4. Which of these fictional detectives was created by Ruth Rendell?
A. Inspector Wexford
B. Inspector Morse
C. Inspector Dalgleish
D. Inspector Frost
5. Which Australian author won the 2014 Man Booker Prize?
6. Harper Lee's iconic 1960 novel, To Kill a Mockingbird is set in a fictional town in which American state?
A .California
B. Alabama
C. Kentucky
D. Texas
7 .'Last night I dreamt I went to Manderley again.'
This is the first line of which novel by Daphne du Maurier?
8.Who is the female protagonist of Jane Austen's 'Sense and Sensibility'?
A. Elizabeth Bennet
B. Elinor Dashwood
C. Fanny Price
D Emma Woodhouse
9. Who am I? I was born in 1879 and given the first name Stella. I had many suitors including Andrew 'Banjo' Paterson, but I never married. Two literary awards have been named in my honour. My best known book is My Brilliant Career. I am . . .?
10. Which occupation do the following characters have in common?
Jo March from Louisa May Alcott's Little Women
Paul Sheldon from Stephen King's Misery
Anne Shirley from L. M. Montgomery's Anne of Green Gables
Juliet Ashton in The Guernsey Literary and Potato Peel Pie Society

Answers
1. Mark Twain
2. C. Vanity Fair by William Thackeray
3. Kate Grenville
4. A. Inspector Wexford
5. Richard Flanagan
6. B. Alabama
7. Rebecca
8. B. Elinor Dashwood
9. Miles Franklin
10. They are all writers
Deborah O'Brien
First written for Random House Blog June 2015
---
Five Things I Love about Writing Fiction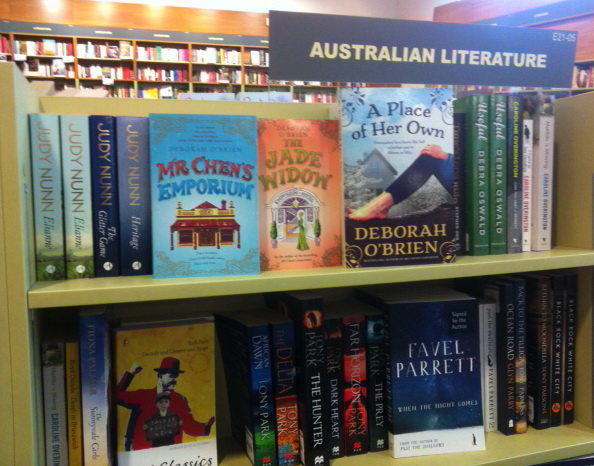 For as long as I can remember, I've written and illustrated stories. In primary school I filled the back pages of my exercise books with romantic tales and drawings of the heroines. After my parents tucked me in at bedtime, I'd lie in the dark, inventing adventures in my imagination. They were so exciting they kept me awake . . . or so scary they gave me night terrors. I sometimes wondered whether I shouldn't have been counting sheep instead.
As an adult, I've written in various forms – short stories for myself, non-fiction books and magazine articles for publication. But it wasn't until seven years ago that I actually began writing a novel. The process quickly became all-consuming. Meanwhile, the ironing pile grew inexorably higher, a layer of dust settled comfortably on the furniture, and my family found themselves dining ever more frequently on takeaway dinners. That was five books ago, and nothing has changed.
So what is it about inventing stories that's so addictive? Here are the things I love about writing in general, and fiction in particular.
1. The sense of escapism
Story-telling allows me to escape into a world of make-believe, to explore physical and psychological places that I wouldn't necessarily visit in the real world. There are occasions, however, when my story becomes so dark and confronting that I've very glad to return to reality.
2. The element of wish-fulfilment
As an exercise in wish-fulfilment, fiction is enormous fun. Think of all those dream heroes who populate romance novels. In my own case, I've always dreamt of owning a small herd of alpacas. I can't have them in real life, so I've put them into my books!
3. The magic of words
All my life I've been fascinated by words. When I turned eight, my mum gave me pocket money, expecting me to spend it on chocolates or lollies. Instead, I saved up the weekly windfall until I could afford a 'Pocket Oxford Dictionary'. I still love the magic and power of language. Like a child playing with building blocks, it makes me happy to construct a narrative, phrase by phrase, sentence by sentence.
4. The journey of discovery
In everyday life I'm fond of checklists and agendas, but as a novelist, I'm quite the opposite. I have no plan beyond an initial concept and a few guideposts. It's liberating to allow the narrative to unfold, driven by the psychology and actions of the characters. For me, writing is essentially a process of exploration and discovery and I enjoy the surprises it brings me.
5. The feedback
I've always believed a book only comes alive when it finds a reader. I feel honoured that people make the choice to read something I've written. And I'm doubly honoured whenever they take the time to send me their comments.
Deborah O'Brien
First written for Random House Blog: April 2014
Revised August 2016
---
Recipe: Yummy Chocolate Mousse
Back in the Seventies, chocolate mousse was everyone's favourite dessert. Then, like beef stroganoff, it went out of fashion. But what goes around comes around and now it's back, bigger than ever. All the celebrity chefs have a take on it - George Colombaris, for example, makes his mousse with olive oil while Heston Blumenthal uses only two ingredients: chocolate and water!
My own chocolate mousse is an adaptation of a recipe from 'The Terrace Times Cookbook' and I've been making it for yonks. The secret is the marshmallows.
As you can see in the photo, I serve my mousse in vintage tea cups. I'd like to say I thought of this myself but actually I stole it from Shannon Bennett on MasterChef. But it's a great way to show off your tea cups or demitasses, particularly if, like me, you have a collection!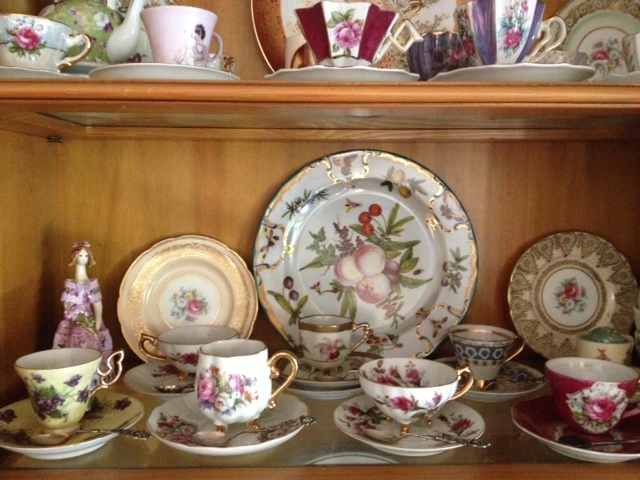 Ingredients:
(inspired by the 'Terrace Times Paddington Cookbook')
About 180 to 200 grams best quality dark cooking chocolate (broken into pieces)

2 tablespoons sugar (less if you like)

3/4 cup full cream milk

22 white marshmallows

1 and a half teaspoons instant coffee

2 cups whipped cream (approx.)

You can always serve any leftover cream as an accompaniment.
Method:
Melt the first five ingredients in a double boiler (but NOT the cream).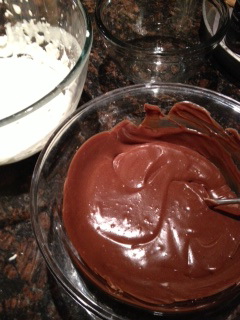 Stir continuously and ensure the marshmallows are fully melted - otherwise the mixture will be grainy.

Allow to cool. (Continue stirring regularly while cooling to avoid graininess.)

Gently fold in whipped cream until you are happy with the colour and texture.
Spoon the mix carefully into tea cups. Chill in the refrigerator to set.
I decorated with grated white chocolate and fresh raspberries. This is also great served with vanilla bean ice-cream to break through the richness of the mousse.
Serves six approx. depending on size of the cups and how high you fill them. If you have some mousse left over, all the better for a midnight feast!
Deborah O'Brien
23 July 2016
---
Subcategories
Home in the Highlands blogs