Film Review:
1917
The madness and futility of the First World War has been the inspiration for many fine films, beginning in 1930 with Lewis Milestone's version of the Erich Maria Remarque novel, 'All Quiet on the Western Front', which was a daring story for its time, in that it showed the horrors of war from the perspective of German infantrymen.
In Sam Mendes's '1917', it is the British with whom we sympathise, but in other ways, the themes are similar - incompetent and ego-driven officers, and troops who are treated as cannon fodder. Mendes, however, also gives us officers doing their best in impossible circumstances.
This film is based on a story told to Mendes by his grandfather, Alfred, to whom the film is dedicated. In that respect, it is a very personal project.
But what makes '1917' unique is the way it is filmed as a continuous shot or, at least, the illusion of one. We literally follow the two lance corporals, Blake (Dean-Charles Chapman) and Schofield (George MacKay), on their mission to cross no man's land and reach the Devonshire battalion in order to warn the colonel that they are heading into a German trap and they should call off their attack. For Corporal Blake, this mission is deeply personal – his brother is a lieutenant with the Devons.
We follow Blake and Schofield as they weave their way through the British trenches and then cross the battlefield, avoiding bomb craters filled with water and rotting bodies. Eventually they reach the abandoned German trenches, where a nasty surprise awaits them.
There are heart-stopping incidents along the way, as well as a poignant encounter with a young French woman who is caring for an orphaned baby, a scene which reminds us humanity can exist in the hell that is the Western Front. Possibly the most moving moment of the entire film is the scene involving the hymn 'Poor Wayfaring Stranger'. It brought tears to my eyes.
'1917' does not have leading men in the traditional sense. The two protagonists are little known* actors; their very anonymity makes the viewer's identification with them much stronger. There are some 'name' actors in the film – an almost unrecognisable Colin Firth as the general who sends the boys on their mission, Andrew Scott (Moriarty from 'Sherlock') as a world-weary lieutenant who couldn't give a damn, and the ubiquitous Benedict Cumberbatch in a brief but nuanced performance as the frazzled colonel in charge of the Devons.
'1917' is a moving story of the horrors of war. It has already won a Golden Globe for Best Drama and you can expect an Academy Award to follow for the film and its director.
*George MacKay plays a tortured Ned Kelly in 'The True History of Ned Kelly' (2019) alongside Essie Davis and Russell Crowe.
Deborah O'Brien
26 January 2020

Review: Hope's Road
It's a cold, windy day in my part of south-eastern Australia. In the paddock opposite us the horses are wearing their winter blankets, and what's left of the grass has turned crisp and dry. I should be outside, cutting down a stand of dead thistles, but there are more tempting things to do. Inside our cottage, the fire is blazing and I curl up on the sofa to finish the book I bought several weeks ago as a reward to myself for having met a big deadline.
It's ironic that as a full-time writer, I have very little time left for reading. So when I do choose a book, it had better be good! And I'm delighted to tell you that Margareta Osborn's latest novel, HOPE'S ROAD is a really good read. It hooked me from the very first scene where a six-year-old girl tries to clamber through a barbed wire fence into the neighbouring property and is startled by an old man pointing a gun at her and telling her in no uncertain terms to 'get the hell off' his farm. Then we meet the girl years later, all grown-up – Tammy McCauley, or 'Tim Tam' as her best friend calls her. This feisty young woman makes up one of the triumvirate of characters around whom the story is woven. The other two are an old curmudgeon by the name of Joe McCauley and an intriguing loner called Travis Hunter (whose surname matches the man's job – he's a dog trapper).
But the star of the book has to be Travis Hunter's young son, Billy – a good-hearted boy caught up in the detritus of a marriage break-up. The cast of supporting characters is as strong as the main protagonists. My favourite is Mrs Beatrice Parker, who just happens to be the town's own Nosy Parker and speaks in rhyming aphorisms.
The writing is lucid, lyrical and sometimes gritty. Although HOPE'S ROAD could be characterised as a rural romance, it's so much more than that. Fans of the genre will love it, and those looking for serious issues simmering below the surface will find them too.
The backdrop of HOPE'S ROAD is the Gippsland landscape, described so lovingly you can almost hear the cry of the currawongs and smell the fragrance of the eucalypt forests. The setting will resonate with those of us who live in the country, while city dwellers, dreaming of a tree change, will find themselves totally beguiled.
HOPE'S ROAD is a great read that's hard to put down.
Deborah O'Brien
June 2013
---

Puppy Love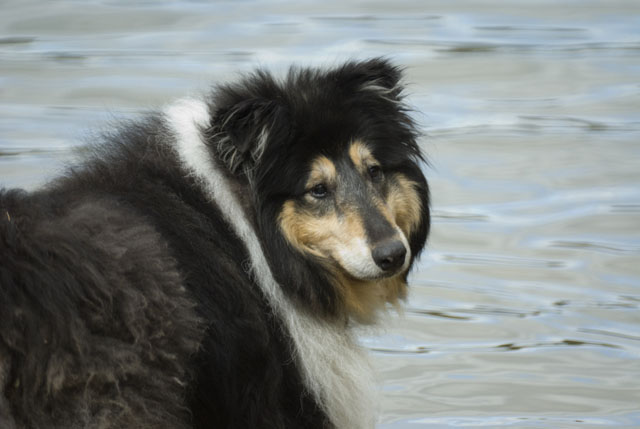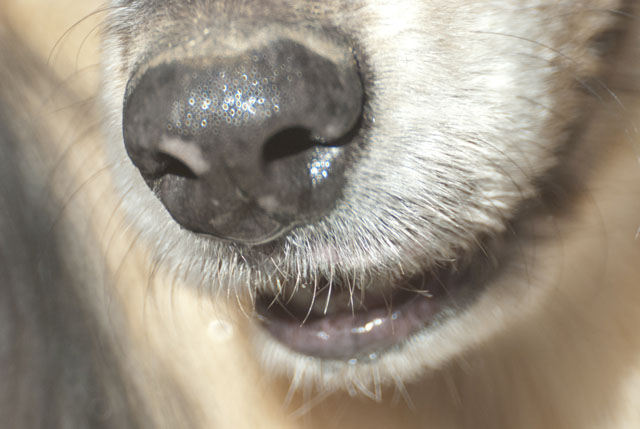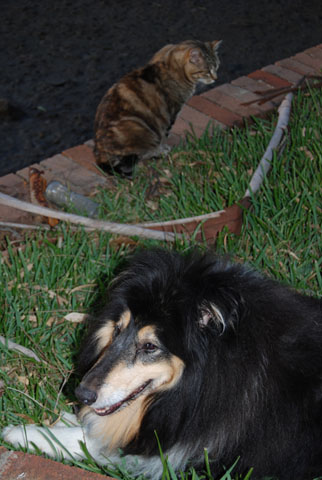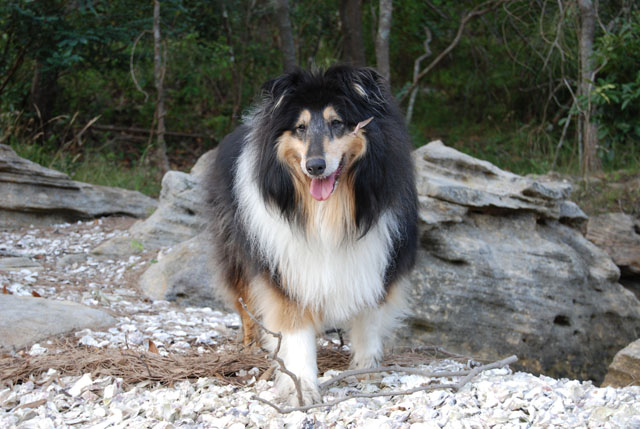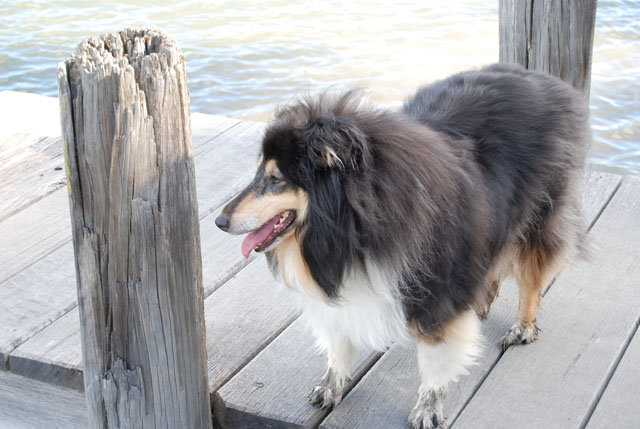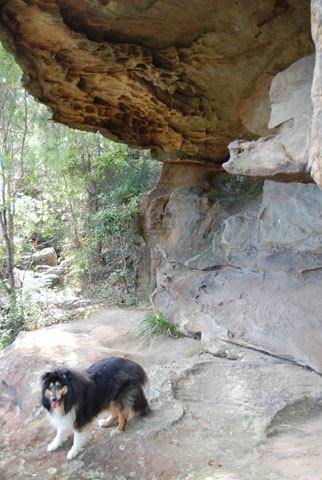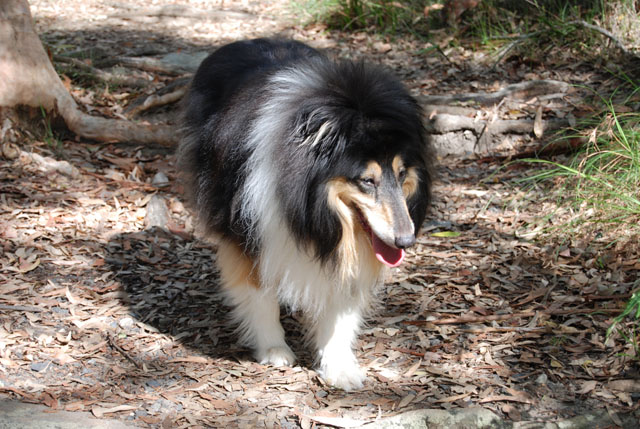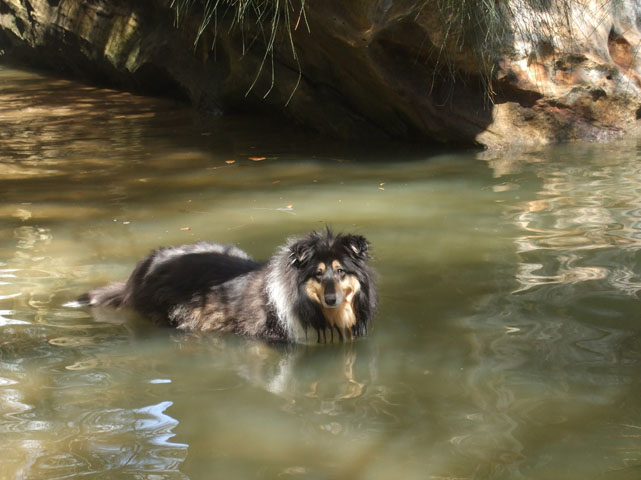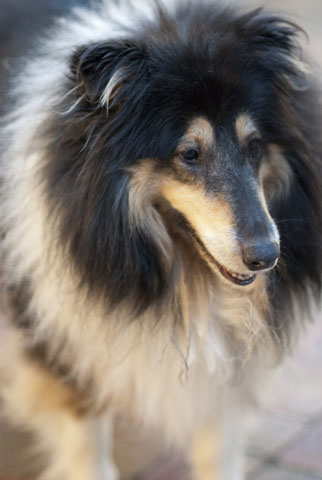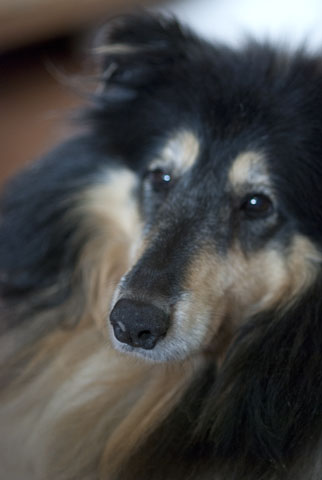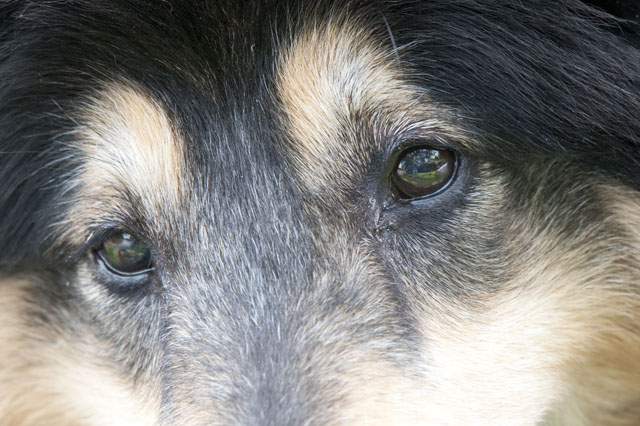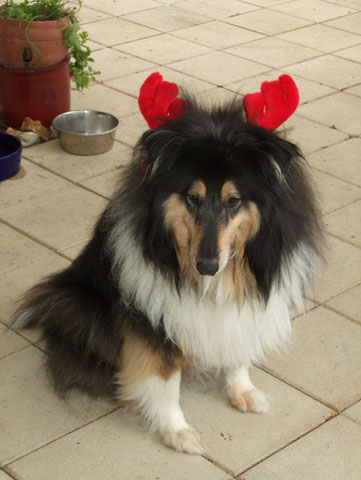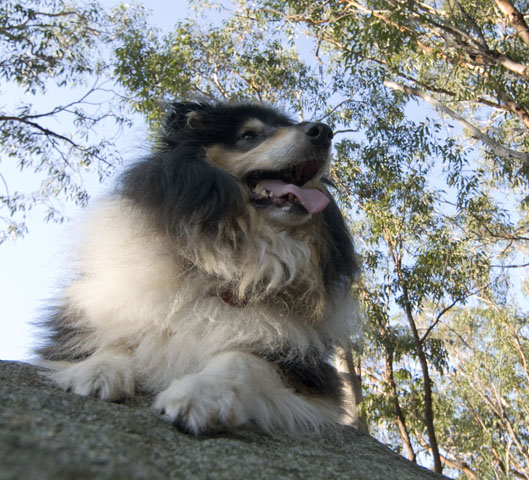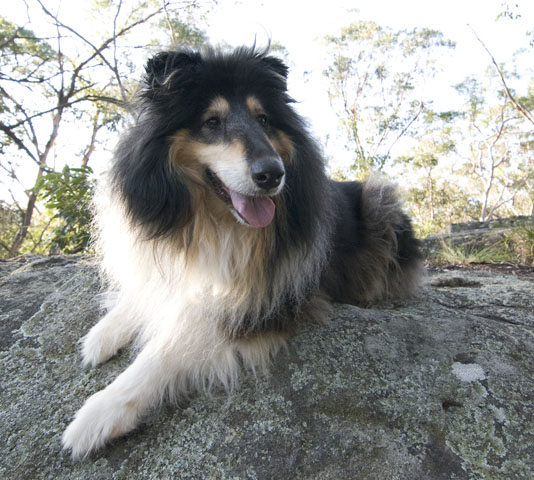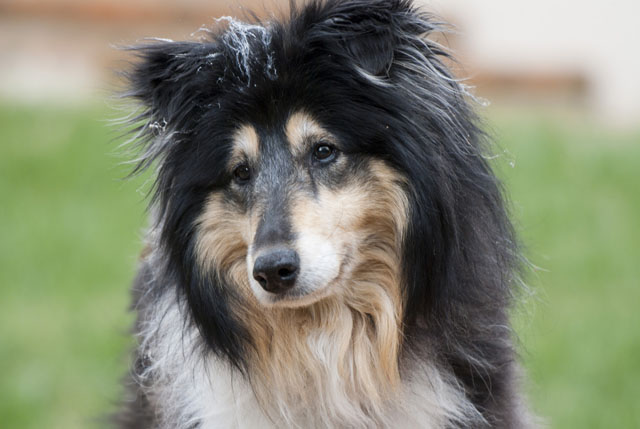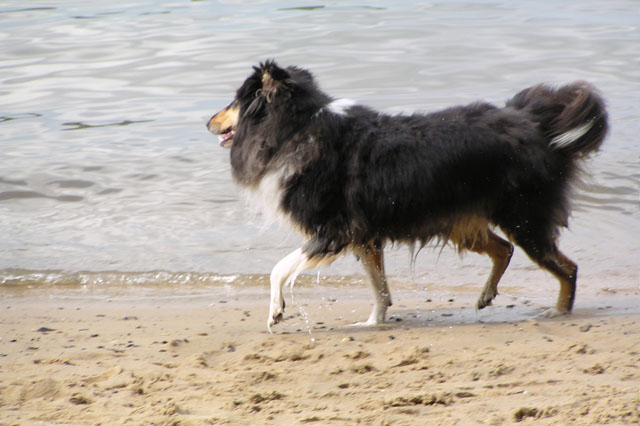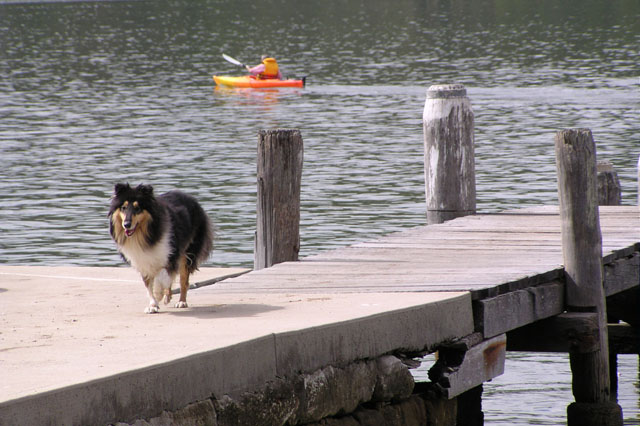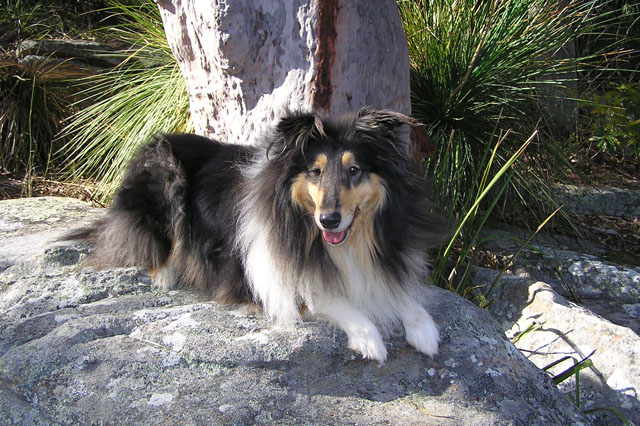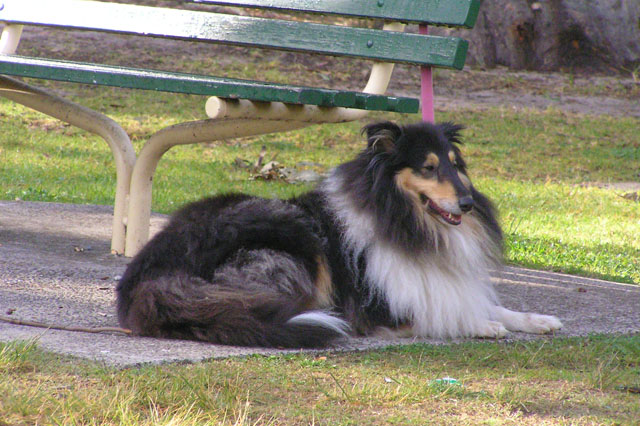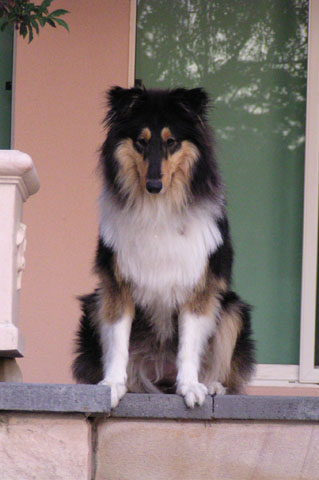 It's been eighteen months since my collie dog, Bindi, died of cancer. For a long time we couldn't even think about getting another dog, not while we were grieving for our beautiful girl. Recently, however, we decided it was time to bring a new dog into our lives.

So we began visiting local pounds and shelters, both in person and online, looking for a rescue dog. Although we love collies, we didn't want another one. There would always be the temptation to compare the newcomer to Bindi and find her wanting. Besides, we didn't come across any collies, not even a border collie. At the RSPCA I fell in love with an Alaskan Malamute. My husband (WGH*) wisely reminded me that we didn't want an active dog, nor one quite so big.

Anyway, about six weeks ago, WGH was having his daily latte at the local café. He likes to sit outside - it's a ritual he used to share with Bindi, who thought 'latte' was synonymous with 'walk'. Hence, if we said the word, she would spin around in circles, anticipating a jaunt.

On this particular day, as WGH sipped his coffee and chatted with the other regulars, he spotted a Pomeranian running along the footpath in the direction of the café. The dog was about a block away. No owner in sight. When the Pom was almost level with the café, it jumped off the kerb and started to dash across the road. At the same time, an upmarket black SUV was approaching at rapid speed. To make things worse, the driver was chatting on her mobile phone. WGH rushed onto the road and raised his hand to stop the vehicle, while one of the café regulars scooped up the dog, only to discover she wasn't wearing a collar.

A visit to the vet revealed she wasn't microchipped either. The vet, in turn, offered to keep the dog until the owner could be located. In the meantime, WGH came home, bearing pictures of the Pomeranian, taken on his mobile phone. 'We'll use them for the posters,' he said.

I wish I hadn't seen those photos because I looked at that cute honey-coloured dog and instantly fell for her.

'If the owner doesn't claim her, do you think we could keep her?' I asked WGH.

He didn't say no.

Before long, I was busy coming up with a list of names for the Pomeranian (since she didn't seem to have one of her own). After considerable deliberation I decided on 'Pixelle'. Like an excited mother-to-be, I was already looking at baby merchandise – pink leads, fluffy blankets, cosy dog beds. By the third day I was sure the owner wasn't going to turn up. Part of me railed against him for being so careless; another part prayed that he had gone away and would never return. On the fourth day I was emailing my friends, telling them about Pixelle, when WGH arrived home, a sombre expression on his face.

'The owner turned up,' he said.

My heart sank. I won't repeat the swear word I used.

And so it was that Pixelle went back to her owner and we were still without a dog.

Then a very dear friend emailed me with the following words:

You know what will happen? Some odd circumstance will probably deliver the right dog to you.

It'll be fate.

And that's what happened. More next time.




*WGH – World's Greatest Husband (it says so on his coffee mug)
---

Attack of the Anachronisms
It's become quite a fad (albeit a pedantic one) to hunt for anachronisms in historical dramas such as 'Downton Abbey'. There are bloggers out there who scour Julian Fellowes' dialogue, phrase by phrase, checking for chronological and cultural correctness. My own impression is that he gets it right most of the time. In three seasons of 'Downton Abbey' I can only recall a few snatches of dialogue that didn't seem to match the historical setting - Matthew Crawley's 'steep learning curve' being the most notable. But we can forgive Julian Fellowes the occasional linguistic inconsistency. After all, he's created a wonderful show to which we're all addicted, secretly or otherwise.
To tell you the truth, this current fervour for hunting anachronisms is something that makes a historical novelist like me very nervous. As a consequence, I pore over my manuscripts, searching anxiously for clangers. I wake up at night in a cold sweat because I've had a dream about readers finding a ghastly mistake in one of my novels. I enlist friends who are History teachers to proofread my text. But in the end, the buck stops with me.
So, in the interest of full disclosure, here are some of my own anachronisms, which have almost made it into print. Fortunately we spotted them first. But one day . . .
When I needed a rousing patriotic song for a scene in the forthcoming JADE WIDOW, the first thing I thought of was Elgar's 'Land of Hope and Glory'. Suddenly I could hear it playing loudly in my head like the 'Last Night at the Proms'. What a stirring piece of music, I thought to myself. Perfect for my book. Fortunately I checked the date of composition before I submitted the manuscript to my publisher. Wikipedia told me that Elgar wrote his 'Pomp and Circumstance March' in 1902, while my scene was set in 1885! Can you guess which song I chose instead? The answer is at the bottom of this article.
In an early version of MR CHEN I wrote a scene in which Angie, the modern-day heroine, discovers a photo of Amy, the mysterious girl from the past, in an 1870s newspaper. It was only later that I realised my mistake. Not just an ordinary mistake, but a major clanger. You see, nineteenth-century newspapers didn't have photographs, only engravings. Although photography had existed for decades, the images couldn't be reproduced on a printing press. The technology wasn't invented until the 1880s. The Sydney Morning Herald published its first photograph (as opposed to an engraving of a photograph) in 1908. To read more, I recommend 'Two Hundred Years of Sydney Newspapers: A Short History' by Victor Isaacs and Rod Kirkpatrick, available online.
Here's another anachronism involving newspapers, which almost made it into THE JADE WIDOW. I only picked it up at first proofs. I'd written a scene where the characters were reading the latest news on the front page of the paper. What's wrong with that, you might ask. Well, the front and back pages were used for advertising. The news stories were inside! I really should have known better, considering that I spend hours reading nineteenth-century papers online at Trove, the National Library of Australia's magnificent resource of digitised newspapers.
Another mistake from THE JADE WIDOW, spotted by my wonderful copy editor. It's 1885, and Eliza is comparing one of the male characters to Count Vronsky from Tolstoy's novel, 'Anna Karenina'. Should be okay, shouldn't it? After all, 'Anna Karenina' was published in 1877. But what I didn't take into account was that the first English translation didn't appear until 1886! And although Eliza speaks enough French to get by and understands a bit of Cantonese, she doesn't know any Russian! So I had to quickly rewrite that particular paragraph and find someone else for Eliza to use as a comparison. It turned out to be Jane Austen's Mr Willoughby.
Finally, here's a linguistic anachronism for you. In an early version of THE JADE WIDOW, Joseph refers to Eliza as 'a loose cannon'. Yes, of course there were cannons in 1885 – in fact, they'd been around for a couple of centuries – but nobody had used the expression figuratively. Not until a few years later, and that was in America when a politician (I think it was Teddy Roosevelt) referred to an opponent as a 'loose cannon'. Three of my lovely test readers, including my husband, rightly queried it. The answer was confirmed at Gary Martin's outstanding website, 'The Phrase Finder' which deals with phrases, sayings and idioms in the most entertaining and informative way. Have a look. You'll find it hard to leave.
The anthem I substituted for 'Land of Hope and Glory' was an equally patriotic one – 'Rule Britannia', written in the mid-18th century.
Deborah O'Brien
May, 2013
---
When Winter Comes Early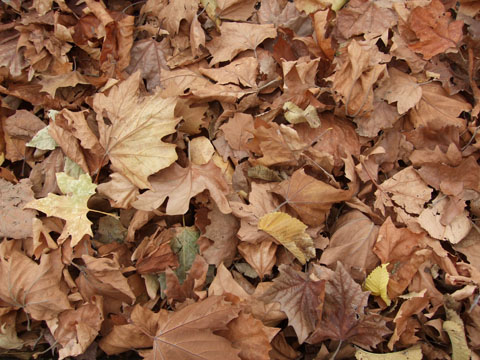 Although it's still officially autumn in the Southern Hemisphere, winter has already struck in many rural parts of New South Wales. In my town it's a truism that winter starts on ANZAC Day and finishes in September. This year we've already had several overnight minimums below zero and a series of damaging frosts. Fortunately my trees seem to be in a hardy mood and have survived intact so far, even the new orchard of apple saplings planted between the house and the creek.
Here are some pictures I took last week of the autumn colours. It might not be as spectacular as 'fall' in New England but it's still rather beautiful.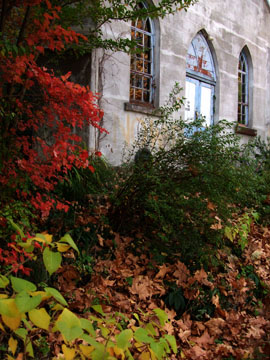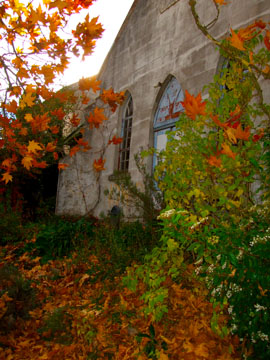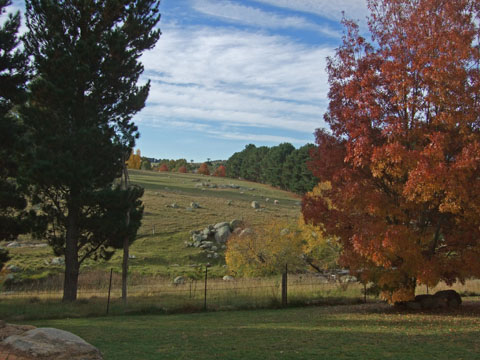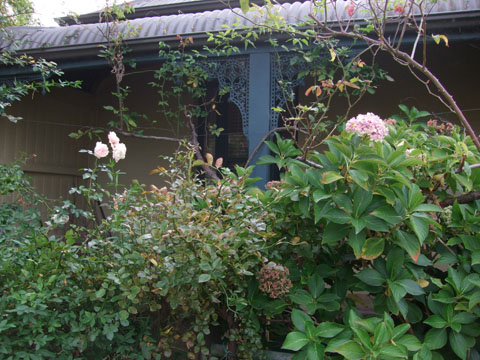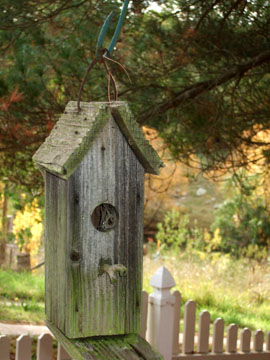 This gorgeous birdhouse was made for me by the same friend, who painted the Santa gourd in my Christmas article and stitched the wall-hanging. What a talented lady she is.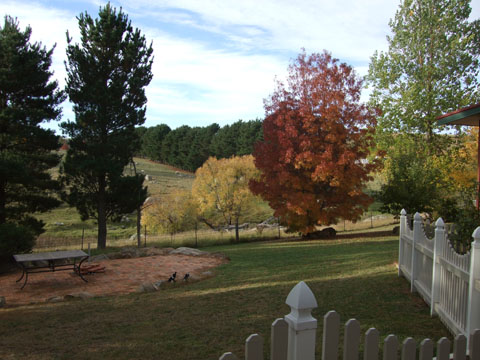 Deborah O'Brien
May, 2013
---

The Victorian Art of Scrapbooking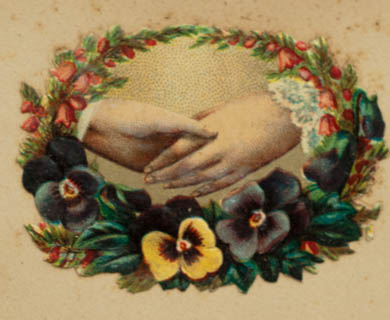 Paper scraps have always fascinated me – not the kind you throw into the recycle bin, but the little decorative cut-outs I was fond of collecting and swapping with my friends when I was a child. We used to call them 'swaps'. They came in sheets of embossed images joined by paper tabs. As far as I can recall, we didn't glue them into books - we just kept them in tins, ready to be traded with our school mates.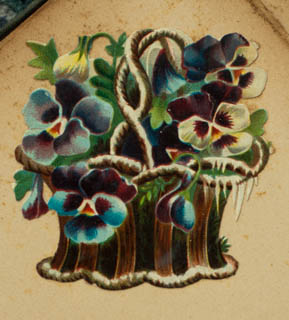 The word 'scrapbook' dates back to the Victorian era when it was considered a genteel pastime for ladies to collect 'scraps' and paste them into blank books, together with such items as greeting cards, advertising ephemera and pictures cut from calendars, magazines and leaflets.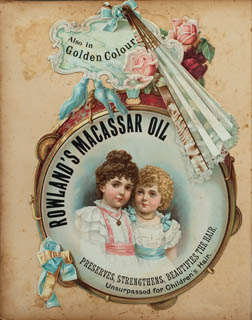 I'm privileged to have been able to borrow a scrapbook dating back to the 1890s, which belongs to my friend and has been passed down from one generation of her family to the next. Not surprisingly considering its age, the book isn't in the best shape – its embossed linen and cardboard cover is hanging by a thread and there's foxing on the pages. But the pictures themselves are in excellent condition. Today we photographed all the pages so that, even if the book eventually falls to pieces, there will always be a digital version.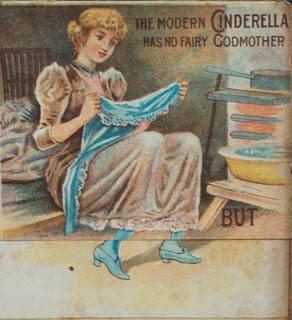 Scrapbooks play a part in my forthcoming novel, THE JADE WIDOW (September 2013). Suffice it to say that the making of a scrapbook provides comfort for a mother, whose son has gone off to war and a young woman longing for his return.
Here are some more images from my friend's treasured scrapbook.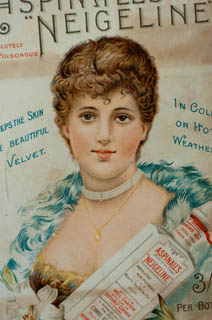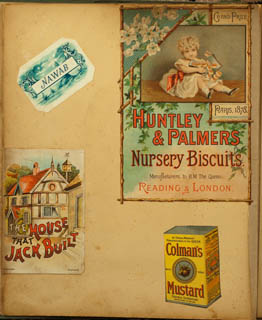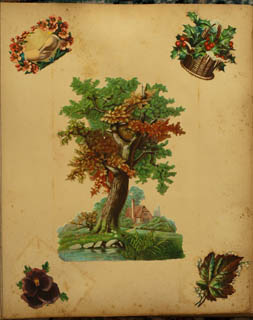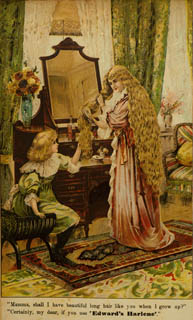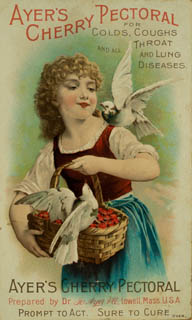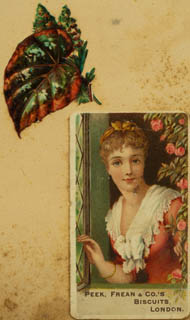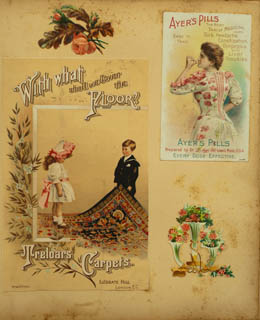 Many thanks to Jan for lending me her family heirloom and to my husband for photographing the scrapbook.
Deborah O'Brien
April 20, 2013
---
Subcategories
Home in the Highlands blogs