Film Review:
1917
The madness and futility of the First World War has been the inspiration for many fine films, beginning in 1930 with Lewis Milestone's version of the Erich Maria Remarque novel, 'All Quiet on the Western Front', which was a daring story for its time, in that it showed the horrors of war from the perspective of German infantrymen.
In Sam Mendes's '1917', it is the British with whom we sympathise, but in other ways, the themes are similar - incompetent and ego-driven officers, and troops who are treated as cannon fodder. Mendes, however, also gives us officers doing their best in impossible circumstances.
This film is based on a story told to Mendes by his grandfather, Alfred, to whom the film is dedicated. In that respect, it is a very personal project.
But what makes '1917' unique is the way it is filmed as a continuous shot or, at least, the illusion of one. We literally follow the two lance corporals, Blake (Dean-Charles Chapman) and Schofield (George MacKay), on their mission to cross no man's land and reach the Devonshire battalion in order to warn the colonel that they are heading into a German trap and they should call off their attack. For Corporal Blake, this mission is deeply personal – his brother is a lieutenant with the Devons.
We follow Blake and Schofield as they weave their way through the British trenches and then cross the battlefield, avoiding bomb craters filled with water and rotting bodies. Eventually they reach the abandoned German trenches, where a nasty surprise awaits them.
There are heart-stopping incidents along the way, as well as a poignant encounter with a young French woman who is caring for an orphaned baby, a scene which reminds us humanity can exist in the hell that is the Western Front. Possibly the most moving moment of the entire film is the scene involving the hymn 'Poor Wayfaring Stranger'. It brought tears to my eyes.
'1917' does not have leading men in the traditional sense. The two protagonists are little known* actors; their very anonymity makes the viewer's identification with them much stronger. There are some 'name' actors in the film – an almost unrecognisable Colin Firth as the general who sends the boys on their mission, Andrew Scott (Moriarty from 'Sherlock') as a world-weary lieutenant who couldn't give a damn, and the ubiquitous Benedict Cumberbatch in a brief but nuanced performance as the frazzled colonel in charge of the Devons.
'1917' is a moving story of the horrors of war. It has already won a Golden Globe for Best Drama and you can expect an Academy Award to follow for the film and its director.
*George MacKay plays a tortured Ned Kelly in 'The True History of Ned Kelly' (2019) alongside Essie Davis and Russell Crowe.
Deborah O'Brien
26 January 2020
---

Launching 'A Place of Her Own'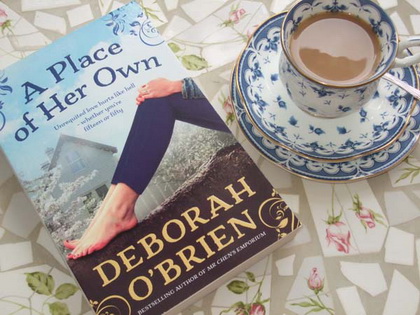 Completing the final draft of a manuscript is only the start of the publication process. It's followed by months of revising, tweaking, polishing, editing and checking. After a final proofing, the book goes off to the printer. A month or two later, there's a courier at the author's front door, delivering a box of advance copies. You tear open the box and smile with pride at the finished book. You run your fingers over the embossed lettering on the cover, only to realise that your name is bigger than the title! And you wonder if it shouldn't be the other way around. With considerable trepidation you begin reading the text. On reaching the end you sigh with relief that you haven't found a typo . . . or shudder at a mistake you missed and pray nobody will notice.
A couple of weeks pass and suddenly it's launch day. You emerge from your writing cave, blinking into the bright sunlight, and head off to meet the people who make books come alive – the readers. Without a reader, a book is just a collection of printed pages bound together inside a cover, or a digital file hovering in cyberspace. It is the reader who brings his or her own experiences and emotional agenda to the author's story and adds dimensions that weren't there in the first place.
Lunchtime, Thursday, May 1 and I'm at Hurstville City Library where I feel honoured that sixty people have gathered to listen to my launch talk.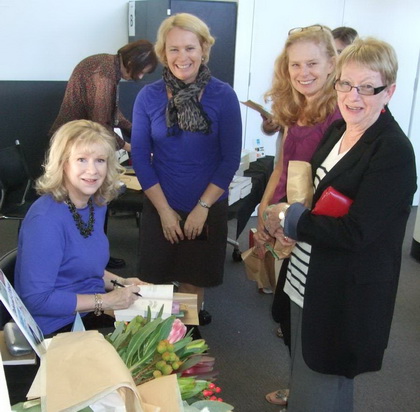 Naturally enough, I speak about 'A Place of Her Own' but I also outline my own journey towards becoming a novelist, with all its twists and turns. Afterwards members of the audience ask insightful questions about the writing process and I have to confess that I'm the kind of wayward author who doesn't plan her work beyond an initial premise and some guideposts.

I also discover that there are several enthusiastic members of the 'Richard Scott fan club' in the audience. Since I've always considered Richard the unlikeliest heart-throb of all time, I'm rather puzzled by this phenomenon.
The lovely library staff, including Sue, the 'Adult Collections' librarian (no, it's not as racy as it sounds – it simply means books for adults as opposed to children) have organised everything meticulously, including a delicious array of nibbles and glasses of champers.
The next day I'm on my way to the country for Saturday's book signing at the delightful Miss Ruby's Bookshop in Braidwood.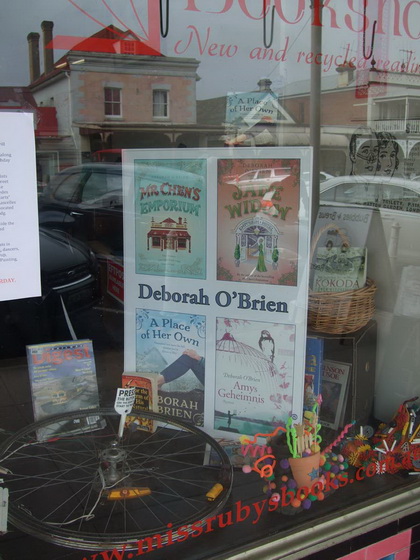 Housed in a row of Victorian-era shops with cast-iron lace verandahs, Miss Ruby's exemplifies everything I love about small local bookshops – a cosy interior with comfortable armchairs, a mix of new and recycled books, and friendly owners who will do their best to track down obscure books for you. To complete the picture, there's a rescue cat called Millie.
Saturday, May 3 also happes to be Braidwood's heritage festival, celebrating 175 years since the town was founded. The Governor herself is in town for the occasion. She seems to be enjoying herself immensely. And no wonder – it's a fabulous day with heaps of things to do – watching the street parade, visiting the Heritage Art Prize exhibition, buying bric-a-brac at the heritage markets, watching maypole dancing in the park and enjoying the random acts of art and music staged along the main street.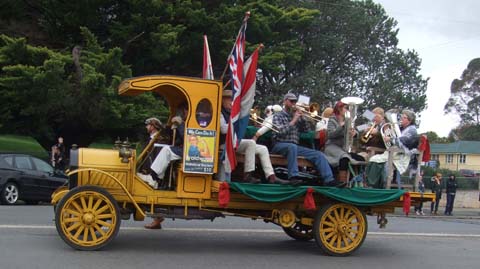 Deborah O'Brien
May 6. 2014
---

Free Bookmarks to Download
Designed by Deborah O'Brien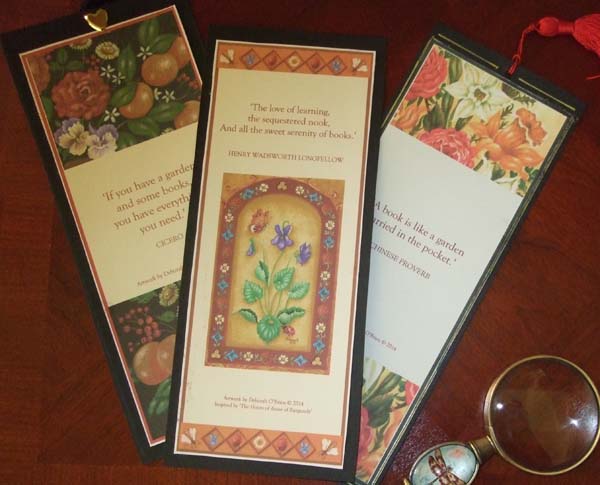 As a reader, you can never ever have enough bookmarks, especially if you're the kind of person who has several books on the go at the one time.
So I've designed a range of bookmarks for you to download and print. Some of them feature my new book, 'A Place of Her Own' (coming May 1), but there are also 'generic' designs with my favourite quotes about books and reading. There's even one for the blokes.
Keep the bookmarks for yourself or feel free to give them to family and friends or share them with your book club. But please note that the designs are not to be sold or used for commercial purposes.
There are three bookmarks on each A4 pdf page.
Just click on the link beneath each set of three.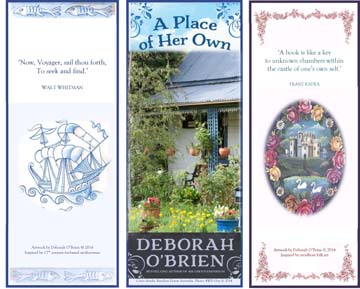 Bookmark set 1 (PDF)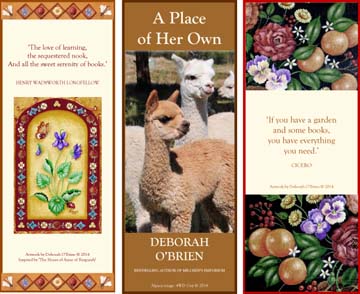 Bookmark set 2 (PDF)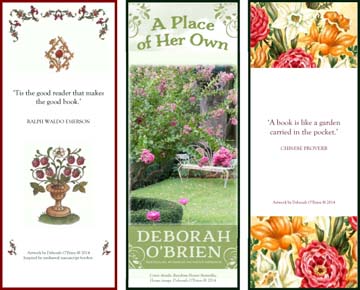 Bookmark set 3 (PDF)
As a former DIY author and teacher, I just can't help myself when it comes to giving make-it tips! So here are a few ideas for making the bookmarks.
THE EASY OPTION
You can print them on ordinary 80 g/m² white photocopy paper and cut them out, but because the paper is relatively lightweight they may tend to curl. Then again. if they get tatty, you can always print some more!
THE STURDIER OPTIONS
1. Use heavier paper. I like HP 200g/m² Colour Laser Paper in white.
Always check that the paper you choose is suitable for your particular printer.
OR:
2. Cut out the bookmark and glue it to cardboard. This is what I did with the examples in the photo.
I used black cardboard and left a cardboard border all the way around. If you want to make the bookmark special, you could rule a line-border with a gold pen.
If there are white edges showing around your bookmark, wait until the glue is thoroughly dry and use a coloured pencil to camouflage them.
This is a project which would be perfect to do with the kids in the school holidays. It's suitable for older children (late primary and high school) and really encourages a love of books. They might even be inspired to design bookmarks of their own!
I do hope you enjoy your bookmarks as much as I enjoyed designing them for you.

If so, please let me know by liking my Facebook page or sending a note via the Contact page of this website.
Deborah
March 25, 2014
---

Film Review: 'The Monuments Men'
Ghent Altarpiece: Hubert and Jan Van Eyck; Source: Wikipedia Commons
I'm not sure what I expected from 'The Monuments Men' but when I heard it was based on a real story about the team commissioned to save European artworks from the Nazis, I was hoping for something like the wonderful 1960s movie, 'The Train' featuring Burt Lancaster and Paul Schofield. Well, this isn't 'The Train'. In fact, at times it's more like 'Oceans Eleven' - or in this case, 'Oceans Seven' - meets World War II.
But despite its flaws, I enjoyed 'The Monuments Men.' It's an entertaining movie which also delivers a history lesson, albeit Hollywood-style. There's an interesting cast led by George Clooney (also the director), who, to my eyes at least, bears an uncanny resemblance to 1940s heart-throb Robert Taylor but is thankfully a far better actor. John Goodman literally grounds the film with his tree-trunk physique and hang-dog face which can speak a thousand words without uttering a single one. The ubiquitous Cate Blanchett (when does she sleep?) does a fine job as the art curator at the Jeu de Paume, desperate to keep the collection safe and battling Goering's underling, Viktor Stahl. Of all the characters in the film, I found him the most interesting.
As an artist, I like any movie which has art at its heart, and this one features the Ghent altarpiece which happens to one of the most beautiful works of art ever created. But it's not just a story about saving one particular work. We're shown how the Nazis went about stealing art, both private and public, on a massive scale. Unfortunately, in attempting to cover this entire story in two hours, 'The Monuments Men' sometimes loses its focus and veers towards the superficial.
On the historical front, I don't mind a bit of artistic licence in telling a true story as long as the framework is essentially accurate. This film certainly has an authentic 1940s feel about it and the cinematography is glorious. However there are problems with the dialogue. If you're a regular reader of my blog, you'll know I have a 'thing' about linguistic anachronisms – a paranoia about committing them and a penchant for finding them. It really annoys me that in a film with a multi-million-dollar budget, they couldn't employ someone to check that the language was right. At one point George Clooney says that his team was 'tasked' to undertake the mission. Nobody used 'task' as a verb back then. And during a conversation with Hugh Bonneville's character, a Brit who has a sorry record with women and booze, Clooney says that everyone is 'screwed up at some level'. Surely this is sixties psycho-babble, not 1940s conversation.
For me, one of the most moving moments in the film is Matt Damon's attempt to return a family portrait to the home of a Jewish family from whom it was stolen. Another poignant scene is the cameo appearance by George Clooney's real-life father. I don't want to give too much away here so I'll just say that you should watch the credits and everything will make sense. I also liked the black-and-white photographs of the actual Monuments Men which are shown at the end.
In summary, if you want the serious story about the MFAA*, get hold of the book that inspired the film, Robert M. Edsel's 'The Monuments Men: Allied Heroes, Nazi Thieves, and the Greatest Treasure Hunt in History'. But don't dismiss this film – it's entertaining and sometimes thought-provoking. I just wish it hadn't tried to do so much.
*Monuments, Fine Arts and Archives programme
Deborah O'Brien
March 23, 2014
---
---

Film Review: 'Twelve Years A Slave'
Engraving from Solomon Northrup's 'Twelve Years a Slave' (1853). Source: Wikipedia
Back in the mid-1970s I was mesmerised by the miniseries 'Roots', based on Alex Haley's novel about his African ancestor, Kunta Kinte, a young man who was captured by slave traders and transported to 18th century America. It was ground-breaking television, particularly for someone like me who knew nothing about slavery in the American South except for the 'Gone with the Wind' version. Forty years later, having just seen Steve McQueen's 'Twelve Years a Slave', I realise that for all its considerable strengths, the 'Roots' miniseries was essentially a sanitised version of what happened.
Based on Solomon Northup's memoir published in 1853, McQueen's film is confronting in its realism. It begins in 1841 when Northup is a free man with a wife and two children, living a comfortable life in New York State. After being drugged and kidnapped, he finds himself enslaved on a Southern plantation where he witnesses and experiences unspeakable cruelty.
What makes the film particularly moving is the character of Solomon Northup himself, a man who never loses his humanity, even during the most dire moments of violence and pain. The brilliant British actor, Chiwetel Ejiofor brings dignity and intelligence to his portrayal of Northup/Platt. (Platt is the name given to him by his kidnappers.)
Benedict Cumberbatch is perfectly cast as the plantation owner who shows sympathy towards Platt but refuses to listen to his claims that he is a free man and instead sells him to the demonic Mr Epps, played by Michael Fassbender. Epps justifies his claims to ownership of his workers by quoting and paraphrasing Bible texts. The verse he doesn't quote, however, is Galatians 3:28: 'There is neither Jew nor Gentile, neither slave nor free, nor is there male and female, for you are all one in Christ Jesus.'
As Patsey, the young woman raped and abused by Mr Etts, Lupita Nyong'o imbues her role with nobility and spirit. Alfre Woodard (from 'How to Make an American Quilt') makes a brief cameo appearance as Mistress Shaw, a former slave and now the wife of a neighbouring plantation owner, and the versatile Paul Giamatti (last seen in 'Saving Mr Banks') is a vile slave trader with a veneer of gentility.
It seems ironic that a film, which depicts inhumanity and violence in such a realistic way, should look so beautiful, but it does, and that's due to the painterly cinematography and the lush Louisiana landscapes. Think Spanish moss hanging eerily from cypress trees, dark brooding swamps, cane fields stretching into the distance, and antebellum mansions with imposing columns and broad verandahs.
When I came home from the cinema, I went straight to my computer and searched for Solomon Northup's memoir. Sure enough, there it was – a facsimile version complete with engravings. Once I started reading it, I couldn't stop. The good news is that the film is basically true to the book.
In summary: 'Twelve Years a Slave' is a powerful film. You'll find parts of it difficult to watch but you'll also find yourself so immersed in the story that it will linger long after you've left the cinema.
Expect this film to win a swag of Oscars at the 2014 Academy Awards including Best Actor for Chiwetel Ejiofor.
Deborah O'Brien
February 22, 2014
---

THE VALENTINE'S DAY SERIES – PART 3
All's Well That Ends Well:
My Top Ten Romantic Comedies
Having written a recent blog about unrequited love, I decided it was time for something a little more upbeat. That's why I've chosen romantic comedies to finish my Valentine's series.
It was Shakespeare who originated the rom-com genre four hundred years ago with his 'comedies': 'A Midsummer Night's Dream', 'As You Like It', 'Much Ado about Nothing' and 'All's Well That Ends Well'. You can see his legacy in films such as Richard Curtis's 'Love Actually'.
I'm not giving anything away when I say that every film in my list has a happy (or potentially happy) ending. It's the standard rom-com formula. You can't possibly have a romantic comedy that ends tragically. It would be like including a sex scene in a 'Muppets' movie. Unthinkable!
N.B. Mild spoiler alerts for those of you haven't seen 'Sleepless in Seattle' and 'When Harry Met Sally'.
1. Love Actually (2003)
This Richard Curtis film could easily be labelled contrived, but I can't help loving it. Like Shakespeare's comedies, 'Love Actually' is a story with a number of romances developing in parallel and interrelated threads. There's a stellar cast including Bill Nighy, Emma Thompson, Alan Rickman (he of the golden syrup voice), Hugh Grant, Colin Firth and Laura Linney. Meanwhile, Kris Marshall plays the part of Colin ('cousin' of Spike in 'Notting Hill') as a modern-day Bottom, crude, funny and strangely endearing.
2. It Happened One Night (1934)
Despite its age and general creakiness, this Frank Capra film is still a lot of fun. Clark Gable is the fast-talking reporter sent to find Claudette Colbert, an heiress running away from her father. The two of them are thrown together on a Greyhound bus, which makes this the original road movie. The film won Best Picture of 1934 and I can see why – its escapist story and witty dialogue must have been a cheerful counterpoint to the gloom of Depression-era America.
3. Sleepless in Seattle (1993)
Attention: Spoiler Alert
What's particularly clever about this Nora Ephron film is that Tom Hanks and Meg Ryan don't actually meet until the end. Hanks is the perfect leading man in the Jimmy Stewart tradition and Ryan is 'America's sweetheart'. I love Ephron's sparkling dialogue and nostalgic references to 'An Affair to Remember', a rather overwrought 1950s 'weepy' with Cary Grant and Deborah Kerr (after whom I was named).
4. Woman of the Year (1942)
There just had to be a Tracy/Hepburn film in this list and 'Woman of the Year' is the best of them. Spencer Tracy and Katharine Hepburn are reporters – his specialty is sport, hers is politics. As the title suggests, there are some feminist elements, but it's not what you'd call a feminist film. After all, it was made in 1942 - pre Women's Lib. You only have to look at the billing – Hepburn always ceded first place to Tracy. Besides, with a few notable exceptions, the notion of a feminist rom-com tends to be an oxymoron - even now.
5. Four Weddings and a Funeral (1994)
There's so much to like about this Richard Curtis film – the clever screenplay, Hugh Grant's ditheringly charming persona (which became the model for his characterisations in 'Notting Hill' and 'Love Actually'), Andie MacDowell's self-possessed charm and the dazzling cast of supporting characters, including John Hannah, Kristen Scott-Thomas and Simon Callow. I must have watched this film half a dozen times and I always enjoy it. That's the test of any film – whether it can take multiple viewings.
6. It's Complicated (2009)
It's a sad truth that there are very few rom-coms where both the leads are 'of a certain age'.* In fact, I can only think of two: 'Something's Gotta Give' starring Diane Keaton and Jack Nicholson, and 'It's Complicated' in which Meryl Streep is torn between her wicked but lovable ex-husband (Alec Baldwin) and her soppy architect, Steve Martin. I know who I'd choose! Alec Baldwin is so engaging that he steals the picture.
7. Green Card (1990)
Written and directed by Peter Weir, this is the only Aussie** film in my list. Set in New York, it's a charming story of a young woman (Andie MacDowell) who marries Frenchman Gérard Depardieu (at his cuddly best) so that he can get a 'green card' to work in the US. You can guess what happens next.
8. When Harry Met Sally (1989)
Attention: Spoiler Alert
This is the archetypal tale of best friends, Billy Crystal and Meg Ryan, who discover there's more to their relationship than they thought. Written by the wonderful Nora Ephron, it's brimming with memorable scenes and quotable quotes, the most famous being: 'I'll have what she's having'.
9. Two Weeks' Notice (2002)
Here's Hugh Grant again. (I've only just realised he's in four of my top ten!) This time he's paired with the beguiling Sandra Bullock, who plays the legal counsel to Grant's spoilt millionaire. Even though this film is formulaic in the extreme, it's also very entertaining, thanks largely to the charming performances of the two leads.
10. Bridget Jones's Diary (2001)
Renee Zellweger is adorable as Bridget Jones, thirtyish, rosy-cheeked, pleasantly plump, prone to faux pas and desperately seeking the man of her dreams. Will it be her roguish boss Hugh Grant or the earnestly handsome Colin Firth? There's a supporting cast to die for – including Jim Broadbent, Gemma Jones and the much under-rated Neil Pearson. The ending will make your heart zing.
The films that just missed out (in no particular order): 'Tootsie', 'His Girl Friday'***, 'The American President', 'The Philadelphia Story'***, 'Notting Hill'.
* There are plenty of rom-coms where the man is older and the woman young - for instance, 'Charade' with Cary Grant and Audrey Hepburn, 'Sabrina' with Humphrey Bogart and Audrey Hepburn and more recently 'As Good as It Gets' with Jack Nicholson and Helen Hunt.
** Well, there's an Aussie director . . .
*** classic oldies
Read the other articles in the Valentine's Day series: My Four Favourite Stories about Platonic Love and My Five Favourite Books about Unrequited Love.
Deborah O'Brien
12 February 2014
Subcategories
Home in the Highlands blogs