Film Review:
1917
The madness and futility of the First World War has been the inspiration for many fine films, beginning in 1930 with Lewis Milestone's version of the Erich Maria Remarque novel, 'All Quiet on the Western Front', which was a daring story for its time, in that it showed the horrors of war from the perspective of German infantrymen.
In Sam Mendes's '1917', it is the British with whom we sympathise, but in other ways, the themes are similar - incompetent and ego-driven officers, and troops who are treated as cannon fodder. Mendes, however, also gives us officers doing their best in impossible circumstances.
This film is based on a story told to Mendes by his grandfather, Alfred, to whom the film is dedicated. In that respect, it is a very personal project.
But what makes '1917' unique is the way it is filmed as a continuous shot or, at least, the illusion of one. We literally follow the two lance corporals, Blake (Dean-Charles Chapman) and Schofield (George MacKay), on their mission to cross no man's land and reach the Devonshire battalion in order to warn the colonel that they are heading into a German trap and they should call off their attack. For Corporal Blake, this mission is deeply personal – his brother is a lieutenant with the Devons.
We follow Blake and Schofield as they weave their way through the British trenches and then cross the battlefield, avoiding bomb craters filled with water and rotting bodies. Eventually they reach the abandoned German trenches, where a nasty surprise awaits them.
There are heart-stopping incidents along the way, as well as a poignant encounter with a young French woman who is caring for an orphaned baby, a scene which reminds us humanity can exist in the hell that is the Western Front. Possibly the most moving moment of the entire film is the scene involving the hymn 'Poor Wayfaring Stranger'. It brought tears to my eyes.
'1917' does not have leading men in the traditional sense. The two protagonists are little known* actors; their very anonymity makes the viewer's identification with them much stronger. There are some 'name' actors in the film – an almost unrecognisable Colin Firth as the general who sends the boys on their mission, Andrew Scott (Moriarty from 'Sherlock') as a world-weary lieutenant who couldn't give a damn, and the ubiquitous Benedict Cumberbatch in a brief but nuanced performance as the frazzled colonel in charge of the Devons.
'1917' is a moving story of the horrors of war. It has already won a Golden Globe for Best Drama and you can expect an Academy Award to follow for the film and its director.
*George MacKay plays a tortured Ned Kelly in 'The True History of Ned Kelly' (2019) alongside Essie Davis and Russell Crowe.
Deborah O'Brien
26 January 2020

Film Review:
'The Water Diviner'
I have to confess that I came to 'The Water Diviner' with a personal agenda. My great-uncle Arthur was one of 8709 Australian soldiers who died at Gallipoli and I feared that this picture might trivialise something which has always been sacred to me. Fortunately I was wrong. In his directorial debut Russell Crowe has crafted a very fine film about a father's search for his three sons, missing in action on the Gallipoli Peninsula.
Like the three young men in 'The Water Diviner', my great-uncle was a country boy caught up in the colonial fervour to serve King and Empire. For them, it was a 'great adventure', and although fathers like Joshua Connor and my own great grandfather James Hill would later agonise over having allowed their boys to enlist, the pervading atmosphere at that time was one of flag-waving and glory, and few foresaw the carnage to come. The fictional Connor brothers joined the 7th Battalion AIF recruited from Victoria; my great-uncle the 2nd Infantry Battalion from NSW. The Connor boys went missing in action on 7 August 2015. My uncle Arthur was killed exactly two months earlier. The eldest Connor son, played by the very talented Ryan Corr, shares my great-uncle's name.
The story begins in December 1915 just after Australian troops have been evacuated without a single casualty – the antithesis of the horrific landing and the bloody campaign itself. The first soldiers we meet are Turkish, under the command of Major Hasan (Yilmaz Erdoğan). They have just discovered that they've been tricked by self-firing rifles left in the Australian trenches. We are shown the impact of the campaign from the perspective of these men defending their homeland. In this respect, it is a departure from earlier films such as Peter Weir's 'Gallipoli'.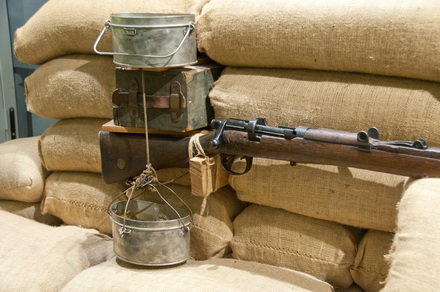 Self-firing rifle, The Army Museum, Bandiana. Pic courtesy of WGH.
There are many excellent performances in 'The Water Diviner' but Russell Crowe is its towering strength. He is the river gum, its roots buried deep within the Australian soil, its trunk solid and sturdy. We see the aching pain he feels for his lost family and the goodness in his heart. Not once do we question his decision to travel to a faraway land in search of his sons or doubt his commitment to bring them home to be buried beside their mother.
My own great grandfather never saw his son's grave, except in a photograph sent by the army with details of its location in the Lone Pine Cemetery at ANZAC Cove. James Hill received a brown parcel containing a small wallet, a metal disc and a letter – these were Arthur's only remaining possessions from his six weeks in the Dardanelles. My great grandfather duly signed the acknowledgment form and returned it to the military authorities. Medals followed, but nothing could replace his lost son, the six-foot shearer with grey eyes, olive complexion and dark brown hair.
There are many threads in Crowe's richly crafted film, all woven together with expert skill – the tale of the magic carpet from the 'Arabian Nights' juxtaposed with Australian icons such as the steel windmill and the cricket bat. Each motif plays its role within the story as both metaphor and practical part of the plot.
Cinematographer Andrew Lesnie gives us images that linger long after the film is over: the dust storms of western Victoria, Istanbul's magical skyline with its mosques and minarets, the killing fields of Gallipoli. Writers Andrew Knight (of 'Sea Change' fame) and Andrew Anastasio have created an engrossing story, an historically accurate framework and a screenplay graced with authentic dialogue. On the latter count, Julian Fellowes, please take note.
In a nutshell, 'The Water Diviner' is a moving homage to the Australian and Turkish soldiers who fought at Gallipoli and a hymn to the tragic futility of war. I commend it to you without reservation.
If you would like to read more about Australia's involvement in earlier imperial wars, see my article, He Who Would Valiant Be.
Deborah O'Brien
5 January, 2015
---

The Trivia Man Is Coming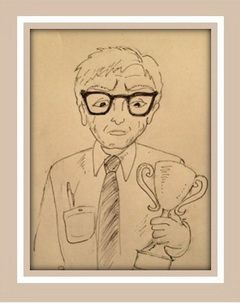 When you've been working on a manuscript for several years and you finally submit the finished product to your publisher, it's incredibly nerve-racking. A couple of weeks pass without a word, and by then you've convinced yourself that they hate your whimsical, offbeat story but are too polite to tell you so.
Then an email pings into your inbox from the publisher entitled 'The Trivia Man'. It takes a while to summon the courage to open it. You come up with a series of delaying tactics – a cup of tea, a Tim Tam (or two), a ball game with the dog, another cup of tea – but eventually you have to return to your laptop and face the inevitable. You click on the email and start to read. Here is what it says:
'I loved it. Such beautiful characters and a heart-warming story . . . an enchanting book'.
'The Trivia Man' is very special to me for many reasons, but I can't go into them without giving away the plot. Suffice it to say that the book explores a range of issues – from the dangers of stereotyping people to the need we all have to find a place to belong.
As for genre, the book is hard to classify. There's romance in the story but it's not romantic fiction. There's humour but it's not a comedy. There's a good amount of nostalgia but the setting is contemporary rather than historical. In a nutshell, 'The Trivia Man' is funny, sweet, sad and quirky. I hope you'll like it. And I'll let you into a secret - it's my favourite of all the books I've written.
*'The Trivia Man' will be released by Random House Books Australia on 1 June 2015.
P.S. For my personal connection with all things related to trivia, see: 'Trivia Isn't Trivial'.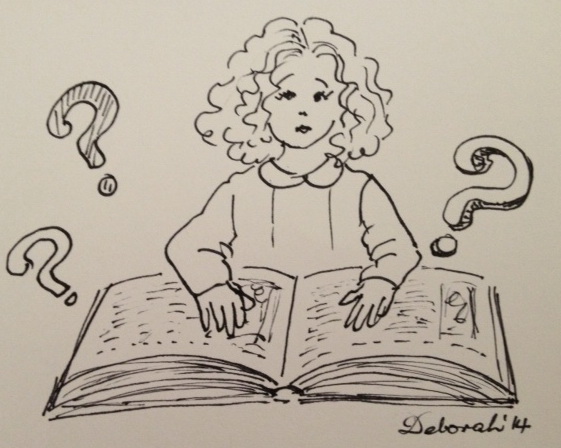 Text and illustrations: Deborah O'Brien
6 December, 2014
---

My Christmas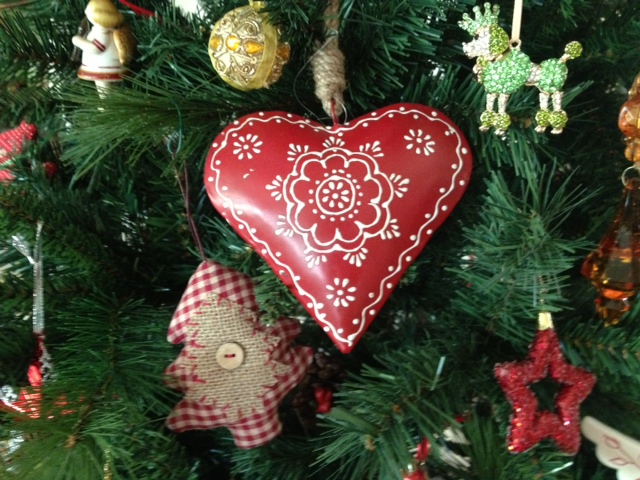 The Christmas season just seems to creep up on us, doesn't it? And although we've been bombarded by Christmas merchandise and decorations in the department stores ever since October, it's still a shock when we look at the calendar and realise it's December 1 – the first day of Advent. Then comes the rush to purchase Christmas gifts, wrap them, write and post greeting cards, decorate the house . . . and maintain our everyday life at the same time.
Having said that, I just looove the Christmas season. My family calls me Mrs Christmas and when you look at the pics that follow you'll see why. Let's start with my Christmas kelpie reluctantly wearing her reindeer ears for the photo. They were torn apart not long after this shot was taken.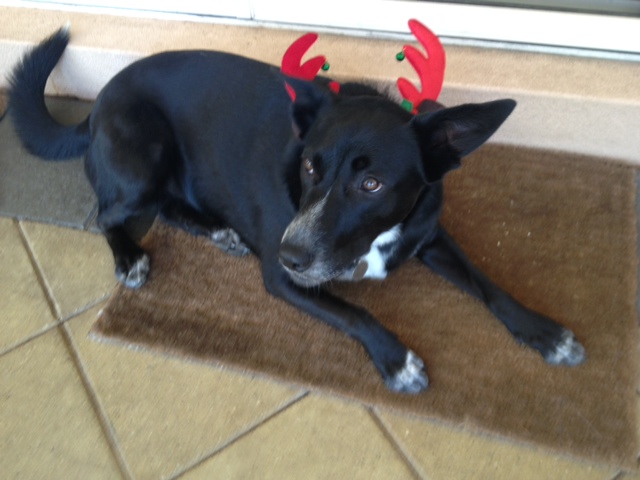 Here's one of my favourite ornaments - yes, it's a pasta angel. A great project to make with the kids.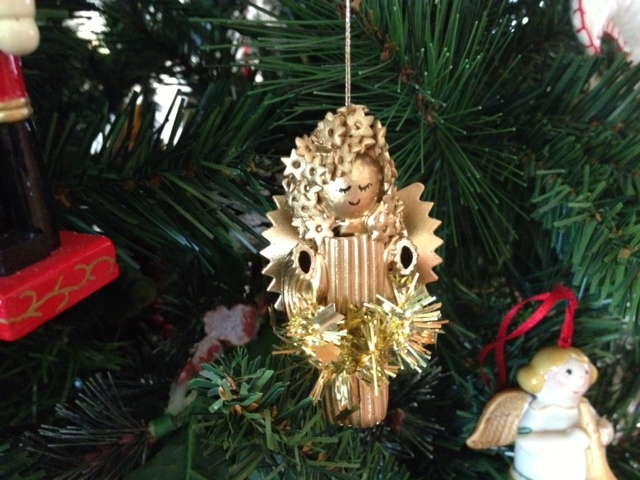 I've always wanted to visit a Bavarian Christkindlmarkt. My son was on an exchange in Germany and brought back these decorations for me.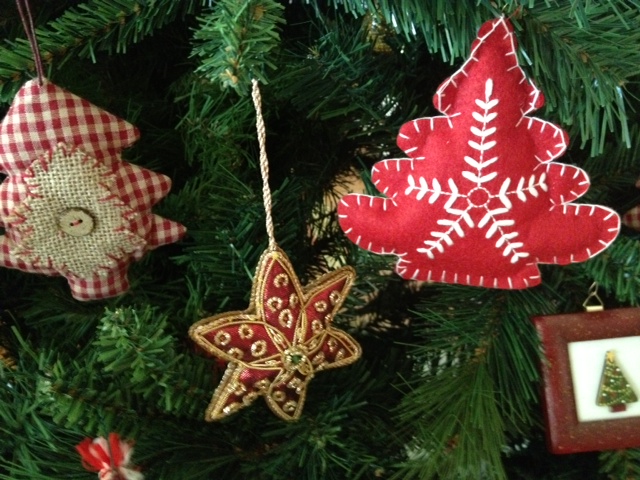 I painted this Santa years ago in a workshop with the wonderful DeLane Lange. I bring him out every year and although he's a little battered now, I like to think it only adds to his charm.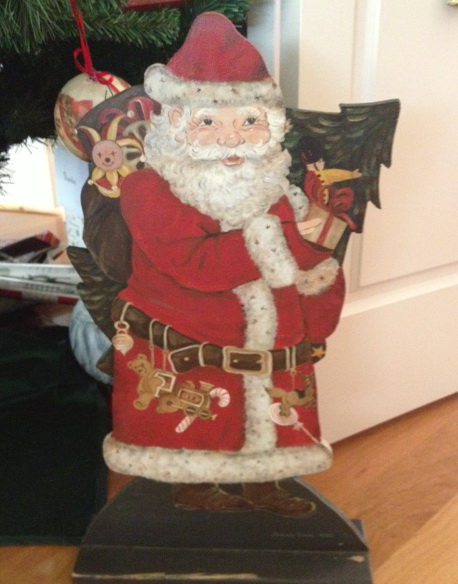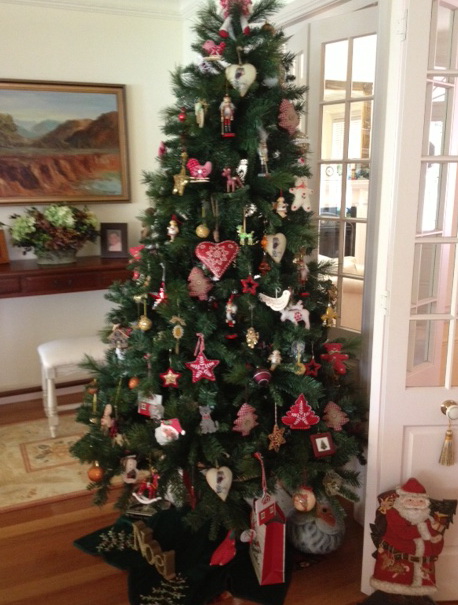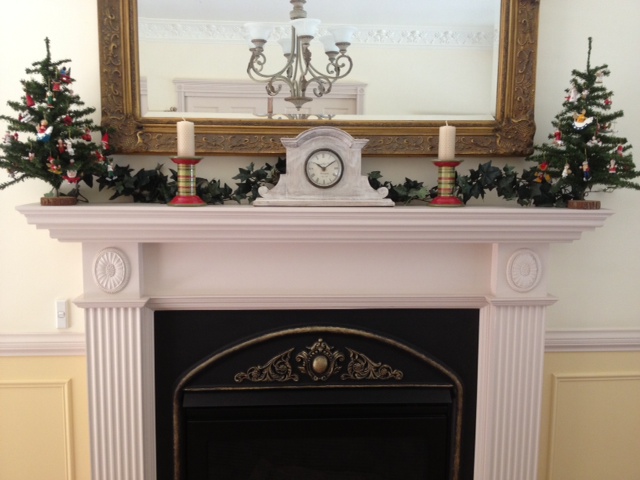 Wishing you a joyful Christmas and a wonderful 2015!
Deborah
December 1, 2014
---

Zucchini and Herb Frittata
with Eggs from Robyn's Happy Chooks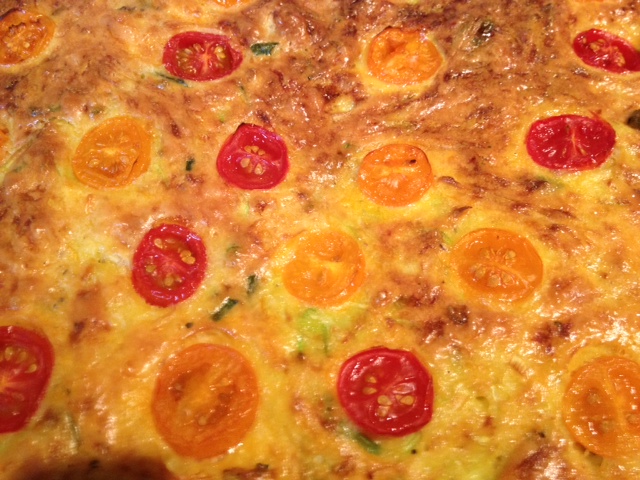 Whenever my lovely country friend and neighbour, Robyn Goodwin (author/illustrator of the 'Backyard Tales' series of children's books) gives me a carton of eggs she's collected from her happy, free-ranging chooks, I start planning special things to make with them.
This time I decided on a Devon honey cake and a zucchini frittata and had enough eggs left over for WGH* to make one of his yummy omelettes. He's incredibly secretive about the method and won't let me watch him cooking them so I have no idea what he does, but I have to tell you they're the best omelettes I've ever tasted.
Since I can't share the details of WGH's omelette with you, here's my frittata recipe instead – if you can call it a recipe – I tend to cook by taste, smell, texture and appearance, which means the quantities are rather inexact and the instructions a tad vague. So treat this as a guide and vary it to suit yourself.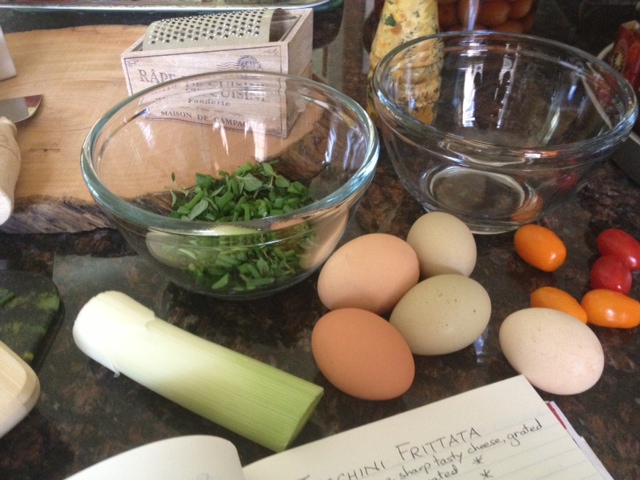 You'll need:
About half a block of your favourite vintage Cheddar cheese, grated – I use Mersey Valley from Tassie. Use more if you love cheese and don't have a cholesterol problem!

2 zucchini, peeled and grated

1 carrot, peeled and grated

The white section of a leek, very finely chopped

Chives, oregano leaves, thyme leaves, parsley – whatever you have in your herb garden – chopped

1 ½ cups self-raising flour, sifted

½ cup rice bran oil/grape seed oil. You could use olive oil but it has a stronger taste.

5 free range and/or organic eggs, beaten lightly with a fork. Sometimes I add an extra egg just for good luck.

Salt and pepper
Line a lamington tin with baking paper cut larger than the size of the tin if its sides were flattened out. I always make diagonal cuts at the corners to help the paper sit neatly in the tin.
Gently mix the self-raising flour, eggs and oil in a bowl.
Carefully fold in the carrots, zucchini, leeks, herbs and cheese. Add salt and pepper to taste. Don't overmix or you'll make it tough.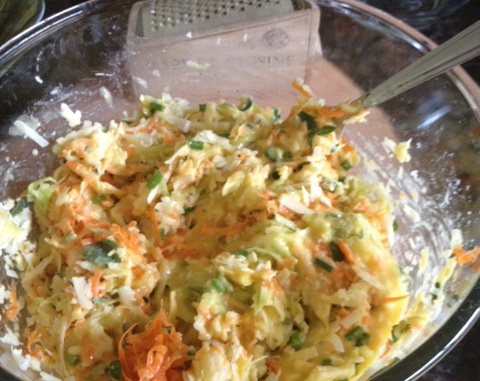 Pour the mix into the tin and spread out neatly.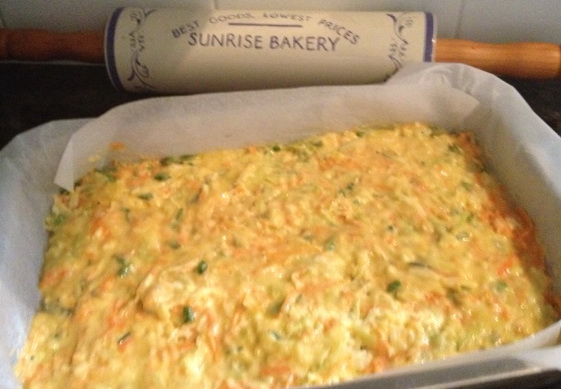 Now for the fun part. Push halved heritage tomatoes into the top in a geometric pattern.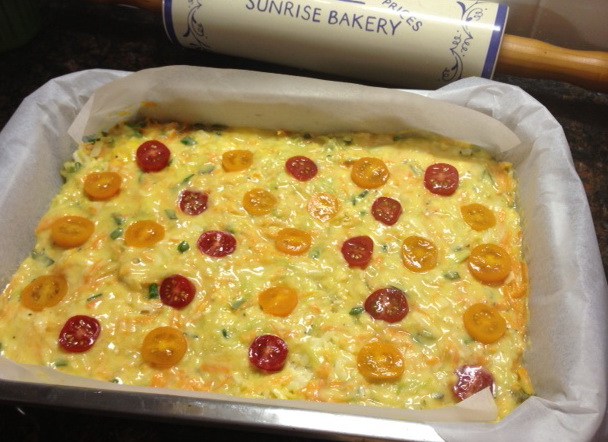 Bake at 190° C (fan-forced 175 ° C) at least 30 minutes and check to make sure the top isn't burning. My oven tends to cook things more on one side so I just turn the tin around at the halfway mark.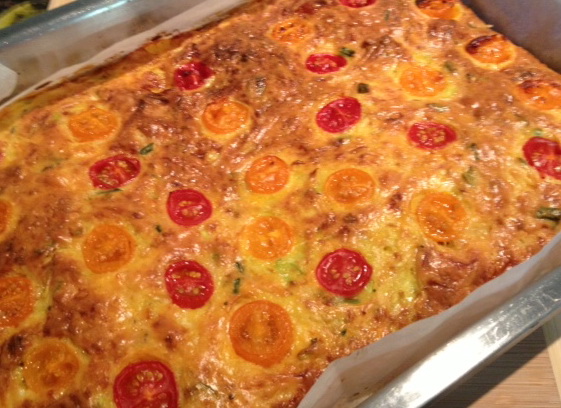 Once your frittata is set and browned, remove from the oven and serve with a delicious salad. Mine consists of mixed leaves from my organic garden with avocado and pine nuts.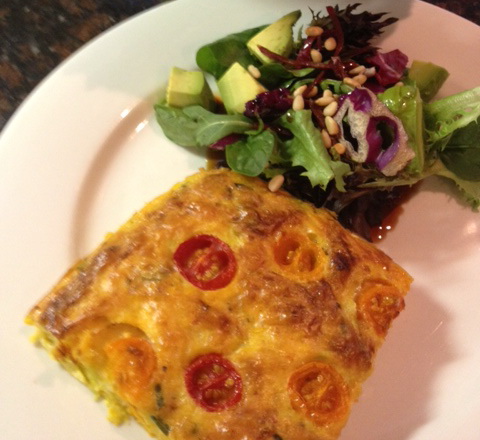 *WGH = World's Greatest Husband - it says so on his coffee mug!
Deborah O'Brien
November 17, 2014
---

Trivia Isn't Trivial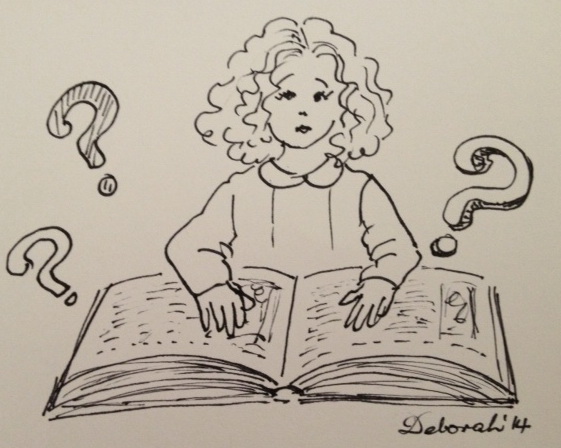 'Trivia is a serious business, not a social occasion.'
Kevin Dwyer, the Trivia Man
For almost four years I've been working on a manuscript called 'The Trivia Man'. Because there were other novels to write, I couldn't devote myself to the project full-time. Instead, it became a dalliance taking place whenever I found myself between books. An on-again, off-again relationship that I thought I could control, until it got out of hand and I didn't want to write anything else!
So, who is this fictional guy monopolising my time? Well, he's a middle-aged forensic accountant by the name of Kevin Dwyer whose life revolves around his weekly trivia night. And why did I choose trivia as his obsession rather than golf or ballroom dancing or even poker? The answer is personal. You see, I was a trivia buff, long before there were trivia contests, pub quizzes or a board game called 'Trivial Pursuit' – in fact, long before people ever used the term 'trivia' to refer to knowledge both general and esoteric.
Like my protagonist in the novel, I was a child who just loved accumulating facts. But in a pre-internet world, facts weren't as easy to come by as they are now. There was no Google to do the searching for you. Instead, you had to go to the local library and leaf through weighty reference tomes such as the 'Encyclopaedia Britannica'. And although those revered volumes contained a lot of information, it was mostly of the serious, mainstream variety – geographical facts, scientific phenomena, famous people, historical events and so on.
But where could you find those idiosyncratic tidbits you desperately needed to know: the lyrics to a half-remembered song, or the name of Superman's mother* or Hopalong Cassidy's horse**? If, like me, you were also a movie buff (yes, we're talking about a very nerdy child here), and you were trying to recall the title of a particular film or the name of a character or a member of the cast, there was no Internet Movie Database (imdb) to assist you. You had to go to the library shelf numbered 791.43 and browse the movie books.
Back in those days, my head was always full of unanswered questions such as:
What do the letters L.M. stand for in the name of the author of 'Anne of Green Gables'?

(For years I thought its author was a man. How sexist is that?)

What are the names of the original Mouseketeers?

How many cities/towns in the world are called Sydney and where are they?
I could go on indefinitely but you get the drift. Nowadays you can find the answers in a matter of minutes, thanks to Wikipedia. In the past it involved patient and painstaking investigation skills. And even then, you might not succeed in your quest.
Those of us intrigued by informational minutiae never think of it as being trivial. Quite the contrary. We believe those little pieces of data constitute the essence rather than the periphery. After all, the devil is in the detail.
Who coined that phrase, anyway? I'll just go and Google it…
By the way, my next novel, 'The Trivia Man' will be released on 1 June 2015. Read more here.
* Superman's mother: birth mother - Lara; adoptive mother - Martha Kent
** Hopalong Cassidy's horse: Topper
1. Lucy Maud Montgomery
2. Original Mouseketeers – too many to list but here are a few - in no particular order except how they emerged from my memory: Annette, Darlene, Doreen, Lonnie, Karen, Cubby
3. Sydney, NSW; Sydney, Nova Scotia
Deborah O'Brien
8 November, 2014