Film Review:
1917
The madness and futility of the First World War has been the inspiration for many fine films, beginning in 1930 with Lewis Milestone's version of the Erich Maria Remarque novel, 'All Quiet on the Western Front', which was a daring story for its time, in that it showed the horrors of war from the perspective of German infantrymen.
In Sam Mendes's '1917', it is the British with whom we sympathise, but in other ways, the themes are similar - incompetent and ego-driven officers, and troops who are treated as cannon fodder. Mendes, however, also gives us officers doing their best in impossible circumstances.
This film is based on a story told to Mendes by his grandfather, Alfred, to whom the film is dedicated. In that respect, it is a very personal project.
But what makes '1917' unique is the way it is filmed as a continuous shot or, at least, the illusion of one. We literally follow the two lance corporals, Blake (Dean-Charles Chapman) and Schofield (George MacKay), on their mission to cross no man's land and reach the Devonshire battalion in order to warn the colonel that they are heading into a German trap and they should call off their attack. For Corporal Blake, this mission is deeply personal – his brother is a lieutenant with the Devons.
We follow Blake and Schofield as they weave their way through the British trenches and then cross the battlefield, avoiding bomb craters filled with water and rotting bodies. Eventually they reach the abandoned German trenches, where a nasty surprise awaits them.
There are heart-stopping incidents along the way, as well as a poignant encounter with a young French woman who is caring for an orphaned baby, a scene which reminds us humanity can exist in the hell that is the Western Front. Possibly the most moving moment of the entire film is the scene involving the hymn 'Poor Wayfaring Stranger'. It brought tears to my eyes.
'1917' does not have leading men in the traditional sense. The two protagonists are little known* actors; their very anonymity makes the viewer's identification with them much stronger. There are some 'name' actors in the film – an almost unrecognisable Colin Firth as the general who sends the boys on their mission, Andrew Scott (Moriarty from 'Sherlock') as a world-weary lieutenant who couldn't give a damn, and the ubiquitous Benedict Cumberbatch in a brief but nuanced performance as the frazzled colonel in charge of the Devons.
'1917' is a moving story of the horrors of war. It has already won a Golden Globe for Best Drama and you can expect an Academy Award to follow for the film and its director.
*George MacKay plays a tortured Ned Kelly in 'The True History of Ned Kelly' (2019) alongside Essie Davis and Russell Crowe.
Deborah O'Brien
26 January 2020
---

Film Review: 'About Time'
If you're the kind of writer who pens heart-warming, bittersweet stories with quirky, endearing characters, you can sometimes confuse 'charming' with 'cloying', and 'poignant' with 'corny'. It's difficult to get the balance right, but for the most part Richard Curtis has succeeded in his new film, About Time.
As the title suggests, the plot is predicated on time travel. You could argue that this device has been done to death – from Doctor Who (for which Curtis wrote the Van Gogh episode) to Back to the Future to The Time Traveller's Wife and Woody Allen's Midnight in Paris.
Like Allen, Curtis adopts a low-tech approach, eschewing fancy time machines, rocket ships or special effects. Allen used a clock chiming midnight and a vintage car to trigger his time warp; Curtis employs that classic English staple, the wardrobe. But unlike Allen, he neither yearns to experience a long-ago era nor to hobnob with its luminaries. Instead, Curtis takes a small-scale, slightly illogical but deeply personal approach to the sci-fi elements of his story. And I suspect that's one of the reasons why it works as well as it does. The other reason is Bill Nighy. From the moment we hear his delightfully twitchy explanation of how the adult males in the family can journey back in time, we're prepared to play along with an intriguing possibility. After all, who hasn't asked themselves: If only I'd done that differently?
Inevitably, where there's time travel, there's also a love story. In About Time we have two 'love stories': the romance between Domhnall Gleeson (Tim) and Rachel McAdams (Mary), plus the loving relationship between Nighy and his red-headed son. As a parent and a daughter, I found their scenes together incredibly moving.
The supporting cast is superb – the magnificent Lindsay Duncan as Tim's mother, Joshua McGuire as the nerdy but lovable Rory, Lydia Wilson as Tim's eccentric and endearing sister, Richard Cordery as the adorable uncle (you just want to hug him) and Tom Hollander as the self-obsessed playwright. It's also poignant to see Richard Griffiths in what must have been his last film. And who wouldn't love the brief cameo from the gorgeous Richard E. Grant?
There are a few occasions when Curtis hits us over the head with his carpe diem message – including the voiceover at the end – though it's done with such charm that I really didn't mind.
I'd recommend this film to anyone who enjoys a clever, funny, feel-good story. But be prepared to shed a few tears – I cried on and off for the last forty minutes, yet I wouldn't call it a tearjerker. That's the magic of About Time. Even though it teeters on the edge of being corny and contrived, it rarely loses its balance.
Deborah O'Brien
October 19, 2013
---

The Jade Widow @ Mr Chen's Emporium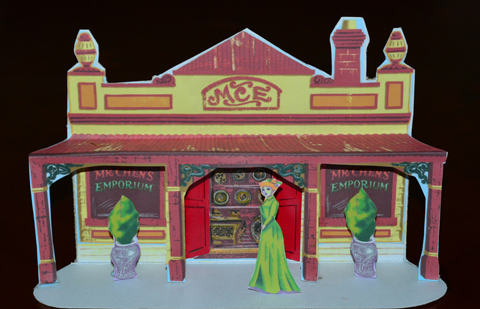 How did I spend my weekend? Was I madly writing my next novel, or pulling out weeds in the garden, or even working through the embarrassingly high pile of ironing in the laundry basket? No, I have a confession to make - I was building a model. You can see the result in the picture above, based on Chris Nielsen's enchanting illustrations for the covers of MR CHEN'S EMPORIUM and THE JADE WIDOW.
When I was a child, I could spend hours making houses out of Lego. The size was limited only by the number of blocks in our Lego box. I loved drawing house plans too. I yearned to design buildings. But it was not to be. Just as I couldn't become a fashion designer (because I couldn't sew), I couldn't be an architect either. Why? Because I was (and remain) hopeless at maths. Can you imagine the kind of houses I would have designed? They might have looked gorgeous in the drawings, but the walls would have been wonky, the ceilings irregular and the windows ill-fitting.
So I've sublimated the unfulfilled architectural ambitions into my writing and the result is a collection of buildings playing a starring role in my novels, including the Emporium, the Old Manse, the Emporium Hotel and Millerbrooke House.
I'm never happier than when I'm making a 3D model of a building. I suppose it takes me back to the Lego days. This past weekend I sat down with cardboard, scissors and glue and merrily put the emporium together. I didn't have a plan, I just let things unfold (pardon the pun). At the last moment I decided to add the Jade Widow and the porcelain urns.
My next project (which might have to wait until I've emptied the ironing basket) will be Amy's Emporium Hotel. I'm looking forward to making that fairytale turret a reality!
P.S. You can read about my sewing disasters here.
Deborah O'Brien
October 14, 2013
---

Ode to Spring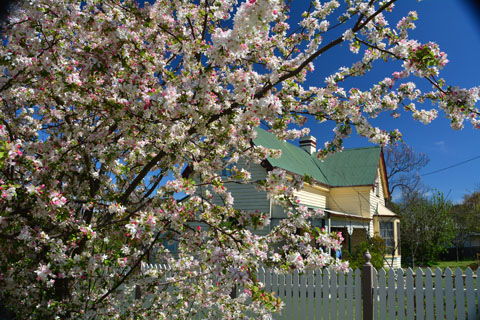 I've sometimes wondered why Keats wrote an ode to autumn and nothing about spring. After all, it's a season to delight the senses with its blossoms and newly minted leaves. But perhaps that was the problem. Maybe he preferred the mellowness of autumn to the brashness of spring.
For those who live in a temperate, coastal city such as Sydney, one season tends to merge into the next with very little fanfare. However, here in the tablelands, we're blessed with four distinct seasons. Admittedly, there's a long, cold winter, but it's inevitably followed by a glorious spring. Here's my own ode to spring - in pictures.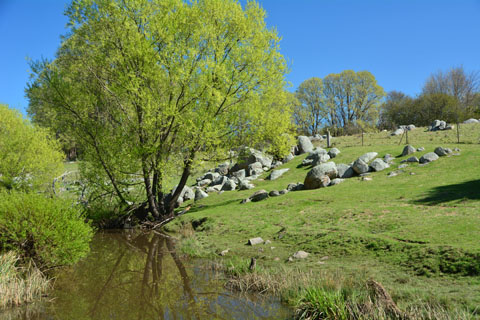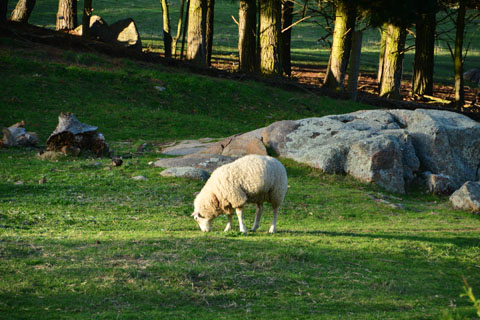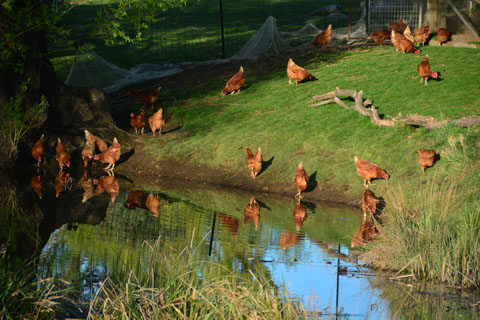 The gorgeous garden below belongs to Janice and Tom, who live not far from us. It's just brimming with old-fashioned flowers and fragrant shrubs.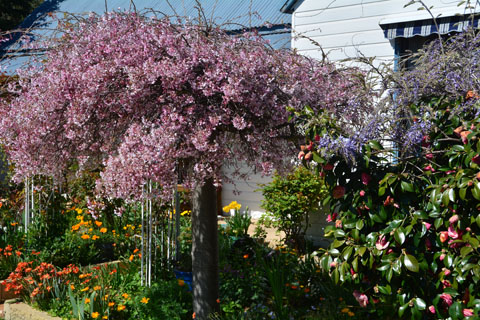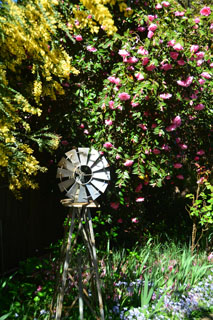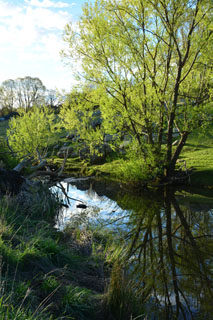 And here's our view to the west on a spring afternoon.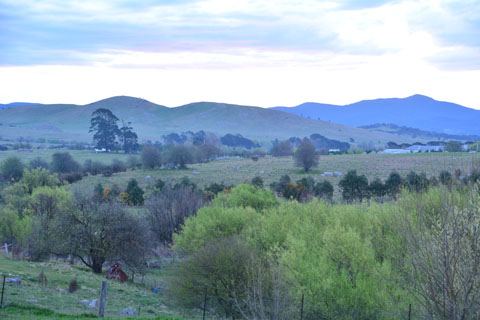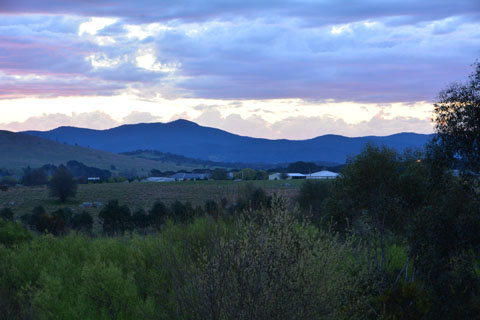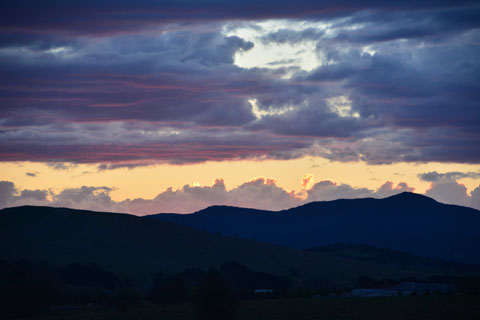 Deborah O'Brien
September 2013
---
When a Platypus's Fancy Turns to Love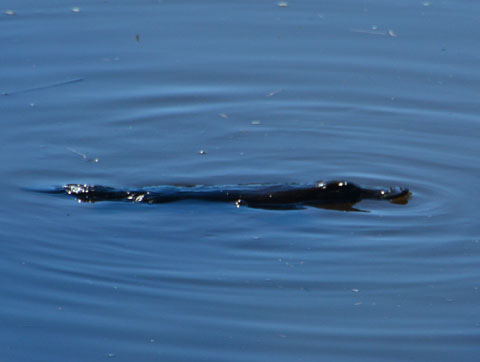 For the past few days we've been watching something very special - two platypuses swimming in the same area of our creek. We first spotted them from the living room window on Friday. Straight away we grabbed our cameras and raced down to the creek. And there they were, swimming and duck-diving in the midday sun. So much for the scientists who maintain they're only active at dawn and dusk. Living with them on a day-to-day basis, we know differently.
If you've read MR CHEN'S EMPORIUM or THE JADE WIDOW, you'll know that the platypus is essentially a solitary and independent creature, who spends most of the year on his or her own. It's only in late winter and spring that we ever see two of them in close proximity. Why? Because it's mating time. Afterwards they'll go their separate ways.
The platypus is an amazing animal with a bill and webbed feet like a duck, tiny eyes like a mole, fur like an otter and venom like a snake (in the male's hind spur). In MR CHEN'S EMPORIUM Amy Duncan's little brother has a nasty encounter with a male platypus after trying to dislodge it from its burrow. Serves him right, as far as I'm concerned. I've actually seen two teenage boys beating the banks of the creek with sticks in an attempt to upset the platypus. As they were on the other side of the creek, all I could do was yell at them. I must have given them a fright because they ran away and we haven't seen them since.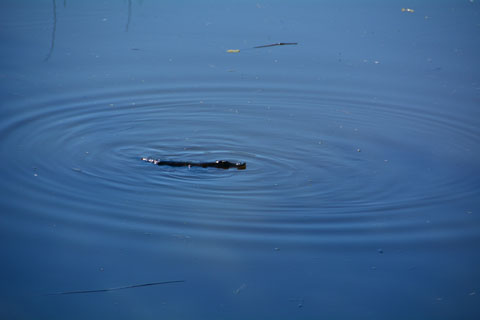 As you can see from the picture taken this morning, a platypus will float low in the water and that makes it very difficult to photograph. Unfortunately we didn't manage to get both platypuses in the same shot. You can clearly see the concentric circles of ripples that are often the first sign a platypus is present.
A floating platypus actually looks like a little crocodile, which I suppose reflects its primeval reptilian origins. Egg-laying mammals or 'monotremes', as the scientists call them, are, in fact, the oldest form of mammal. There are only two such species in existence and both live in Australia - the other is the echidna, also known as the spiny anteater.
A platypus can reach quite a speed when it's swimming along the surface - we estimate it can go at about 8 to 10 kilometres an hour, but I just read a reference book which said they can reach speeds of up to 35km an hour! I imagine that would be over a very short distance.
Here is a part of our creek where we often see platypuses. They like to forage among the fallen willow branches.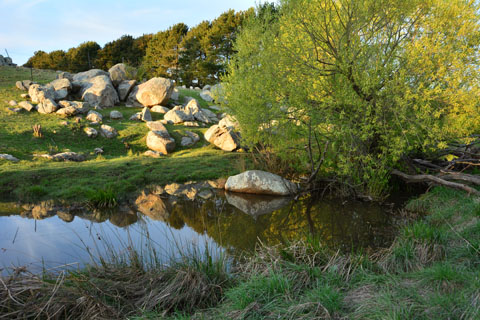 N.B. There is some debate about the plural of the word 'platypus'. Scientists tend to use the same word for singular and plural - one platypus, two platypus . . . In my books I've used the plural form 'platypuses' because it avoids confusion. I've heard people say 'platypi', but I suspect it's a misguided attempt at a Latin plural. To tell you the truth, it makes me shudder.
Deborah O'Brien
September 23, 2013
---

How Big Is Your Book?
OR
You Can't Judge a Book by its Word Count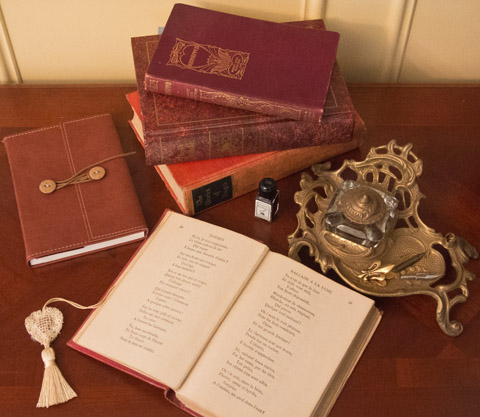 When a friend's little boy found out I was a writer, the first thing he asked me was: 'How big is your book?' Nobody had ever posed that question before and I was quite taken aback. What exactly did he mean? Did he want to know the dimensions, or was he referring to the number of pages?
Impatient with my hesitation, the little boy persisted, 'How thick is it?'
So I indicated the width of the spine with my fingers. (MR CHEN'S EMPORIUM and THE JADE WIDOW are the same length - about 350 pages. I'm not sure how it happened; it certainly wasn't planned.)
'Wow!' the boy replied.
No doubt that seemed like a very big book to a seven-year-old, but in point of fact, both novels are around the average length for adult commercial fiction. Nevertheless, the boy's reaction reminded me that a weighty tome possesses a certain gravitas, whether it deserves it or not.
Publishers tend to have a preferred word count for novels. It's a range rather than a specific number and it will differ from publisher to publisher and according to genre. The minimum length might be around 70,000 words, and it could range up to 200,000 and possibly more. Look at WAR AND PEACE - if I recall correctly, it's over half a million words! Tolstoy aside, a novel can, of course, be too long. I won't mention any specific examples, but I'm sure you've encountered a few that could have done with a heavy pruning.
As a reader, it's been my experience that some of the finest novels are contained within the slimmest of volumes. George Orwell's ANIMAL FARM, for instance, is only 41,100 words (wiki.answers). My well-thumbed copy of THE GREAT GATSBY – with Robert Redford and Mia Farrow on the cover – is 188 pages. Ian McEwan's beautifully crafted novel, ON CHESIL BEACH is 166 pages (2008 Vintage edition) with generous spacing between the lines. I suspect it's about 45,000 words. Likewise, Ray Bradbury's ground-breaking FAHRENHEIT 451 (discussed elsewhere on this site).
There can be something intrinsically elegant – not to mention covetable – about a slim volume. Take Alan Bennett's charmingly seditious novella, THE UNCOMMON READER. The publishers have played up its brevity by producing a small hardcover book (a mere 18 x 13 x 1.25cm – yes, I measured it!) with an embossed dust jacket and patterned endpapers. When I saw it in the bookshop, I just had to have it!
Recently I've written a manuscript, which is not quite 50,000 words in length. The story revolves around a quirky cast of characters, brought together by a common interest. So far, only my family and a few trusted friends have seen it. I really like this book, but the problem is that it's just too short. Could I pad it out with additional subplots or incorporate extra scenes? I don't think so. I've said what I have to say, and to my mind, it's finished. So where do I go from here? Well, I'll probably put it in the bottom drawer for a while. I hear novellas are coming back into fashion, so you never know . . .
Do you have any 'thin' novels that you really love? Please let me know.
Deborah O'Brien
September 2013
---