Film Review:
1917
The madness and futility of the First World War has been the inspiration for many fine films, beginning in 1930 with Lewis Milestone's version of the Erich Maria Remarque novel, 'All Quiet on the Western Front', which was a daring story for its time, in that it showed the horrors of war from the perspective of German infantrymen.
In Sam Mendes's '1917', it is the British with whom we sympathise, but in other ways, the themes are similar - incompetent and ego-driven officers, and troops who are treated as cannon fodder. Mendes, however, also gives us officers doing their best in impossible circumstances.
This film is based on a story told to Mendes by his grandfather, Alfred, to whom the film is dedicated. In that respect, it is a very personal project.
But what makes '1917' unique is the way it is filmed as a continuous shot or, at least, the illusion of one. We literally follow the two lance corporals, Blake (Dean-Charles Chapman) and Schofield (George MacKay), on their mission to cross no man's land and reach the Devonshire battalion in order to warn the colonel that they are heading into a German trap and they should call off their attack. For Corporal Blake, this mission is deeply personal – his brother is a lieutenant with the Devons.
We follow Blake and Schofield as they weave their way through the British trenches and then cross the battlefield, avoiding bomb craters filled with water and rotting bodies. Eventually they reach the abandoned German trenches, where a nasty surprise awaits them.
There are heart-stopping incidents along the way, as well as a poignant encounter with a young French woman who is caring for an orphaned baby, a scene which reminds us humanity can exist in the hell that is the Western Front. Possibly the most moving moment of the entire film is the scene involving the hymn 'Poor Wayfaring Stranger'. It brought tears to my eyes.
'1917' does not have leading men in the traditional sense. The two protagonists are little known* actors; their very anonymity makes the viewer's identification with them much stronger. There are some 'name' actors in the film – an almost unrecognisable Colin Firth as the general who sends the boys on their mission, Andrew Scott (Moriarty from 'Sherlock') as a world-weary lieutenant who couldn't give a damn, and the ubiquitous Benedict Cumberbatch in a brief but nuanced performance as the frazzled colonel in charge of the Devons.
'1917' is a moving story of the horrors of war. It has already won a Golden Globe for Best Drama and you can expect an Academy Award to follow for the film and its director.
*George MacKay plays a tortured Ned Kelly in 'The True History of Ned Kelly' (2019) alongside Essie Davis and Russell Crowe.
Deborah O'Brien
26 January 2020

Christmas At My Place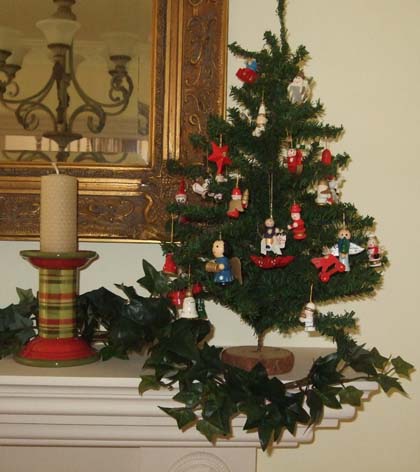 As as a child, I couldn't wait for Christmas to come; now I wish December had five weeks, instead of four. If there really was an extra week, I might find the time to cook some of those wonderful baked goods, jams and chutneys, featured in the Christmas issues of the 'Australian Women's Weekly' and 'Better Homes and Gardens'.
This year I have a pretty good excuse for the dearth of handmade delicacies - I'm deep into the edit of A PLACE OF HER OWN with the dreaded deadline looming just before Christmas. So if I don't send out Christmas cards this year, I hope my friends will understand.
But the one thing I always make time for is decorating the house. My family calls me 'Mrs Christmas' - I have a cupboard full of ornaments and Christmas bric-a-brac collected over the years, many of them handcrafted by talented friends. You can see some of their work in last year's pics. And here are some glimpses of Christmas at our place in 2013.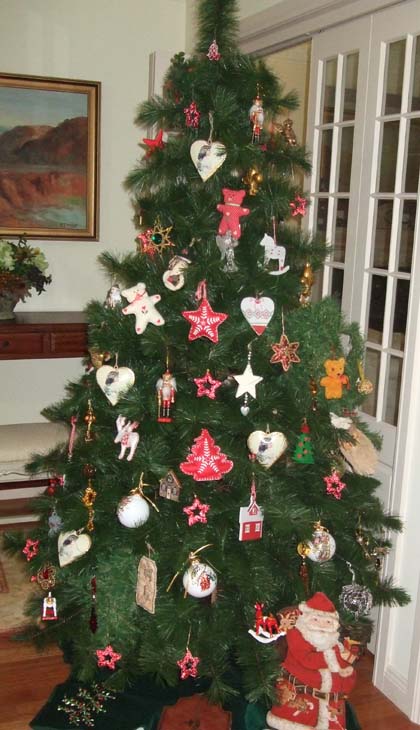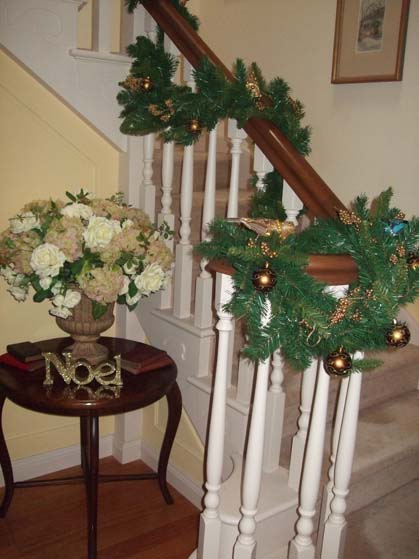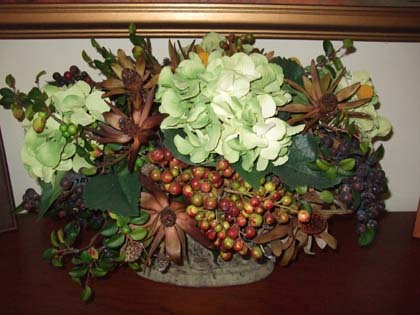 Wishing you all a joyful Christmas and a happy, healthy and fulfilling 2014!
Deborah
---

About a Dog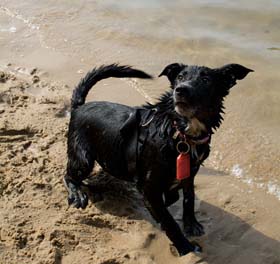 My kelpie dog, Angel, is almost eight months old. In human terms, I suppose you'd call it toddlerhood. One minute she's well behaved, sitting and lying down on command; the next she's ripping out plants and tearing the flyscreen on the back door into shreds. Yes, I know things will get better. Other kelpie owners assure me that it's simply a matter of maturation. I'll keep you posted.
In the meantime, here's her life so far - in pictures.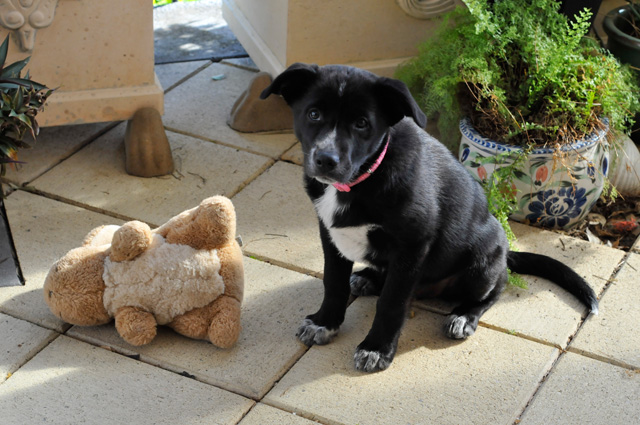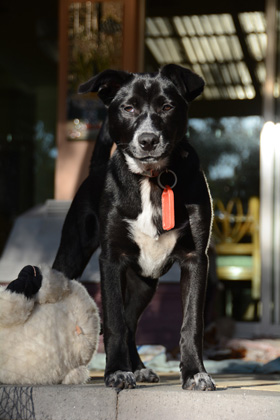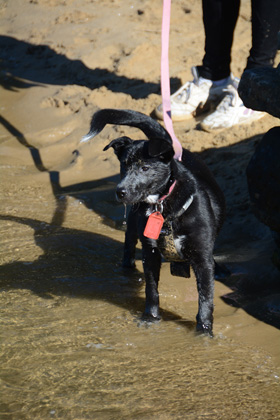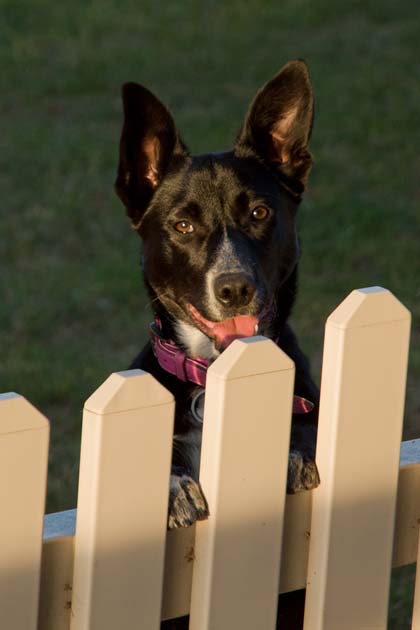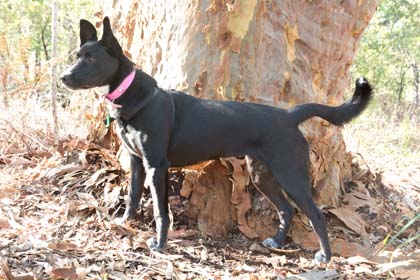 Deborah O'Brien
November 27, 2013
---
What's Next ? 'A Place of Her Own'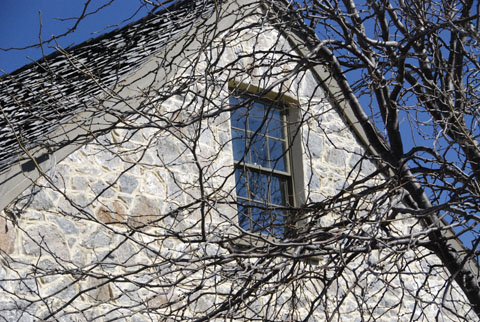 Writing a novel is a solitary, deeply personal process. You sit at your laptop for months, tapping out the story. Even when you shut down your computer at night, the book continues to fill your thoughts and inhabit your dreams. Its characters become as close to you as your dearest friends. And speaking of friends, you don't see much of them because you only have time for the imaginary ones. In effect, you've become a hermit hidden away in your writing cave, obsessed by the make-believe world you're building word by word, sentence by sentence.
So it's a relief when you finish the final draft and hand it over to your publisher. Yet it's also extremely daunting. You wait with bated breath for the feedback. You check your emails incessantly. When the much anticipated response arrives in your inbox, your heart rate escalates towards tachycardia. Then you exhale with relief when the message says, 'I couldn't put it down'.
But even though the book has passed its first test, that doesn't mean it won't need improving. There will be structural revisions to complete, plotholes and psychological gaps to fill, inconsistencies to remedy, lazy language to polish. That's the stage we're at with my next novel, A PLACE OF HER OWN.
The 'her' in the title refers to the two female protagonists, Angie Wallace and Diana Goodmann. And the 'place' they are seeking is a safe haven - in both a physical and a psychological sense. I started writing this book immediately after I finished MR CHEN'S EMPORIUM – that was in 2010 and I've been working on it, periodically, ever since. Those of you who've read my books will know I tend to write 'heartwarming' stories, and there are certainly many heartwarming elements in this novel, but also some dark moments. Very dark.
The story is set in modern-day Millbrooke and focuses on Angie and her ambivalent relationship with Richard Scott. In MR CHEN'S EMPORIUM he was a rather mysterious character. Many readers told me they'd like to know more about him. Well, you'll find out all his secrets in A PLACE OF HER OWN. Technically it's a modern-day sequel to MR CHEN, the final book in the 'Emporium trilogy', but the story stands on its own with its contemporary setting and themes.
The ladies referred to in the title, Angie and Diana, are both 'women of a certain age', however in all other respects they are very different people. Angie has established herself as a valued member of the local community. Diana arrives in town like a lone gunslinger on a mission. Her target? None other than Richard Scott. It's a long story full of twists and turns.
A PLACE OF HER OWN will be released in May 2014.
Deborah O'Brien
November 2013
---

The Amazing Mr Carroll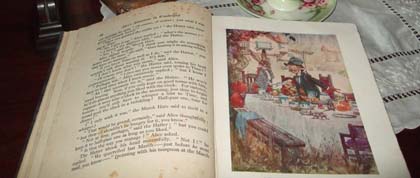 All my life I've been intrigued by Lewis Carroll's Victorian masterpieces: Alice's Adventures in Wonderland and its sequel, Through the Looking-Glass, and What Alice Found There. As a little girl, I found the books irresistible, even though there were parts that terrified me. Being the kind of child who liked order and stability, I couldn't cope with a chaotic world where rules changed by the minute, if they even existed at all. Reading Alice was like watching a scary movie – you would put your hands over your eyes and then take a quick peek anyway because you couldn't help yourself. Perhaps that's why the storyline and characters have lived in my subconscious ever since.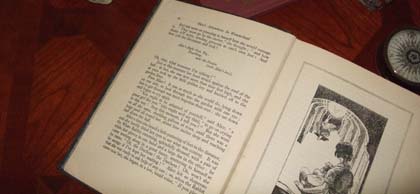 As an adult I've come back to Carroll's work unencumbered by the fear factor that plagued my childhood reading of it. I've discovered the delightful word play and the amazing levels of meaning embedded in the text.
When I was writing the first draft of THE JADE WIDOW, it struck me that my two female protagonists were facing a similar dilemma to Carroll's Alice - the search for identity in a changing world. For Alice, the journey is a fantastical one; for Amy and Eliza it's a life journey with serious choices to be made. Who and what do they want to be? Which path will they choose? Where will it lead? What happens if they break the rules? Or can they change them to suit themselves?
My childhood copy of Alice in Wonderland was a 1904 edition, passed down from one generation of my mother's family to the next and now residing with me. Although the cover is battered and a few of the colour plates have been ripped out, it's basically intact. You can see some of the pages here.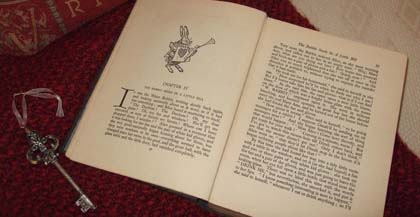 When I was in Year 6, our teacher announced that she was staging a musical version of Alice in Wonderland and sought candidates for the leading roles. At that point in my young life I secretly dreamed of being an actress, so naturally enough I wanted to play the heroine. Sadly it wasn't to be. I could act reasonably well, but I was hopeless at singing and dancing. The starring role went to my best friend, who happened to be a beautiful ballet dancer. What part was I given? The Mad Hatter? The Doormouse? The Cheshire Cat? None of the above. I played a shellfish in the lobster quadrille, where I performed a very clumsy soft-shoe shuffle.
Deborah O'Brien
November 2013
---

Film Review: 'About Time'
If you're the kind of writer who pens heart-warming, bittersweet stories with quirky, endearing characters, you can sometimes confuse 'charming' with 'cloying', and 'poignant' with 'corny'. It's difficult to get the balance right, but for the most part Richard Curtis has succeeded in his new film, About Time.
As the title suggests, the plot is predicated on time travel. You could argue that this device has been done to death – from Doctor Who (for which Curtis wrote the Van Gogh episode) to Back to the Future to The Time Traveller's Wife and Woody Allen's Midnight in Paris.
Like Allen, Curtis adopts a low-tech approach, eschewing fancy time machines, rocket ships or special effects. Allen used a clock chiming midnight and a vintage car to trigger his time warp; Curtis employs that classic English staple, the wardrobe. But unlike Allen, he neither yearns to experience a long-ago era nor to hobnob with its luminaries. Instead, Curtis takes a small-scale, slightly illogical but deeply personal approach to the sci-fi elements of his story. And I suspect that's one of the reasons why it works as well as it does. The other reason is Bill Nighy. From the moment we hear his delightfully twitchy explanation of how the adult males in the family can journey back in time, we're prepared to play along with an intriguing possibility. After all, who hasn't asked themselves: If only I'd done that differently?
Inevitably, where there's time travel, there's also a love story. In About Time we have two 'love stories': the romance between Domhnall Gleeson (Tim) and Rachel McAdams (Mary), plus the loving relationship between Nighy and his red-headed son. As a parent and a daughter, I found their scenes together incredibly moving.
The supporting cast is superb – the magnificent Lindsay Duncan as Tim's mother, Joshua McGuire as the nerdy but lovable Rory, Lydia Wilson as Tim's eccentric and endearing sister, Richard Cordery as the adorable uncle (you just want to hug him) and Tom Hollander as the self-obsessed playwright. It's also poignant to see Richard Griffiths in what must have been his last film. And who wouldn't love the brief cameo from the gorgeous Richard E. Grant?
There are a few occasions when Curtis hits us over the head with his carpe diem message – including the voiceover at the end – though it's done with such charm that I really didn't mind.
I'd recommend this film to anyone who enjoys a clever, funny, feel-good story. But be prepared to shed a few tears – I cried on and off for the last forty minutes, yet I wouldn't call it a tearjerker. That's the magic of About Time. Even though it teeters on the edge of being corny and contrived, it rarely loses its balance.
Deborah O'Brien
October 19, 2013
Subcategories
Home in the Highlands blogs