Film Review:
1917
The madness and futility of the First World War has been the inspiration for many fine films, beginning in 1930 with Lewis Milestone's version of the Erich Maria Remarque novel, 'All Quiet on the Western Front', which was a daring story for its time, in that it showed the horrors of war from the perspective of German infantrymen.
In Sam Mendes's '1917', it is the British with whom we sympathise, but in other ways, the themes are similar - incompetent and ego-driven officers, and troops who are treated as cannon fodder. Mendes, however, also gives us officers doing their best in impossible circumstances.
This film is based on a story told to Mendes by his grandfather, Alfred, to whom the film is dedicated. In that respect, it is a very personal project.
But what makes '1917' unique is the way it is filmed as a continuous shot or, at least, the illusion of one. We literally follow the two lance corporals, Blake (Dean-Charles Chapman) and Schofield (George MacKay), on their mission to cross no man's land and reach the Devonshire battalion in order to warn the colonel that they are heading into a German trap and they should call off their attack. For Corporal Blake, this mission is deeply personal – his brother is a lieutenant with the Devons.
We follow Blake and Schofield as they weave their way through the British trenches and then cross the battlefield, avoiding bomb craters filled with water and rotting bodies. Eventually they reach the abandoned German trenches, where a nasty surprise awaits them.
There are heart-stopping incidents along the way, as well as a poignant encounter with a young French woman who is caring for an orphaned baby, a scene which reminds us humanity can exist in the hell that is the Western Front. Possibly the most moving moment of the entire film is the scene involving the hymn 'Poor Wayfaring Stranger'. It brought tears to my eyes.
'1917' does not have leading men in the traditional sense. The two protagonists are little known* actors; their very anonymity makes the viewer's identification with them much stronger. There are some 'name' actors in the film – an almost unrecognisable Colin Firth as the general who sends the boys on their mission, Andrew Scott (Moriarty from 'Sherlock') as a world-weary lieutenant who couldn't give a damn, and the ubiquitous Benedict Cumberbatch in a brief but nuanced performance as the frazzled colonel in charge of the Devons.
'1917' is a moving story of the horrors of war. It has already won a Golden Globe for Best Drama and you can expect an Academy Award to follow for the film and its director.
*George MacKay plays a tortured Ned Kelly in 'The True History of Ned Kelly' (2019) alongside Essie Davis and Russell Crowe.
Deborah O'Brien
26 January 2020

Writing and Art
I've never been sure whether I'm an artist who also writes, or a writer who happens to paint. I've done both for as long as I can remember, probably from the time I could hold a pencil in my hand.
Read more at the Australian Rural Romance website
---
Another Bookish Trivia Quiz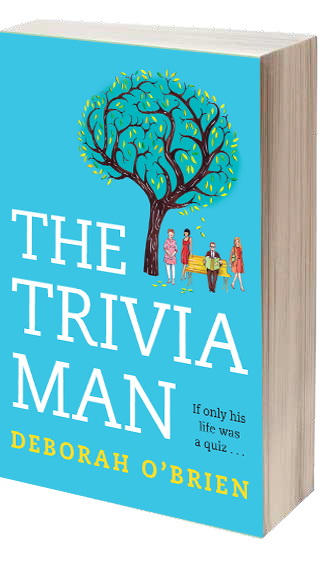 By popular demand, I've devised another trivia quiz for those who love literary minutiae.
Answers at the end.
1. Which novelist, born in 1828, wrote this famous first line?
"Happy families are all alike: every unhappy family is unhappy in its own way."
And can you name the novel?
2. Which of the following fictional detectives was not created by an Australian author?
A) Phryne Fisher
B) Jack Spratt
C) Cliff Hardy
D) Jack Irish
3. 'Tomorrow is Another Day' was one of the early, abandoned titles of which bestselling novel published in 1936?
4. This Australian novel was written in 1977 and made into a mini-series in 1982. It's said to be one of the top 50 bestselling novels of all time. What is its title?
5. 'It was the best of times, it was the worst of times.'
This is the first line of which novel by Charles Dickens?
6. Nick Carraway is the narrator of which iconic American novel?

7. Which novelist, born Mary Ann Evans, said: 'It's never too late to be what you might have been'?
8. Before they became novelists, which career did the following authors have in common?
Marcus Clarke, Michael Robotham, Geraldine Brooks, Susan Duncan

9. Which of these houses does not appear in a Jane Austen novel?
A) Thrushcross Grange
B) Netherfield
C) Donwell Abbey
D) Pemberley

10. 'Schindler's List' is the film made by Steven Spielberg from Thomas Keneally's Booker Prize-winning novel. But what is the title of the book?
11. Name the classic Ray Bradbury novel about the burning of books, which was made into a film by François Truffaut in 1966.
12.Which of these fictional detectives was created by novelist Peter Robinson?
A) DCI Jane Tennison
B) DCI John Barnaby
C) DCI Alan Banks
D) DCS Christopher Foyle
ANSWERS
1.Leo Tolstoy, 'Anna Karenina
2. B) Jack Spratt created by Jasper Fforde
3. 'Gone with the Wind
4. 'The Thorn Birds'
5. 'A Tale of Two Cities'
6. 'The Great Gatsby'
7. George Eliot
8. Journalism
9. A) Thrushcross Grange, the home of the Lintons, from 'Wuthering Heights' by Emily Brontё
10. 'Schindler's Ark'
11. 'Fahrenheit 451'
12. C) DCI Alan Banks
Deborah O'Brien
First written for Random House website June 2015
---

'The Trivia Man' Blog Tour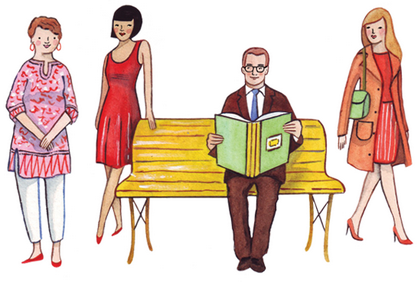 While I was off doing book talks, Kevin Dwyer, my Trivia Man, was away on his own trip - a blog tour visiting nine different websites!
Many thanks to the following book bloggers who invited Kevin into their respective domains.
You can read each of the reviews by clicking on the link.
June 8 Annie Seaton Romance
June 9: Duffy the Writer blog
June 11: Araneus 1 - Terry R. Barca
June 12: Sweet Little Pretties
June 14: J. F. Gibson
June 16: Starts at 60
June 17: The Bookshelf Gargoyle
June 20: Booklover Book Reviews
June 22: Luvz Alkemy
And here's my interview with J.F. Gibson about my relationship with Kevin Dwyer and my own connection with trivia and quizzes, plus some practical tips for aspiring writers.
---

Launching 'The Trivia Man'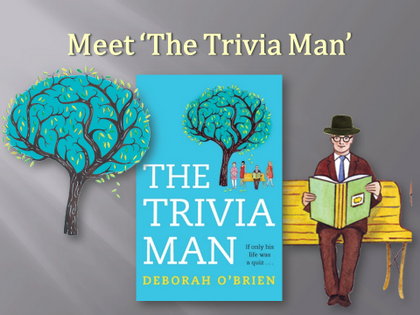 What a great time we had yesterday launching 'The Trivia Man' at Hurstville City Library. Thank you to everyone who attended, and special thanks to those who sent or brought flowers. A big thank you to the lovely Sue, head of adult collections at the library, and events coordinator Julieanne for their hospitality and all the work that went into organising things, including the yummy morning tea. I'm also grateful to the delightful Janet Grundy, who has supplied and sold books so graciously at all three of my Hurstville events.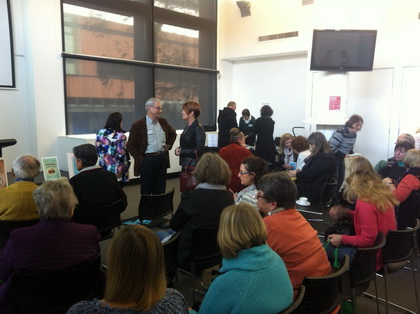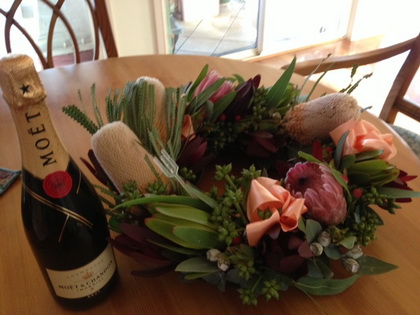 On the eve of the Queen's Birthday long weekend and amid an outbreak of flu that has hit so many people, it was wonderful to see such a big crowd. I was thrilled to catch up with singer, songwriter and life coach, Lindsay Drummond, whom I first met when she performed a song she had written about Rose Scott at the eponymous Women Writers' Festival last year. Lindsay came all the way from the Southern Highlands and here's a quirky coincidence for you - she's a much-in-demand trivia host in the Goulburn area. It was also great to catch up with some colleagues from Sydney Tech High where I taught many years ago. And some of my lovely painting friends were present too (below).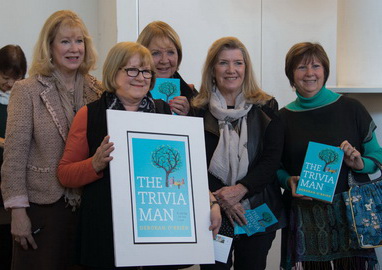 In my talk I discussed the inspirations for 'The Trivia Man', my dalliance with Kevin Dwyer which turned into a long-term relationship (four and a half years and counting) and my own connection with trivia and quizzes. I also threw in some trivia questions, all deftly answered by the audience. They, in turn, posed some interesting questions of me – What is it about this fascination our society seems to have with trivia? Is Kevin based on anyone you know? (Yes, me! Or at least, the nerdy quiz kid side of my personality.) Was it cathartic to write the story? And many more.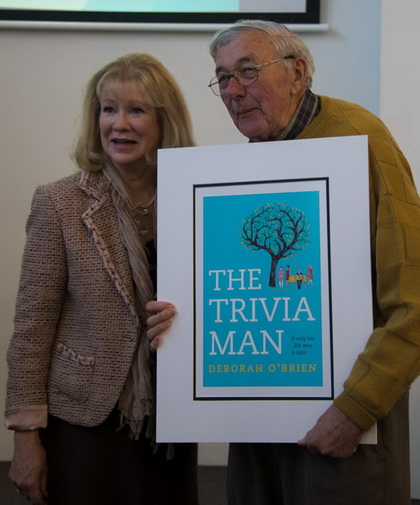 Read about the rest of my book tour here.
Deborah O'Brien
6 June 2015

BLOG ARTICLES BY THEME
FILMS & TV (23)
Film Review: 'Alone in Berlin'
Film Review: 'The Fault in Our Stars'
Film Review: 'The Grand Budapest Hotel'
Film Review: 'The Hundred-Foot Journey'
Film Review: 'Magic in the Moonlight'
Film Review: 'The Monuments Men'
Film Review: 'Saving Mr. Banks'
Film Review: 'Twelve Years a Slave'
Film Review: 'The Water Diviner'
My Four Favourite Stories about Platonic Love
My Top Five Films about Politics
A World Without Books: Fahrenheit 451
A World Without Downton: the 'Downton Abbey' Finale
HOME IN THE HIGHLANDS (5)
Home in the Highlands: I'm Dreaming of a White Christmas Dec 2021
Home in the Highlands: Autumn May 2018
Home in the Highlands: The Flying Carpet July2018
Home in the Highlands: A Tale of Two Chandeliers April 2018
Home in the Highlands: The Secret Garden April 2018
Home in the Highlands: Finding the Dream Home March 2018
COUNTRY LIFE (7)
The Case of the Missing Monotremes
When a Platypus's Fancy Turns to Love
ON WRITING (30)
An Aspiring Author's Guide to Book Jargon
Book Review: 'Kakadu Sunset' by Annie Seaton
Book Review: 'Lake Hill' by Margareta Osborn
Book Review: 'The Princess Diarist' by Carrie Fisher
Crafting Characters (Guest Post for 'Hey Said Renee')
Five Things I Love About Writing Fiction
My Four Favourite Stories about Platonic Love
My Five Favourite Books about Unrequited Love
The Five Books That Have Influenced Me Most
My Top Three Tips for Aspiring Authors
My Top Six Tips for Writing Historical Fiction
Never Write When You're Hungry
Q&A with Annie Seaton, author of 'Kakadu Sunset'
Rose Scott Women Writers' Festival 2014
A World Without Books: Fahrenheit 451
DOGS (7)
RECIPES (2)
SEASONS (7)
HISTORY and NOSTALGIA (8)
Déja vu: Lessons from the Spanish Flu
A Gallipoli Story: Finding Uncle Arthur
A Gallipoli Story: The Lost Shearer
Recreational Sewing in Cesarine
The Victorian Art of Scrapbooking
CAMILLE DUPRE
MR CHEN'S EMPORIUM (8)
Inspirations for 'Mr Chen's Emporium'
The Jade Widow@Mr Chen's Emporium
THE JADE WIDOW (7)
Fairytale Turrets and Other Fantasies
The Victorian Art of Scrapbooking
A PLACE OF HER OWN (4)
Launching 'A Place of Her Own'
My Next Book: 'A Place of Her Own'
THE TRIVIA MAN (11)
Meet the Cast of 'The Trivia Man'
The Nerd as Hero (Guest Blog at Dark Matter Zine website)
'The Trivia Man' Trivia Competition
THE RAREST THING (4)
'The Rarest Thing' Blog Tour 2016
---
Subcategories
Home in the Highlands blogs