---
'Mr Chen's Emporium': An Aladdin's Cave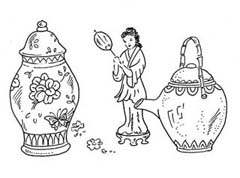 As someone who loves to shop, I've always been fascinated by the word 'emporium'. An emporium isn't just an ordinary shop – it's storehouse of possibilities, a veritable Aladdin's cave filled with treasures. That's why I was thrilled when I first saw the finished cover of 'Mr Chen's Emporium', featuring the building itself, a mix of Oriental and European, with its cast-iron dragon brackets, Chinese-red doors and classical urns perched on the traditional Victorian-style parapet. Through the open doorway I could glimpse an array of wondrous wares, vases, plates, jars, figurines and silks, all highlighted in gold. It was exactly as I'd pictured it.
The notion of an emporium gave me my male protagonist – the shop's owner, a man who would be articulate, dignified, entrepreneurial and, of course, handsome. Someone with echoes of the revered historical figure, Quong Tart, who, among his many achievements, ran the famous tearooms in the Queen Victoria Market Building. I tried many different names before I actually decided on 'Charles Chen'. Instantly a picture of him formed in my imagination, dressed in a brightly coloured silk waistcoat, embroidered with dragonflies. I have to confess that I fell in love with him right from the start. As the French say, it was a coup de foudre.
Once I had the metaphor about the 'Aladdin's cave', I just knew I had to weave Aladdin into the storyline in some way or another. I wasn't interested in the familiar character from modern-day books and films. No, I wanted the original Aladdin from Antoine Galland's eighteenth-century French fairytale, part of his Mille et une nuits translated into English as The Arabian Nights or A Thousand and One Nights. (Nobody knows for sure whether the Aladdin story actually had Arabic origins, as was the case with the other tales in the collection, or if it was invented by Galland himself.)
When I found the old French text on the internet, I scrolled down the first page, expecting to be put off by the archaic language. Instead, I was pleasantly surprised that it was both charming and remarkably easy to read. (Thank goodness for those three years of French I did at uni.) I wasn't sure how I would thread the eighteenth-century Aladdin into my own story, and I certainly didn't want the fairytale allusions to seem contrived, so I just started writing and let Aladdin himself lead the way. Sometimes there are parallels between Aladdin and Charles; at other times their lives take very different directions. But no more details here – I don't want to spoil it for you!
Deborah O'Brien
September 2012
---