Film Reviews:
My Top Five Films about Politics
Warning: Spoilers, mostly mild ones.
Do you think anyone will ever make a film inspired by Trump's White House or Boris's Number Ten? If I were a screenwriter, I'd be finding plenty of juicy material in the current goings-on. In fact, certain recent events make the Watergate scandal seem somewhat tame.
And speaking of Watergate, here are my top five films with political themes.
1. All the President's Men (1976)
My all-time favourite political film is adapted from the bestselling non-fiction book of the same name by journalists Bob Woodward and Carl Bernstein.
What makes this film so great? Obviously the casting of Robert Redford and Dustin Hoffman as the two journalists, the preppy Woodward and the dishevelled Bernstein. They are the perfect odd couple. Then there's the source material, a story so Machivellian that in our '70s naivety, we couldn't quite believe it was true.
The film begins with a bungled break-in at the offices of the Democratic Party. Soon Woodward and Bernstein discover links to the White House. With the support of Washington Post editor Ben Bradlee (Jason Robards), they persist in their investigation, even in the face of White House attempts to close them down.
At the time, we were shocked and appalled by the Watergate affair and the fact that the President turned out to be a crook. Nowadays, it seems like small play compared to what has been happening under Trump's regime – the Ukrainian quid pro quo scandal being the tip of the fatberg. Nevertheless, All the President's Men still resonates more than forty years after it was made.
In a nutshell . . .
This is one of the best suspense thrillers ever made, and all based on fact.
2. Mr Smith Goes to Washington (1939)
Where there's political power, there will always be corruption. But you only need one honest man to fight for truth and justice. In this case, it's Jefferson Smith (aka James Stewart) who is elected to the US Senate where his personal mission is to fight for 'lost causes – the only causes worth fighting for'. Mr Smith's idealism doesn't sit well with fellow politicians from his home state who try to bring him down by circulating forged documents and fake stories. Sound slightly familiar?
In a nutshell . . .
Capra's film was a ground-breaker in dealing with political corruption and and nepotism in post-Depression America and is just as relevant today. Perhaps more so. The film is a bit creaky and the acting often veers towards histrionics, but if you're a movie buff, it's worth a look.
3. The Ghost Writer (2010)
Unlike All the President's Men, The Ghost Writer is a work of fiction, yet it feels very real. A corrupt former Prime Minister, played with charming malevolence by Pierce Brosnan, is struggling with his memoirs and wants a ghost writer to pen them for him.
Enter Ewan McGregor, who arrives by ferry at the PM's house on a windswept island. If you thought being a politician's ghost writer would be a bland occupation, think again. Referred to only as 'The Ghost', McGregor soon discovers hidden documents that reveal the former PM is hiding some very dangerous political secrets. Is there anyone our Ghost Writer can trust? The PM's wife? The professor? Or perhaps the senior politician who claims he has dirt on the ex PM?
In the best thriller tradition, there is a knock-you-for-six ending that will leave you reeling.
In a nutshell . . .
An intelligent thriller which will draw you into its dark and sinister world.
4. The Ides of March (2011)
Ryan Gosling is a novice campaign director, working for Governor George Clooney, a charming Presidential hopeful, competing in the Democratic primaries. In this film, nobody is as they seem and everyone wants to win at all costs, from the campaign managers to the candidates themselves. There's collateral damage along the way but no-one seems to care.
An outstanding cast, including the late Philip Seymour Hoffman as the Governor's chief of staff and the ever-reliable Paul Giametti as the opponent's campaign manager, lifts this film above your run-of-the-mill political thriller.
In a nutshell . . .
A riveting drama about political and personal machinations with plenty of twists.
5. Dave (1993)
Wikipedia
Ostensibly a romantic comedy, there is far more to Dave than that. The titular hero is an ordinary guy who runs an employment agency and has a part-time job impersonating the President. When the real President suffers a stroke, the White House Chief of Staff (a delightfully devious Frank Langella*) recruits Dave to take Potus's place.
The President's wife (Sigourney Weaver), who is estranged from her husband, soon works out there is an imposter in the Oval Office but keeps this to herself as she finds Dave's kindness and honesty rather refreshing. So does the American public who are delighted to see that their President has become a new and better man following his stroke.
*Frank Langella also played a chilling Nixon in Frost Nixon, another excellent political film based on the famous interviews between David Frost and Richard Nixon.
In a nutshell . . .
Can a rom com about politics be deeply insightful? You bet!
Afterword
I couldn't end this article without mentioning some outstanding television series with politics at their heart.
The West Wing (1999-2006)
The first few seasons are a tour de force, featuring quick-fire 'walk and talk' scenes delivered by an impeccable cast. At the heart of the series is President Josiah Bartlet, played by the magnificent Martin Sheen, who had previous experience in the Oval Office as JFK in the 1983 miniseries Kennedy.
For those of us who suffered through the George W. Bush years, The West Wing provided an alternative political world led by an intelligent and capable statesman.
Following the departure of scriptwriter extraordinaire Aaron Sorkin, the series started to flag, but it did give us a Hispanic President (Jimmy Smits) in the final year.
A snippet of trivia –Elisabeth Moss who plays June in The Handmaid's Tale rose to fame as Martin Sheen's daughter Zoey in The West Wing.
House of Cards (1990)
This is the original BBC series, which I found far superior to the more recent American version with Kevin Spacey. The late Ian Richardson plays the nefarious and manipulative Francis Urquhart who plots to become leader of the Conservatives and then PM. The ending is truly shocking.
The Politician's Husband (2012)
Written by the talented Paula Milne, this miniseries stars David Tennant as a leadership aspirant and Emily Watson as his wife, a woman with political ambitions of her own. There is a fine supporting cast including Ed Stoppard and Roger Allam and lots of twists culminating in a pull-the-rug-out-from-under-you ending.
The Thick of It and The Hollowmen
Who says politics can't be humorous? Particularly when the humour is of the satirical kind. The British series features the incomparable Peter Capaldi as spin doctor Malcolm Tucker, a man renowned for spicing his conversations with picturesque profanities. Meanwhile The Hollowmen is a biting Australian satire targeting politicians and bureaucrats alike.
Deborah O'Brien
February 2020
Film Review:
'1917'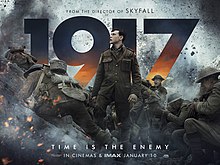 The madness and futility of the First World War have been the inspiration for many fine films, beginning in 1930 with Lewis Milestone's version of the Erich Maria Remarque novel, 'All Quiet on the Western Front', which was a daring story for its time, showing the horrors of war from the perspective of German infantrymen.
In Sam Mendes's '1917', it is the British soldiers with whom we sympathise, but in other ways, the themes are similar - incompetent and ego-driven generals, and troops who are treated as cannon fodder. Mendes, however, also gives us leaders doing their best in impossible circumstances.
'1917' is based on a story told to Mendes by his grandfather, Alfred, to whom the film is dedicated. Alfred Mendes served as a messenger on the Western Front and this is a very personal project for his grandson. But what makes '1917' unique is the way it is filmed as a continuous shot or, at least, the illusion of one. By using this technique*, Mendes enmeshes the viewer in the story and, for the most part, it works unobtrusively.
The protagonists are two lance corporals, Blake (Dean-Charles Chapman) and Schofield (George MacKay), who are tasked to carry a vital message to the colonel of the Devonshire battalion that the planned attack on what they think is a weak, retreating German army should be called off; otherwise the Devons will be slaughtered. For Corporal Blake, this mission is particularly close to his heart - his brother is a lieutenant with the Devons.
Blake and Schofield embark on a nine-hour trek marked by heart-stopping incidents. There is also a poignant encounter with a French woman and baby in a scene which reminds us that humanity can exist in the hell of the Western Front. But possibly the most moving moment of the entire film involves a rendition of the hymn, 'Poor Wayfaring Stranger' – it brought tears to my eyes.
'1917' does not have leading men in the traditional sense. Blake and Schofield are played by little-known** actors, and this relative anonymity makes our identification with them that much stronger. There are some 'names' in the cast – an almost unrecognisable Colin Firth as the general who sends the boys on their mission, Andrew Scott (Moriarty from 'Sherlock') as a world-weary lieutenant who couldn't give a damn, and the ubiquitous Benedict Cumberbatch in a brief but nuanced performance as a frazzled colonel.
'1917' has already won a Golden Globe for Best Drama, and I anticipate an Academy Award to follow for the film and its director.
* The same technique was used to great effect in 'Birdman'. See my review here:
http://www.deborahobrien.com.au/index.php/blog/by-theme/12-blog/182-film-review-birdman
** George MacKay played Ned Kelly in 'The True Story of Ned Kelly' (2019) alongside Essie Davis and Russell Crowe.
Deborah O'Brien
27 January 2020
---
Book Review: 'Lake Hill'
by Margareta Osborn
When Margareta Osborn's new novel, 'Lake Hill' arrived in the post, I was busy planning a family wedding and finishing a manuscript of my own. Reluctantly I put the book aside, awaiting a time when I could read it at my leisure. Last weekend, with the wedding successfully over and my own book safely in my agent's hands, I gleefully hunkered down by the fire, ready to escape into Margareta's latest rural romance.
The beguiling cover sets the mood, while the vivid descriptions of glistening lakes, lush pastures and big skies will transport you to Gippsland, a place so lovingly described in all of Margareta's novels that it verges on being a character in its own right rather than a mere backdrop.
But there's much more to 'Lake Hill' than the scenery – this is a novel that straddles genres, encompassing romantic elements but also some seriously dark issues as well as a good dose of mystery and suspense.
Two decades ago, teenagers, Julia Gunn and Rick Halloran, went their separate ways after a fleeting summer romance. Now in her thirties and recently widowed, Julia has decided to start a new life running a café at Lakes Entrance. On her way to the coast, a rockslide damages her car and she finds herself marooned in the mountain village of Lake Grace. After hitching a lift into town, she has no option but to stay at the local pub until the car is fixed. And guess who owns the pub? None other than Rick Halloran, who's now a celebrity, thanks to his famous mother and his own success as a sculptor.
Reunion stories offer unique possibilities for creating dramatic tension. That's because the two protagonists will bring a heap of emotional baggage to the reunion – their shared back story and the lives they've led independently in the time they've been apart. And if one or both has been carrying a torch for the other, well, that makes the reunion even more poignant and emotionally charged.
When Rick walks into the bar of the Lake Grace pub, Julia recognises him right away, and old memories come flooding back. For his part, Rick takes a considerable time to realise that the attractive woman with the fancy (albeit damaged) car is actually the shy bookish girl from his past. And when he does work it out, he's not exactly happy to see her. In fact, he's just plain surly.
What really happened all those years ago? Why did they go their separate ways? What has happened to each of them in the intervening time? And will the spark they felt as teenagers still be simmering twenty years later? The answers to those questions make for a meaty page-turner.
The dialogue is snappy, the characters nuanced, and the descriptive passages evocative. But what really grabbed me were the 'knock-you-for-six' twists. I can usually sense a plot twist coming chapters away, but not this time.
In a nutshell, 'Lake Hill' brings us a gripping and bittersweet story of second chances and lost opportunities. And if you're the kind of reader who enjoys a blend of romance and mystery set against a bucolic backdrop, this novel could be the perfect addition to your reading list this winter.
Margareta's website: http://margaretaosborn.com.au/
Buying details: https://penguin.com.au/authors/49-margareta-osborn
Deborah O'Brien
26 June, 2017
---
Film Review: 'Their Finest'
In the mid-1980s, graphic novelist Alison Bechdel came up with a simple question to assess the level of sexism in a film. It is known appropriately as the Bechdel test. Here's the question: Does this film feature at least two female characters who talk to each other about something other than a man?
In 'Their Finest', directed by Lone Scherfig, a Welsh copywriter by the name of Catrin Cole (Gemma Arterton) ponders the same question, but it's 1940 and women's dialogue is referred to as 'slop'. However, the Ministry of Information's Film Division, headed by a pompously majestic Jeremy Irons, realises it's necessary to engage a largely female wartime audience. As a result, Mrs Cole is enlisted to provide the 'feminine perspective'.
Based on Lissa Evans' novel, 'Their Finest Hour and a Half', this film is a charming and ultimately moving story about British filmmaking during the Blitz. It's a time of sweeping social change when women are keeping the home fires burning and some of them have no intention of being 'put back into their box' when the War is over.
This is also a film about making a film – under the constraints set by the Ministry of Information's Film Division, which require that the storyline be 'authentic and positive' in order to boost public morale at a time when Britain's fate seems increasingly bleak. The British Expeditionary Force has just been evacuated from Dunkirk, France has fallen, Britain is besieged by German air raids and America is pursuing a policy of neutrality.
There's a stellar British cast led by a beguiling Gemma Arterton and a deglamourised Sam Claflin as the lead writer, together with the aforesaid Jeremy Irons in a cameo which gives him a chance to declaim the rousing St Crispin's Day speech from 'Henry V'. Bill Nighy as Ambrose Hilliard steals the show in his role as a self-absorbed sixty-something former leading man who is now offered only minor roles. It's a part which allows him to overact to his heart's content and even break into song.
With the approval of the Ministry of Information, the writers, Tom Buckley and Mrs Cole, decide upon the true story of twin sisters who set out in their father's boat in an attempt to cross the Channel and evacuate British soldiers from the beach at Dunkirk. But soon the writers find themselves required to include an American character for the US market and to alter their script in other ways to meet the demands of their masters. Until the very end, the movie is referred to as the 'Dunkirk film' but astute viewers will guess the eventual title from the start.
Being a big fan of British films of this era, I loved the references to actors and movies from the period but you don't have to be familiar with them to enjoy the film.
There are fascinating insights into the writing process which will resonate with all you writers out there. When Mrs Cole delivers her rather lengthy script to Tom Buckley, he tells her to cut half of it. 'Which half?' she asks. The one you don't need, he replies. A script, she is told, is 'real life without the boring bits'.
In a nutshell, 'Their Finest' is a charming and bittersweet tribute to British filmmaking during the darkest days of World War II and the pivotal role of women on the home front.
Deborah O'Brien
16 April 2017
Film Review: Alone in Berlin
Set in Nazi Germany from 1940-1943, 'Alone in Berlin' presents a series of simple acts of resistance by a dour middle-aged couple whose soldier son has died in the Battle of France. This is a strong story made even more powerful by the fact that it is inspired by real people and events, as portrayed in Hans Fallada's 1947 novel, 'Jeder stirbt sich allein' ('Everyone Dies Alone').
It's June 1940, and Berliners are celebrating the German victory over France and the signing of an armistice in the same French railway carriage where Germany surrendered in November, 1918. We first meet Otto and Anna Quangel in their Berlin apartment as they are delivered a letter from the Wehrmacht informing them their only son has been killed on the battlefield. Otto is a Nazi Party member and Anna is involved in the NS-Frauenschaft - the National Socialist Women's League, but both begin to question their alliance to the Nazi regime.
Overcome by quiet grief, Otto begins to write postcards urging others to resist the Nazis and decrying their manipulation of the truth. With Anna's help, Otto leaves these subversive cards at random locations across the city - under doors, in stairwells. The messages are headed 'Free Press'. There is, of course, no free press in Nazi Germany. When Hitler came to power in 1933, he forcibly eliminated all his opponents, settling old scores with left-wing newspapers like the 'Munich Post', whose premises were wrecked by the 'Brownshirts' and its courageous journalists imprisoned and subsequently murdered. Having just written about the demise of the free press in Nazi Germany in my new novel-in-progress, I found the events of the film particularly affecting.
There are finely nuanced performances from the leads, Brendan Gleeson as Otto and Emma Thompson as Anna, together with Daniel Brühl, who gives an outstanding performance as the police inspector trying to track down the anonymous author of the postcards and being pressured by the Gestapo to solve the case. The acting is so understated that when the violent moments come, they are even more shocking.
The streets of Berlin in the early 1940s are depicted in muted monochromes by director Vincent Perez and his cinematographer, Christophe Beaucame. One exterior scene shows us the Gestapo headquarters covered in snow, the only touches of colour being the red background of the swastika banners hanging from the building.
From the film's credits I discovered that the actual filming took place in Berlin itself and also in Cologne and a town called Görlitz in Saxony, which, Wikipedia tells me, served as a backdrop in 'The Grand Budapest Hotel', 'The Reader' and 'The Book Thief'.
What I particularly like about this film is that they've taken the time to get the details right – the dialogue, the historical facts, the costumes, even the posters promoting the Hitler Youth.
At a time when the concept of truth as an absolute value is being threatened by 'alternative facts', this film should resonate with all of us. The Quangels' brave acts of 'civil disobedience' may not have had the effect they anticipated in that most of their postcards were promptly handed over to the Gestapo; even so, their little campaign of resistance demonstrates that ordinary people can find ways to express their opposition, even in a tightly controlled society.
In many ways, 'Alone in Berlin' is a dour film, much like the couple at its centre, but it's also one of the most moving and powerful films I've seen in a long time.
Deborah O'Brien
4 March 2017
---
My Top Six Tips
for Aspiring Writers of Historical Fiction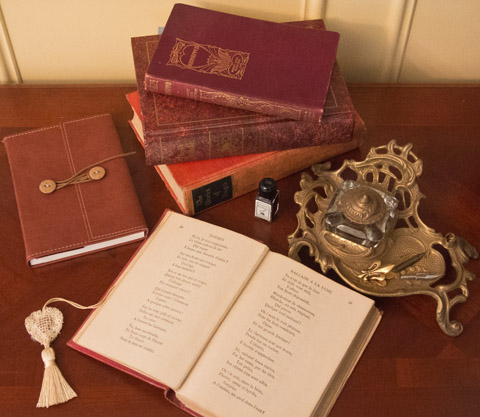 Image: DOB
I've written all my life but it wasn't until 2009 that I made a serious attempt at a full-length work of historical fiction, and even then the story alternated between the past and the present – 1975 and 2009/10. I just didn't have the courage or the skills to set it entirely in the past. For more than a year the manuscript went back and forth between my desk and various assessors. In the process, I learnt to embrace revisions rather than fear them and eventually it became a different (and better) novel than the one I'd started.
Just when I'd completed a polished first draft, incorporating all the feedback the experts had given me, real events overtook my story. In the winter of 2010, Kevin Rudd was deposed, Julia Gillard became PM, and my novel about Australia's first female Prime Minister was kaput. There were many sleepless nights as I experimented with other political and ambassadorial roles for my female protagonist (first President of a hypothetical Australian republic, Foreign Minister, High Commissioner to the UK) but it just wasn't the same.
So, I consigned that unfortunate manuscript to a digital drawer (where it remains to this day) and started another book, which went on to become 'Mr Chen's Emporium'. I was still uncomfortable about setting an entire novel in the past so I shifted back and forth between the 1870s and the modern day. When the book came out, I was nervous about what people would think of my foray into historical fiction. But, much to my surprise, the critics and the readers liked the 1870s storyline (some weren't so happy with the contemporary thread) and the book became a bestseller.
After 'Mr Chen's Emporium', I began to feel more comfortable about writing historical fiction. What I liked best about it - and still do - is the element of time travel, the sense of escapism, the notion of journeying into the past and becoming immersed in another world. The novelist L.P. Hartley, author of 'The Go-Between', famously said:
'The past is a foreign country. They do things differently there.'
I enjoy exploring those 'foreign countries', whether it's the 1870s in 'Mr Chen's Emporium', the 1880s in 'The Jade Widow', 1966 in 'The Rarest Thing', or the 1930s and 40s, which is the backdrop for my next novel, 'Camille Dupré'. This will be my first historical story set outside of Australia. After four historical manuscripts, I feel ready to make the trip. France was the obvious choice because I know it well and speak the language. Could I have set a novel in Russia or China, for example? I don't think so. Not without living there and knowing the language.
So, what are my top six tips for writing historical fiction?
1. Do your research. Familiarise yourself with the period. Live there in your imagination until you know it intimately, and then just start writing. You can fact-check the tiny details as you go along – that's the advantage of having the internet.
2. If there are films and musical recordings from the period you have chosen, immerse yourself in them. Listen to the way people spoke and the words and phrases they used.
3. Search the National Library of Australia's amazing resource, Trove, for digitised newspaper and magazine articles. There's nothing better than reading the news as it happened. And if your story is set in Australia between 1933 and 1982, may I suggest Trove's digitised copies of the 'Australian Women's Weekly' (trove.nla.gov.au/aww) which will give you a window into the morés and preoccupations of ordinary Australians over the decades.
4. After you've done all the research, digest it thoroughly but resist the temptation to dump chunks of historical information into the story, no matter how fascinating you might find them. Too much historical detail can overwhelm a manuscript and slow down the narrative. It's a balancing act. The historical infrastructure of a novel should act like the electricals in a house – everything should work properly, but you really don't need to see the wiring.
5. Don't try to retrofit modern beliefs and perspectives onto the past. 'Mr Chen's Emporium', for example, deals with the way white colonial society discriminated openly against Chinese miners.
Racial discrimination is something I deplore but that was the norm in the 19th century and it needed to be depicted accurately. Although several characters in the book speak out against prejudice. I had to make it clear that theirs was not the prevailing view.
6. Make your dialogue sound right for the period. Avoid obvious anachronisms of the kind that will jolt a reader out of the world you've created and right back into the 21st century.
And most importantly, enjoy the time travel.
Deborah O'Brien
18 February
---

Book Review:
'The Princess Diarist', Carrie Fisher
PREFACE: Carrie Fisher tragically died of a heart attack on December 27 2016, six days after I wrote this review. Dazzlingly talented, Carrie has left us a legacy of wonderful written work, as well as her performances in film and television. She had only just started writing advice columns for 'The Guardian', full of gentle, caring and constructive advice for young people facing bipolar disorder and other problems. And, of course, there's her funny and poignant 'sort of memoir', 'The Princess Diarist'. Here's my review:
Every year I indulge myself by buying a book to read on Boxing Day. Usually it's an autobiography of the celebrity kind. In the past I've discovered some treasures including Dawn French's 'Dear Fatty', William Shatner's 'Up Till Now' and Mia Farrow's 'What Falls Away'. I've also bought myself some duds (no names, no pack drill). A few weeks ago I happened upon an extract from Carrie Fisher's 'The Princess Diarist' which was featured in 'The Guardian' (below). I started reading it, assuming it would be a typical celebrity tell-all about her recently revealed affair with Harrison Ford (which took place during the filming of 'Star Wars' in 1976). Instead I was riveted by the best writing I've encountered in a long time - funny, masterful and achingly poignant.
Intrigued by the extract, I went off to the bookstore to get hold of the paperback, intending it to be my 2016 'Boxing Day book'. I'll just have a quick browse, I told myself when I got home. But I couldn't put the book down. And yes, I finished it in a single sitting.
In 1976 Carrie Fisher was nineteen, the daughter of a glamorous movie star, Debbie Reynolds, and the product of a broken home (her father, singer Eddie Fisher ran off with Elizabeth Taylor when Carrie was a toddler). So it's not surprising that she had self-esteem issues and was looking for love. Harrison Ford was in his thirties and married.
When Fisher embarked on a relationship with the wryly taciturn Ford, she was under no illusion that when the filming ended, so would the affair. For his part, Ford didn't promise her anything in return, just the pleasure of his company.
Although Fisher never raises the possibility in the book, I suspect Mr Ford might have fallen just a little in love with her during their affair. How could he not? Fisher was (and is) as witty as all get-out and the crew adored her. When sixty-year-old Carrie Fisher looks back at photos of herself from 1976, she can see that she was as 'cute as a button'. At the time, however, her self-image was askew and she considered herself plain and chubby.
The first part of 'The Princess Diarist' is a narrative, while the latter portion includes diary extracts and poems, discovered when Fisher was going through a box of written work she'd forgotten about. It's worth noting there are no sex scenes in the book - Fisher has made the wise choice to keep the private stuff just that.
You don't need to be a 'Star Wars' fan to enjoy this memoir (or 'a sort of memoir' as she calls it on the cover). Anyone, who's been nineteen and obsessively in love with someone who's obliging but spoken for, will ache for Carrie Fisher. Reading her poems and diary entries from that period is like peering into her nineteen-year-old soul. In many ways, she was very brave in making her 'primary sources' public.
On a technical level, Fisher is a consummate wordsmith. The text bursts off the page with its originality, humour and pathos. There are puns galore, but this is not an exercise in showing off; every element of word-play, every metaphor earns its place in the book.
If you're waiting for a response to 'The Princess Diaries' from Harrison Ford, don't hold your breath. Fisher's sympathetic and engaging portrait of a very private man is perhaps as close as we'll get to knowing the 'real' Ford. As for Ms Fisher, she's been carrying a torch for Han Solo for the past forty years.
And who could blame her?
You can read an extract courtesy of 'The Guardian'.
Deborah O'Brien
21 December 2016
---

Interview with Annie Seaton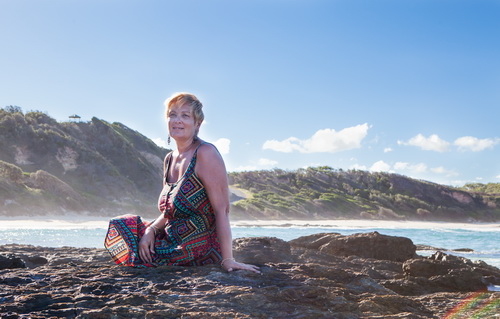 Annie Seaton, bestselling author of Kakadu Sunset, lives near the beach on the mid-north coast of New South Wales. Her career and studies have spanned the education sector for most of her working life, with the completion of a Masters Degree in Education, and working as an academic research librarian, a high school principal and a university tutor until she took up a full-time writing career. She is now internationally published in ebooks across the romance genre, and in 2014 was voted Australian Author of the Year by romance readers in the AusRomToday.com Readers' Choice Awards. Each winter Annie and her husband leave the beach to roam the remote areas of Australia for story ideas and research.

Annie's newest book, Daintree is about to hit the bookshelves, just in time for the Christmas holidays. I'm delighted to have the chance to chat with Annie today.


1. Daintree is characterised by a richness of local detail. If I didn't know better, I'd assume you had lived in Dalrymple all your life. How do you go about creating such an authentic and evocative setting?
Researching a book in the actual environment and living in that setting for a few weeks is essential to me as an author. I am fortunate to write full time, and each winter, am able to travel with my husband to camp and live in the settings that I will use in future books. This enables me to describe my book landscapes in great detail. You can evoke the atmosphere so much more realistically if you have spent time there: the unique fragrances, the feel of the wind on your skin, and the sound of the birds, the waves or the desert wind. The actual essence of a setting is how you experience and feel it through your five senses. Sights, sounds, smells, tastes and touch written well and woven through your character's perceptions, assist the reader to believe they are there in the story themselves.
A brief excerpt from Daintree is below. Can you smell the pub?
The graceful old building sprawled on the corner on the northern edge of town overlooking the single track railway line where the sugar cane trains chuffed past on their way to the sugar mill west of town. The familiar mix of sweat, spilt beer and stale cigarette smoke— absorbed for years by the timber and the threadbare carpet in the days before it was illegal to smoke in Aussie pubs— hit her like a solid wall. The sour smell mixed with the sweet aroma of sugar cane coming from the skin and clothes of the cane harvesters.
2. Like Kakadu Sunset, Daintree is a novel which blends disparate elements – mystery, romance and environmental issues. How difficult is it to integrate those threads?
Integrating the threads of a story is one of the best parts of a writing journey for me. I don't use any software, or paper planning tools, or whiteboards or charts. I think about my story and the various themes that I want to present, and let it all come together in my thoughts over a period of weeks. Somehow the magic of writing delivers each time, and the story melds together as my fingers hit the keyboard. In Daintree, there is suspense, romance, environmental issues as well as the trauma experienced by health care workers and a little bit of alternative medicine too!
3. Your female protagonist, Dr Ellie Porter has a passion for holistic medicine and bush remedies. Do you have a particular interest in these areas?
I have always been interested in holistic medicine. In my early career years, I was employed as an information officer in a medical faculty that delivered an innovative course in medical training for doctors, and my interest in holistic medicine was born. As we explored the Australian outback, my interest in aboriginal culture and the facets that make it unique has been intense, and bush medicine is a part of that learning journey for me.
4. So far, we've met two of the Porter Sisters, Ellie and Emma, and I look forward to getting to know Dru in the final book of the trilogy. Did you know from the outset how their stories would unfold?
The only plan I had in place for the subsequent stories were the professions of the sisters – Emma, a doctor, and Dru, an engineer. The settings were also driven by our travels over the past four winters. Emma ended up in the Daintree Rainforest, and Book 3, yet to be titled, will be the story of Dru's experiences in a diamond mine in the east Kimberley region of Western Australia. Her story is almost complete and is about to wing its way to my editor.
5. And finally, if Daintree were to be made into a film and you were the casting director, which actors would you choose to play Dr Emma Porter and Dr Jeremy Langford?
Oh, that is such a hard question for me! I watch very little television or movies, and my favourites are all golden oldies. So . . . let me think.
I would choose Australian actors and I can visualise David Wenham as Jeremy, and Claudia Karvan as Emma.
Thank you, Annie, for taking the time to answer my questions today.
You can read my review of Daintree here.
Daintree is published by Pan Macmillan Australia and is available from all good bookshops.
Deborah O'Brien,
29 November 2016
---
Subcategories
Home in the Highlands blogs