---

Lost and Found:
The Mystery of Angel's Double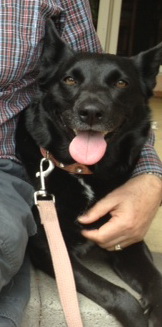 One afternoon last week I was pulling into my drive when I spotted a dog exactly resembling mine, even to the pink jewelled collar, trotting down the road behind a man carrying a tablet device. My first thought was that my kelpie, Angel, had finally managed to chew through the wire which covers the bottom of our gate and escaped into the street. But when I hopped out of the car and approached the dog, I noticed she was almost a Doppelgänger for Angel, though not quite. Angel has a small white triangular patch on her nose, this dog's face was entirely black.
'Is she your dog?' I asked the man with the iPad as he stopped to examine my water meter.
'No, it followed me from River Drive. I'm just the meter reader.'
Then he continued briskly on his way with the pooch close behind him.
If this dog lives in River Drive, I thought to myself, she's heading further and further from home.
'Little puppy,' I called to her, 'come here!'
Instantly she obeyed. I checked her fancy pink collar for an ID tag. Nothing. I patted her soft, glossy coat. She leant against my leg and gazed up at me with the most gorgeous hazel eyes. Dear Reader, I was smitten.
It was a hot day, so I took her into my backyard for a bowl of water. Angel, who had been snoozing in her kennel, popped her head out and thought she was dreaming. Soon the two of them were playing as if they had always been buddies. So much for all those warnings about two female dogs not getting on.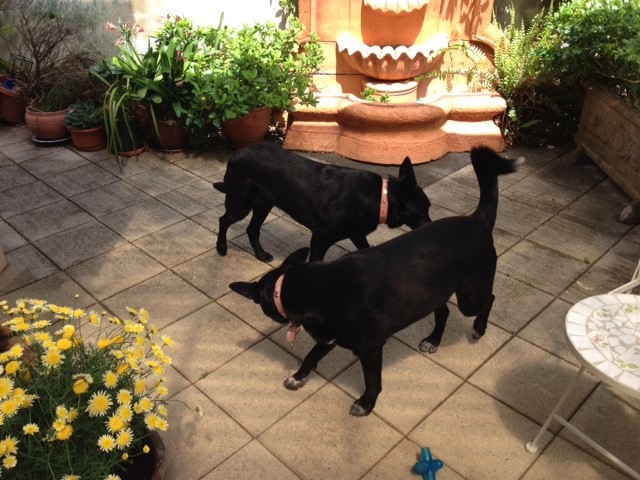 'We have a visitor,' I called out to WGH* who was at home working in his study.
At first he wondered if he was seeing double. We decided to put the mystery dog on a lead and walk the length of River Drive. Maybe we could find her owner, or at least someone who recognised her. Perhaps she might even recognise her own house and start barking. Unlike our own dog who pulls so hard on the lead that I've developed gorilla arms, this little dog behaved perfectly, walking at an even pace and never straining. As we passed people in their gardens, we asked if they knew her. The answer was invariably 'no'. I looked at my watch - 5.30pm - too late to call the vet about a microchip. So we returned home, no closer to solving the mystery of Angel's Double.
Soon it was dinnertime. Angel gobbled hers down; the new dog ate slowly and politely. Then they chased each other round the yard for an hour or two and slept soundly through the night. Not even the howling of a libidinous possum could wake them.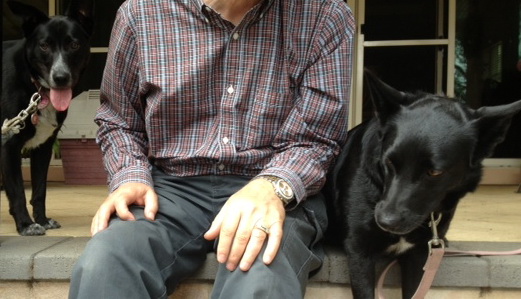 Meanwhile I was busy at my laptop, posting pics of the mystery pooch on Facebook and asking locals to share them, which they kindly did, but without success. Almost 800 people saw the post that evening but nobody recognised the dog. Curious. So I stayed up till midnight, designing posters to distribute around the neighbourhood. But I have a confession to make - in my heart I was hoping that nobody would claim the mystery kelpie - even though common sense told me that a well-groomed, well-trained dog must have a loving owner.
In the morning the new dog seemed unsettled.
'She's pining for her family,' WGH said.
'I know,' I replied, picturing little children crying for their lost dog.
At eight-thirty sharp, I phoned our vet and asked if they could check whether the dog was micro-chipped.
'Bring her straight up,' they said.
She hopped into the back of my car as if she'd done it a million times before and I secured her in place. She lay down without being told to.
We were hardly in the door of the vet's surgery when the receptionist said, 'We've just this minute had a call from the owner. They arrived from Queensland yesterday. Apparently the dog got loose and was trying to head home.'
I thought about the direction in which she'd been heading. Yes, it was due north.
'So I guess we've got to hand her over,' I whispered to WGH. He'd fallen in love with her too.
'Guess so,' he replied with a catch in his voice.
Suddenly I remembered that I'd brought a poster with me to leave with the vet. 'You might as well give this to the owner,' I said. 'There's a nice picture of their dog on it. What's her name, by the way?'
'Coogee.'
'Coogee?' I called to her. She turned in anticipation.
'You can leave her with us,' the receptionist said. 'I'll phone the owners and let them know.'
We looked into the brown eyes, gave her one last pat and headed out the door. At home Angel was waiting. She'd already forgotten about her Doppelgänger and was back in 'only child' mode.
Later that day I received a phone call from the owner, thanking me for keeping her dog safe. She sounded like a nice person and I could tell by the tremor in her voice that she loved the dog. 'Such a great outcome,' a dear friend wrote on Facebook, and of course she's right. But I still miss Angel's Double, and so does WGH.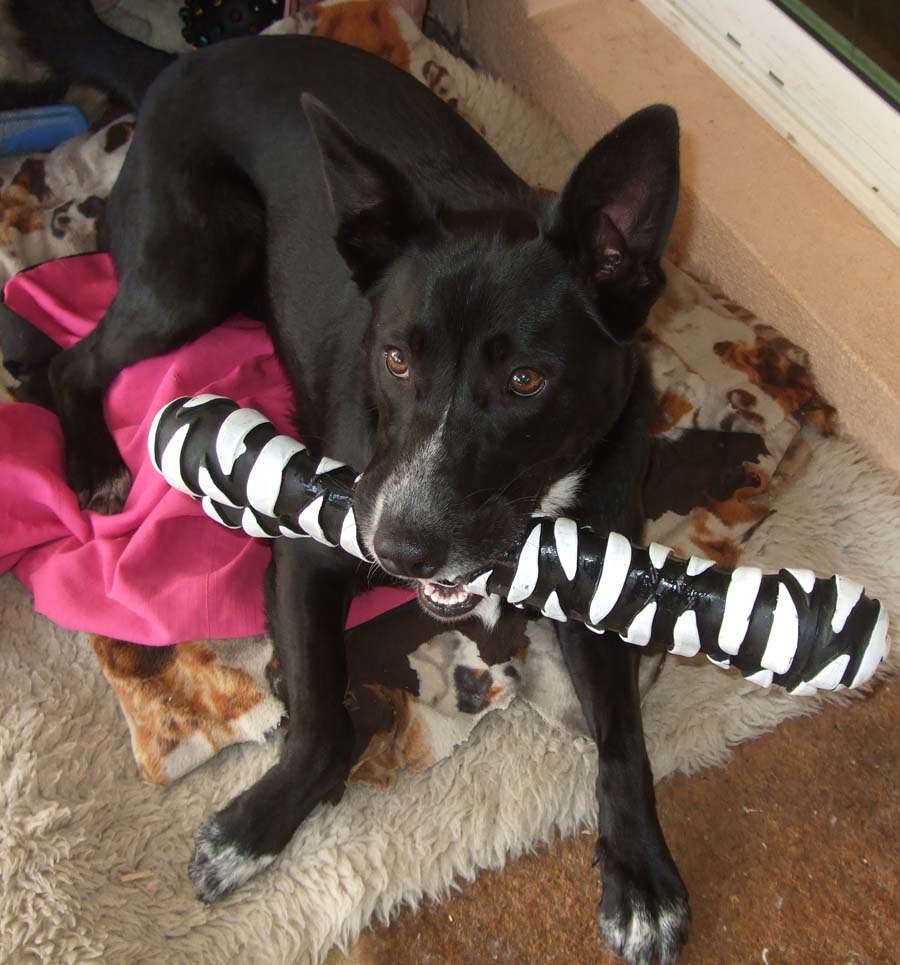 * WGH = World's Greatest Husband (it says so on his coffee mug)
Deborah O'Brien
October 13, 2014
---

Winners of the Spring Book Giveaway
What is your favourite novel?
Thank you to everyone who entered the Giveaway – I really enjoyed reading through your choices which ranged from 'To Kill A Mockingbird' and 'Cloud Street' to more obscure titles such as 'If on a winter's night a traveller' by Italo Calvino (which I'll be adding to my spring reading list because it sounds so intriguing).
So without further ado, here are the winners:
1st prize (a signed copy of 'Folk Art of France') goes to:
Michelle E

from Victoria who chose Paulo Coelho's superb novel, 'The Alchemist'
Now for the consolation prizes.
A signed handmade bookmark goes to each of the following entrants: Catharine T of N. Qld, Chris M of NSW and Judy M also from NSW.
Congratulations to the Winners!
If you didn't supply your contact address in the entry email, would you kindly drop me a line via the Contact page with your details. Also, please let me know the name you'd like me to include when I sign your prize. Prizes should arrive next week.
Disclaimer: This giveaway was not sponsored, endorsed or administered by Facebook.
Deborah O'Brien
October 7, 2014
---

Film Review:
'Magic in the Moonlight'
If I didn't know who had directed 'Magic in the Moonlight', I would find it difficult to believe it's a Woody Allen film. Apart from the thread about the supernatural versus rationalism which is decidedly Allenesque, this fluffy romantic story about a famous illusionist (Colin Firth) sent to unmask a pretty young clairvoyant, Sophie (Emma Stone) might have been concocted by someone else altogether.
All the same, there is much to like about the film, starting with the setting – the Riviera in 1928, which provides the opportunity to dress the cast in elegant 1920s costumes and place them in stunning locations – from cliff tops overlooking a dazzlingly blue sea to gorgeous villas surrounded by terraced lawns and gardens abloom with irises and hydrangeas. Then there's the delightful soundtrack featuring numbers such as Cole Porter's 'You Do Something to Me' (which also made a brief appearance in 'Midnight in Paris') as well as some stirring classical interludes by Beethoven and Stravinsky.
As usual, Allen has assembled a solid cast, headed by Colin Firth as magician extraordinaire Wei Ling Soo, who's really an Englishman by the name of Stanley, a self-obsessed and supercilious boor. In fact, he could easily be a 1920s version of Jane Austen's Mr Darcy. Just as he did in 'Pride and Prejudice', Firth manages to inject some of his trademark charm into the otherwise arrogant and cynical character. And just an aside – when I saw Firth in the opening scene, made up to look stereotypically Chinese, he reminded me of British actor, Robert Donat in 'Inn of the Sixth Happiness'. I wonder if anyone else has noticed the resemblance.
The film is graced by fine supporting performances: the ever dependable Eileen Atkins as Stanley's aunt, the ubiquitous Simon McBurney as Stanley's school friend and rival magician, and Jackie Weaver as the rich widow with the Bronx accent, longing to make psychic contact with her dead husband. Although the character as written tends to be one-dimensional, Weaver does her best to impart depth to the role and being a very fine actress, she succeeds.
Where the film falters is in the writing. There are scenes between Stanley and Sophie towards the end in which the dialogue is repetitive and self-indulgent. Why didn't someone tell Woody Allen he needed to do some pruning? I guess the answer is obvious – when you're dealing with an auteur of his standing, you'd be apprehensive about offering advice like that. 'Magic in the Moonlight' is 100 minutes in length but seems longer. Having said that, Allen's plot does offer some neat twists and turns, leading to a charming resolution.
In summary, 'Magic in the Moonlight' isn't in the league of 'Annie Hall', 'Radio Days' or 'Midnight in Paris', but it's an enjoyable piece of nostalgic escapism nonetheless.
Deborah O'Brien
September 10, 2014
---

THE CUTTING ROOM FLOOR
Warning: Spoiler alert for those who haven't seen 'The Way We Were'
Do you like to watch the bonus features on a DVD? I know I do, especially the deleted scenes. Sometimes it's obvious why the director decided to cut a particular scene. It might have been repetitive or superfluous, or perhaps it slowed the pace of the film or went off at an odd tangent. Maybe it was just dull or ponderous or self-indulgent.
But there are times when you really wish the deleted scene had remained in place. Case in point – 'The Way We Were'. The decision that Hubbell makes towards the end of the film to leave a pregnant Katy and go back to New York just didn't make sense to me, no matter how many times I watched that film. I used to wonder if I'd missed something. Then I watched the special edition DVD with its collection of deleted scenes and discovered there had indeed been an explanatory scene between Hubbell and Katy but director Sydney Pollack had decided to remove it from the final cut. Without that crucial scene, the resolution is confusing to say the least.
Another example from the bonus features of 'The Way We Were' is a bittersweet moment when Katy returns to college in the 1950s and meets a girl who reminds her of herself back in the '30s. Apparently it was Streisand's favourite scene and I can see why – it's poignant and very well-acted. All the same, it ended up on the cutting room floor. I agree with Pollack on this one – there are plenty of those nostalgic moments in 'The Way We Were'. This scene just didn't add anything to a movie which is on the long side anyway.
So how do things work with books? It's much the same - there will always be cuts, and these will happen at various stages during the evolution of the project. In my case, the major pruning occurs after I've completed the first draft. This is when I put my red editing pen to work, crossing out sentences, paragraphs and even pages. The criteria I apply to the cutting process are much the same as those mentioned above. It can be cathartic, even exhilarating to remove the dead wood. However, when the pruning involves 'killing your darlings', it's quite the opposite. This phrase was coined by the iconic American novelist William Faulkner of 'Sound and Fury' fame (who also coincidentally wrote screenplays for Hollywood). He was referring to deleting your favourite pieces of text – this might involve a paragraph, a scene or even a chapter. In a more literal sense, it could even refer to expunging a favourite character.
Now I'm going to let you into a secret. To lessen the pain, I have a habit of saving the deleted text to a 'Cutting Room Floor' file, which means I don't actually kill my darlings – I just deactivate them. In the back of my mind there's always the comforting thought that I can bring them out of suspended animation, if and when they're needed. But does it ever actually happen? Rarely.
Here's an example of a deleted 'scene' from 'Mr Chen's Emporium'. It wasn't just any scene but the preface to the book, the introduction to my dual narrative. I thought long and hard about cutting it. I like prefaces. I even wrote one for 'The Jade Widow'.
In the example below, the writing is acceptable and the text fits neatly on a single page. There's a weather metaphor which might be a problem (in terms of being simplistic, trite, hackneyed, etc) except that it's deeply personal – both for me and my female protagonists. We all hate the frost.
On the downside, the preface is quite abstract and airy-fairy. We don't learn anything concrete about the story. And if the primary role of a preface is to entice the reader to delve further into the book, does this piece of writing succeed in doing that? In the end I followed the old adage: 'If in doubt, cut it out'. Was I right? What do you think?
PREFACE
Change can creep up on you, silent and invisible, like the first frost of the season. If it's mild, it will sit briefly on your surface and melt away with the morning sun - you may not even notice it at all. When it's moderate, you might wilt for a while and recover later in the day.
A severe frost can burn you around the edges. Sometimes your leaves will turn brown and fall to the ground, leaving you bare and exposed. But sooner or later, new growth will appear, stronger and hardier than before. And in the end you will become acclimatised to the frost, so much so that you can meet it with acceptance rather than fear.
Change can be a gentle unfurling, so subtle you don't see it happening. And it might even bring renewal when you thought there was none.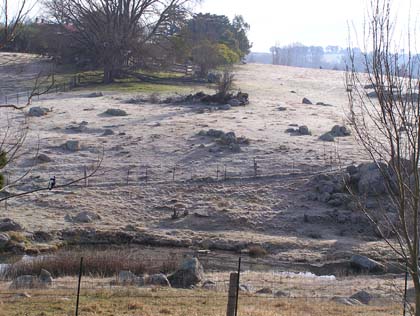 Deborah O'Brien
September 9, 2014
Subcategories
Home in the Highlands blogs