Home

The Trivia Man Is Coming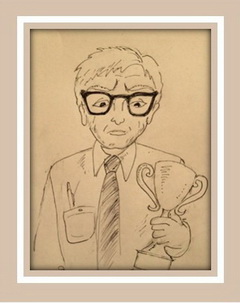 When you've been working on a manuscript for several years and you finally submit the finished product to your publisher, it's incredibly nerve-racking. A couple of weeks pass without a word, and by then you've convinced yourself that they hate your whimsical, offbeat story but are too polite to tell you so.
Then an email pings into your inbox from the publisher entitled 'The Trivia Man'. It takes a while to summon the courage to open it. You come up with a series of delaying tactics – a cup of tea, a Tim Tam (or two), a ball game with the dog, another cup of tea – but eventually you have to return to your laptop and face the inevitable. You click on the email and start to read. Here is what it says:
'I loved it. Such beautiful characters and a heart-warming story . . . an enchanting book'.
'The Trivia Man' is very special to me for many reasons, but I can't go into them without giving away the plot. Suffice it to say that the book explores a range of issues – from the dangers of stereotyping people to the need we all have to find a place to belong.
As for genre, the book is hard to classify. There's romance in the story but it's not romantic fiction. There's humour but it's not a comedy. There's a good amount of nostalgia but the setting is contemporary rather than historical. In a nutshell, 'The Trivia Man' is funny, sweet, sad and quirky. I hope you'll like it. And I'll let you into a secret - it's my favourite of all the books I've written.
*'The Trivia Man' will be released by Random House Books Australia on 1 June 2015.
P.S. For my personal connection with all things related to trivia, see: 'Trivia Isn't Trivial'.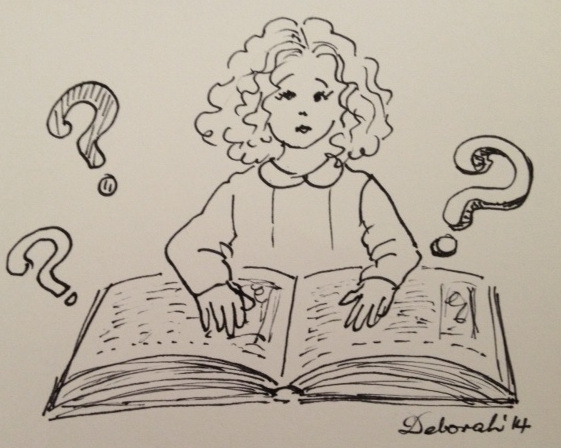 Text and illustrations: Deborah O'Brien
6 December, 2014
---

Film Review:
'The Water Diviner'
I have to confess that I came to 'The Water Diviner' with a personal agenda. My great-uncle Arthur was one of 8709 Australian soldiers who died at Gallipoli and I feared that this picture might trivialise something which has always been sacred to me. Fortunately I was wrong. In his directorial debut Russell Crowe has crafted a very fine film about a father's search for his three sons, missing in action on the Gallipoli Peninsula.
Like the three young men in 'The Water Diviner', my great-uncle was a country boy caught up in the colonial fervour to serve King and Empire. For them, it was a 'great adventure', and although fathers like Joshua Connor and my own great grandfather James Hill would later agonise over having allowed their boys to enlist, the pervading atmosphere at that time was one of flag-waving and glory, and few foresaw the carnage to come. The fictional Connor brothers joined the 7th Battalion AIF recruited from Victoria; my great-uncle the 2nd Infantry Battalion from NSW. The Connor boys went missing in action on 7 August 2015. My uncle Arthur was killed exactly two months earlier. The eldest Connor son, played by the very talented Ryan Corr, shares my great-uncle's name.
The story begins in December 1915 just after Australian troops have been evacuated without a single casualty – the antithesis of the horrific landing and the bloody campaign itself. The first soldiers we meet are Turkish, under the command of Major Hasan (Yilmaz Erdoğan). They have just discovered that they've been tricked by self-firing rifles left in the Australian trenches. We are shown the impact of the campaign from the perspective of these men defending their homeland. In this respect, it is a departure from earlier films such as Peter Weir's 'Gallipoli'.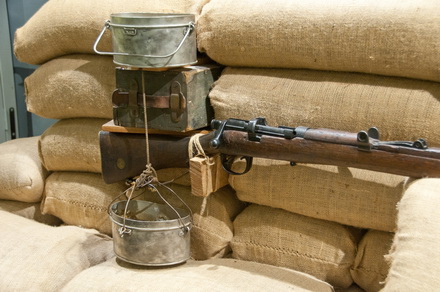 Self-firing rifle, The Army Museum, Bandiana. Pic courtesy of WGH.
There are many excellent performances in 'The Water Diviner' but Russell Crowe is its towering strength. He is the river gum, its roots buried deep within the Australian soil, its trunk solid and sturdy. We see the aching pain he feels for his lost family and the goodness in his heart. Not once do we question his decision to travel to a faraway land in search of his sons or doubt his commitment to bring them home to be buried beside their mother.
My own great grandfather never saw his son's grave, except in a photograph sent by the army with details of its location in the Lone Pine Cemetery at ANZAC Cove. James Hill received a brown parcel containing a small wallet, a metal disc and a letter – these were Arthur's only remaining possessions from his six weeks in the Dardanelles. My great grandfather duly signed the acknowledgment form and returned it to the military authorities. Medals followed, but nothing could replace his lost son, the six-foot shearer with grey eyes, olive complexion and dark brown hair.
There are many threads in Crowe's richly crafted film, all woven together with expert skill – the tale of the magic carpet from the 'Arabian Nights' juxtaposed with Australian icons such as the steel windmill and the cricket bat. Each motif plays its role within the story as both metaphor and practical part of the plot.
Cinematographer Andrew Lesnie gives us images that linger long after the film is over: the dust storms of western Victoria, Istanbul's magical skyline with its mosques and minarets, the killing fields of Gallipoli. Writers Andrew Knight (of 'Sea Change' fame) and Andrew Anastasio have created an engrossing story, an historically accurate framework and a screenplay graced with authentic dialogue. On the latter count, Julian Fellowes, please take note.
In a nutshell, 'The Water Diviner' is a moving homage to the Australian and Turkish soldiers who fought at Gallipoli and a hymn to the tragic futility of war. I commend it to you without reservation.
If you would like to read more about Australia's involvement in earlier imperial wars, see my article, He Who Would Valiant Be.
Deborah O'Brien
5 January, 2015
---

Film Review: 'Birdman'
'Birdman' is an exhausting film - a helter-skelter journey inside a Broadway production in the lead-up to opening night. Director Alejandro Gonzalez Inarritu has cleverly constructed his movie to seem like one continuous take. We literally follow the characters through the bowels of a New York theatre, onto the stage, and out the doors into West 44th Street where 'Phantom of the Opera' is playing just across the road. The director doesn't allow us a chance to catch our breath, and before we know it, we're enmeshed in the dysfunctional yet intriguing lives of the characters.
I've never been a Michael Keaton fan but his performance in 'Birdman' totally won me over. He's amazing as Riggan Thomson, a film actor who became famous playing a super-hero called 'Birdman' (shades of Keaton's own fame as Tim Burton's Batman). Now Thomson is trying to prove that he's much more than a has-been celebrity. So he's adapted a Raymond Carver story for the stage. He's also directing the play and taking the lead role. With all that on his plate, plus a difficult cast and a daughter (Emma Stone) who's a recovering drug addict, it's not surprising that Thomson appears to be on the verge of a nervous breakdown. Among other things, he hallucinates that he can move objects by telekinesis (or maybe he can really do it). And inside his head he can hear the voice of his alter ego (or nemesis), Birdman, egging him on.
One of my favourite actors, Edward Norton is reunited with Naomi Watts, his leading lady from 'The Painted Veil', but the parts they play in 'Birdman' are as removed from their romantic characters in the Somerset Maugham story as they could possibly be. Norton is mesmerising (and incredibly funny) as Mike Shiner, an über-talented and egotistical actor who wants everything his own way, even to the extent of rewriting the dialogue – his and everyone else's. Naomi Watts is an insecure actress making her Broadway debut and trying to escape Mike's libidinous attentions.
Be prepared for an abundance of in-jokes, name-dropping and theatre talk. Director Inarritu has a dig at Method actors in the guise of Edward Norton's character, and at critics in two scenes involving an influential reviewer played impeccably by another of my favourites, British actress Lindsay Duncan.
In May 2014, when I reviewed 'The Grand Budapest Hotel', I made a rather rash, long-range forecast that it would win the Oscar for Best Picture*. Now I'm not so sure. Both films are clever, funny and innovative, yet each pays its dues to Hollywood traditions in its own unique way. In 'The Grand Budapest Hotel' it's the 1930s movies of Lubitsch and Co, set in a mythical Middle Europe; in 'Birdman', it's the dark super-heroes of recent decades.
If either of these outstanding films wins the golden figurine, I'll be happy, but if I had to make a choice between them, it would be the decorative and stylish confection with a dark centre – 'The Grand Budapest Hotel'.
A warning: There are some graphic scenes in 'Birdman' and equally graphic language.
* This week 'The Grand Budapest Hotel' won a Golden Globe Award for Best Picture - Comedy or Musical.
Deborah O'Brien
23 January, 2015
---

Quiz Kid?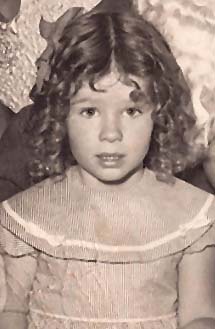 I was a nerdy kid who loved accumulating facts. My Year 5 teacher, Mr Graham, a quiz champion on 'Pick A Box', was my idol. He knew everything about everything and I wanted to be just like him.
When I was ten or eleven, I persuaded my mother to take me to an audition for the 'Quiz Kids', a weekly TV show on the ABC, hosted by John Dease. It was school holidays and I recall going to a hall in Newtown, receiving a name tag and being directed to a seat in a row towards the back, while my mum joined the other parents on benches at the side of the room. Then Mr Dease appeared, a kindly and affable quizmaster with an upper-class English accent. He explained that he would ask each of us a different question in seating order and repeat the procedure over the course of several rounds. Forty bright-eyed children hung on his every word.
Like almost everyone else, I was able to give a correct answer in the first round. But the questions proved to be more difficult second time around, and all too quickly it was my turn again. In his mellifluous voice, Mr Dease asked me:
What is the origin of the word 'nickname'?
I had absolutely no idea. While I racked my brain, the quizmaster smiled encouragingly. All at once, the answer struck me like a proverbial lightning bolt. With supreme confidence I responded:
'A nickname is the name that replaces your real name when someone nicks it.'
There were giggles from the other children. Soon it had grown into waves of laughter. Even the parents were chuckling.
Mr Dease responded gently, 'What an amusing answer, Deborah. We need children with a sense of humour.'
But it wasn't meant to be funny, I thought to myself, aware that a hot blush was staining my face a bright shade of pink.
Mr Dease must have noticed my discomfort because he added, 'That was a good attempt.' Then he proceeded to give the correct answer - a nickname is an additional name and comes from the Old English word 'eke', meaning 'addition', which was subsequently mispronounced as 'neke'. Hence 'nekename'.
The quizmaster's kindness couldn't soothe my embarrassment. I sank down in the chair and when my turn came to answer again, my mind went blank. It was an easy enough question: 'What is a depot?' (Mr Dease pronounced it 'deeep-oh') but I couldn't think straight, and that was the pattern for the rest of the audition. At the end of the afternoon, a select group of students was chosen to join the team. Naturally, I wasn't among them.
And so my career as a TV 'Quiz Kid' was over before it began. Actually, it was much like what happens to my fictional accountant Kevin Dwyer in 'The Trivia Man'* when he auditions for an '80s program called 'The World's Biggest Quiz'. Except that Kevin is asked to name the oldest form of mammal and he gives the correct answer. But a very stern quizmaster called Frank Fortune, who has a completely different answer on his card, tells Kevin he's wrong.
That day I went home and sought out the 'Concise Oxford Dictionary' – yes, the one I'd purchased by saving several months' worth of pocket money. My trusty dictionary confirmed everything that Mr Dease had said. I leafed to the back where there were blank pages for notes. Taking a pencil I wrote the origin of the word 'nickname' in my neatest writing. The annotation remains there to this day.
I've never told anyone this story before, not even my closest friends.
Over the years they've suggested I audition for various TV quiz shows, but I've always demurred. Now they know why!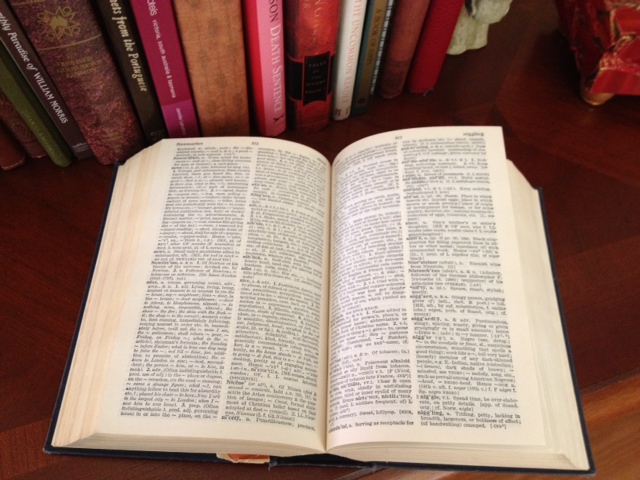 * 'The Trivia Man' will be released 1 June 2015.
If you enjoyed this article, you might also like Trivia Isn't Trivial and The Trivia Man Is Coming.
Deborah O'Brien
1 February, 2015
---